Now that more of us are working from home, the onus is on us to set our schedules and ensure that our goals are met. This starts with setting goals that are achievable. 

Having tried many techniques over the years, I've settled on two methods of goal setting that work well. They include: 


SMART goals
These are goals that are Specific, Measurable, Actionable, Risky, and Time-keyed. When I began including these five elements in my goals, I was off to a great start to achieving what I set out to accomplish. It's a great method, but I won't rewrite the rulebook for SMART goals; the Michael Hyatt & Co. blog has
an in-depth look at SMART goals
. I suggest reading that post as well. 
What I like about SMART goals is that they force me to look at the "why" behind each goal. I believe this is what makes SMART goals so successful!
Weekly Big 3

If I could use only one goal setting method, it would be the Weekly Big 3. By setting aside my three biggest SMART goals for each week in a separate list, my Weekly Big 3 allows me to focus on the most important tasks, clearing my mind from goal overload.
If I accomplish these three tasks alone, I will have achieved my most important work for the week. And if I miss one of these goals, I simply roll it into the next week. Hey, life happens.
Side note: this method also works for long-term goals, and can include Monthly Big 3 or Quarterly Big 3 lists.
Here's a look at my currently Weekly Big 3, included in the
Things 3 app
.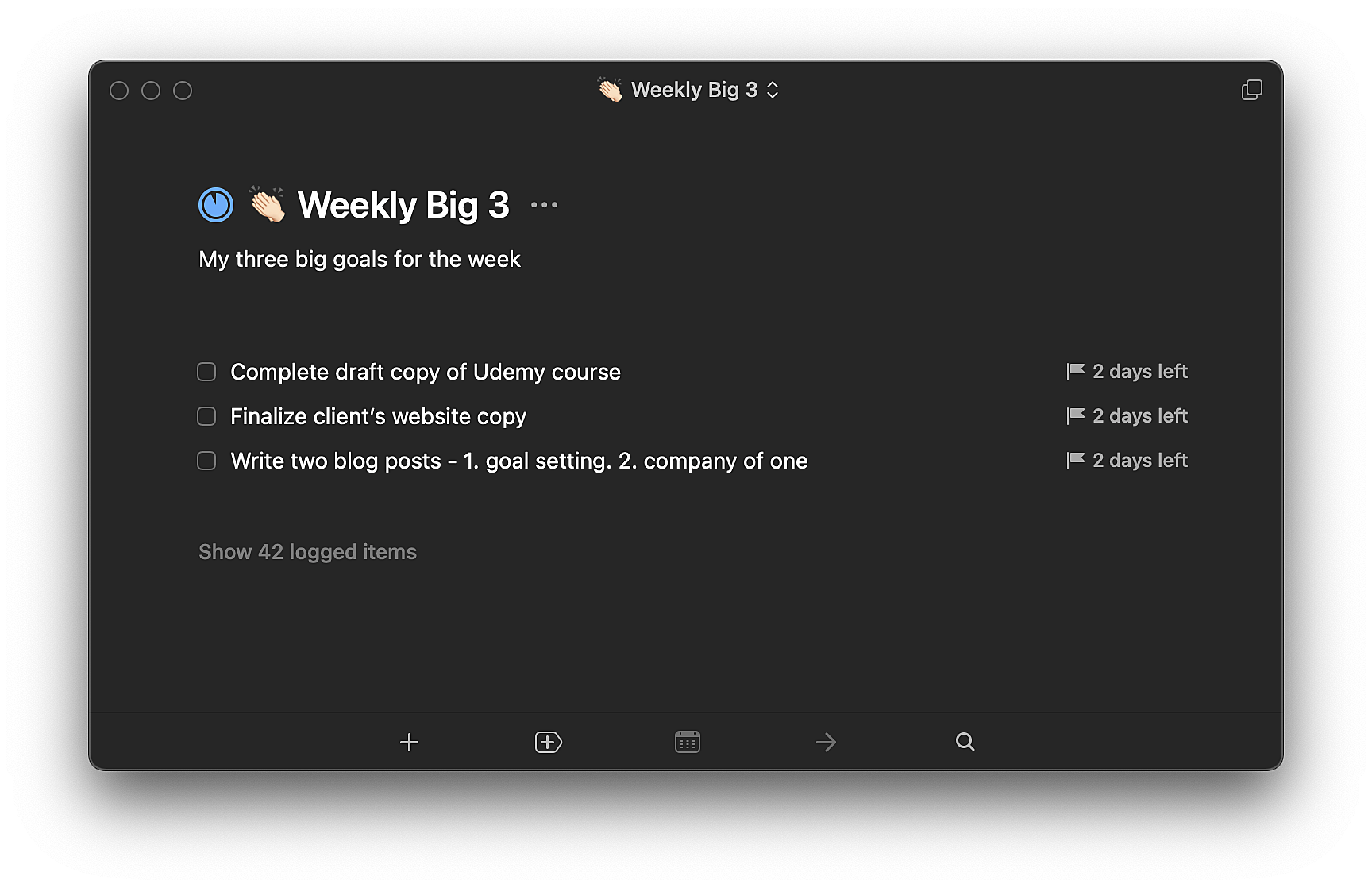 Final thoughts

Goal setting is the easy part, reaching goals takes a lot of effort, but by using the SMART method and by having a separate Weekly Big 3 list, I'm more likely to reach my goals. 
I know these methods work because I used to be terrible at goal setting, and now I'm a master at setting SMART goals that allow me to achieve awesome things, like completing projects on time for clients, designing my upcoming Udemy course, creating an exercise habit, and more. 
One last thought—I rarely share my goals and when I do, I do so selectively. I've learned that sharing my goals widely puts them under a spotlight and allows others to question them. It's important to only share goals with our most trusted confidants. 
I hope you'll give SMART goals and the Weekly Big 3 a try. I believe these methods will help you achieve more with less stress. Maybe it's just what we need in our newfound work from home environment.