When I began building websites some 20 years ago, site visits were mostly anonymous. I recall the New Yorker cartoon that read, "On the Internet, nobody knows you're a dog."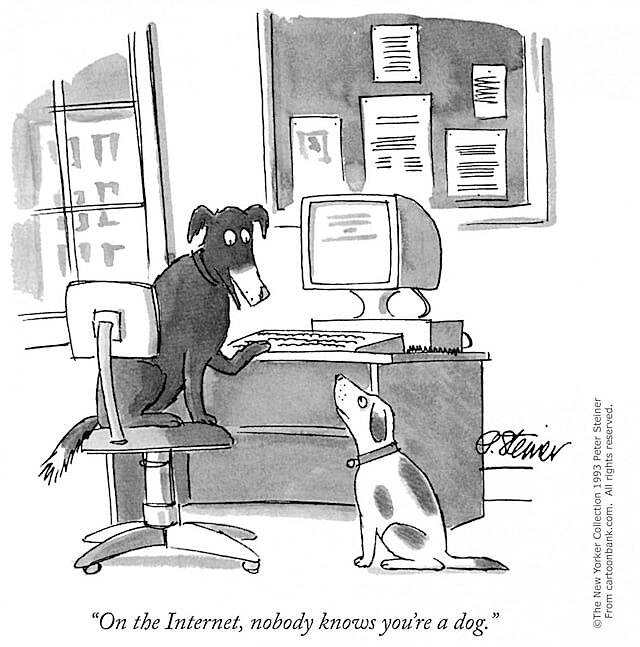 How times have changed. 
Today, the web is full of online trackers that follow you around the internet. And it's not just cookies that remember your site settings or login. Online trackers have become invasive, even going as far as monitoring your mouse movements and keystrokes. 
Several investigations by The Markup, a tech focused journalism organization, have revealed the depth of invasive online tracking. 
One investigation found that free web tools such as social media plugins often come with numerous hidden trackers. "Website operators may agree to set cookies—small strings of text that identify you—from one outside company,"
writes The Markup
. "But they are not always aware that the code setting those cookies can also load dozens of other trackers along with them, like nesting dolls, each collecting user data." 
As part of their investigation, The Markup built an online tool for detecting website trackers called
Blacklight
. When the team scanned 80,000 popular websites, they found that 12,000 loaded scripts that track users' interactions including scrolls and mouse movements. 
In another investigation, The Markup reviewed nonprofit websites and discovered similar data tracking practices.
"The Markup found that 439 of the nonprofit websites loaded scripts called session recorders, which can monitor visitors' clicks and keystrokes,"
notes the investigation
. "Eighty-nine of those were for websites that belonged to nonprofits that the IRS categorizes as primarily focusing on mental health and crisis intervention issues." 
As a result, site users are at risk of exposing private information including any health issues, gender identity, religion, and other personal details. 
Anyone who cares about privacy—and that should be everyone—should be concerned about this level of online tracking. Not only do these trackers follow your movements around the web, they often collect personal information about users. 
A lot has changed over the years as online tracking has become invasive. For this reason, I discourage my clients from adding third-party plugins or social media feeds to their websites. While this results in only a small change overall when it comes to online tracking, it is a start. 
Those who seek anonymity online are finding it harder to come by. These days, if you're a dog on the internet, everyone knows you're a dog.