Last weekend we made a nice lil weekend trip to the Berkshires 


towns we visited: Lenox, Lee, Becket, Stockbridge, Great Barrington

And on *Friday the 13th* we took in:


a ghost tour at The Mount, Edith Wharton's home. It was thundering and lightning-ing, and the air had a damp heat to it. I wasn't exactly scared, but I didn't feel right the whole time. butterflies in my stomach, skin-crawling spine-tingling unease. I also happened to be reading Lincoln in the Bardo, which added to the sense that the dead are ~among us~
Barbarella on the hotel TV. I had always heard of Barbarella, but probably wouldn't have ever sought it out myself——am having a good time with the hotel movies these days.
Art at Shakespeare and Co. Such a fun, complicated play exploring how we define ourselves, often using the people around us, and the sometimes paradoxical struggles of friendship. A very you-can't-live-with-them, you-can't-live-without-them, hell-is-other-people type of play, though with a hopeful swing up in the end? 
Also, we learned from a local that the Shakespeare & Co. campus used to be the site of an extremist Christian cult, here's some more on that local lore:
- https://www.washingtonpost.com/archive/local/1987/09/19/bible-speaks-property-to-be-sold/6132a3b9-fce4-477f-94f0-ff62c18da1ad/
- https://www.latimes.com/archives/la-xpm-1987-10-03-me-3013-story.html
- https://www.berkshireeagle.com/news/local/controversial-reverend-dies/article_15531797-8016-5ded-875d-0aff51960059.html
- https://en.wikipedia.org/wiki/In_re_The_Bible_Speaks
$16 haul from finders keepers

We then ended the day with a:
Tanglewood picnic under the stars, the BSO playing Figaro Gets a Divorce, a piano concerto by Ravel, and Elgar's Enigma Variations. There were a huge number of people picnicking and I was amazed at how silent and reverent the crowd was the entire evening. 

For our final intake of culture, we rounded out the weekend with: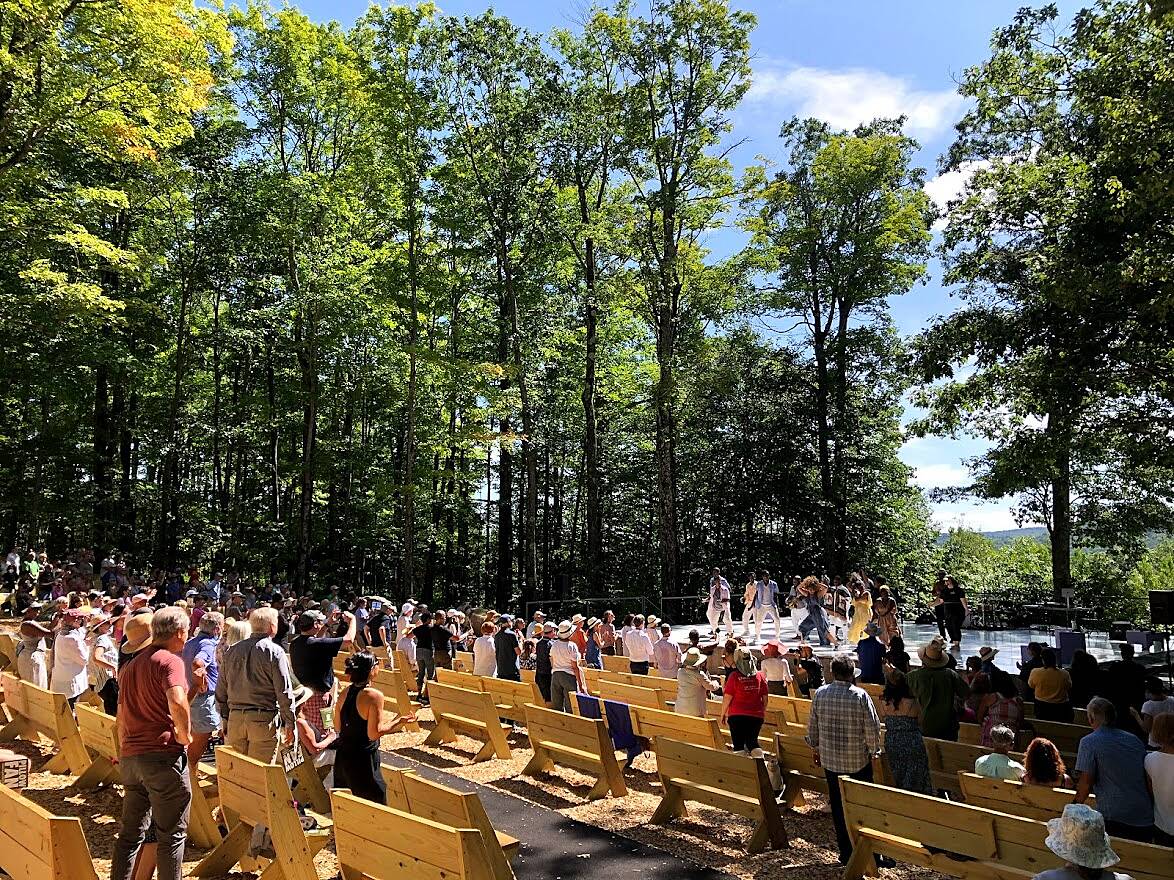 LaTasha Barnes' The Jazz Continuum at Jacob's Pillow. We signed up for a workshop in the morning, which meant dancing with the very same dancers we would see perform later that day, learning some of the easier steps from their show. While LaTasha Barnes taught from the front of the room, Duane Lee Holland danced masked up with me and Peter, walking us through the steps. I have a ballet background, so it was liberating experiencing a different mindset to dance: dance steps not as rules and structure, but as gentle underpinnings of physical exploration, as expression of joy and freedom; dance performance not as rarefied exhibition but as participative and communal movement. 
caught in the act: peter practicing some of what we learned from LaTasha Barnes