cult classic
The term "cult classic" is thrown around a lot, and I feel like I've found the closest validation of something's cult classic-status...by comparing a movie's Amazon Prime Video rating with its IMDb rating:


although the website description on Amazon Prime for Johnny Mnemonic (on the left) appears to be from another Keanu Reeves movie (Babes in Toyland, 1986). 
But seriously, check this out, 9/10 (4.5/5) vs. 5.7/10 😂

I appreciate this measurement. Movies that make it to cult classic status are not necessarily "good", but rather, for a small contingent of motivated people who actively seek them out, are truly fun, relevant, exciting, interesting, etc...

which brings me to this week's movie screenshots !!!


screenshots on screenshots on screenshots of Johnny Mnemonic
first things first, gotta appreciate a dated futuristic movie that takes place in the year you are currently watching it. compare and contrast vision and reality etc.
birds' eye shots: keanu in a red room with green velvet bed, keanu in a black & marble bathroom
look! at! this! the profile, the contrast, the lines, the lack of sideburn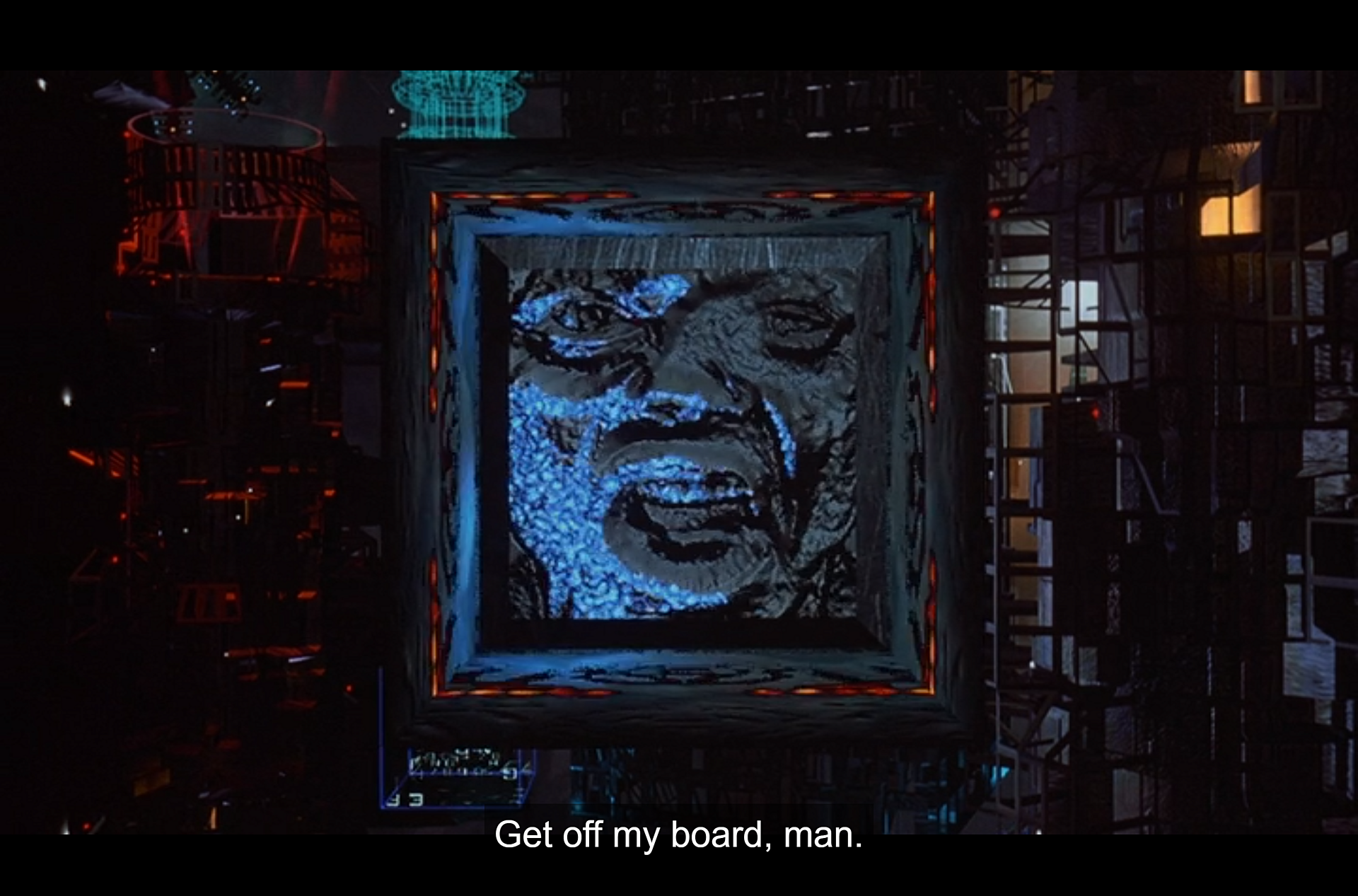 this is 100% how computing and virtual reality have manifested in 2021, so good job Robert Longo
what a cast of characters: femme hero/distressed damsel in a chainmail crop top, a Christian religious fanatic killer-for-hire played by DOLPH LUNDGREN who is addicted to body modification and uses the proceeds of killing not toward religion as one would imagine but toward making himself more and more machine-like all while spewing the Gospel and word of the Lord as cover/justification (... 😶), Ice-T as the no-nonsense leader of a group of underground hackers/anarchists 
and a totally whacked out final sequence starring art film queen Barbara Sukowa (who was married to the film's director Robert Longo)

great fun and the ideas around screen addiction, transfer/preservation of secure digital information, and tech leading to exploitation are all too relevant in the year this movie was supposed to take place (*twenty twenty one*, in case you forgot). not every thread/character/plot point was complete but it was an entertaining jumble of concepts presented in a visually striking format ✨


Oh, and also, I discovered I had no idea how to pronounce the word "mnemonic"
manenanomic? manemonic??? some say new-monic which I think is bad pronunciation. 

It turns out it's something like "demonic", but with an n? 
Add this to the list of words that are spelled/pronounced in ironic and cruel ways like lisp, dyslexia, and stutter.