my home city, and a place that feels very weird to me. I typically go back 2 or 3 times a year to see family, but I haven't been able to since December 2019 because of COVID-19. My heart has ached so much over the last 18 months with the simple desire to give my mom a hug. 

So I just spent a week in the city, this time staying in Downtown LA (as opposed to West LA, where I grew up). 


Right out the gate, 
every weird feeling I have toward the place manifested.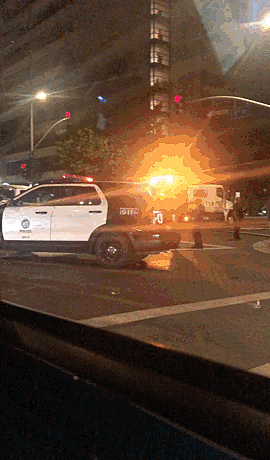 an early sight, driving into the city from LAX. the saddest, truest of LA welcomes
🏩 Our hotel room was given away by the hotel. It was 2:30am and there was a brief window of time where I thought we'd have to spend the night at a Norms
🏃‍♀️ walking at a moderate NYC pace the next morning, we were heckled by a couple teens in a Jeep who let out an ¡Ándale! at us
🥵 I was on antibiotics and forgot what dry heat is like, so I had a mild heat exhaustion on the first day. little pink cherub face, dizziness, nausea, and a barf-y panic
🏎️ Fast and the Furious demonstrations at all hours of the night. full-on donuts and spinning out in any given DTLA intersection 
I'm superstitious FYI
BUT staying in Downtown LA did allow for the most immersive film-viewing experience of my life.
Se7en
was playing on the hotel TV one night !!!
I had never seen it, not out of active avoidance, but I figured it would make itself known to me one day. And the right time, the right place it WAS
Police sirens sounding all night, the blue neon light of the hotel sign shining into the room, the strange car-filled, low-rise/high-rise urbanity of Downtown that surrounded us and was reflected in the movie, and an ending I had read about countless times: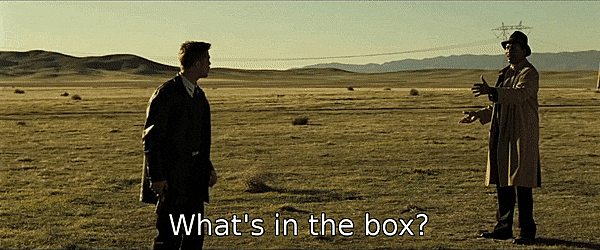 please read Shea Serrano's theory to the question of what's in the box
urban planning, homelessness, politics
one thing that had developed quite noticeably over the past year and a half were the large spread of tent cities and informal settlements under many underpasses and along the freeways.
And, during the week we were in the city, the LA city council passed further restrictions on encampments: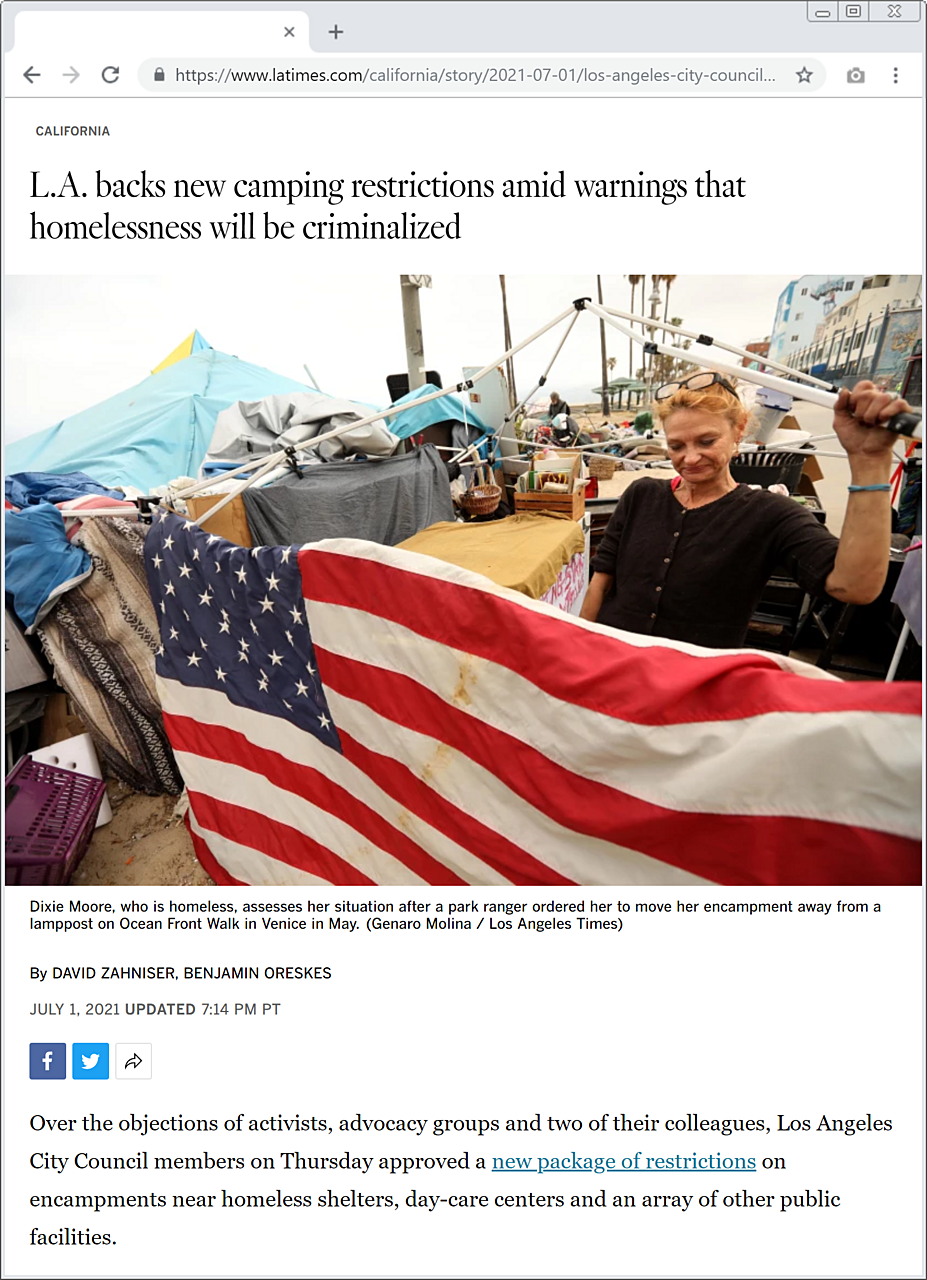 https://www.latimes.com/california/story/2021-07-01/los-angeles-city-council-approves-anti-camping-regulations
I know
New Yorkers are not much better
at supporting and getting resources to unhoused people, but holy hell, it had my blood boiling to see in-person such stark, evolved inequity followed by the sweep-it-under-the-rug, let's-criminalize-it-instead attitude and actions undertaken by the LA city council. My number one issue as a voter at this point is probably housing, which then includes myriad other progressive issues (because it's! all! connected!).
While we were in LA, there was another horrific event involving what was supposed to be a controlled detonation of fireworks, but that ended up being a preventable, major explosion with 17 injured. We were 2.5 miles away, and heard a huge boom, but didn't know what it was until we saw the news of the explosion. Here's some more context from someone from the South LA neighborhood where it happened: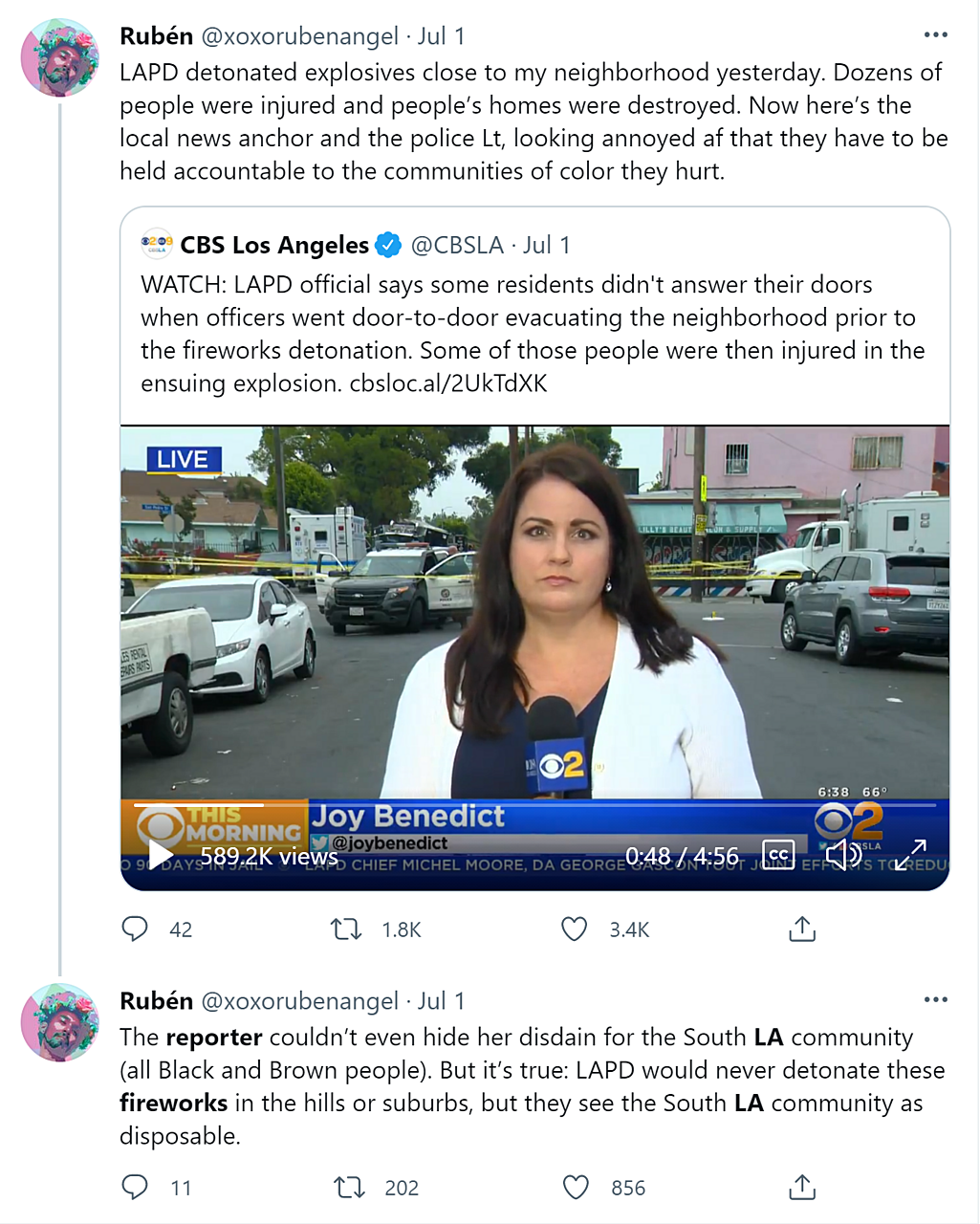 One of the reasons for the controlled explosion given by the LAPD was that they couldn't have the explosives traveling on the 405. This was a particularly grating judgment call to cite in light of LA's history of urban planning policies that prioritized freeways/car thruways over communities of color. If you don't believe me, you can watch this documentary (
East LA Interchange
) to learn more about why just South of Downtown LA there is a massive crossing of four freeways; and who was displaced and viewed as disposable in favor of a towering monument to car culture. 
In any case,
a weird week where I didn't really like the city I was in, though I loved the people and family I was able to see. I was glad to be heading out when I got to the airport at the end of the week, but I still bawled my eyes out from the security line all the way through to boarding because of the heartache of saying bye to my mom. But on one of our drives together this week, she told me more about her immigration to the country, and how a decade passed where she saw her family extremely infrequently and had very little contact. She shared how she didn't question this as it was a natural sacrifice in the decision to immigrate. I guess my takeaway is to recognize that though we can't spend every waking moment together, I can still soothe my heartache by appreciating and holding as tight as possible to the moments we do have together
( ノ ゚ー゚)ノ \(゚ー゚\)
————————————
Addition: July 8, 2021
a relevant quote from a
recent New Yorker article
about building a railroad to the West—
Explaining Los Angeles is a kind of perpetual American enterprise, since its existence—it has little by way of water, or harbor, or history—is apparently so inexplicable.