How to prove you're vaccinated for COVID-19
In NYC, you can currently prove your vaccination status in 3 ways:
1. The paper CDC COVID-19 Vaccination Record Card that you received when you were vaccinated
2. By uploading a picture of your vaccination record card to the
NYC COVID SAFE
app
3. By logging in and receiving QR-code credentials from the
NY State Excelsior app
that is connected to local health authorities' records
The problem with #1 is slippery fingers—what to do if you misplace/lose things. The problem with #2 is
any picture can be uploaded and there is no verification at work
. 
Which leaves #3—the Excelsior app. 
But the roll-out for NY State's Excelsior app has been far from perfect—and my COVID-19 immunization record appears to have been lost in the shuffle: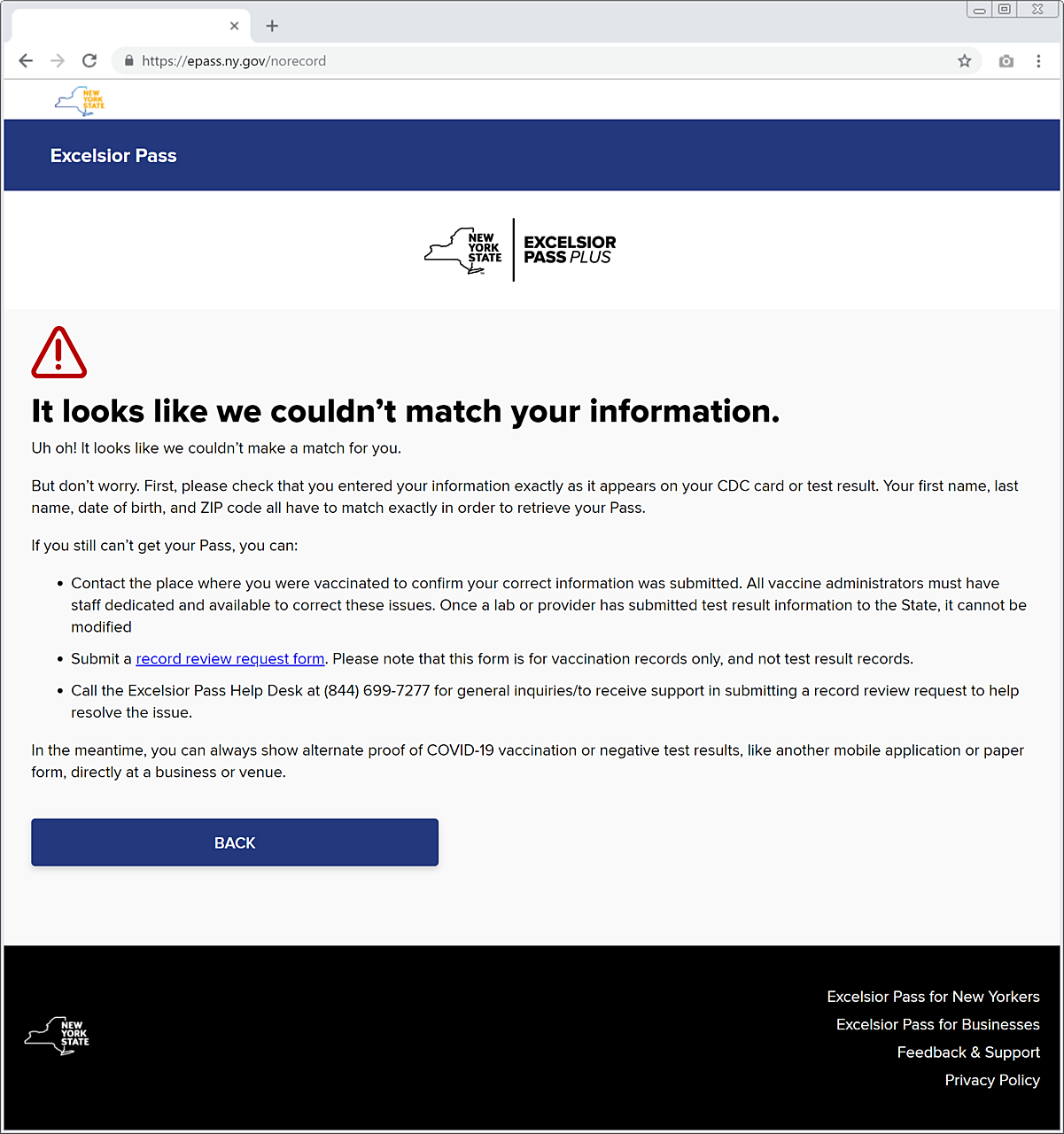 Though I have my paper vaccination record card on hand, I'd like to be verified on the Excelsior app and also have my records up-to-date at the local DOH. I've been googling and calling phone numbers left and right, so I figured I would record my experience here until this gets resolved...
A Couple of Dead Ends
There's a ton of articles and official guides out there on how to repair your record that all say rather vaguely to:
reach out to their vaccine administrators or testing sites directly.
I was vaccinated in early 2021, so both city-run sites that I was vaccinated at no longer administer vaccines. This leaves me with no idea how to get in touch with the site and/or administrators! There is also no contact information on any of my scheduling emails. 
So I continued googling further, and somewhere along the way saw that some people had success calling the Citywide Immunization Registry (CIR) at 347-396-2400. I called, and someone surprisingly answered very quickly. She gave a frustrated laugh that yet another person was calling about their COVID-19 immunization record. She pointed me toward the CIR email (
cir@health.nyc.gov
) and told me to write them with the following information: 
full name
address
dates of vaccinations
type of vaccine
phone number 
And told me the CIR would take 2 weeks to resolve the issue and reply. 
Bear in mind the header of this section, this direction has largely been a dead end...it's been two weeks and I haven't heard back...


What is the deal???
If nearly all information does not match what the vaccination agency entered, even because of a typo, it will not generate the pass. Some 4 percent of users who tried to get passes in the app's opening months were unable to, the state said.

And it seems like some bad software development/database management is to blame...


Not until June, the contract indicates, did the app make it possible for someone who has periods in their name (like T.J.) to retrieve a pass.
After three attempts, in which I reentered the same information each time, it worked. 
The hiccups in the state's immunization database, which are causing Excelsior Pass registrants to see a dreaded "We couldn't find your pass" screen appear on the registration website, are apparently being caused by a mix of clerical errors, inconsistent data gathering and the occasional cases in which people with identical names — but different birthdates — are being rejected because the system has merged their identities.

🤯🤯🤯
Where I'm at now
After the 2-week mark had passed on getting a reply from the CIR, I tried looking for a solution once again. This time, I called the
Excelsior Pass Help Desk at 844-699-7277
. I swear, when I called this line 2 weeks ago, I was passed off to an unending line of prompts that ended up never getting me to a human being. This time however I was able to talk to a person rather quickly, who was able to look up my record!
It turned out that at my 2nd vaccination, the vaccine administrator never input my phone number and zip code
. (!!!)
I was given a phone number to call to make updates to my immunization record, and I was super excited until...I saw that it was the number for the General Inquiries NYC 311 hotline (212-639-9675). I called this number and an exhausted phone operator walked me through the 311 website to get to the
"My Vaccination Record" page
. From here, I checked my record, and indeed an error message appeared, and I was pointed toward a form that I could fax/mail in order to correct my record:
https://myvaccinerecord.cityofnewyork.us/myrecord/files/record-request-application-EN-72b4fc8d135542fdd1367eb895bac331.pdf
.
I'm faxing this sucker in with additional information on my situation, and we'll just have to see what happens from here...to be continued...
Update 9/8/21—all good now!