TODAY'S RAMBLINGS

Yesterday afternoon, I winged it to the SoCal suburban paradise of Andy and Libby Jones.  Their little tyke Dean Andrew Jones, Jr. is coming up on his first birthday, so I hand-delivered a gift, and then proceeded to inspect the new pergola that Andy has gone on and on about.  Indeed, everything is wonderful, including the new pergola, and the Darwin Guest Suite as comfortable as always.  A shame about that outside beer tap
still
being non-op, however . . .
I digress - the kid is adorable, and my hosts are the best.  But the world still turns.
Because I just don't know how much lower Republicans are willing to go over Trump.  An FBI Director appointed by Trump pursued a search warrant, which was approved by a Trump-appointed judge.  The National Archive had asked Trump and his staff for months for documents that legally belong to the US.  Shocker, but Trump refused to comply.  Thus, the search warrant for a very targeted looksy inside Mar-a-Largo. 
Here's how that works
.  I think Garland nailed it yesterday, and asking to unseal the warrant was brilliant.
And, of course, it is Trump himself that made the rules in question felonies, punishable by 5 years in Federal prison.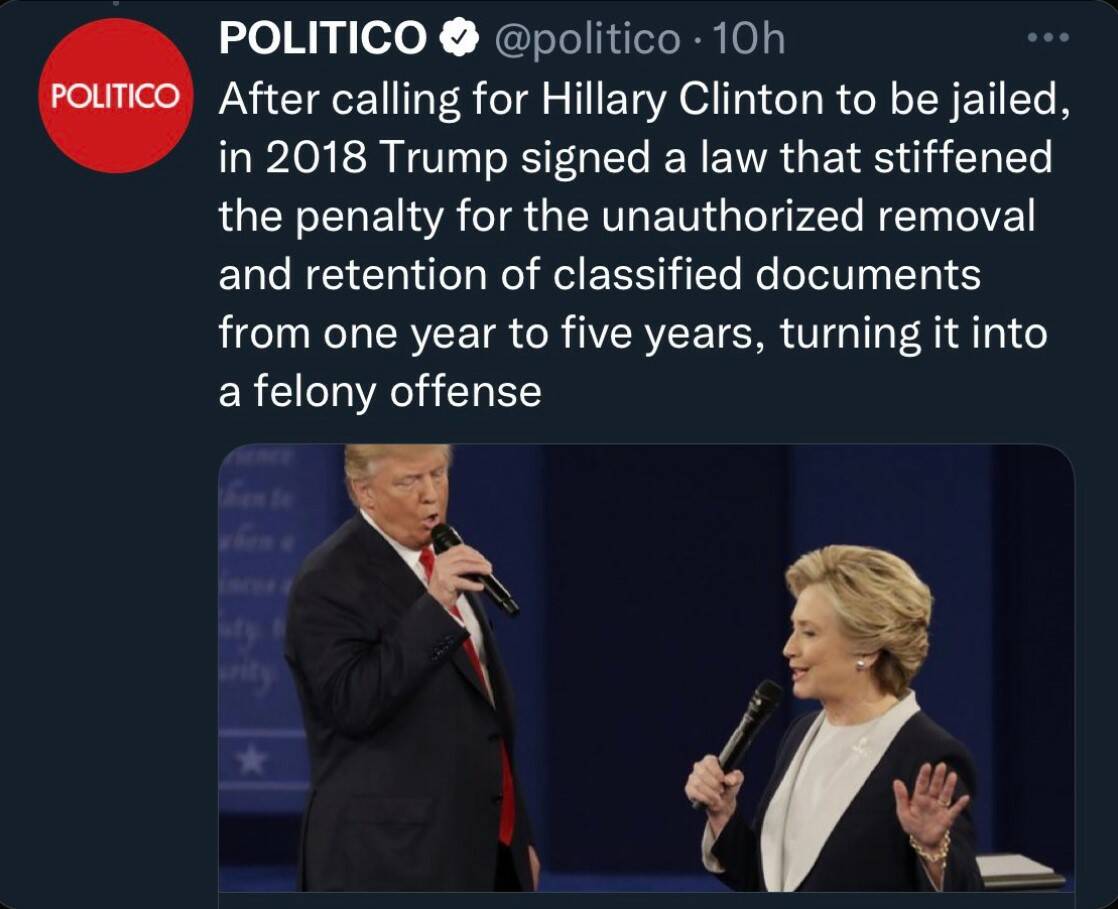 Yet, many Republicans are now saying "Defund the FBI" and likening the FBI's completely lawful actions to that of the Gestapo.  Perhaps that's taking it a bit too far?  If anyone can make a reasonable comparison between Biden's America and Hitler's Germany, I am right here and all ears.  How disgusting.
And how quickly the mindless chants of "Lock Her Up!" have been forgotten!  The irony of this all is nothing if not sweet and thick.  Add in Trump pleading the Fifth Amendment 440 times at a civil hearing, while Hillary did the same thing ZERO times over an ELEVEN hour Congressional grilling under oath on the all-important Benghazi crisis, and you've got an only-in-America saga.
But hey, it's Friday, and I'm in Oceanside, so let's dial it back a bit.  Here's something for you to read and enjoy over the weekend.  It will take you about 2 minutes and I'd love to hear from anyone that  . . . disagrees?  Sees another side?
I am hopeful humor can bring to life just how bad the Republicans are behaving.  This is our country and its fundamental beliefs we're talking about. 
If you believe an individual is somehow above that, you're not American.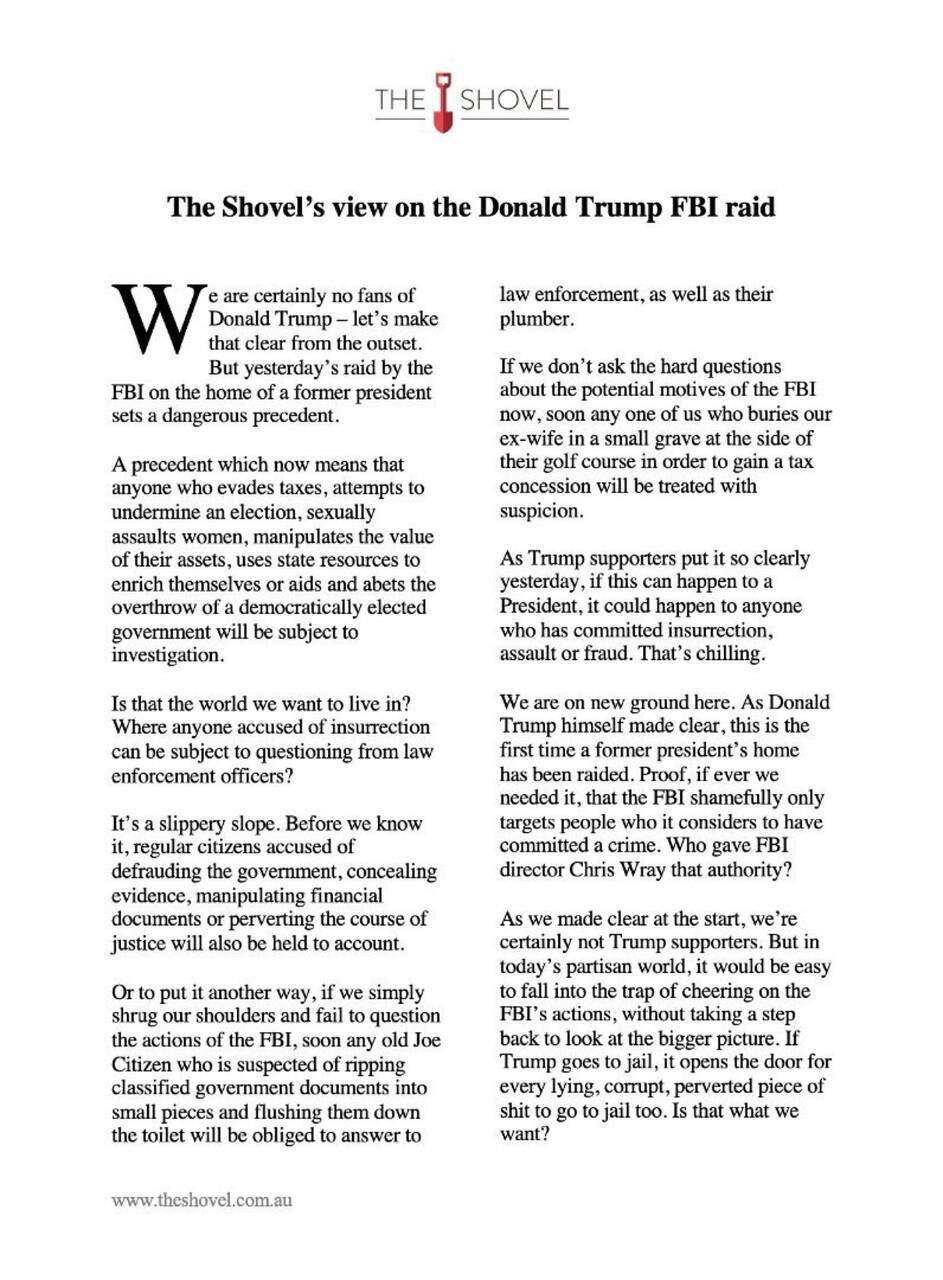 Here's a PDF if that's difficult to read.
Have a great weekend - I know I will.
FROM THE UNWASHED MASSES

Once the shock of the search died down, so did reader correspondence.  Which as I always say is fine.
So I'll share a letter of a different kind.
It's from General Mark Milley, former Chairman of the Joint Chiefs of Staff.  Do you know how intelligent and how balanced you must be to reach that station in life? 
I hope you'll keep that in mind as you read these excerpts from his never-sent resignation letter.  He drafted this after
the Lafayette Square fiasco
; emphasis added by yours truly.
I regret to inform you that I intend to resign as your Chairman of the Joint Chiefs of Staff.  The events of the last couple weeks have caused me to do deep soul-searching, and I can no longer faithfully support and execute your orders as Chairman of the Joint Chiefs of Staff.  It is my belief that you were doing great and irreparable harm to my country. 

You are using the military to create fear in the minds of the people—and we are trying to protect the American people.  I cannot stand idly by and participate in that attack, verbally or otherwise, on them.  We will not turn our back on the American people.

I swore an oath to the Constitution of the United States and embodied within that Constitution is the idea that says that all men and women are created equal.  All men and women are created equal, no matter who you are, whether you are white or Black, Asian, Indian , no matter the color of your skin, no matter if you're gay, straight or something in between.  It doesn't matter if you're Catholic, Protestant, Muslim, Jew, or choose not to believe.  None of that matters.  It doesn't matter what country you came from, what your last name is—what matters is we're Americans.  We're all Americans.  That under these colors of red, white, and blue—the colors that my parents fought for in World War II—means something around the world.  It's obvious to me that you don't think of those colors the same way I do.  It's obvious to me that you don't hold those values dear and the cause that I serve.

And lastly it is my deeply held belief that you're ruining the international order, and causing significant damage to our country overseas.  It's now obvious to me that you don't understand that world order.  You don't understand what World War II and its outcome were all about.  In fact, you subscribe to many of the principles that we fought against.  And I cannot be a party to that. It is with deep regret that I hereby submit my letter of resignation.

Again, that was written by the top military official in the United States at the time.  And those were his feelings about Trump.

But he chose not to issue it.  It seems so many on the inside could (can) see how dangerous Trump was (is).  If just one or two of them had said this at the time, we would have avoided a lot of pain as a country.  No?

Thank you to any one that is reading this newsletter.


KLUF
Just a song today, but oh, what a song. 
Here
is The Clash and "I Fought The Law". 
No album cover today; instead I remind you the rest of the lyric to that song is "and the law won."  Which will be the case here if he actually did bring information about US nuclear armaments to Mar-a-Lago.