TODAY'S RAMBLINGS

Well, it's a wrap.  My first and likely only art exhibition was held last night at The Funston House in our beloved Presidio.  For a change, I'll be brief and limit my comments to just two things.  Gratitude and thanks.
The event came off as we had hoped it would.  Frankly, it came off far, far better than I had hoped.  That's the gratitude part.  I used to dream as a child and for much longer about being able to do things like we did last night.  To have a wife and friends and a particularly talented family member like I do, gathered in a venue and situation like we had last night?  Well, let's just say I am the luckiest guy in the world and leave it at that. 
Here was the scene.  I did not take any photos inside of the actual event, but I bet one or two might turn up soon.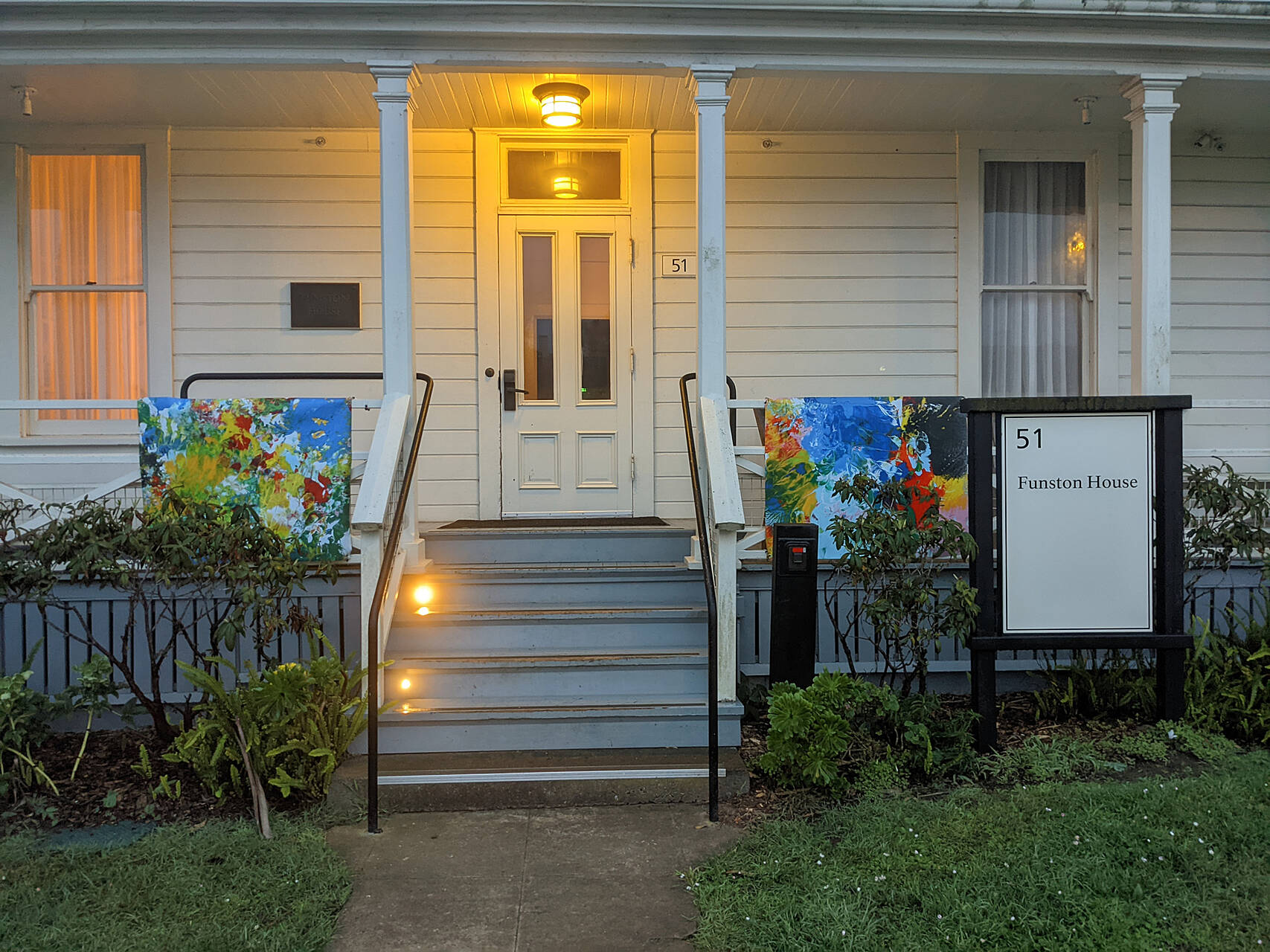 But most importantly, I want to give thanks to a whole bunch of people.  I guess gratitude and giving thanks are the same?  I don't care.
Charlie Clough and His Invites

What to say about this man?  What a privilege working and hanging out with an artist of his stature.  Thank you, cuz.
And Charlie came through with some buyers and art collector VIPs attending!  I am listening to Charlie now speak in the dining room of Funston House to one of the art world's most legendary dealers.  And we made some real (not NFT, however) sales.  Thank you, again, cuz.

Julie Clough

Shocker, but my better half provided unwavering support throughout the entire Clufff & KLUF endeavor, including agreeing to the investment but also being the event runner last night.  Arguably, I don't deserve her, but I'll keep trying.

Friends

Kind of like my wife, it is hard to imagine having better friends.  I asked for help from many in terms of attending the event, and these amazing people all attended.  Thank you very much - you have no idea how much your attendance meant to me (and Charlie).  Namecheck time.
Arthur
Mrs. Crup
Professor Howard Blum, Esq.
Byron Browne IV
Louise Lederhosen
K. Helmsley Garfinkel
Ol' Purple Label
Melinda Mario
Ron Scrivani
George Valiant Walker
Sherry Pace
Bob Scarf
Anastasia Pace Scarf
Hunter Deuce
Thanks again - that is one hell of a list.

Sandy and Cathy Dean

I invited 30 of my best clients from the
Casa Integration
days to the event.  I was humbled when the two most important - the badass couple Sandy and Cathy Dean - attended.  The business they gave me directly, but also the referrals to people just like them, simply made the entire business, and by extension, allowed me to retire at 56.  They showed up last night, and I haven't done any work for them since 2016.

Ann Pierce

I'll close with a big shout-out to a new friend.  Ann came out from Buffalo to attend the event, and is both a collector of Charlie's art, but also a close friend.   OK, her daughter lives in SF, but still - Ann did yeoman's work listening to me prattle on during their visit but more importantly, providing a lot of needed assistance for the event.  Just don't let her wander in The Presidio - she's prone to getting lost.


FROM THE UNWASHED MASSES

My man Steven Simon came through with this wonderful photo and comment regarding one of our old stomping grounds, growing up together in Albany.  Rush "Hemispheres" tour, anyone?
"Maybe not the best, but many memories."
Thank you to any one that is reading this newsletter.


KLUF

I will share the music to which I'm listening as I write and send this (late, I know!).  It is foggy and ethereal outdoors right now at Funston House, and this is exactly right.  Here is Liquid Mind and "
XII:  Peace
".