TODAY'S RAMBLINGS
1 Minute Read + Game Time

And you thought this thing couldn't get any sillier? 
But maybe it will give you something to do over the weekend.
Here is a new game I created, and it's called
3 On 9
.  The idea is to match what's called a
prompt
with its result.  A prompt is a bit of text that provides an artificial intelligence (AI) engine instructions to do something.  In this case, the prompts were used to create graphic images.
A shoutout to the cycling Dutch Boy Primo Harvey PhD for the inspiration.  Before jetting off to Europe, he sent me a modern telegram complementing the
Art Handsome
stuff, and expressing interest in the prompts used.  He went on to say he thought a game of some kind would be fun, and the rest is history.   
If I were to have this properly developed, you'd type a number on top of the graphic - exactly like a Wordle grid is completed, except in this case the grid has images.  For now, hopefully you'll get the idea with this mock-up.  The rules are below and they're very simple; you'll see that some answers are obvious, others perhaps not so much. 
You can give me your answer as a 3 x 3 grid, like this:
9  9  1
4  1  4
4  1  9
I will give the first person to reply with the correct grid a gift of their choice from
the Swag shop
. 
And a warning before getting started:  an unfortunate byproduct of this game is its window in to what I was/am thinking about.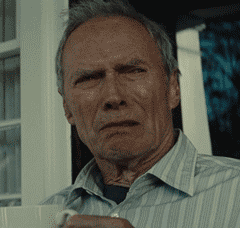 3 On 9
Rules
Place the number of the prompt on its matching image.  Only 3 of the 9 prompts are used.


1  A painting in an abstract style of a male rightwing nutjob human

2  A painting in the style of Andy Warhol of time the avenger

3  The future as an abstract painting

4  A painting representing E. Pluribus Unum in an abstract style

5  A painting in an abstract style of time passing

6  A woman on a beach in the style of a painting by Andy Warhol

7  A woman on a beach in the style of an abstract painting

8  An image of the apocalypse in the style of Pablo Picasso

9  Trump arrested in handcuffs in the style of an abstract painting
FROM THE UNWASHED MASSES
Hunter Deuce indicated he liked Wednesday's
post
on the different perspectives on time.  But then he went all
ARTFORUM
on us.
Definitely down with a bunch of these on the list.  Your "portrait" made me think of this:

And Arthur kept it light - this is very funny.  And also true. 


Banished to Boomer Island: Tales of A Menopausal Gen-Xer for Hire

Thank you to any one that is reading this newsletter.


KLUF
Ideal. 
Here
is Rod Stewart and
Every Picture Tells a Story
.