TODAY'S RAMBLINGS

It was just a short two years ago today (exactly) that I heard Mayor London Breed on my car's radio, ordering all businesses to close immediately, due to this new thing called Covid-19.  At the time, I was literally pulling in to Joe's of Westlake for a daytime piss-up with fellow retiree Arthur.  I remember being turned away at the door at noon - the restaurant was closing down, and it was the exact beginning of the pandemic, at least for us in the SF Bay Area.
So Arthur and I made up for it this past Monday with an epic Ol' Purple Label-style "linner", A.K.A. a boozy late lunch or boozy early dinner.  This concluded with us forgetting to pay our tab at Perry's on Union.  No, I'm not making that up, but there were laughs all around as next-in-line-for-the-crown Margie Butler ran out after us and brought us back in to pay.  Pay her husband, the bartender Jose, who did it to us in the first place.   Arthur flipped me a C note, jumped in his Uber to CalTrain, and was off.  I made it home.  I think.
(It should be noted Monday was after a quite similar Sunday at Perry's on The Embarcadero, with the linner originator herself, Ol' Purple Label.  Her husband, on track to become the new Miss Manners, K. Helmsley Garfinkel, also joined us.  We had a marvelous table outside and a typically great lunch.  On our way out, we met former SF mayor and current SF gadfly Willie Brown and his pal, the bigtime SF fixer and
operator
and attorney, Jack Davis.)
With that,
I'll turn over the controls to the esteemed
Pew Research Center
, which calls itself a "nonpartisan fact tank".  Most would consider them
at least as credible and objective as any organization
in terms of research and fact-finding. 
Here are some not-so-pretty pictures, and wow is the accompanying article informative, if not upsetting.  I hope you'll read it and it begs (again) the question:  if Congress has factually moved in the conservative direction over the past 50 years (and it has), why do so many Republicans insist the opposite to be true?  Isn't it "the Democratic party's lurch to the left" that terrifies so many conservatives?  Don't I always hear "America is a center-right country, and the Democrats keep wanting to make us socialists"?
What do you think now that we know the opposite is true?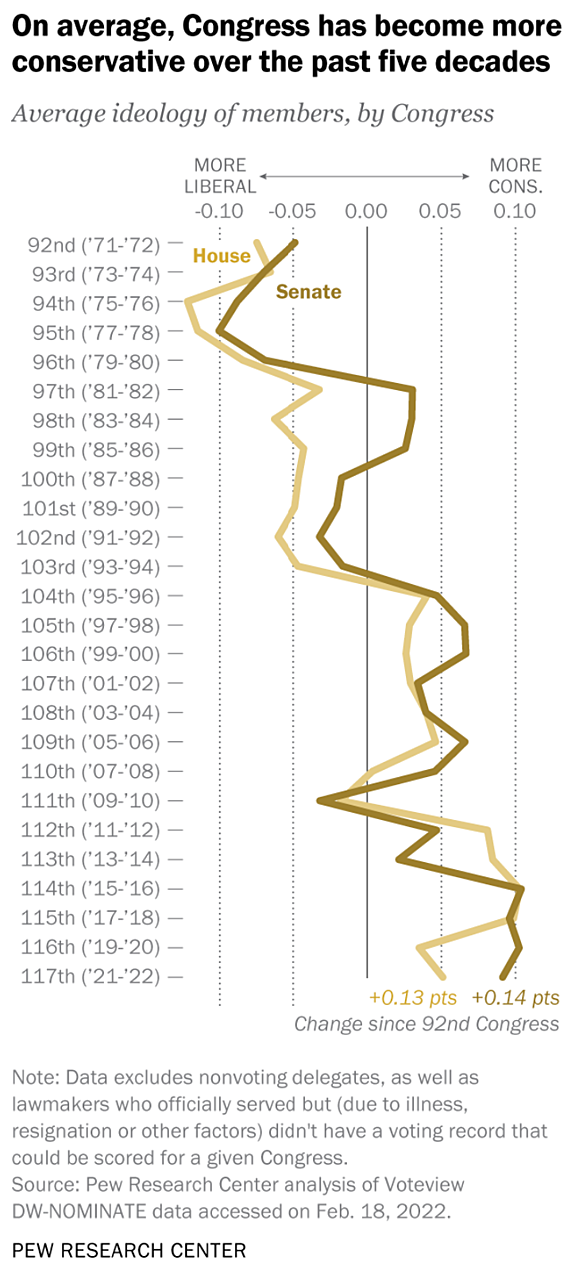 The polarization in today's Congress has roots that go back decades | Pew Research Center
(Note:  there is a comprehensive description of the methodology employed in arriving at these numbers in the article.)

FROM THE UNWASHED MASSES

I just loved how Andre Aurich was upset for me not giving him enough credit as a Portico Darwin fanboy.  Thanks, buddy!
"Correction on TODAY'S RAMBLINGS.  Andre is a frequent reader of this newsletter (it's one of the emails Andre reads in bed while waking up for the day), but only occasionally responds to the newsletter."

And please do share more of your morning routine!

Let me shower a bit more in some praise.  The Five Star Dr. Doreen Downs gave a thumbs-up to the non-controversial editorial direction I've taken lately.


"Thank you, Portico, for a refreshing edition with non-political, non-old man whining posts."

Sorry, Doreen - I'm back to politics.  But is it politics if it's factual?

But there's a dark side to my readership, and it is often personified by my friend and neighbor Hunter Deuce.  And can it get any darker than when then topic is Mr. Deuce's favorite Michael McDonald track?


"'What A Fool Believes' is hardly my favorite McDonald/Doobie Brothers song.  I'd easily go with 'You're Made That Way' over 'Fool'.

 You're Made That Way (Live)"
Wow, sorry man, and I stand corrected.  I remember when Hunter used to be in to things like R.E.M.'s debut LP, "Murmur".  Heck, I think he even used to own that one on vinyl?
Thank you to any one that is reading this newsletter.


KLUF

Who says there's no good new music today? 
Oh
.  But today's album actually proves my point, as this band peaked in the 1980s and broke up soon thereafter.  Are there any new or new-ish artists making music like this now?
Here are the reunited Tears for Fears, with their excellent new record, "
The Tipping Point
".  The lyrics and music are very powerful and this is a keeper.