TODAY'S RAMBLINGS

Happy Monday.  Should we all be dusting off our copies of the ultimate Stephen King novel "
The Stand
"?  Sadly, "It's not over until it's over" never felt more real? 
On that note, I just got a booster vaccine dose last Wednesday, Julie gets hers this Wednesday, and I sure hope you're getting yours. 
Here is the CDC's guidance on booster shots
. 
(Oh, the sheer wonderfulness of being a
completely superior
Coastal Elite and being able to lecture others not as enlightened (woke!) as I!  But do you guys think I should be concerned about this 3rd arm that started growing out of my forehead after I got the booster shot?  Maybe no one will notice?)
On to the important stuff.  It will seem initially that this newsletter is about my favorite subject, but it's actually about my second.
Some deem me behind the times.  A grouchy old man.  Out of touch.  Even:  a dinosaur.
I will now demonstrate otherwise.  Today, through the wonders of technology (the amazing
Roon
music system), and with zero input whatsoever from Kevin "Music" Monza, I give you a list of all of the new albums released in 2021 to which I've listened.  For your convenience, I've noted the records that might get (or are actively getting) a play on
KLUF
.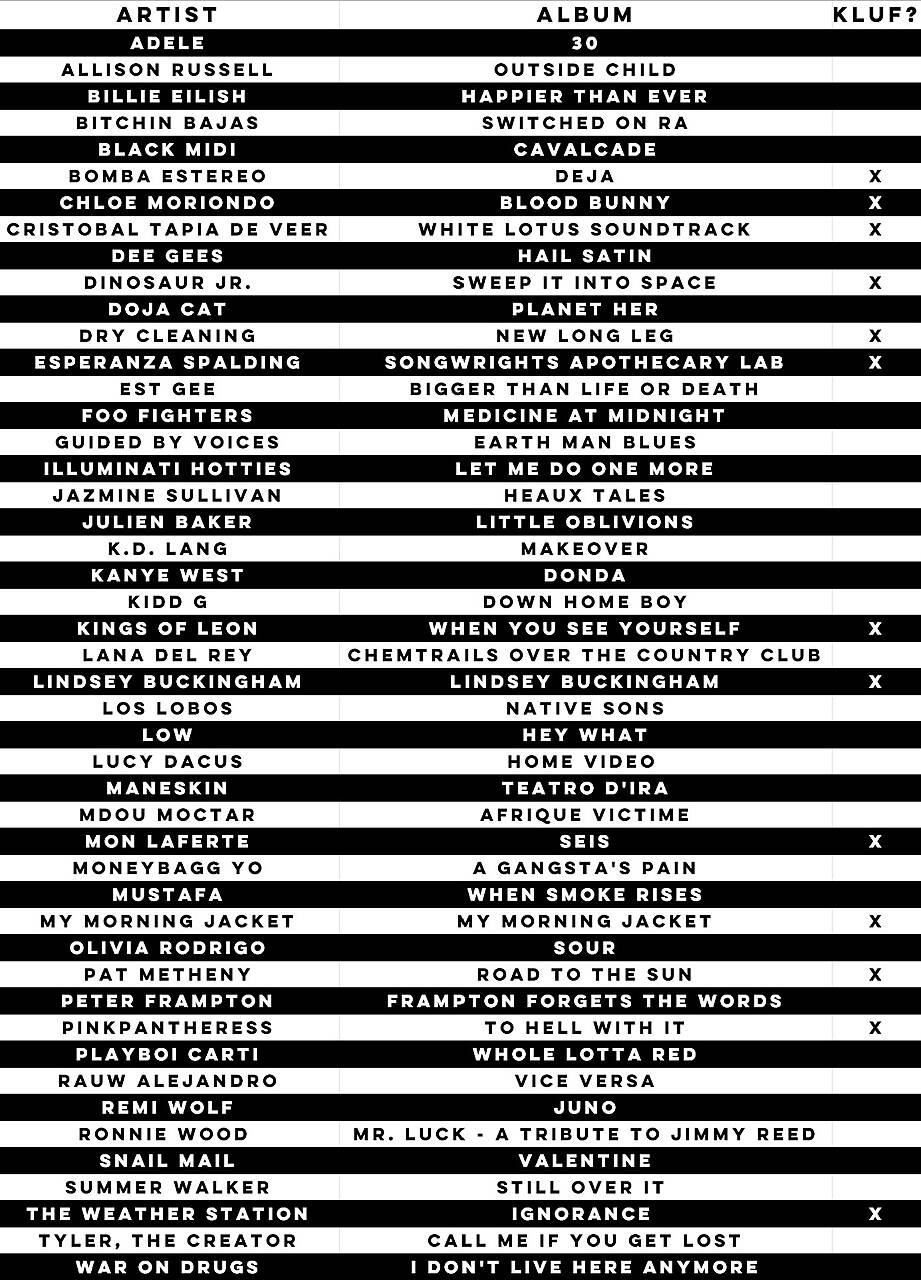 Wow, do I feel young, relevant, and I have such a spring in my step!  Dinosaur?  I think not.
Disclosure:  I can not honestly say that I listened to every single track on each album.  I am not a rap nor a country guy, so I skipped through things like Moneybagg Yo (but what a cool name!) and Kidd G.  But I have listened to at least some portion of every album on the list above.  So while I still kinda sorta agree with
my previous complaints
about today's music scene (it's not clear at this point if Illuminati Hotties have real staying power), but I must admit there was some excellent and very interesting music released in 2021.
More than probably any other topic, if you feel I've missed something, I'd really appreciate hearing from you on your own favorite new albums of 2021, and I will happily share them here.


FROM THE UNWASHED MASSES

In response to the invitation to the 2021 Darwin Awards (to be held at the historic El Polin Spring in The Presidio), the erudite wannabe Hunter Deuce took to quoting some spiritual text, but then ended up throwing shade on the whole thing:
"'Any woman who drinks from this spring during a full moon is assured of many children and eternal bliss.'

Not gonna lie, 'many children' doesn't sound anything like 'eternal bliss' to me. 

Speaking of many children, the apprentice pappy Andy Jones could be heard whining from the nursery of his sumptuous SoCal suburb of Oceanside:


"Oh sure, start the fun parties AFTER we leave!"

You and the family will be missed, I assure you.  And it's certainly going to go down to the wire in the hotly contested Rookie of The Year category - but a reminder:  the nominee (or designate) must be present to win. 


Thank you to any one that is reading this newsletter.


KLUF

More disclosure.  Quite a few of the albums on the list above (but definitely not all) came from a "Best of 2021" list published recently by my beloved
New York Times
. 
My quasi-plagiary is all to the good, though, because I otherwise would not have discovered The Weather Station, and their album "
Ignorance
".  It's very good and has a nice sound that's likely to appeal to many. 
Even you kids out there might like it.
Why not?  Although, God, I used to hate being called this when I was a kid.  But I have no idea the connection between "Dino" and "Portico" or "Darwin"?