TODAY'S RAMBLINGS
Our recently concluded sojourn to the Anderson Valley
wine region of Northern California made me want to reminisce about the other regions Julie and I have been fortunate enough to visit over the years.
(Editor's Note:  only places we've visited within the last year make it into a Travel Guide and get ratings.  So that's why this isn't a Travel Guide, and why there are no pithy ratings.  This a true ramble that falls under my original definition of "Plans to Enjoy Life" - I have indeed, as you'll see below.)
We've been lucky, in the sense that we've had the means (and the desire) to marry two of our great loves, travel and wine.  By that I mean, over the years, we've made it a point to visit wine regions - not just here in California, or even the US - but in other countries.  Here's where we've been outside the US, with random info and a special photo (or two) from each; the years we visited are provided so you can discern the value of my info yourself.
Tuscany, Italy (2006, 2015)
Ever heard of it?  Yeah, it's a cliché but I really don't care. 
We've been twice
and wish we could live there.  A difference maker to me is the elevation of the
surrounding mountains
- they're impressive and gorgeous.  While we stay only at
The Adler Thermae
, outside the authentic and wonderful ancient Roman village of
Bagno Vignoni
, there are obviously infinite options for places to stay. 
But the Maestro says there is no room in Tuscany?
Mendoza, Argentina (2012)

Amazing wines in an amazing setting.  Elevation of the surrounding mountains as I said above?  LOL, these vineyards are at the base of the f'ing Andes Mountains. 
Our horseback ride through the vineyards
to
Paul Hobbs' SA outpost
, snowcapped Andes in the background, is easily among our all-time travel highlights.  And can it get better than the
Relaix & Chateau
-stamped
Cavas Wine Lodge
?  I think not, although bring your Bitcoin and Ethereum - it wasn't cheap then, I doubt it is now.

Casablanca Valley, Chile (2012)
Our experience here is limited to having our driver take us to two different wineries in this <beautiful> wine region, on our way from world-class Santiago to the Byron Browne IV global fave of Valparaiso.  But wow, was it impressive, including the facilities and of course, the vino.
Douro Valley, Portugal (2008)
My favorite wine region of them all? 
Its beauty
really struck me, as did the chill vibe and lack of BS.  This is where
port grapes
have been grown for centuries (and
bottled and aged
in
Vila Nova de Gaia
), but they grow and produce a lot of great wines of all varieties here.  We stayed in Porto in a place that will remain nameless, but that does nothing to my deter my hearty recommendation of Porto and The Douro Valley.
Burgundy, France (1996)
Yeah, I know, long in the tooth.  I include this only to remind newer European visitors that it is super-easy to visit Burgundy during a vay-kay in Paris.  Jump on a
TGV
to Dijon, rent a car, and you're off.  We're talking lunch in
Beune
, and then onto the uber-Burgundian chateaus that abound for your jaw-dropping and tasting pleasure.  A highlight for us was
Chateau Pommard
; the Pommard region is specifically where we went, and to this day, we still seek out red Burgundies from there.  The benchmark for Pinot Noir without a doubt, at least to my quasi-educated palate.
Kind-of's:  OK, we didn't go to wineries and/or tour vineyards on these next two.  But these are certainly proper wine regions, and rest assured, we sampled more than just a bit of the local product.
Dalmatian Coast, Croatia (2019)

OMFG alarm bells.  This trip, 7 nights (with Louise Lederhosen and Byron Browne IV, and Mr. and Mrs. Luigi Ferrari, of the Colwyn Bay, Wales Ferrari's) on a fully crewed private catamaran in the Mediterranean, wasn't just the best trip we've ever been on.  It was
twice as good
as anything we've done, and that includes our global benchmark
Adler Mountain Lodge
.  I include it because they make fine wines here that are now just getting
recognized for their quality
, but also because you might have zero idea how to find a quality company in the region for doing something like this.  But now you do - it would be impossible for me to recommend
this charter company
higher.

Veneto, Italy (2017)

This barely counts, and not because this isn't a huge, gorgeous wine region that makes world-class stuff.  It barely counts because, while we've guzzled more than our fair share of
Valpolicella
, the fact is, we've only been to
Verona
, which is kind of the HQ town for the region - but about 50km from the vineyards (kinda like Santa Barbara to the Santa Rita Hills here in Cali).  No bother.  Verona kicks ass, as does the region's wines.  We're returning for
a proper visit
in 2022 - you can count on a Travel Guide.
What's on our wish list?  Australia.  Bordeaux.  Provence.  More Veneto.  More Douro.  Spain.
What are your favorite wine regions?  What's on your wish list?
FROM THE UNWASHED MASSES

Perhaps my recent politically-oriented Ramblings are getting a bit too much for some?  I'll try to break them up more with stuff like this one on Wine Regions.  But I do feel it's important to ask for reason and objectivity from us all - especially our Federal leaders entrusted to make our country better.
On the related subject of mutual trust, David Brooks captures my sentiments precisely - I hope you'll read this, his Opinion piece from this morning's
New York Times
.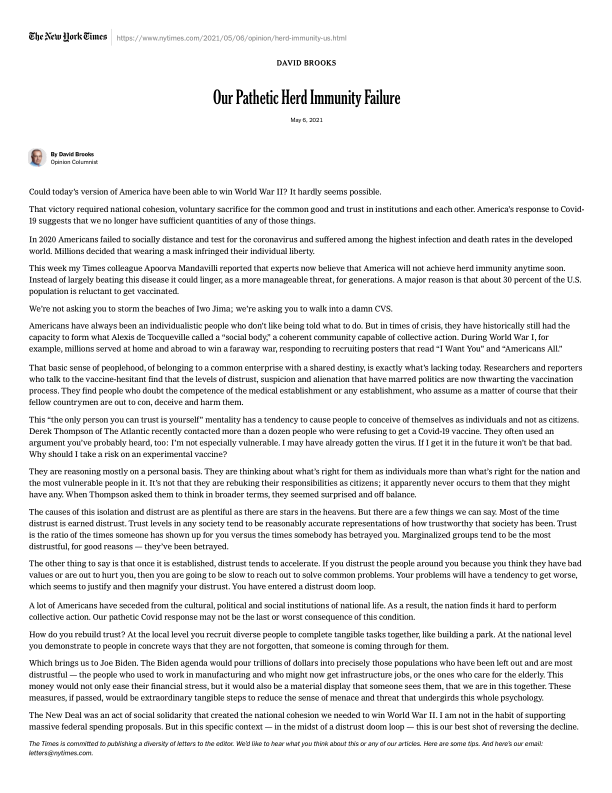 Also please know I'm still reading Adam Grant's great book, "Think Again", and it's really helping to remind me (with an added tip o' the cap to Alden Michaels) that sanctimonious lectures often have the opposite of the desired effect.  I'm trying to keep this excerpt from the book in mind going forward:
"When we're trying to persuade people, we frequently take an adversarial approach.  Instead of opening their minds, we effectively shut them down or rile them up.  They play defense by putting up a shield, play offense by preaching their perspectives and prosecuting ours, or play politics by telling us what we want to hear without changing what they actually think."
KLUF

I picked this one because it's one of my go-to's when I've drank some wine.  Maybe even a lot of wine.  Even more, it's probably in my top 5 of all albums, and I challenge any reader to suggest a guitar rock album as consistent.  Here is nice guy Dave Grohl and his band Foo Fighters, with their completely kick-ass "
There Is Nothing Left To Lose
".
P.S.  Wanna know the real Dave and where his heart is?  Read this essay he wrote for
Atlantic Magazine
during the height of the pandemic.  I always tear up at the end of reading his thoughtful and clearly sincere prose.