Today the governor of New Hampshire, Chris Sununu, let the mask mandate expire. It was implemented statewide on November 20 of last year, although mandates had been implemented earlier in the pandemic by towns and businesses. 
In a press release, the governor justified his decision by claiming
"a reduction in the state's 7-day average of daily deaths to 0.6, the lowest since October of 2020 before the mask mandate had been implemented, as hospitalizations remain at a manageable level, and as over 70% of those 65+ have been vaccinated."
He failed to say the number of weekly average confirmed cases has grown over the past 39 days and now approaches 450, about the same level as on November 20, when the mandate was implemented, according to Johns Hopkins data.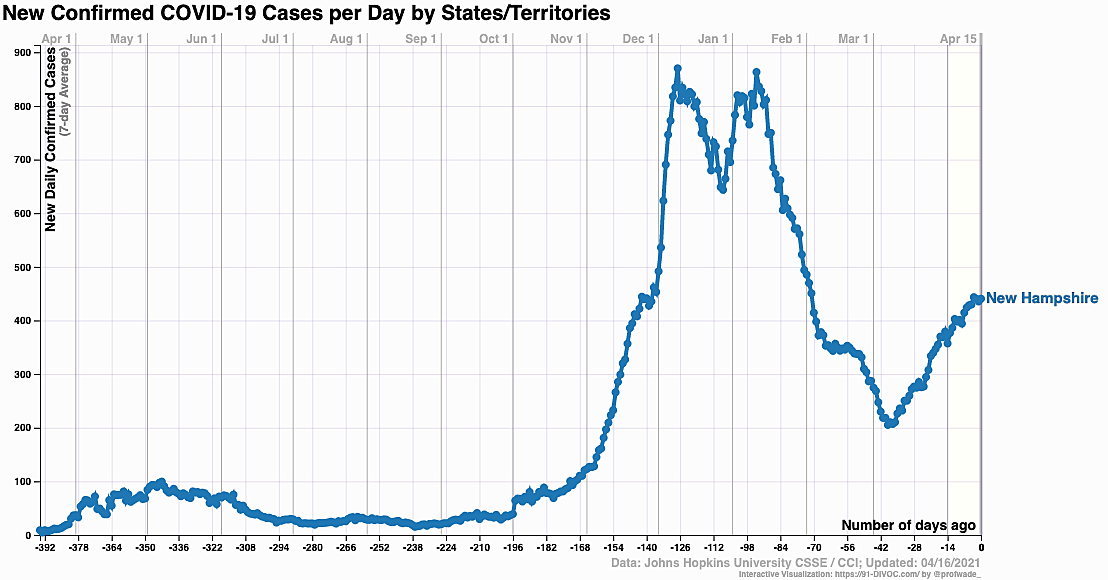 Infections are growing throughout the U.S., reflecting the contagiousness of COVID-19 variants and lax behavior to prevent the spread. Not enough of the population has been vaccinated to bend the curve in many areas, including New Hampshire.
Rather than providing leadership to stay the course, telling people to hang on a bit longer until more can be vaccinated and the infections decline, the governor abdicated, passing the responsibility for managing public health to the towns and businesses in New Hampshire. We've seen how well that works, asking small businesses to justify masks "when the governor said we don't have to wear them any longer."
His decision reminds me of a marathon runner who stops at 25 miles. Why? Seems like it undermines whatever credibility he has gained for managing the state's response to the pandemic.

Written April 16, 2021