Happy Monday, friend 👋🏼

Today's email has two objectives:
Share an open position we are hiring for, and if you know anyone who would be interested, please share with them
How I refined the job ad from "good" to "kick-ass" (at least in my opinion, lol)
MyTalentPlanner is making its second hire, looking for a Customer Success Specialist. This position is all about the customer (user and advisor) and improving their experience with the software.
Below is the original ad for the position. Under that, I'll share my edited version with reasons for the simple changes.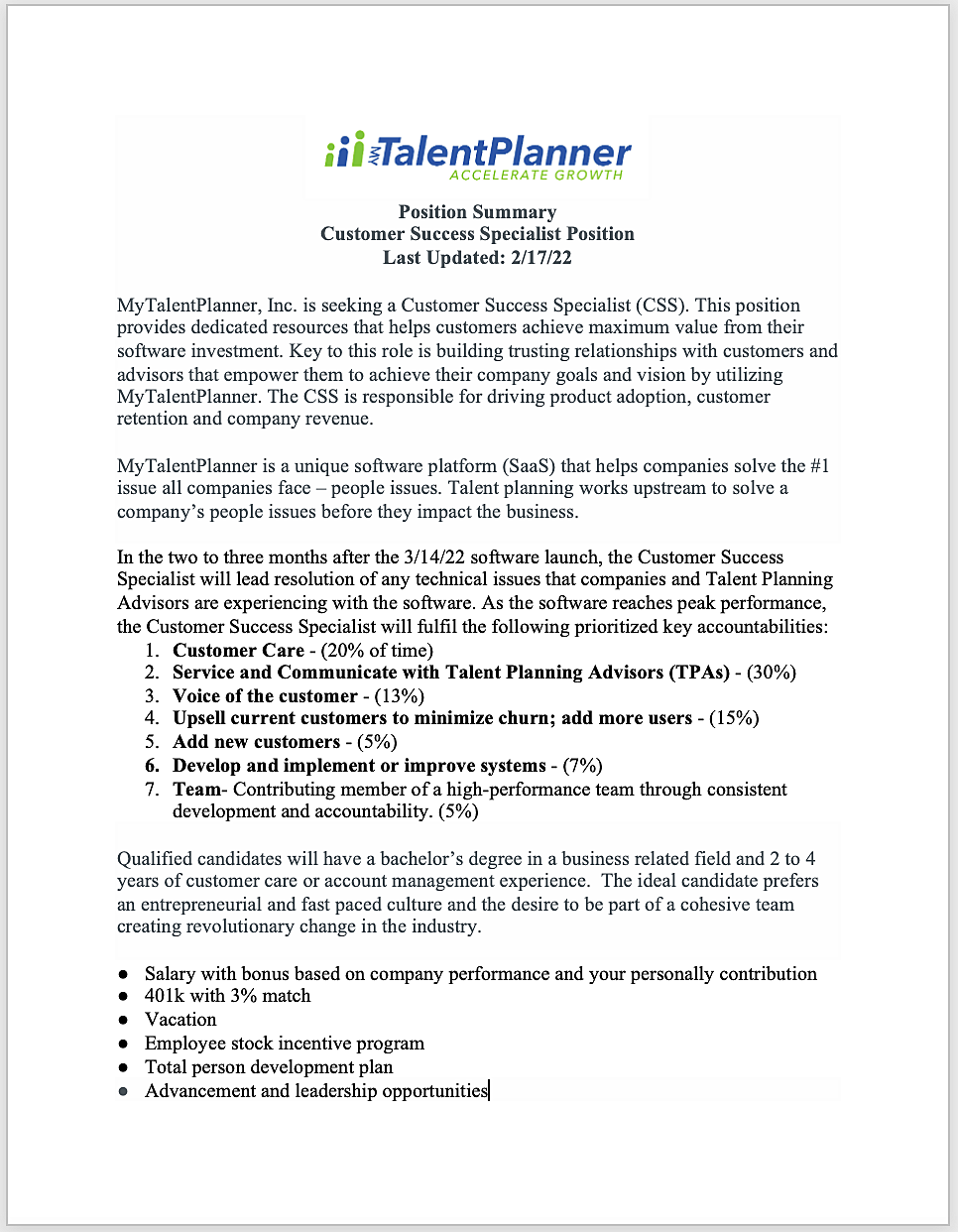 I would argue the ad is good, literally. It covers all the main points but has little life—it is not different or unique.
To succeed today (in marketing and hiring), you need to be different.
So, let's see how I tried to be different: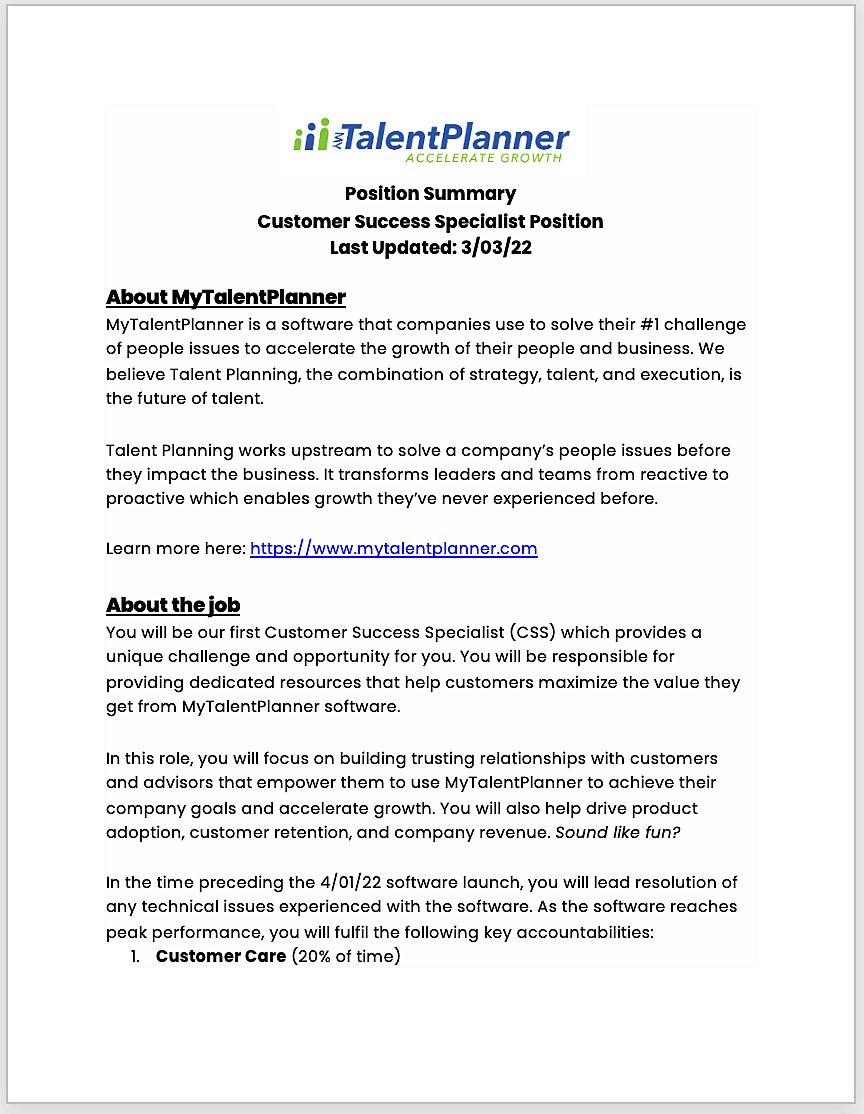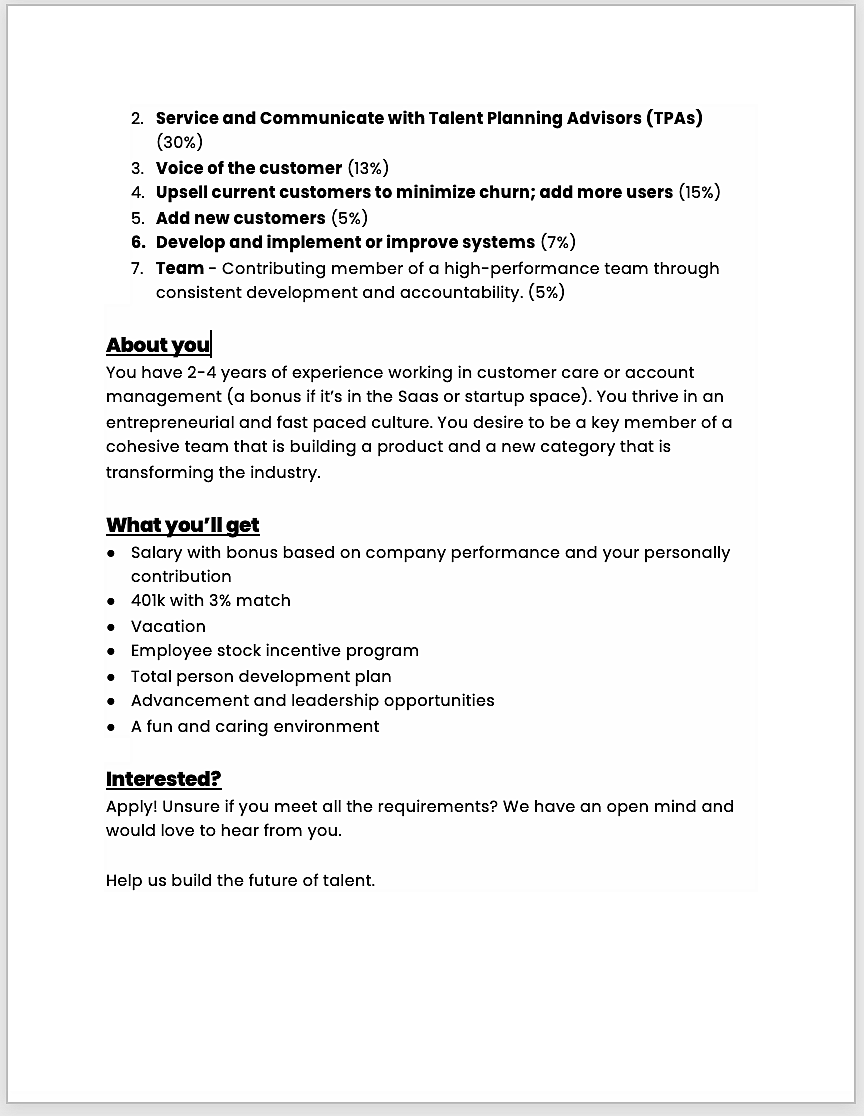 The first thing I changed was the structure. I considered the main sections and then put headers for each (i.e., About you).
This allows the potential candidate to zoom through the ad and find the information they think is essential. It also provides spacing and looks better.
The second change I made was putting the "About the company" section first and then "About the job." The reason for this was first to explain the company. If they don't want to work in a Saas company, keep moving. 
The third change was to write directly to the candidate. I used more "you's" and made it read as if someone was talking directly to you. This makes it more personal and welcoming.
I made a few more changes, like having a clear CTA and welcoming anyone to apply even if they don't meet all requirements, but those were the main three.
The main differences of the old vs. new ad:
Headers create separation and flow
Writing to the person rather than at them by using "you's"
Having a clear call to action for the reader
I hope you can take a few of those lessons and apply them to your writing and marketing.
And, if you know someone who would enjoy this position, send it to them.
They get to work with me. 😈
🧠 + ❤️ // JO