You decided to throw your hard-earned money into the advertising wheel of fortune.


Congratulations.

That's a big step. But what's an even more giant step is making it "work."

And that is what I want Workshop Wednesdays to be about: 

Improving paid content while giving you actionable advice you can apply to your marketing (organic or paid).
Confession: I've never spent a dime on advertising.

But, I've read my fair share of books on advertising, copywriting, and marketing in general.


So I think I'm somewhat qualified to give advice (don't we all…).


Today's ad rewrite is from the glomerate, Google.


Here is the original ad: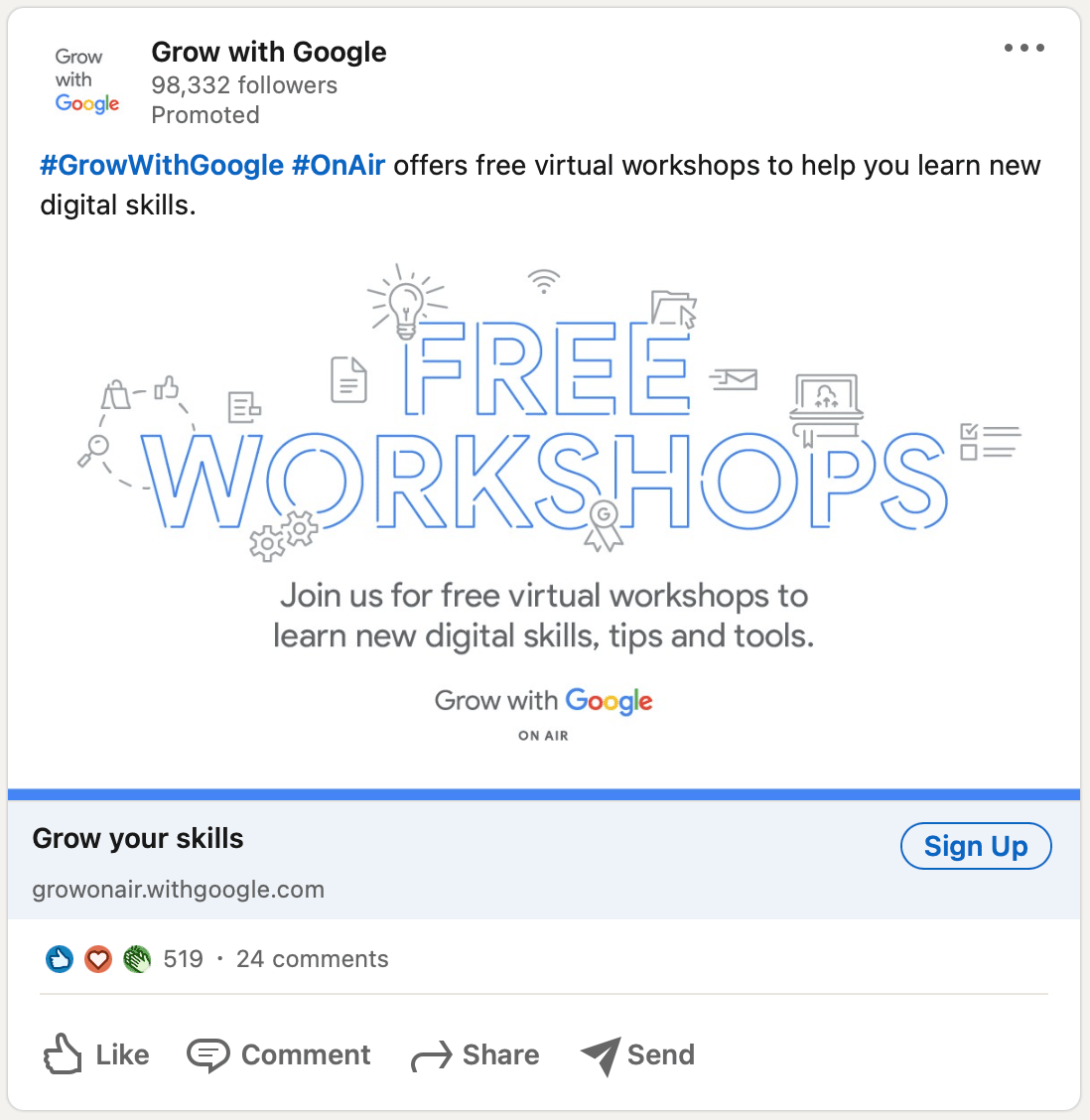 To make this quick, I'll frame my breakdown in what I like about it (assent), what I dislike (dissent), and then how I would change it (The ad rewrite).
Assent:
The copy is short and sweet (they aren't writing a novel)
Solid design consistent with Google's aesthetic 
Benefit laid out in the first sentence (learn new digital skills)

Dissent:
Beginning a sentence with hashtags 
Not connecting the benefit to real-life value (Grow with Google means...?)
The copy and image say the same thing 
Okay, JO, what would you do differently?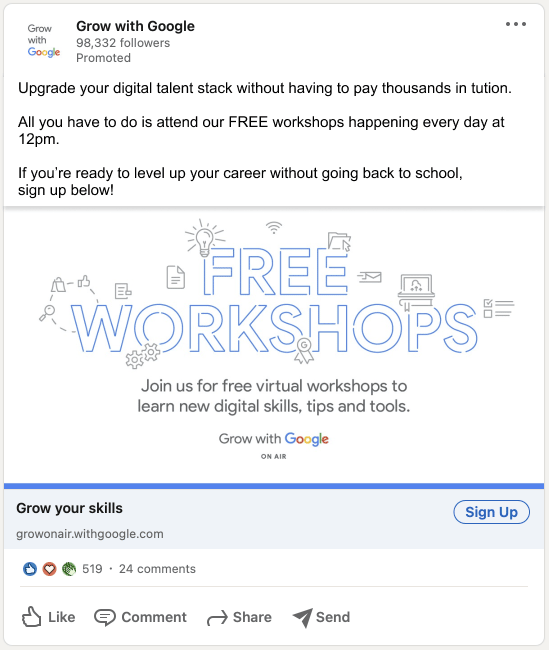 What did I change?
Presented the alternative/consequence of not attending (paying an arm and a leg for college)
Connected the benefit of upgrading your digital skills with growing your career
Made the ad look more like an actual LinkedIn post rather than an advertisement with hashtags and only one line
Apathy is one of the largest competitors all companies face—the resistance to change.
College is the traditional way to grow your career.
Grow with Google is presenting a new way to do that.
You need to address the elephant, or you will not overcome the resistance many have.


Looking back on this rewrite, I may switch the last sentence with the first and delete a few words instead of repeating myself.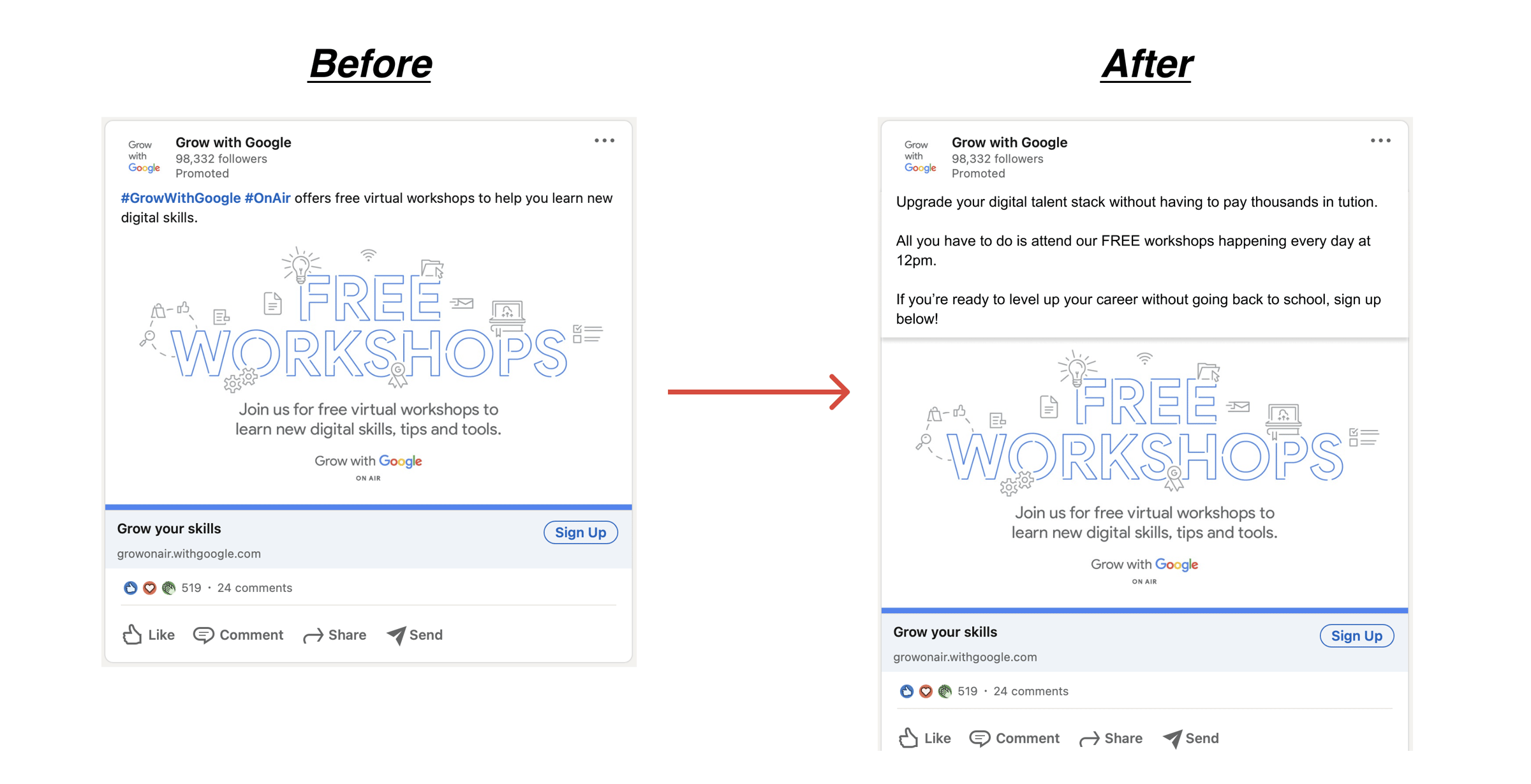 I hope you enjoyed this regardless if you run ads or not.
The application of presenting the old way and new way works for organic and paid content.


I would love to hear your thoughts on this type of content and what you think of the rewrite.
🧠 // JO