The audacity to promote an ad that's all about yourself is mindboggling.


It's like buying a billboard to put your face on it so that you can see yourself driving to work every day. It sounds like Kanye would do.


The sad reality is that many ads I see do this, whether directly or indirectly.


Today I share how to avoid that and what to do instead. Let's get into it:
What I like about this ad:
The ad is simple and clear to grasp the message

What I would change about this ad:
Make it more about the customer and less about Minute Media
Have a better hook that is customer-focused
Have a better quote (Happy birthday! – come on...)
Drop the hashtags; it isn't 2010

Here's my take on spicing this ad up:


My first change is to make the copy about the customer (partner). While the original ad says they highlight their partners, it's a lie. They are boasting about themselves, and that's it.


Changing the first sentence to directly address the customer shows it's genuinely about the partners and not a way for us to brag.


My second change is to make a premise for the ad. Obviously, it's to promote our partners, but its purpose is to highlight that we strive for a win-win with our partners. And then have the quote back this up.


My third change is to improve the quote. Rather than stay general (i.e., year-long campaigns or short reactive projects), I got specific about a project they helped with.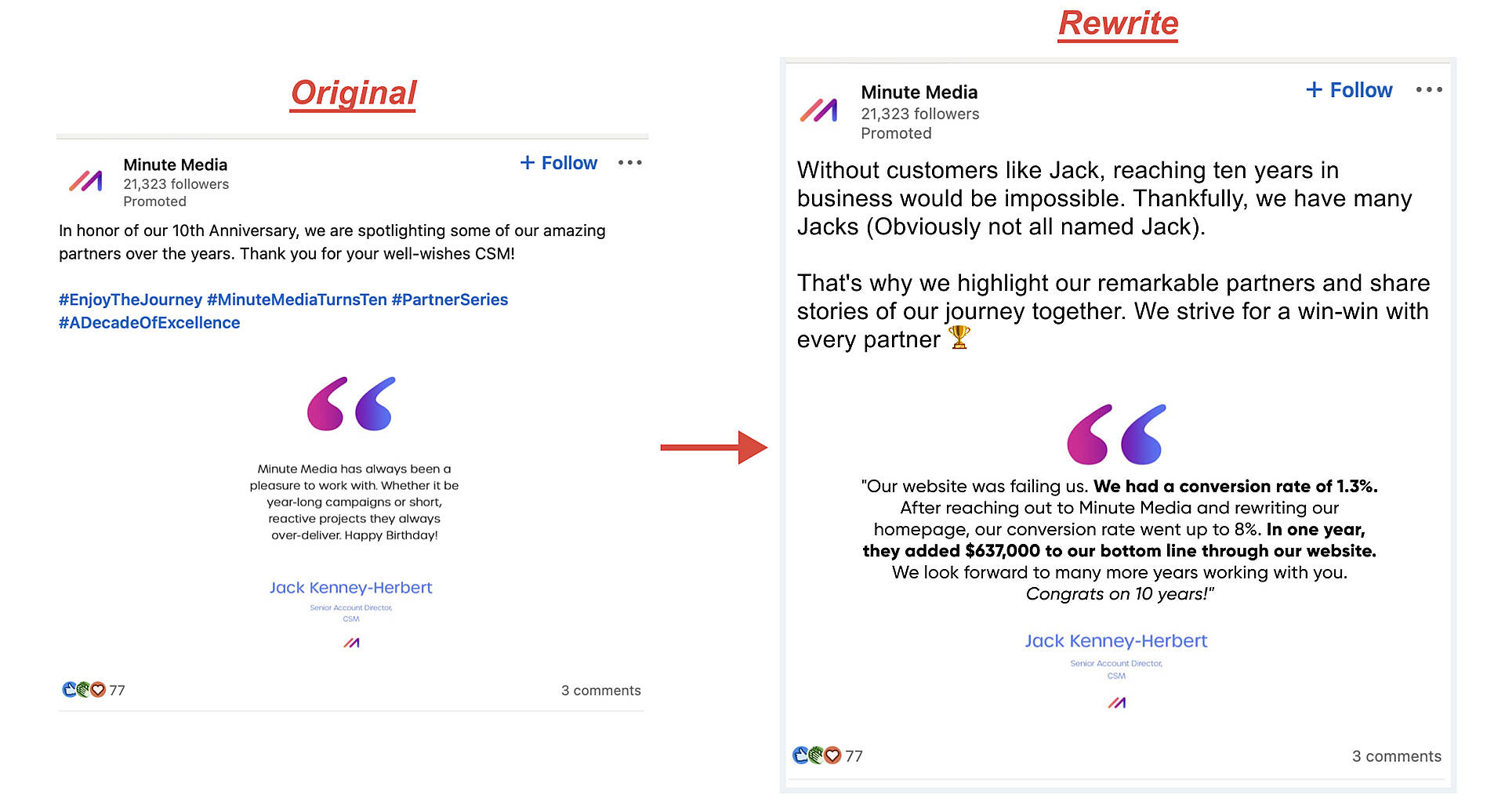 While I would not recommend using ads for this purpose, it's still possible to create a good bragging ad.


Do you think my edits made the ad more about the partner and less about Minute Media?


How would you improve this self-promotion ad?


🧠 + ❤️ // JO