A new way to streamline your workflow on iOS, which you have not tried yet.
I love to tinker with hardware and software. Therefore I have a lot of customisation on my iPhone. In the last couple of months, more and more people asked me how I set up these two specific hacks because they did not know it was possible.


Keep your home screen clean.


In my former article, "My thoughts on reducing distraction", I shared how I try to keep my iPhone screen clean. I found a better and more playful way how to approach this. You will need a third-party application called
Clear Spaces
. I think it is money well spent.
Clear Spaces enables you to place transparent widgets on your iPhone screen. These widgets act as placeholders, giving you more freedom to arrange things on your screen. In addition, I learned that when you combine them with the iOS smart stack widget, you can have multiple widgets on your device without cluttering the view. 
I love that my home screen remains clean, but I can intentionally use my critical widgets without leaving the home view. For example, I have widgets on my home screen that encourage better habits; Audiobooks, meditation, mindfulness etc.


One of my smart stacks looks like this:


Clear space
Wake Up daily meditation
Audible
Endel
I always keep my habit tracker at the bottom to remind me of my practice time. 


Tap to take notes


I have these little moments when a thought jumps into my mind, and I need to jot it down. A good recommendation is to have an inbox to save anything you want to process later (thoughts, links etc.). Any App can do this for you. I have learned that you want to have as little friction as possible in an inbox. I chose
Drafts
for that. The app works offline, is blazing fast, and can share anything with just one click. 
Most of you probably don't know that the iPhone has a convenient accessibility feature called
Back Tap
. With Back Tap in iOS 14, a quick double or triple tap on your iPhone can open Control Center, take a screenshot, trigger accessibility-specific actions, and more.
I combined this feature with the
Apple Shortcut App
. You can use the Shortcuts app to set up a personal or home automation and then run the automated shortcut when you arrive or depart, when you change a setting on your iPhone, at a time of day, and much more.
I created a simple shortcut that opened a new Draft and linked it to my Back Tap. I need to tap my phone twice whenever I write down that thought.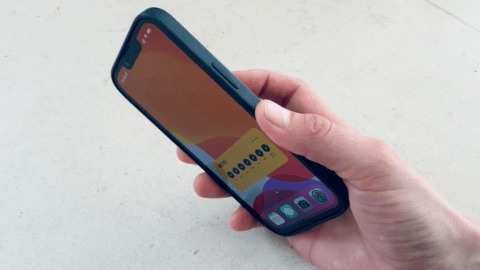 The Shortcut app is powerful. I recommend watching YouTube videos about what can be achieved with it. I have multiple shortcuts that simplify my life by automating routine tasks.


Maybe my two tweaks will make your life easier or inspire you to be more playful with technology and see how you can make it work for you. If you have other iOS or Mac hacks or tweaks, I would love to hear about them.