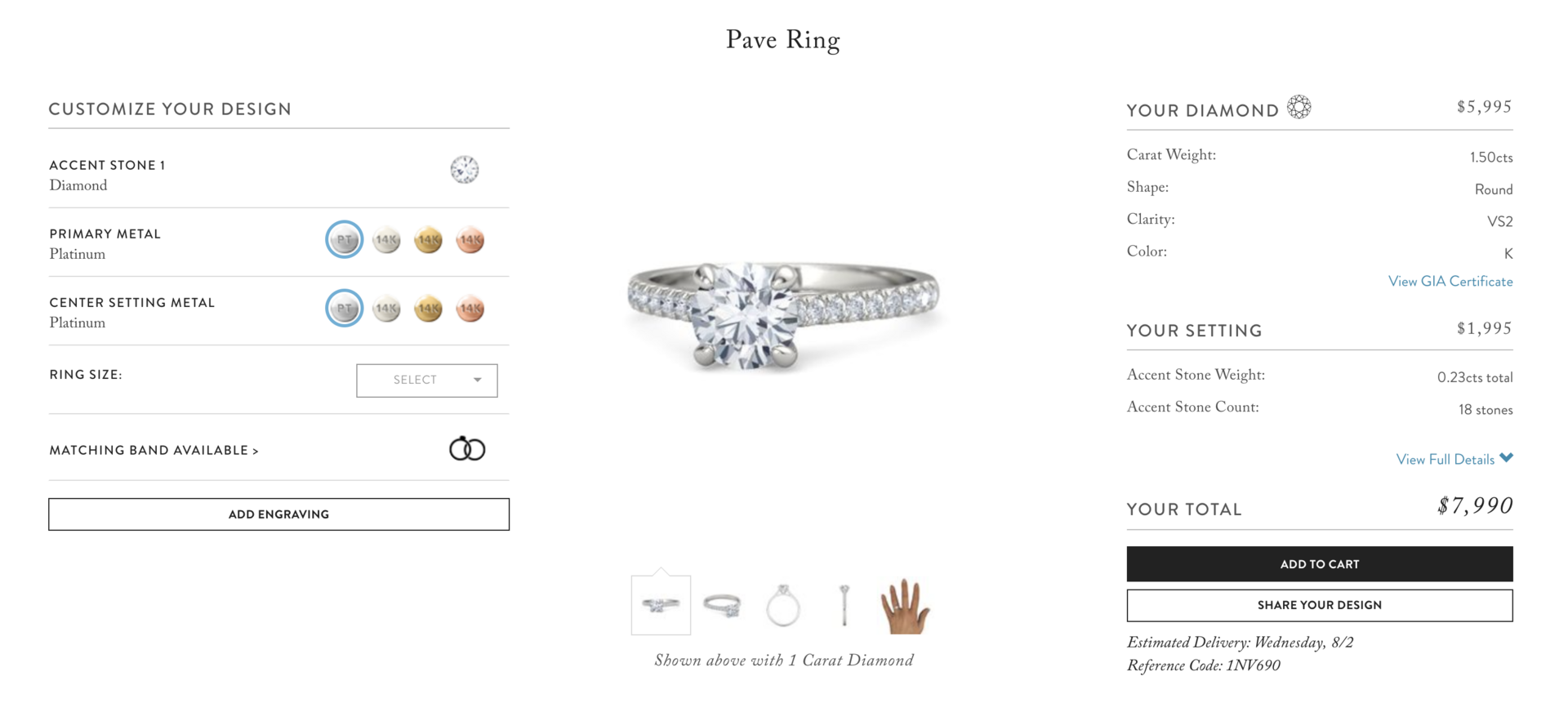 The final year of Gemvara was probably not spent how you'd expect. Rather than aggressively looking for a viable way forward for the brand, we focused on the best possible use for the technology. 
We considered doubling down on engineering efforts that would make the brand easier to market, but as digital advertising and customer acquisition costs continued to rise, it never felt like the right decision. At the time, the team had been narrowed down to just three (extremely talented) engineers. Knowing time was limited, we embraced the hell out of our constraints and threw ourselves into a new possibility. One that was far more focused at the start. 
Focus on Bridal
Long term, we wanted to build technology that could offer better experiences across every facet of fine jewelry. But knowing we had to focus, and knowing Gemvara's strength in engagement, we planned to start by creating a better experience for all facets of bridal.
While Gemvara focused on diamond alternatives, our B2B efforts mostly centered on the choice between natural and lab grown diamonds. We had our own version of the traditional "select your diamond, select your setting, configure your design" approach that has been popularized by sites like Blue Nile, James Allen and Brilliant Earth. However because of Gemvara's unique approach to choice, we were able to add lab grown diamonds well ahead of the larger e-tailers. We saw customers eagerly embrace lab grown diamonds, but we also noticed more stability in the natural business than the industry's highly vocal fears would have led us to expect. 
Working on a business that had such a heavy focus on affordable gemstone alternatives, we also noticed that the traditional approach we were using for natural diamonds was less than ideal for lab grown. Especially as it became clear that lab grown prices would continue to drop. We started to believe that lab grown diamonds were more in line with our semi-precious business and experience than our precious. At the time we had a half-decent select your own diamond experience and a more than decent gemstone experience. We came up with a plan to bridge the gap between the two to reimagine how lab grown could be sold alongside natural diamonds.
Focus on Fundamentals
Too often, we let ourselves get distracted by new technology. Topics like augmented reality and artificial intelligence are exciting, but they keep us from acknowledging a very simple truth: if your current approach isn't working, it's unlikely that the latest trend is going to solve your problems. New technologies are well worth exploring when you have something that's performing, but they rarely improve an experience that isn't fundamentally sound. And much as fundamentals can be boring, they are essential.

Instead of experimenting with the latest trends, we obsessively put ourselves in the shoes of our two main users: end consumers and sales associates. We looked at our data for insights and spent more time talking to our users to understand where they were struggling (especially with the more seasoned sales associates who tend to avoid technology like the plague). We then implemented a product roadmap that simplified, streamlined and strengthened our existing foundation. We avoided exciting buzzwords and did the tedious work needed to consider and create a better user experience.
Focus on Partnerships
From the start, our vision was a branded experience that included direct to consumer sales alongside select retail partnerships. We wanted to build something from within the jewelry industry rather than trying to be yet another company that tries to "disrupt" it from the outside.
Gemvara showed us the challenge in cost effectively acquiring engagement customers online
. And we had no shortage of conversations with local and regional jewelers about their own struggles rationalizing digital advertising, especially for engagement. 
It was our belief that the only way an emerging brand could profitably compete was to partner with retailers to offer an omni-channel strategy that centered on sharing customer acquisition cost. We also felt that partnership would be the best way for those same local and regional jewelers to sufficiently optimize their own investments. But the challenges here proved to be less technical and far more political.