TODAY'S RAMBLINGS
We are very close to the family of the bridegroom at this weekend's wedding in Boulder.

As I've mentioned recently, his parents, "Polly" and Neumann Michaels, now divorced, are long-time friends of ours.  While the dynamic and dimension of my relationship with the two of them has changed greatly over nearly 40 years, the bonds run very deep and their influence on me can never be overstated. 

The two of them, despite a lot of water that's gone under a lot of bridges, raised 3 incredible people.  Jennifer, Raymond, and tomorrow's groom Alden all shine with the grace, generosity and agency their parents exhibit in the very true story that follows. 

It is with immense pride and gratitude I give you "An Entrepreneur's Tale". 

A long-forgotten management consulting company delivered on my and Julie's dream, that being an all-expenses paid relocation to SF, from Houston, in May 1992.   I returned the favor by dumping them when Neumann came calling soon thereafter, asking me to be the tech lead in a new business, based on advanced fax technology (it's pre-Internet, folks).  This company was called Epigraphx and Neumann Michaels and I started it from scratch in the summer of 1992. 

The details are mostly boring, but while the company succeeded, I didn't, at least in terms of being a human being and civilized in the data center I had built.  The >= 80 hour work weeks forà 2 + years building and  supporting the engine room of Epigraphx did the trick:  my typical reaction to pretty much anything was either a snarl, a growl, or a scream.  Often, it was all 3.

In an effort for more professionalism (and probably also to save me from myself), over time Neumann and the investors in Epigraphx justifiably brought in not 1 but 2 different CIO's above me.  Upon the arrival of the second, I quit.  I had built the company with my own two hands, and I'll show them, I very maturely thought at the time. 

I had a few percentage points of equity in the company, and Neumann and the other investors bought me out at $50,000 or $60,000.  Whatever the number, it was fair, despite some real animosity on my part at the time.  This all occurred in 1995.   

Now, fast forward - way, way forward - to 2014.  What transpired on all fronts in my own life and that of "Polly" and Neumann over the 20 intervening years was . . . breathtaking.  It was out of nowhere at this time that I get a call from Neumann.  He's coming to SF, and wants me to book a table for us at the best restaurant in SF.   

While I had focused on other, less wonderful parts of the Michaels' story during the years that passed, I did know that Epigraphx had been acquired by a company called Silverpop in 2002, and I also knew Silverpop had just been bought by IBM.  Pretty cool, I thought (then and now) - a company I started ended up being purchased by IBM, however circuitous the route and distant my touch.

But let's be clear, it was still with trepidation that I went to dinner that night with Neumann.  As usual, though, his potentially dangerous charm won me over and before long, it was like old times, with hoots and hollers as we dug into what I rated at the time as at least a 1 Michelin Star meal. 

At some point during the dinner, Neumann told me why we were there.  He confirmed that IBM had purchased Silverpop.  But then he dropped the big news:  it was this last acquisition of Silverpop that finally gave he and "Polly" the semi-windfall they hadn't gotten to date as founders of Epigraphx. 

Neumann didn't share the size of their liquidity event, and I didn't ask.  And it didn't matter, because what happened next is An Entrepreneur's Tale.  It's what can happen if you put it all out there, like you must if you're an entrepreneur.

Neumann told me that he and "Polly" had agreed they wanted to give me something, in recognition of my contributions at Epigraphx.  They felt I deserved a part of what they had just gotten after the sale of Silverpop to IBM.  But I had been paid paid fully and fairly for my equity when I quit in 1995.  What did they want to give me now, 20 years later, in 2014?

Neumann took out an envelope, and in it, a check and a lot of one hundred dollar bills.   It turned out the check and the hundreds were similar:  each totaled $17,500.  "Polly" had given me a check for seventeen thousand five hundred dollars, and Neumann gave me the same amount in cash.  They gave me $35,000 and had no obligation to do so.  As a thank you for something that happened 20 years prior.

This is one of the Michaels' family stories that will be in my mind this weekend, as their eldest son, Alden, is married.  From what I have seen, he's all of what is parents are, and more.

FROM THE UNWASHED MASSES
Max "Madras" Ryder, himself not altogether unfamiliar with mid-life crises and the spending it brings, poked some fun at the rocketry hobby of Messrs. Branson, Bezos, and Musk.  Sadly, he made it political and even resorted to name calling.  


"So, the fact that your Liberal little buddy that fired off in his little penis rocket . . . is that acceptable with your climate change issues?
Just curious?"
I love the "your climate change issues"!  I'll definitely keep the record heat on my side of the fence!
Fact is, Max has been known to provoke in order to get a typically histrionic response from me.  But this time, I  simply ordered another Old Fashioned at the completely off-the-charts and
Diamond Certified
Rosetta Hall
here in Boulder and got over it. 
Remote correspondent Hunter Deuce, reporting from an undisclosed location in Sonoma County, filed not one, but two reports.  In the first, he shared a
very funny satirical look
at today's kill-or-be-killed society, and in the second, a newly discovered gin mill.  It seems that Hunter finds
Ernie's Tin Bar
in Petaluma to his liking.  By its looks, I can't say I blame him.
And kudos to Dr. Doreen Downs for her excellent taste:  sounds like she might add Rocky Mountain National Park to her travel agenda.  That's a big "attagirl" for the professor - Doreen, you'd love everything that Rocky Mountain NP offers.  It really has it all.
Thank you to any one that is reading this blog.


KLUF

I will never forget when Alden sat in my hazy dining room a few years ago, bad-mouthed
the chill music I was playing
, and then went on to say that Jimmy Chamberlin of Smashing Pumpkins was the best drummer - ever.  Clearly, an example of misguided youth, but regardless:  here is an Alden Michaels favorite, the truly epic and truly towering "
Mellon Collie and The Infinite Sadness
".  Truly epic and truly towering.  Hmmm - kinda like tomorrow's bride and groom.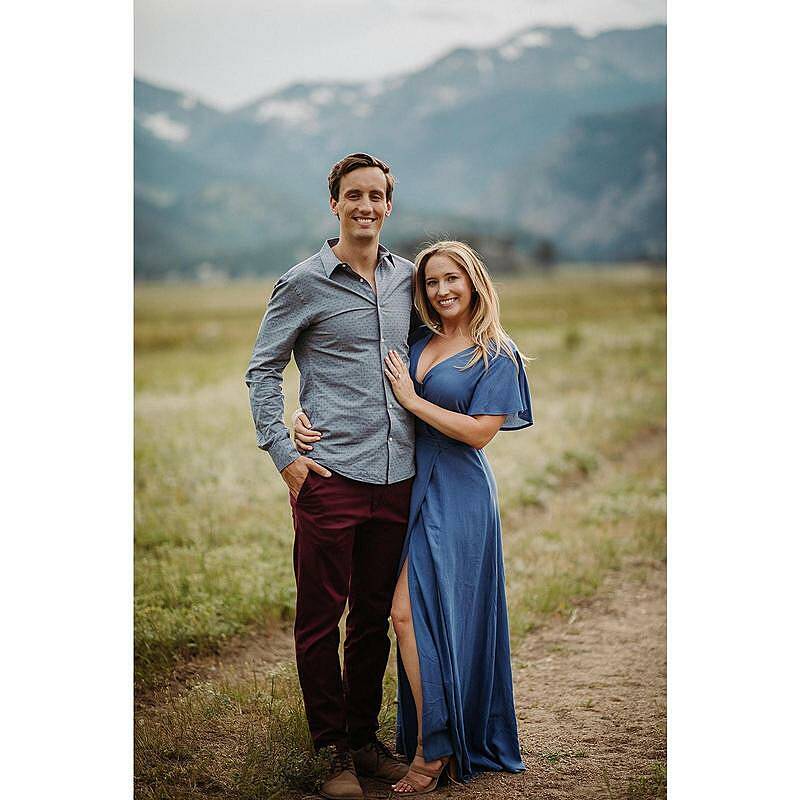 Cheers and best of luck, Katie and Alden.  In the eloquent words of my late father:   
May the most you both want in life be the least that you receive.