TODAY'S RAMBLINGS

We flew in for what can only be described as a Texas-sized event, the
Houston Livestock Show and Rodeo
.  It is 28 days, and each day is like a Super Bowl.  Do some poking around at their website if you don't believe that. 
Plus, being in the warm embrace of my cousin Dr. Shelly Murphy (who disguises herself as
Kelly J. Larkin M.D. during the event
) for the 3 days we're here makes all of the difference.  You see, in addition to her other myriad endeavors, she's a senior exec for the Rodeo, and that means things like private golf carts and special secret VIP bars and lounges.  And then there's the luxury skybox at NRG Stadium, from which we get to view all of the events. You really have to see it to believe it.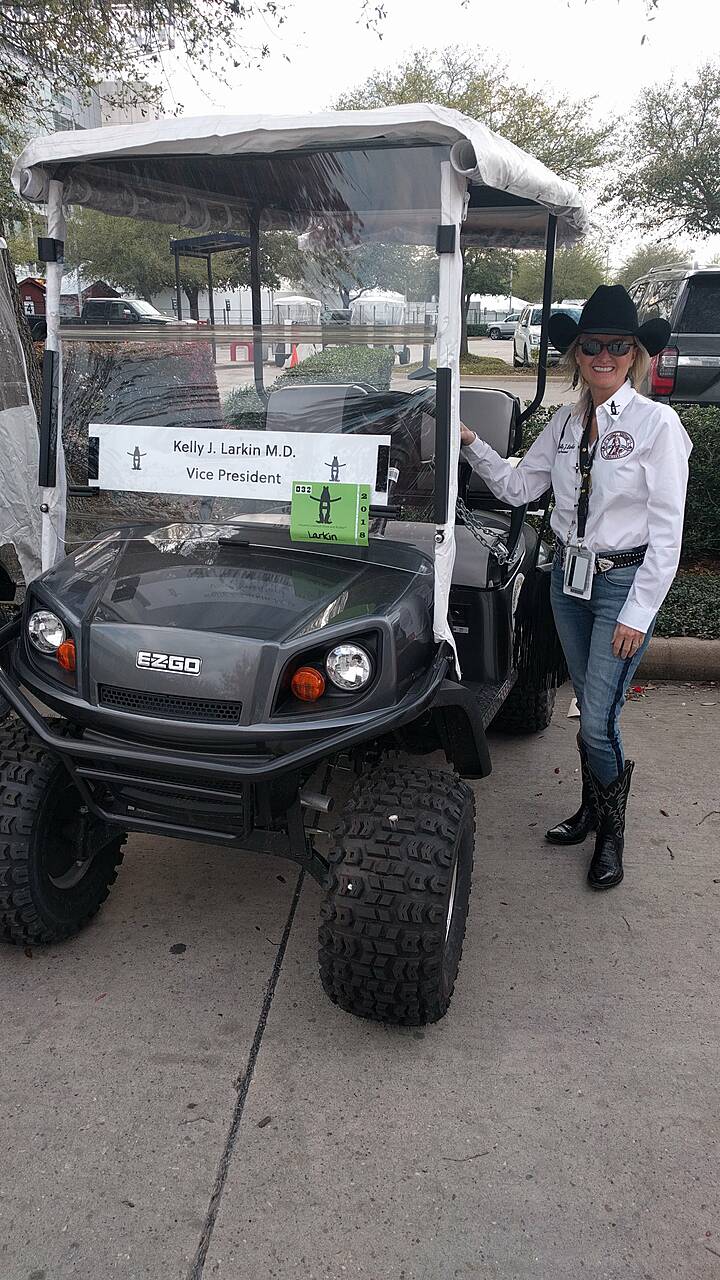 As my initial foray into the NFT and blockchain worlds has concluded, I'd like to share with you my takeaways.  As I wrote Wednesday, we had a very successful exhibition and sold 14 of Charlie's works.  But over a solid month of pushing we sold no NFTs.  Why?  Here are some thoughts. 
People that don't already have crypto wallets are baffled and scared.  Even some of the smartest people I know would ask questions indicating little or no understanding of what any of this is all about.  That makes the sale twice as hard, at least in terms of the general public.  The marketing guru Steven Simon shared this observation, calling it a "two level sale".  I completely agree.
And it is confusing, even to someone with a decent level of tech knowledge, like myself. 
But what about the people with crypto wallets?  Frankly, I don't get it.  There are things that are selling and some at silly numbers.  I will share here what I said to the artist himself:  we only spent a couple of thousand dollars on advertising and PR.  If we spent ten or a hundred times that, I have little doubt we could break through.  
My gut tells me that in the hyped and hysterical and swampy world of NFTs that what sells is sizzle.  And by that in the case of art I think you've got to try to grab headlines with a nutty high number or something equally attention-getting.  Like offering Charles's "Oh My Goodness" painting, JPEG, and movie for a million or more dollars.  That is unlikely, but not impossible, and I am hopeful Charlie is motivated to push from that direction.
There are answers to the energy usage problem.  In fact, one of the largest players in fintech, Ripple, has set up a foundation to fund creators that mint NFTs on their green blockchain, XRPL.

My final words on this whole thing for now is this:  we did not have success marketing art in the NFT marketplace opensea.io.  Beyond that?  I think there can be little doubt that the concept and usage of decentralized, permission-less databases (i.e., a blockchain) is here to stay and their use will only grow.  

But is it a game-changer, in the art world, or the whole world?  I don't know.

FROM THE UNWASHED MASSES

Kind words about the event came from all over, including during a swank dinner at the
Killer
Murray Circle
on Wednesday evening.  Charlie, Julie and I were hosted to a lovely meal there by two of the exhibition attendees, big shots both, and they were lavish in their praise.  It was gratifying to witness in person Charlie getting some well-deserved recognition.
As was the very gracious and always succinct Lauren Ryder, who despite not being able to attend, said 
"Congrats on a successful event!!  I knew it would be."
Gosh, I didn't.  But thanks!
And last but not late to the bar, there is Hunter Deuce.  Both an exhibition attendee and Saturday Night Live aficionado, he sent along this spot-on skit from last week's show.
COVID Dinner Discussion - SNL - YouTube
Thank you to any one that is reading this newsletter.


KLUF

It was only recently that I became enamored (via Arthur) with this band.  This has boiled over into one of my full-on obsessions, including the creation of
a fabulous playlist
that showcases the amazing Steven Wilson and his band, Porcupine Tree.  I really hope you'll give this a listen, and in its entirety.  There's truly something for everyone in this Diamond Certified music, which I would deem modern progressive rock.  Maybe amongst the best I've ever heard?  Yes - it is at least the equal of Rush, Yes, Genesis, ELP, and maybe even Hunter Deuce's favorite, Asia.