Cape Cod
!  Who knew?  Well, I guess just about everyone else, but we'd never been there.  Wow, were we impressed.  Let me say right off the bat, the entire place is
Diamond Certified
.
But first, an important note.  We went in the middle of May of 2021.  Pre-season, and also kinda sorta post-COVID, but of course, not really.  Yada yada the virus, but the important point is that for whatever reason, there were essentially zero people anywhere we went:  beaches, bars, restaurants, museums (hey, we went to one, OK?) - they were all empty.  My point being YMMV if you go, gee, I don't know, Memorial Day Weekend?  The 4th?  Labor Day?  Shoulder season is clearly a key swing thought here.
OK, anyhow.  We flew into Providence, which, apart from flying into Hyannis or Provincetown on the Cape itself, is ideal.  Our drive from Avis at PVD to our Airbnb in Eastham on the Cape was about 90 minutes.   Cape Cod is an actual island (there are two automobile bridges and one railroad bridge), and runs about 65 miles out into the Atlantic Ocean.  Eastham, is considered "Outer Cape" and you go "down Cape" to get there.  Yes, confusing and wait until you drive south on Route 28 North to Chatham!
And a word on the vibe.   While Nantucket and perhaps Provincetown are a bit more buttoned-up, the general decorum here is very casual and unpretentious - I felt more at ease in my Dr. Shelly Murphy-sanctioned black Carhartt shorts and black t-shirt vs. something more swank.  Unless you plan on spending a lot of time in places like the hotels we visited for lunch (see below), you really can leave the fancy stuff behind.
LODGING

As we ask now for every destination, Airbnb (or VRBO or Third Home or whatever) or hotel?  Well, sorry, as we've only been once, I can only speak with true authority on one approach.  But with that said, the choice is obvious, at least if you nail it on the choice as we did:  Airbnb.  We flat out loved the freedom of our own place on the Cape.
Our Textbook cottage was up Old Farm Lane, a private. mile-long rutted dirt road, in a nicely wooded forest and among a lot of other very Cape Cod-y looking cottages.  Its location in Eastham was ideal - we could walk to both a beach (Campground Beach, on the Bay side:  hello, sunsets!) and to town for essentials like fine wine and Ben & Jerry's.  But it's also super close for easy drives to all parts of Cape Cod National Seashore and to towns you'll want to see like Chatham and Wellfleet.  It was also very private, quiet, and relaxing.  We're talking birds chirping and the ocean breeze perfumed by lilacs.  No joke.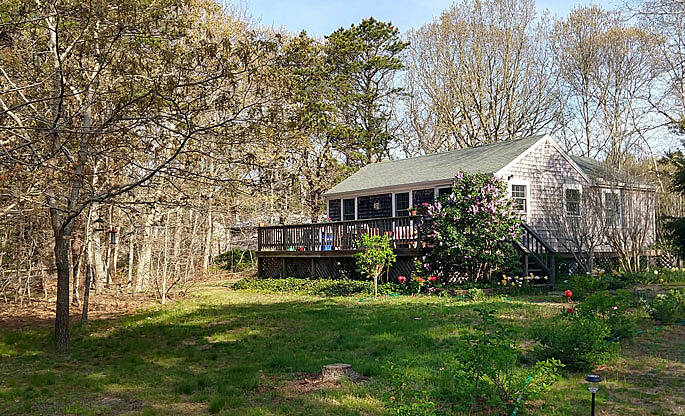 Hotels?  Well, we visited two, one on Cape Cod, the other on the island of Nantucket.  Both looked extremely nice and both were in great locations.  While we only had lunch at each property, these would certainly be good starting points for a hotel search of your own.
Wequassett Resort
The Nantucket Hotel & Resort
THE GREAT OUTDOORS

We were somewhat caught by surprise in terms of how much of Cape Cod is a part
Cape Cod National Seashore
.  It's a lot and boy, is that a great thing.  There are two Visitor Centers, each definitely worth your time, and especially the last one:  it has a roof deck with this wonderful view of the northern- and eastern-most reaches of Cape Cod.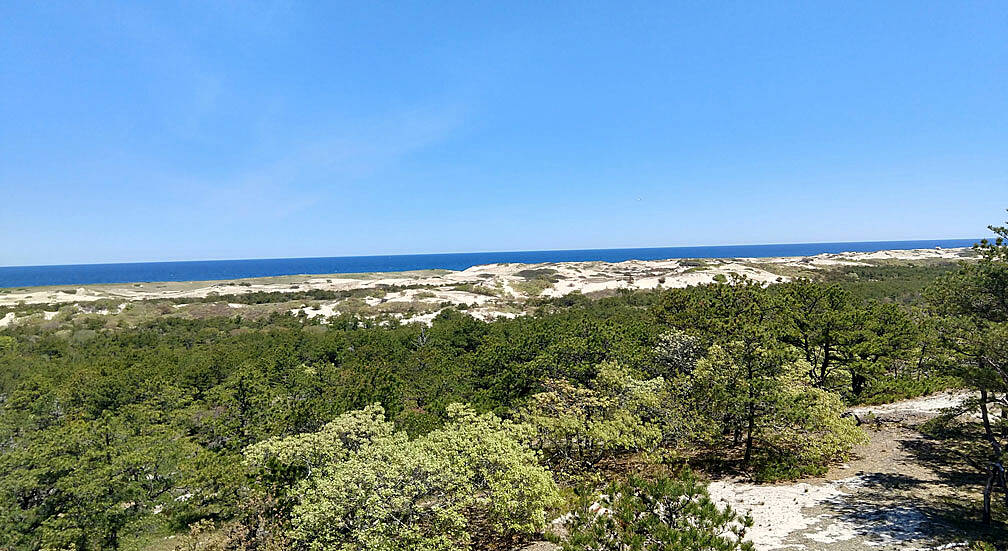 Within the National Seashore, there are two easy trails that take no time but put you in the middle of the two different types of dense forests that, along with the beautiful sand dunes, monopolize the terrain.
Beaches?  Did someone say beaches?  Well, yes, and again, I will claim ignorance here in terms of how uneducated I was on the quality.  Sure, it helped that they were devoid of crowds, but the fact is, each and every single one I list below is completely Diamond Certified.  Mile after mile of powdery, tawny sand.  Rolling dunes out of a picture book. 
Iconic lighthouses
.  Heck, I've been told there's even a liquor store that had excellent chilled white Burgundy near Marconi Beach - which, oddly, was also my personal favorite.  
Here, in no particular order are the beaches we visited.  You would not go wrong setting up shop for a beach day on any one of them.  The picture is from Race Point Beach, but it literally could have been taken at any of the 7 - no kidding.
Campground Beach, which was a 10 minute stroll from our cottage in Eastham, gets "just" a Killer rating, its lesser stature due to its slightly less powdery sand.  But look at this sunset!  And it was deserted each time we visited (we saw a total of 3 Chamber of Commerce sunsets).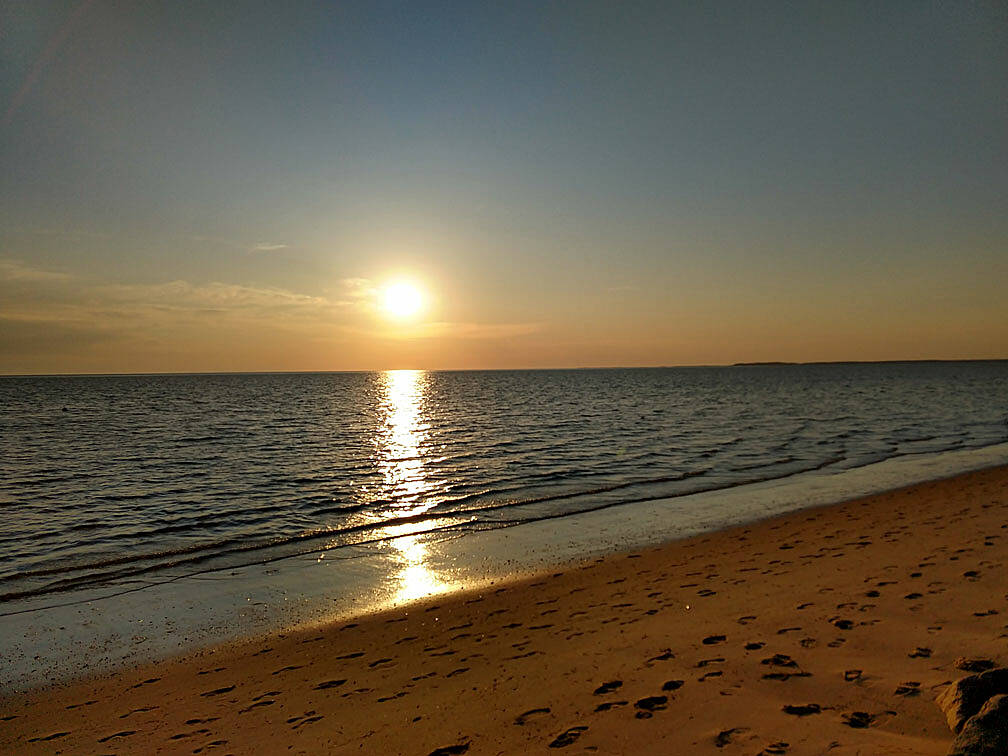 EATING/DRINKING/SHOPPING
Well, yes, we did!  A lot of it, except for the shopping part.  In no particular order, here's a laundry list.  We loved just about every meal (exceptions noted), and yes, if you're at a good place, and there's a lobster roll offered, my God man, GET IT!


Local Break, Eastham, Killer:  true to its name, a nice locals' place that we could walk to
Dunkin' Donuts + Ben & Jerry's, Eastham, Serviceable:  'nuff said
Block & Tackle, Wellfleet, Diamond Certified:  we LOVED this place, and went twice!  Wonderful beer garden and amazing BBQ and fried chicken!  Good luck, Patrick and Beth!
Van Rensselaer's, Wellfleet, Textbook:  Seafood!
Sam's Deli, Eastham, Bogus:  disorganized and grouchy, however famous
Outer Bar & Grill, Chatham, Diamond Certified:  best lobster roll of trip
Fairway Pizza, Eastham, Textbook:  made me teary-eyed with memories of Albany
Hole in One Bakery, Eastham, Textbook:  the place for savory breakfast croissants
Fanizzi's, Provincetown, Serviceable:  actually good food with nice water views, but it was marred by an indifferent waiter who really seemed like he wanted to be elsewhere
Breeze (Nantucket Hotel), Nantucket.  My God, Ismail, don't sit down and join guests TWICE whilst they're enjoying their lunch . . . and to trainee Brenda:  no, guests are just not that interested in your Christianity.  Despite it all:  Killer.
Bookstore, Wellfleet, Killer:  thanks to Lauren Ryder for shooting us to this place; great oysters
We did not make it to Truro, nor
the distillery that is there
and supposedly fun and good.  Next time.  We found Provincetown crowded and Faux, Chatham to be more real and also Textbook, and Nantucket a real mix of all of my ratings.  I loved - and parted with real $ - at the exquisitely stocked
Puritan Clothiers
, in downtown Chatham.  Bob there really knows how to sell to insecure white men from SF!
A pro tip for going to Nantucket:  definitely take
the high speed ferry
, and splurge for
Captain's View
seating.  Book your seat and pre-book parking well in advance.  I'd guess the same would be true for a visit to Martha's Vineyard.
I hope you've found this information useful and that it comes across we loved the Cape.  We did - big time.  But remember:  not a single thing above likely applies if you go between Memorial Day and Labor Day.  Have a nice vacation.