TODAY'S RAMBLINGS



Thank you in advance for indulging me today.   But, OK - I think this is it?
October 2, 2019:  Leave TEECOM
November 2019 - March 13, 2020:  350+ Resumes sent; 1 job offer from
LMG
rejected (too much driving)
March 2020 -> :  Global COVID19 Pandemic
October 2, 2020:  Finish 2nd for dream job with The Presidio Trust
October 2, 2020, just a bit later:  Julie says "You're retired"
2021:  Adjust via
The Year of Insane Amounts of Travel
October 2, 2021:  Commit to stop grinding an ax over TEECOM and how fucked it up it all was
October - November 2021:  "Peak Retirement" to date, with Julie in Santa Fe (with Arthur and Mrs. Crup, and then with Elizabeth "Polly" Michaels and Primo Harvey PhD)
October - November 2021:  Opportunity with
BlackLine
appears and freaks me out; I have to work again?
January 2022:  Dow Jones Industrial Average hits almost 37,000, but then the entire market starts to go down pretty significantly, in light of inflation and interest rate increases
January 2022  - March 2022:  A new travel year begins, albeit a bit less ridiculous
Late January 2022:  Reject the BlackLine opportunity after mindless interviews with future boss
Late March 2022:  We pay taxes on our crazy-town 2021 spending (i.e., retirement withdrawals)
Late March 2022, just a bit later:  I think "maybe working wouldn't be so very awful?"
April 2022:  Gets in the door via Byron Browne IV at DocuSign, but it goes nowhere, as they hire for the position internally
April 2022:  I think "I am done?"
April 2022:  An Amazon Web Services recruiter reaches out
April - May 24 2022:  I go through the AWS meat grinder interview process; actually felt like a good fit, and I was going to accept the position if offered
June 7, 2022, early AM: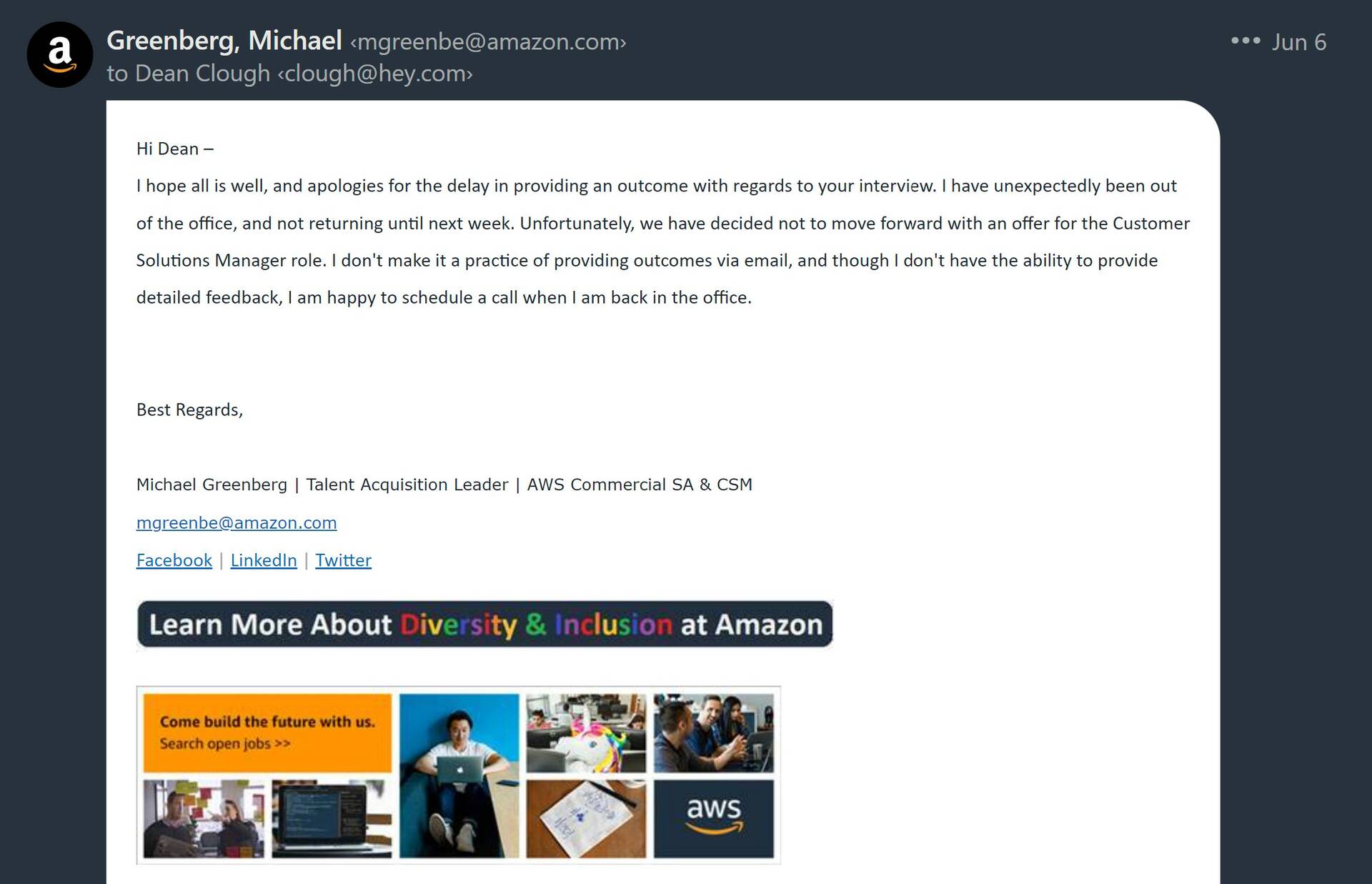 June 7, 2022, from that point forward:  I do a lot of soul-searching
And now, here I am.   We are still fine financially, but like many, with a little bit less than earlier, due to the market declines.  Do we have enough?  How much is enough?
What I don't like is how the rejection makes me feel about previous accomplishments - many of which I brag about constantly and use as a balm for my recurring rash of insecurity.  Epigraphx.  Asia.  London.  First Program Management Office at Schwab.  Casa Integration.  Even TEECOM.  These are all real things that I know I did, and jeez, none of it was particularly easy. 
But let me clear:   I absolutely do not deserve any medals, and I couldn't have done most of it without Julie, anyhow. 
And the no-go from AWS?  Understandable!  Although there is zero doubt I would have completely kicked ass in the position, I'm not sure I would have hired me either.  "Let me get this straight - this guy has run exactly one enterprise technology program since 2019, and hung TV's for 17 years before then?  And now he's going to handle Roku for us?  No thank you."
You know what?  I can accept that.   Because if I hadn't chose entrepreneurship and Casa Integration and stayed in corporate, I'd have that upper middle management job already.  And likely hate myself for it.  But there's no doubt my time at Casa Integration and what it entailed is typically misunderstood, or at best, deemed inapplicable in the big world of AWS and elsewhere.
But I (nor Julie) would not trade what happened for anything else.  Not now.  Not ever.  The experiences the path chosen provided couldn't be replicated.  Nor could the pride.   

FROM THE UNWASHED MASSES

Thanks to Miguel Shannon, Andy Jones, Fi Deuce, and Ol' Purple Label (and everyone else that heard me go on about it) for their counsel and advice throughout my AWS experience.  Much appreciated. 
Thank you to any one that is reading this newsletter.


KLUF
There are just an endless number of songs relevant for today on
this
absolutely
Diamond Certified
playlist from yours truly of the Killer band Sugar.