TODAY'S RAMBLINGS
< 3 Minute Read

Happy Monday and we head home to SF today. 
Despite the clamoring (in actuality, there was no clamoring) for a Houston
Travel Guide
, there's simply no point, as my experience is not available to the general public.  In fact, today's post is fairly brief, and there's almost as much info on Thailand as Houston. 
But let's start in the great state of Texas.
I will say there's nothing like a
Diamond Certified
week with my favorite cousin Dr. Shelly Murphy to remind one just how nice it is for the .1 percenters out there.  I don't mean comfortably successful like you and I; no, I mean like really pretty fucking rich.  You know, like where their other car is the most ginormous and newest Range Rover available.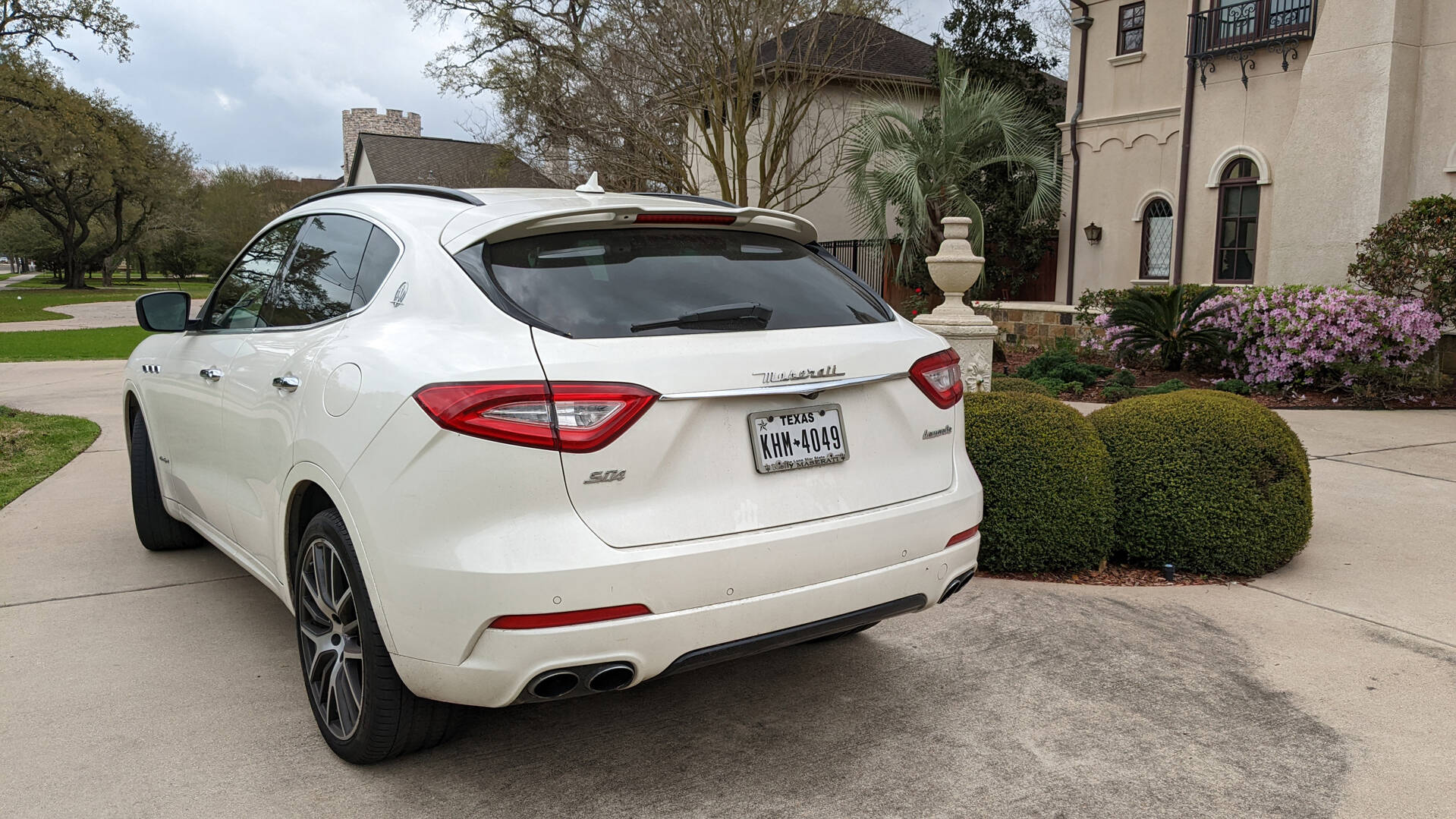 Last week in Houston, I can't say I attended the Livestock and Rodeo Show, because I really didn't.  No, I attended a series of very exclusive and private events, parties, and dinners held in special rooms and suites, to which the hoi polloi simply can't access.  This is The Tejas Room.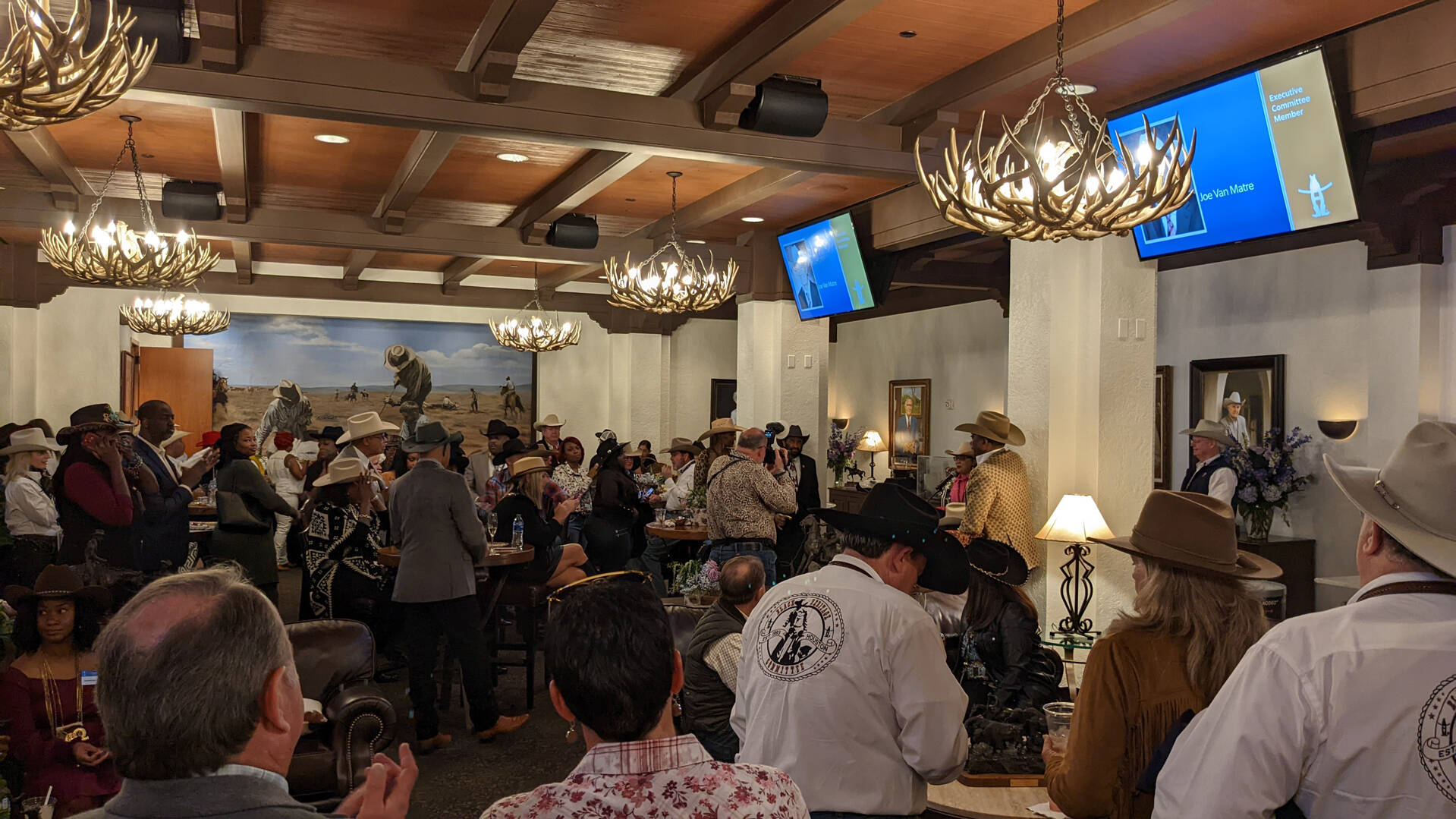 Indeed, Shelly and those like her write massive checks to provide the broad (mink) coattails upon which I am all too happy to ride during what everyone calls
rodeo
.  Its 20 days are far more akin to a Super Bowl on each, and, via Shelly, we have crazy-town VIP access.  Which is good, because I really don't fit in.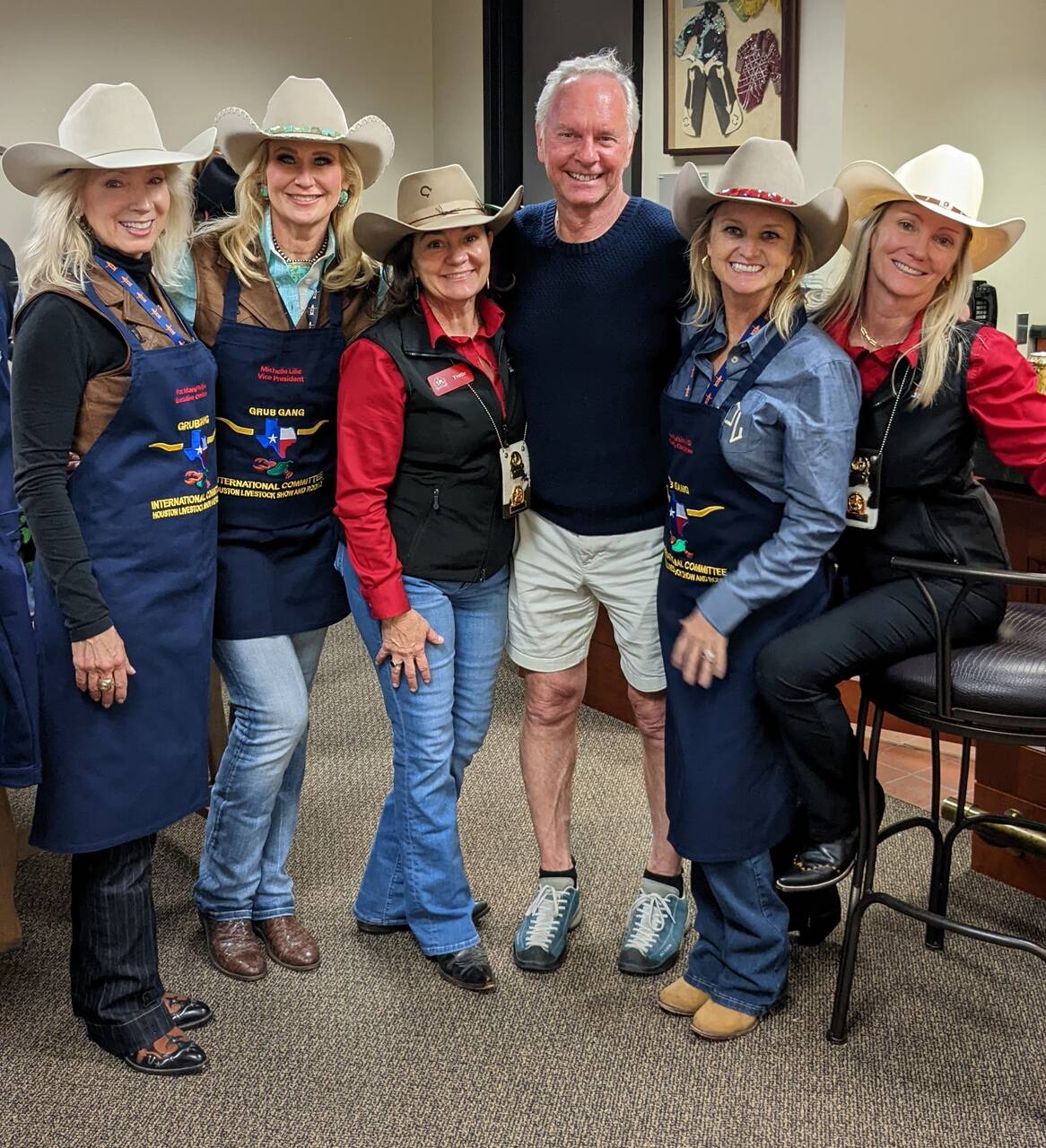 It was certainly a week of witnessing (and of course completely enjoying) opulence and privilege in its various guises.   It was my 3rd time attending this event, and it never fails to astound.  
But it's not all Champagne and brisket.  Here are some Fun Facts about The Houston Livestock Show and Rodeo (HLSR). 
It is the largest livestock exhibition and rodeo in the world.
It is Houston's signature event of the year.
There is a massive midway with carnival rides and all of the foodie classics like fried Oreos; that's in addition to a massive shopping pavilion and then a nightly concert in the 70,000 seat NRG Stadium, which itself follows the actual rodeo events.  Last night, we saw The Zac Brown Band and each night there is a concert by a headline act from the country, hip-hop and rock worlds. 
The annual barbeque cook-off is one of the largest in the world and draws top chefs and rank amateurs alike.
The 2.5 million visitors over the event's 20 days is a number far greater than that of most professional sports teams' annual attendance; for comparison, Mardi Gras in New Orleans draws on average about 1.5 million each year. 
From Wikipedia:  "The Corral Club, which covers the sale of much of the alcohol on the grounds sold more alcohol in the three weeks of the HLSR than any other mixed-beverage permit holder in the state for the month of March 2016, and in the year prior was only outsold by the stadium where the Dallas Cowboys play."
The event raises an incredible amount of money, as it is operated almost entirely by volunteers, of which there are 30,000+, spread across over 100 committees.  Extremely wealthy people wait years for the privilege to work for free doing things like this - this is Shelly and her International Committee (of which Shelly is a member) pals serving up some yummy BBQ to the Rodeo's international guests, of which there are many.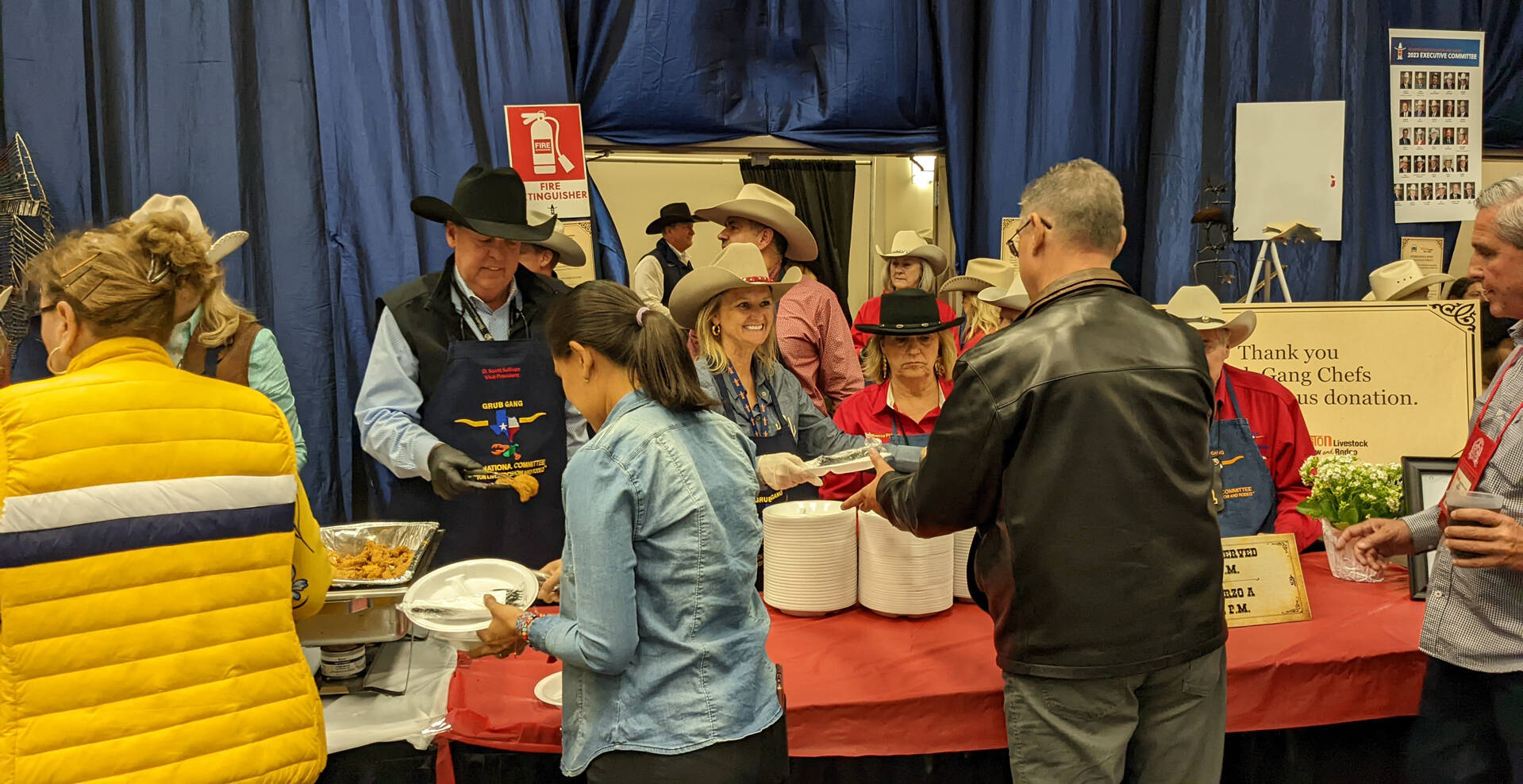 The money raised to date totals almost $600,000,000, and is used to provide scholarships to Texas universities to underprivileged children.  To use 2017 as a typical example, it awarded $26.07 million in scholarships, grants, and graduate assistantships, with over 750 students receiving full rides.
Am I aware of the violence - for the athletes and animals both - inherent to rodeos?  Yes and I will say at times it's just too violent to watch.  But the cowboys, bulls, and broncos are all very well cared for.  

As are guests of the event's VIPS.


FROM THE UNWASHED MASSES
I want to sincerely thank everyone for their kind words regarding the 2 year anniversary of this blog.  With an alliterative fervor not often seen, Elizabeth "Polly" Michaels spoke for many (I hope):


Portico,

Your pithy prose and passionate perspectives provoke much pondering (people, places, politics), proving your product produces a positive payoff.  Please proceed!

Your pal,
Polly

Upon his triumphant return from Asia, our intrepid reporter Arthur filed this, a definitive report on Thailand.  


The Fodor's summary of Thailand tourism is way off base. 

I've no doubt that a few key areas (Chiangmai, parts of Phuket, Pataya) are still well-visited, but the places we went were begging for tourists.  We were by the Sukhumvit metro station in Bangkok several times, and it is a shadow of it's pre-COVID self.  This area is ground zero for Western tourists, yet Thai people outnumbered them by at least 4 to 1. 

Likewise throughout our trip; we visited a number of fairly famous areas, and there were few people there.  Some were closed during the week due to the lack of visitors.  The several national parks we visited in the North were empty during the week.  They were by no means crowded on the weekends, but the additional people were 90% Thai from the cities escaping town.  

The predicted huge wave of people from China following their re-opening did not occur, and every area we visited had a large number of shuttered tourist businesses. I can count on one hand the number of times I heard an American accent; what few Westerners I heard speaking were primarily Scandinavian or German.

As far as attracting a higher class of tourists, they just want more tourists of any kind.  Visits are still down 50% from pre-COVID.  They are doing various things to attract anybody they can; the tourist stay without a visa is now 45 days instead of 30, they have legalized weed (you can buy cannabis infused beverages at 7-11!), there are no COVID restrictions of any kind, etc.  Even the bar girls were pretty much absent.

A few years from now will probably be a different story, but I would say this is an ideal time to visit Thailand, and you will be doing their economy a favor by doing so.

Brilliant - I may just steal the whole thing, slap the words Travel Guide on it, and call it a day.  And yes, screw Fodor's and their dis of the entire country.  Many thanks and a big welcome home to Arthur and his lovely bride Mrs. Crup. 

Thank you to any one that is reading this newsletter.


KLUF
Given the sheer volume of fake hair and fake boobs I've seen in the past week, it seems fitting to play something from a genius artist who himself dons fake hair. 
Here
is Elton John and
Captain Fantastic and The Brown Dirt Cowboy
.