TODAY'S RAMBLINGS

A Clufff & KLUF update:  we've concluded week one of our 6 week media campaign related to the launch of
my cousin Charlie's first NFTs
.  In fact, the campaign bore a tiny, itsy-bitsy piece of fruit just today - but I'm not jinxing anything.
Going in to the weekend, it would be a big help to us if you'd friend him or like him or follow him or wave at him or follow him or thumb's up him or whatever you do on Facebook and Instagram to say "Yeah, Charlie's real art is better than the Cryppos or Cactus World NFTs."  (Fun fact:  go look those up and tell me I'm not correct?)  You're welcome to use the JPEG below (if you like it) in your post.
Facebook: 
Charles Clough | Facebook
Instagram: 
@charles.clough
This is "012" from
Clufffalo:  Art Omi
.
Now back to our regularly scheduled programming.
Tomorrow, Julie and I leave together on separate vacations in Florida.  Got it?  We're flying together from SF to MCO.  But then Julie's scurrying off to Disney World with her niece and sister for the week.  That would be the young downhill ski racer Nicki Vale, and her mom, the management executive Rhoda Fladgate Vale.
Me?  I am 6 nights ocean front in Ormond Beach.  8th floor even, in my own very nice Airbnb.  What could go wrong?  My lord, there's even a highly rated sports bar basically next door.  Combine that with this being my triumphant return to The World's Most Famous Beach after almost 40 years, and well, let's just say I'll be writing about it.
And with a new trip, comes a new list.  
I present for your consideration The Best Albums of All Time.  But to make it less excruciating, I am presenting it in alphabetical order by artist, with no commentary, and updated to include releases through 2021.  For the record:  these albums are specifically those that I both couldn't stop listening to when I first started, and also something that is still exciting to hear now.  My pick may not be the artist's most popular album, or even the one you personally view as "their best".  Of course, you could always start writing your own blog.
AC/DC:   "Powerage"
Aerosmith:  "Rocks"
Air:  "Talkie Walkie"
Alice in Chains:  "Jar of Flies"
Allman Brothers:  "Eat a Peach"
Beach Boys:  "Pet Sounds"
Beatles:  "Abbey Road"
Boston:  "Boston"
Breaks Co-Op:  "The Sound Inside"
Cars:  "The Cars"
Cheap Trick:  "Cheap Trick (1997)"
Cult:  "Beyond Good and Evil"
Doves:  "Lost Souls"
Elvis Costello:  "Brutal Youth"
Fixx:  "Walkabout"
Foo Fighters:  "There is Nothing Left to Lose"
George Harrison:  "Live in Japan"
Gomez:  "In Our Gun"
Guided by Voices:  "Isolation Drills"
Guided by Voices:  "Space Gun"
Joe Jackson:  "Blaze of Glory"
Lemonheads:  "Car Button Cloth"
Matthew Sweet:  "100% Fun"
Midnight Oil:  "Blue Sky Mining"
Miles Davis:  "Sketches of Spain"
Miles Davis:  "Miles Ahead"
Morphine:  "Like Swimming"
My Morning Jacket:  "Z"
Neil Young & Crazy Horse:  "Live Rust"
Pat Travers:  "Go For What You Know"
Paul Westerberg:  "14 Songs"
Peter Frampton:  "Frampton Comes Alive"
Pink Floyd:  "The Dark Side of the Moon"
Police:  "Synchronicity"
Porcupine Tree:  "Stupid Dream"
Pretenders:  "Pretenders I"
Pulp:  "This is Hardcore"
R.E.M.:  "New Adventures in Hi-Fi"
Radiohead:  "OK Computer"
Replacements:  "Dead Man's Pop" (Vol. I)
Rolling Stones:  "Let it Bleed"
Rush:  "A Farewell to Kings"
Rush:  "Hemispheres"
Rush:  "Moving Pictures"
Scorpions:  "Blackout"
Screaming Trees:  "Dust"
Sheryl Crow:  "Sheryl Crow & Friends Live From Central Park"
Sonic Youth:  "Rather Ripped"
Stevie Wonder:  "Innervisions"
Stevie Wonder:  "Songs in the Key of Life"
Sting:  "Dream of The Blue Turtles"
Sugar:  "File Under Easy Listening"
Talking Heads:  "Name of This Band is Talking Heads"
Television:  "Marquee Moon"
Van Halen:  "Fair Warning"
Weather Station:  "Ignorance"
Who:  "Tommy"
Widespread Panic:  "Til the Medicine Takes"
Zero 7:  "Simple Things"
I will note that only Guided by Voices, Miles Davis, Rush, and Stevie Wonder have multiple entries.  That seems about right.
FROM THE UNWASHED MASSES

It's a big Fladgate day here.  A hearty happy birthday (it was yesterday) and much love to an avid reader of this blog, Dr. Davis Fladgate.  He's 86 and still going strong, despite some misguided views on occasion.   But his dog Lucy is awesome, and his eldest daughter isn't too shabby, either!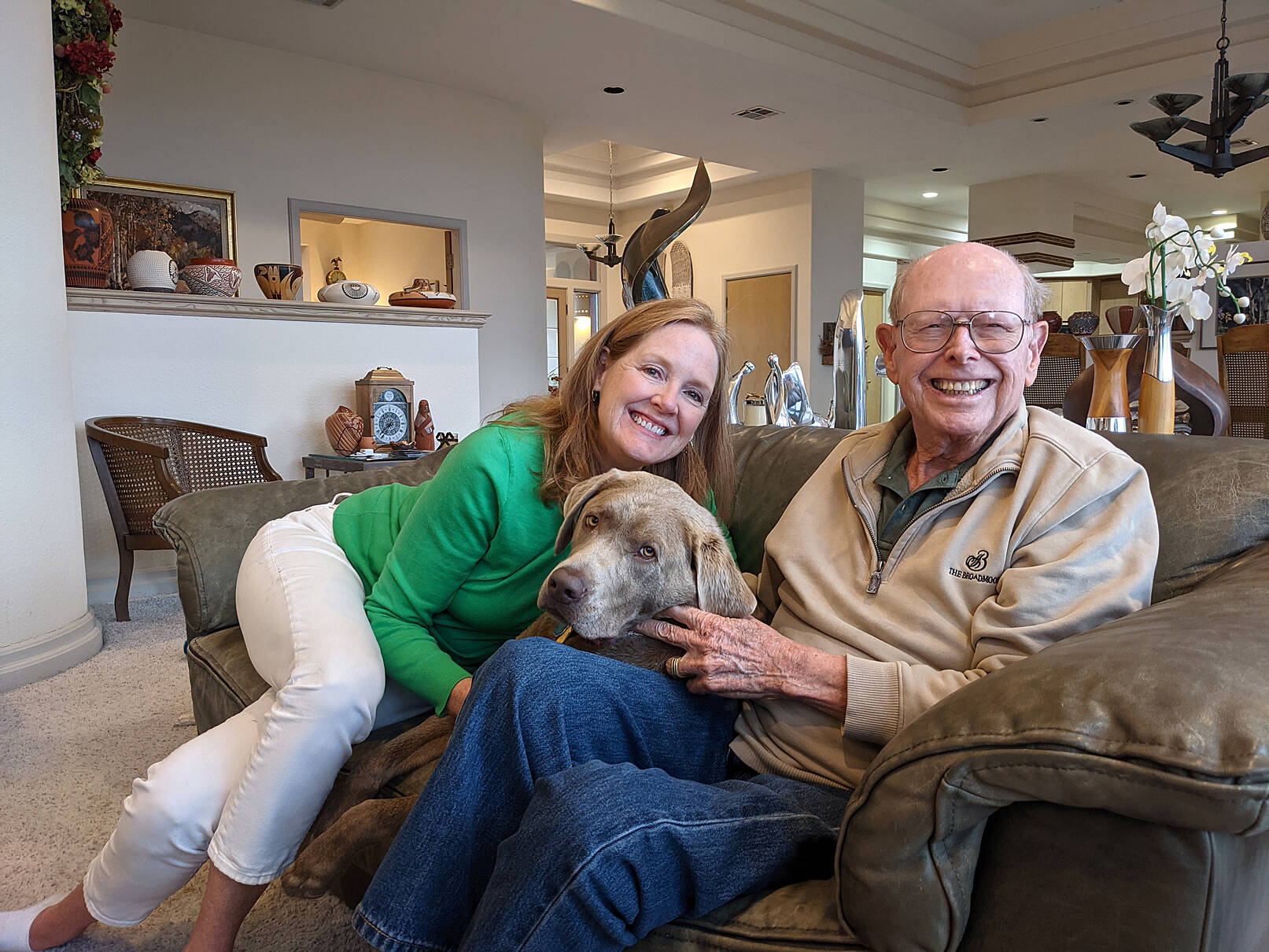 A special shout-out to both Kevin Monza and Andy Jones for their generous coaching and wisdom regarding my NFT venture with my cousin Charlie.  Thanks, guys.
February dinner guest and another loyal reader, Dr. Doreen Downs, agreed with my rant on my beloved San Francisco and the state of its streets.
"Someone should send Shellenberger's book to the SF Board of Supervisors." 

Somebody needs to read something.  On Tuesday, the city opened a whiz-bang "Linkage Center" aimed at providing direct and real services to the homeless in the Tenderloin neighborhood. 

Great.  But, these gems were in yesterday's San Francisco Chronicle.  First the title of the story - which explains the whole problem:


"Tenderloin Emergency: S.F. Opens Service Center; Police Say They Won't Force Those On Streets to Go There"

I of course added the emphasis out of apoplexy.    Check out this extended quote, from the same article.  


"'People that break the laws face arrest anyways,' he said. 'There is no plan and there is no direction for police officers to compel people to get treatment instead of taking an enforcement approach.  They can tell people there are these resources. There is a collaborative approach, but not one of compulsion.'

Carroll said she asked police to focus on violent and serious crimes, while public health and social workers lead outreach to serve people with substance use disorders.

'We are absolutely trying to send a message that open-air drug use is not something that is going to be acceptable in the Tenderloin moving forward and we are trying to offer people services,' she said. 'At this point, it's voluntary and we're not throwing people in jail or doing anything like that.'"

God forbid if someone shooting heroin on the street were required to get care.  Better to let them OD, because at least in that case, their status as victims will be preserved, in perpetuity.  Hmm - wouldn't that mean the Homeless Industrial Complex would always have business?

As I said in reply to Dr. Downs:   
"It's ridiculous.  I think that the issue is getting care must be made compulsory for the most ill - there's no way around it and I don't see anything inhumane or illiberal about doing so."
Thank you to any one that is reading this newsletter.


KLUF

This hurts me more than you, especially when today's topic involves the best albums, which this most definitely is not.  Even before reading his whiny autobiography ("I wasn't particularly pleased with the outcome of my megayacht."), I didn't like him that much, and even will go as far to say I think he's overrated as a guitar player.  And now?  Let's just say his anti-vax and other verbal nonsense aren't helping things.
But the fact is there's a song on this album that I love.  It was even nominated for a 2021 Darwin Award.  The guitar "God" is Clapton, the album is
461 Ocean Boulevard
, and the song?  It is most definitely not "I Shot The Sheriff".
The song will certainly be a theme on my trip, and it is called "
Mainline Florida
".  The riffs and other assorted tricks and layers on this song are wonderful, even to this Clapton-denier's ears.  That song, but not Clapton's moronic outlook, is
Diamond Certified
.