TODAY'S RAMBLINGS

. . . but didn't think you'd ever be bored enough to ask. 
Warning:  this is one of my insanely long (but very informative!) newsletters.  Like "Julie, is he OK?" long.  Not to worry:  it is on a subject that was once a hobby, then a profession, and now a hobby again.  If you're not a music person, you can safely skip this one and go outside.

As promised, following is information on how I stream and in general, consume music.  It's a question Hunter Deuce posed to me in private, and I wanted to share an extended (
extremely
extended) version of what I told him.
I'll cover some fundamentals and then discuss which music streaming service I use and why, and some considerations if you're choosing one or making a switch.  I'll also name the right music gear for most people, and also the one I have, which is different and uniquely capable (but also complex and potentially expensive).  And I conclude with a
Diamond Certified
dream system, but one that could be implemented easily into any home
these guys
did.


Basics

Some assumptions.  By this point, I assume you're off of CD's and listen to music via some combination of streaming from a service like Spotify or Apple Music, and by accessing your own music files, that you've either purchased, ripped from your own CD's, or otherwise obtained.
First and foremost, if you're interested in hearing music as it was intended by the artist to be heard,
stop streaming and/or buying and/or creating MP3's or other compressed music formats. 
If you need context you can read a previous (and also ginormous)
write-up
I did on the subject.  
But the bottom line is that your goal should be to listen to recorded music in, at a minimum, CD quality. 
Simply stated, the days of needing to worry about the speed of your Internet connection and also the cost of storage space are decidedly over.  20 years ago, there was a need to compress music files and compromise on quality because of those factors; those days are gone.
What does that mean?  It means:
You should likely dump your current music streaming service, as only TIDAL and Qobuz offer true, no-BS >= CD quality streaming across their entire library - not Apple Music, not Spotify Premium, and not Amazon Music HD.  Yes, each do offer some high-resolution tracks in their library, but they are still not consistent in offering, at a minimum, CD quality.  And certainly none have the quantity of true high-res files as do TIDAL and Qobuz.   (I know I am a hypocrite, what with my occasional linking to Spotify streams.  I do it only when I don't own >= CD-quality version of the recommendation; I can't properly share music from TIDAL with non-subscribers of their service.)


If you previously recorded your CD collection to digital files, but used a compressed codec, like MP3 or AAC, you probably should do it again, this time encoding your CD's using the uncompressed FLAC codec.  I know, it's a drag, but if you have CD's that you just HAVE to own yourself, you should re-rip.  Sorry, and an important note:  CD's should be encoded to FLAC at their native resolution of 44.1kHz/16bit to ensure maximum compatibility.  Plus, there's no use in encoding at any higher resolution than the source itself.

Yeah, great Portico, but which music service and how do I re-rip my CD's to a higher standard?

Streaming Music Services and Music Files
Between TIDAL and Qobuz, I chose TIDAL.  But at the time, it was the <only> music service that offered >= CD-quality streaming AND complete integration into the audio system I use (more on that below).  I am extremely happy with TIDAL and have less than zero complaints.  But now Qobuz is an additional, fully-realized option and one I'd strongly consider if I were starting over.  

I'd suggest a free trial of each so you can make your own decision.  But here are some considerations.


Their libraries are equivalent and massive; I literally can't remember when I looked for something in TIDAL and couldn't find it - and I'm talking obscure, oddball stuff 
We love TIDAL's playlists and mood stations
Both support offline playback via their apps on smartphones and tablets
Qobuz streams "regular" high-resolution FLAC files; TIDAL streams high-resolution files using the Master Quality Authenticated (MQA) standard - that matters in terms of what audio hardware you buy
Qobuz also has a store where you can download albums as high-resolution FLAC files; if you're a subscriber to higher tiers of Qobuz, you get real discounts:  Pink Floyd's "Dark Side of The Moon" in 96kHz/24bit high-res is $13.00, for example - and you own it
TIDAL was started by Jay-Z and it was recently acquired by the fintech giant Square; Qobuz is an independent, European company
Honestly, I doubt one would be unhappy with either choice, just get the top-quality offering.  But subscribe wisely:  it would be difficult for me to change from TIDAL to Qobuz at this point, given the number of albums and playlists I have in TIDAL. 
That's streaming.  Frankly, if you're not hung up on owning your music files, you may want to re-think embarking on some massive effort to record your own CD's.  The fact is that with either Qobuz or TIDAL, you can access essentially every album or track ever made when connected to the Internet, and each fully support offline playback in their apps when you're not.  That's likely enough for many.
But for you old-timers out there, still married to owning, not just renting, music, get a Windows computer with a CD or DVD drive, and the free application Exact Audio Copy, and you're off.   
Along with the files you create by recording your own CD's, you may also end up buying high-resolution tracks from Qobuz, HDTracks.com, etc.   You need a place to put those files, such that they can easily be streamed by the audio system in your home.
IMHO, the best route is having a network router that supports plugging in an external USB drive, which is then accessible via WiFi to any device on your home network.  A solid-state external USB hard drive is best; I use
these
from Samsung, and they're great.  If your router doesn't support adding network storage via a USB drive, you should go with
network-attached storage
(NAS).  Pick one up, plug it into your router, you're ready.
(I wouldn't be an IT geek if I didn't remind you to back up your very valuable high-resolution audio files, preferably to the cloud.)
At this point, you now have a >= CD quality streaming service, and potentially your own music files, also in >= CD quality.  But how do you actually listen?
Music Systems
If your listening is limited to using your smartphone or tablet with headphones, you can mostly stop here.  Grab either the TIDAL or Qobuz app for your device, log in, and that's it.  If you have their best quality subscription, using their app on WiFi guarantees you're getting the best resolution. 
(But only if you're using wired headphones, because Bluetooth re-introduces compression and thus kind of defeats the whole point.  I even wrote a newsletter on
this topic
previously.)
But what if, like most people into music, you want to listen away but also at home?
It's impossible to analyze all of the options and configurations possible, because there are just too many.  I'm simply going to suggest the right answer for most people, share what I use, and the have some fun with documenting the "ultimate" system.
For the easiest, most powerful system for music (and beefing up your TV's sound), get
Sonos
.  They have a variety of different components, which is part of the reason it's such a great option:  they have the right hardware for every situation - trust me. 
Software?  I can safely say there is essentially no major music streaming service not supported by Sonos.  And that includes TIDAL and Qobuz.  A key consideration is that certain (but only a few) Sonos components directly support adding a turntable to the mix. 
But Sonos, even with their new generation of hardware, has a glaring gap, at least for audio obsessives like me:  there is no support for true high-resolution audio playback, either via streaming or local files.  So CD quality, yes, from TIDAL and Qobuz, but no high-res.  The same is true for FLAC files - Sonos will play 44.1kHz/24bit FLAC files with no problem.  But it will down-res anything higher, which is undesirable. 
Let me be clear, however, and re-state that Sonos is the right choice for most people.
Me?  I use
Roon
.  Roon is like Sonos, but it is much more.  First, it supports all manner of high-resolution audio, including the ability to decode high-resolution MQA streams - vital if you go with TIDAL.  It also handles true high-resolution FLAC files with aplomb.
But the most astounding feature of Roon is how it seamlessly integrates albums I've added in TIDAL with my own digital music collection - all in one view.  The TIDAL albums have that "T" icon (and also the "MQA" icon), yet my own files (
Powerage
, and all of the Aerosmith albums shown) do not.  But all are displayed in one view and are accessible in exactly the same manner.

All within a user interface that comes the closest to the tactile feeling one used to get from enjoying album cover art with vinyl records - as you can see above.  Roon's metadata is simply the best.
But Roon is not inexpensive.  You can buy beautiful products with full Roon integration from wonderful companies, but we're talking audiophile products and prices.  Probably the most accessible route to Roon - and the one most similar to Sonos - is via
Bluesound
. 
For the record, I built my own Roon hardware, using Raspberry Pi computer boards, and audio boards from
HiFiBerry
.  I was so enamored with the outcome, I've toyed on and off with starting
a business selling inexpensive Roon devices
.  If you're a tech geek, it's well within your ability to build these yourself - or maybe I could build them for you?
Dream System

Here's a graphic of a system that has it all, and is appropriate for a residence that was previously wired for speakers throughout the home.  It is based upon Roon, but there's a lot more to it.  It includes provisions for one or more turntables, local Bluetooth inputs, a "pure" audiophile experience via wired headphones, cover art display on a room's TV, etc.  And that's on top of every album via TIDAL or Qobuz,
and
your own files.  Yes.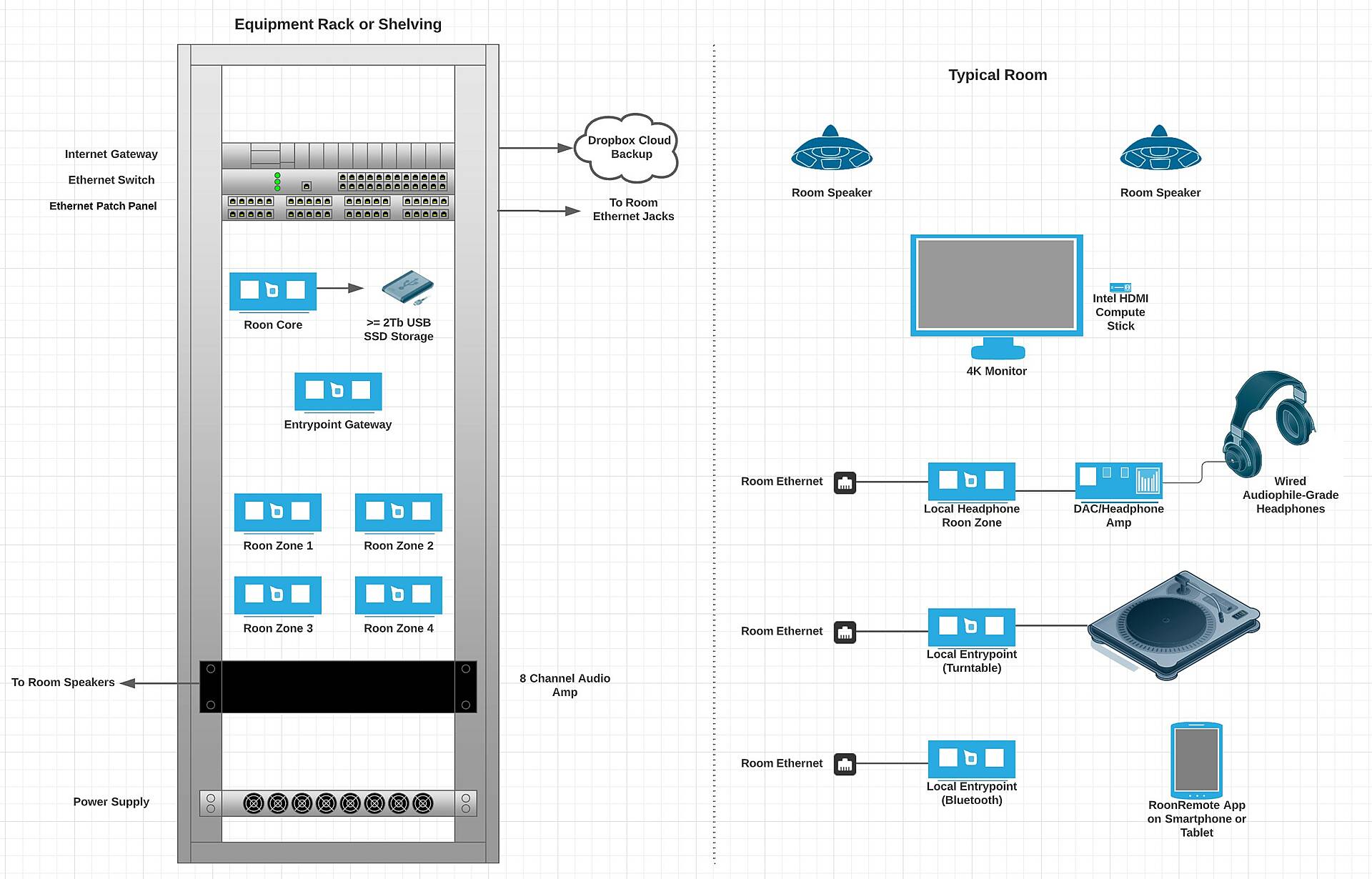 This excruciating post is now over.  Thank you for indulging me - as you can tell, I love this topic, especially now that it is a hobby again.

FROM THE UNWASHED MASSES
We'll just keep rolling with a major music overload.  One of only two readers that have complained about their names in this newsletter, I give you Bob Scarf.


"I am sure you have watched this documentary in the past.  I recently watched it again on the anniversary.  Just to be clear this is the Gimme Shelter - hippies vs Hell's Angels documentary, not to be confused with the  pregnant teenager Apple who runs from her abusive mother and pimp flick 😜

https://watchdocumentaries.com/rolling-stones-gimme-shelter/"
That last reference baffles me.  Is it a Hallmark Channel thing?  At least Bob didn't bring
this
up.
Thank you to any one that is reading this newsletter.


KLUF

So very easy, given all of this today, and the time of year.  In my all-time top 10 despite being a Christmas album, and in pristine high-resolution (of course!), here is Vince Guaraldi and "
A Charlie Brown Christmas
". 
There is not a holiday season that goes by where I don't get choked up by the "Christmas Time is Here" suite, one of the many highlights on this beautiful record.