TODAY'S RAMBLINGS
It's So Gay

Longtime readers will know I occasionally shut up (shocker - for real) and turn the controls over to someone much smarter than I.  And in this case, much more conservative. 
Here is a great essay by Ross Douthat
on the current LGBT hubbub. 
Here
is a link to a PDF if you hit a paywall.  This is a superb summary of what is a complex and nuanced situation.   Mr. Douthat occasionally angers me, but he nails this topic. 
My own beliefs have not changed from
my recent post
on the matter - but if you read this, tell me that you weren't surprised to learn that 20% of children now identify as non-cisgender?  I always understood that number to be more like 7 - 10%.  What a complicated situation.
I Am Ironman
I had my 4th Covid shot on Wednesday; I, as have many, mixed it up with a bit o' Pfizer, after 3 tasty Moderna hits.  That, combined with having had the virus itself recently, should make me INDESTRUCTIBLE!
But beware - I definitely had a reaction to my Pfizer booster - later in the evening Wednesday I had major chills, exactly like my experience with my first two Moderna shots (but not its booster).  I wonder if it's the same or different Soros/Gates microchip?   And I wonder if it will make me sterile?
Elon Musk

OK, I grant that he's a massively talented innovator - perhaps in the league of Franklin, Edison and Jobs.  What he's done with PayPal, Tesla, SpaceX, and The Boring Company is impressive, no matter what.
But what an asshole. 
He violated about 20 SEC violations by not disclosing his accumulation of Twitter stock beyond a 5% overall stake in the company.  Then, he's on the Twitter board.  Then he's not.  Now, he's bidding $42 billion + for the whole shebang. 
Gosh, that's a lot of student loan debt that he could personally retire.  Here is someone that could be a modern-day Teddy Roosevelt.  If he chose, he could do untold amounts of good in the US and beyond by applying his resources and many abilities differently. 
But instead, Musk is just an attention whore. 

Kevin Young

If you're in SF, and were a fan of the late Kevin Young, a legendary bartender here, stop by Perry's on Union from 3 - 5PM tomorrow, where they're hosting a celebration of his life.  Kevin, who owned the original Windows bar on Chestnut Street, and was then behind the bar at Perry's for decades, was simply one of the best.  Smart, kind and a real smartass, he will be missed always at our beloved Perry's.  He and is wife Sam were also neighbors - they lived in The Marina District for many years.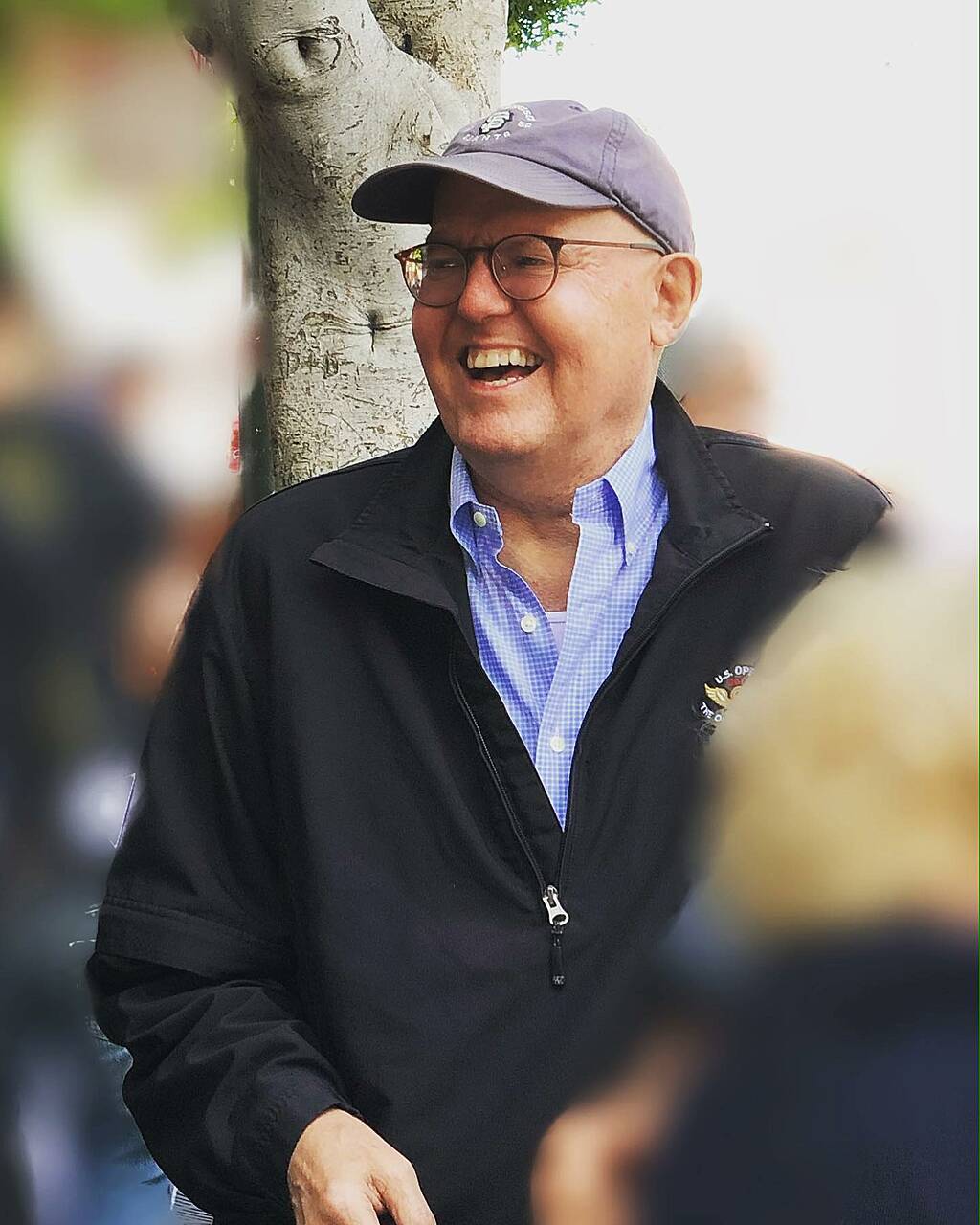 (Fun Fact:  we moved to San Francisco and The Marina in April of 1992 and Windows on Chestnut Street was the very first "city bar" I had ever visited, at least as an adult.  An air of sophistication, but not fancy, either, and no food.  There was nothing like it in Albany, Daytona Beach, Boulder, or Albuquerque, and it was literally a part of what convinced me SF was the place for us.  Was that wrong?)
Have a great weekend.

FROM THE UNWASHED MASSES

Here's a mysterious shout-out/slam.
An Imaginary BART Map makes the rounds in the blogs | Jake Coolidge - Geography & Cartography
Here's what this pseudo historian of a reader was looking for.  This is the original draft map for the BART system here.  We have most of this, and more, and BART has gone to SFO for over 10 years now. 
But I will say this:  if you know the area, it would be absolutely amazing to ride BART from San Rafael to Palo Alto, although wow, there had better be express trains - it's about 55 miles between them.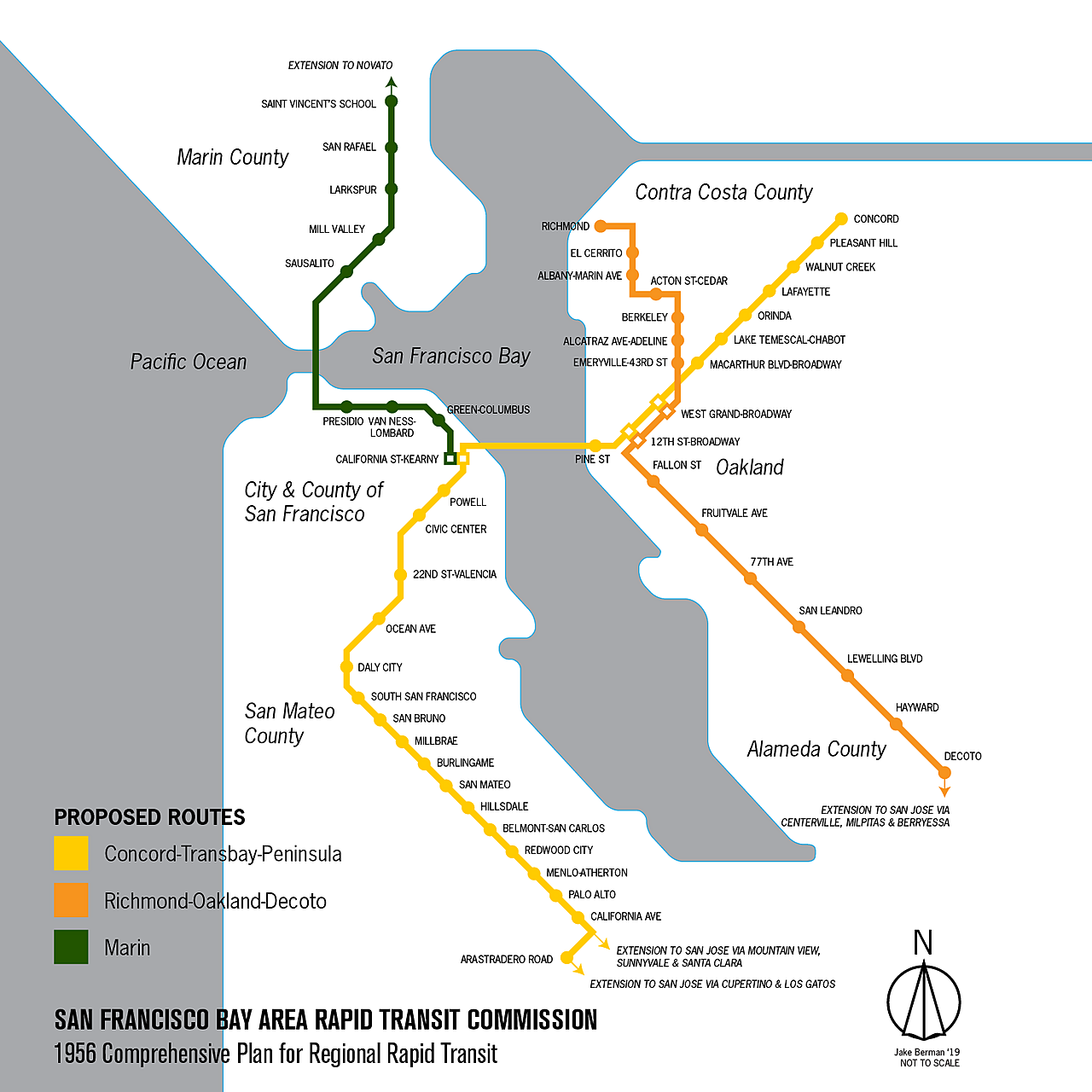 Just before deadline, Dr. Doreen Downs, perhaps a bit tipsy from cooking sherry, added this
Thanks, Portico, for sharing the lovely Air playlist you created in honor of your wife.  When do you plan to personally write a romantic and dreamy song in her honor?  Perhaps by your 32nd wedding anniversary?

You're not crazy, Dr. Downs, because here's a romantic Fun Fact:  about a thousand years ago in Albuquerque, as Julie and I were in the throes of falling in love, she woke up one morning and pronounced she had dreamt I had written her a song.
Thank you to any one that is reading this newsletter.

KLUF

Here, on an album that is amongst the most grandiose in history, is Pink Floyd and their final real album, the magnum opus and
Killer
"
The Wall
".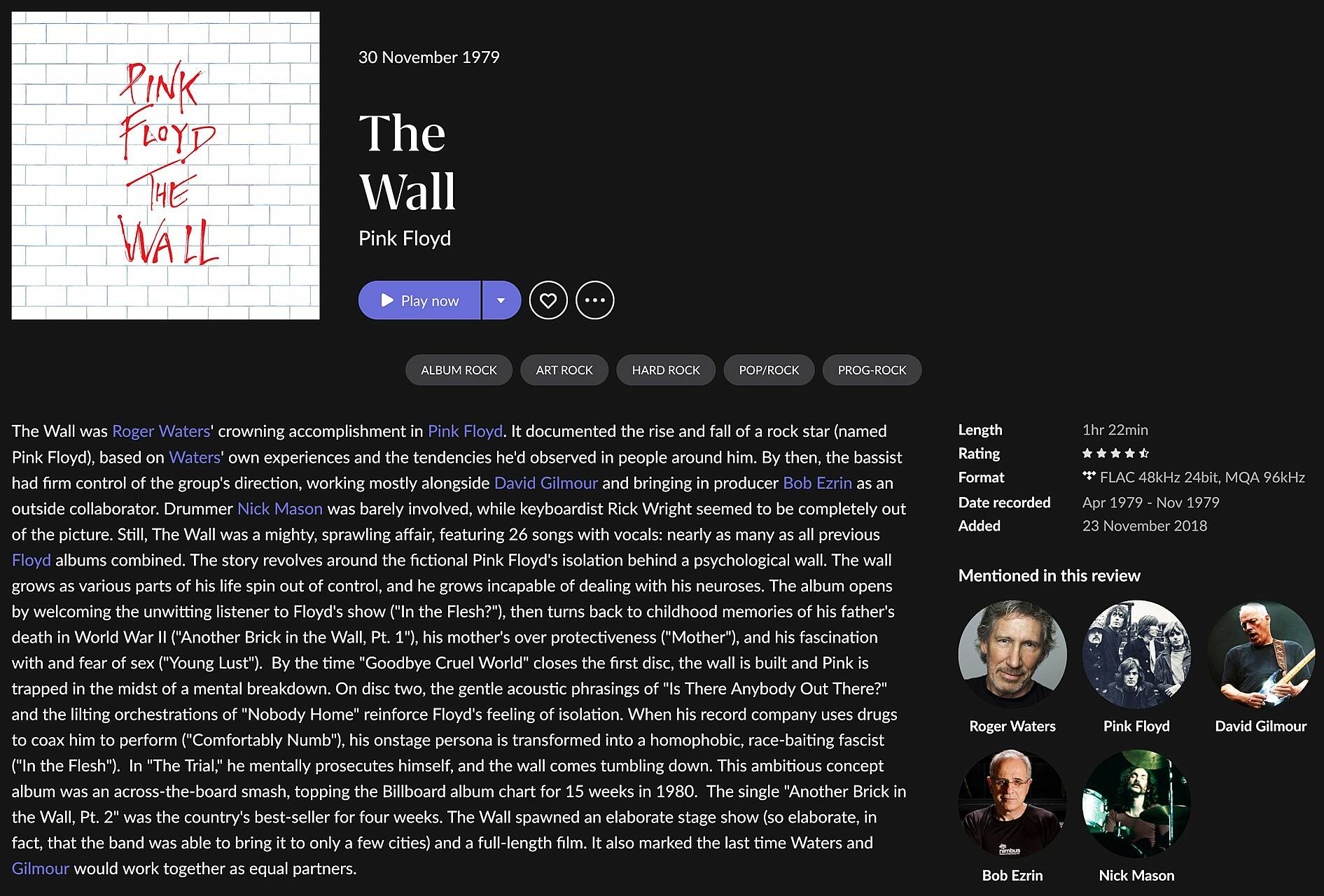 People had gone on for years about how other-worldly the original Pink Floyd and later, Roger Waters, concerts were.  On and on they'd drone.  And then, in the summer of July of 2017, we saw a Roger Waters concert, from VIP seats, in fact.  Easily - and I mean
very
easily - one of the best 2 or 3 concerts I've ever seen.