TODAY'S RAMBLINGS
Now fully recovered from my time with our friend COVID-19, I give you some random thoughts that came to mind during my quarantine this week in the High Peaks of The Adirondacks.

COVID-19 and Me
My bout with the virus was not too bad.  In fact, if you're going to come down with COVID-19, I encourage you to do it while in your own private luxury mansion on 18 lakefront acres.  Seriously - I had it easy, but I think the bigger deal for me was intellectual:  I had decided the virus was over.  But there you have it. 

I am curious how bad it would have been if I had not had 3 shots, because it was no picnic even fully boosted?  Line me up my 4th and I was told by someone in the know (Dr. Shelly Murphy) that, if given the option, one should go with a different booster.  For example, I've had 3 lovely Moderna shots, but Ms. Manor would suggest a spot of Pfizer to top it off.
But getting the virus curtailed, at least for a short period, the normal debauching I do up here at Murphy Manor.  Yesterday marked my first full day back in the game - testing negative, and beyond the quarantine period.  Bulleit Bob, his wife Betty and I celebrated my liberty by hitting the Tupper Lake stalwart Little Italy.  it's really quite good and the food isn't bad, either.  The Bulleit picked up the tab, and then we retired for a nightcap to the
Textbook
VFW Hall.  True story, yet I am still here this morning to write about it.

Ukraine
Ukraine.  Just Ukraine.  Can this thing actually draw to a ceasefire?   The country is ruined, but if their sovereignty can be maintained, I am optimistic for their future.  I think a whole bunch of people and businesses will be very eager to help get things jumpstarted there.  If Putin would just stop the fucking madness, it could happen.  And I just block out how close we could be at any moment to a nuclear war!   

Oscars?  Or was it Oscar Madison?
Almost a week after the event and with time to digest the insanity of it all, I give the Oscar reboot a grade of B, but deem as many have Will Smith's assault and battery on Chris Rock a complete and total failure.  Unforgivable behavior by Will Smith, whom I already couldn't stand. 
How on Earth can you be as lucky in life as he and his wife Jada Pinkett Smith are and do anything but laugh when you are the butt of a joke?  Even one in poor taste, as was Chris Rock's.  If you haven't seen it, I will give the last word on the subject to Kareem Abdul Jabbar:
Will Smith Did a Bad, Bad Thing - Kareem Abdul-Jabbar (substack.com)

And this may get my passport for Wokistan revoked, but:  Given the praise being heaped on Ariana DeBose for exclaiming that she's the first openly queer woman of color to win an Oscar:  can anyone tell me what "queer" means?  If one's sexual identity is not covered by the words straight, gay, bisexual or transgender, but instead you are "queer", what does that mean?  Yes, I am daring to question the sacred LGBTQ acronym.  I personally feel the sooner we dump the labels, the more equal society becomes, because there is no "other", there is only "us". 

This just in - I am reading the Chuck Klosterman book "The Nineties", and the section I read last night specifically addressed my question.  Here, from Queer Nation in 1990, is an excellent explanation.


Couldn't we just use 'gay' instead?  It's a much brighter word, and isn't it synonymous with 'happy'?  When will you militants grow up and get over the novelty of being different?  Well, yes, 'gay' is great.  It has its place.  But when a lot of lesbians and gay men wake up in the morning we feel angry and disgusted, not gay.  So we've chosen to call ourselves queer.  Using 'queer' is a way of reminding ourselves how we are perceived by the rest of the world.  It's a way of telling ourselves we don't have to be witty and charming people who keep our lives discreet and marginalized in the straight world.

Makes sense and it's obviously their call.  But times have changed and I'll stick with my proposition we'd be better off in the US with fewer labels.  But we'll always have to keep "privileged white man", because look at all the good we've done!

Nixon is Turning Over in His Grave
What's 18 minutes when you've got over 7 hours?  Gosh, I am fed up with the zero zero zero accountability for anyone in the Trump administration or connected to it for their culpability in 1/6/21.  "No one is above the law" used to mean something:  is this something else we've lost as a country?  It is beyond credulity that there is no case to be made against anyone for what was, objectively, an attempted coup.  A very nice place to start, for so many, many reasons, would be with Virginia Thomas.  

My God, how is this shit flying?  

Wallpaper 
I'll close with a Get Off My Lawn gripe, one for you to ponder as you hit bars and restaurants this weekend.  

Why are we still signing paper receipts and manually calculating a tip and final total?  Which then have be manually reviewed by someone and then entered into an accounting system?  In 2022?  

If you've spent even a day in Europe, you know that even the tiniest of places bring a wireless point of sale device to the table.  The USA?  Here's an example.  Love the place, hate the paper work - and this is the case nearly everywhere I go in SF, let alone Tupper Lake LOL: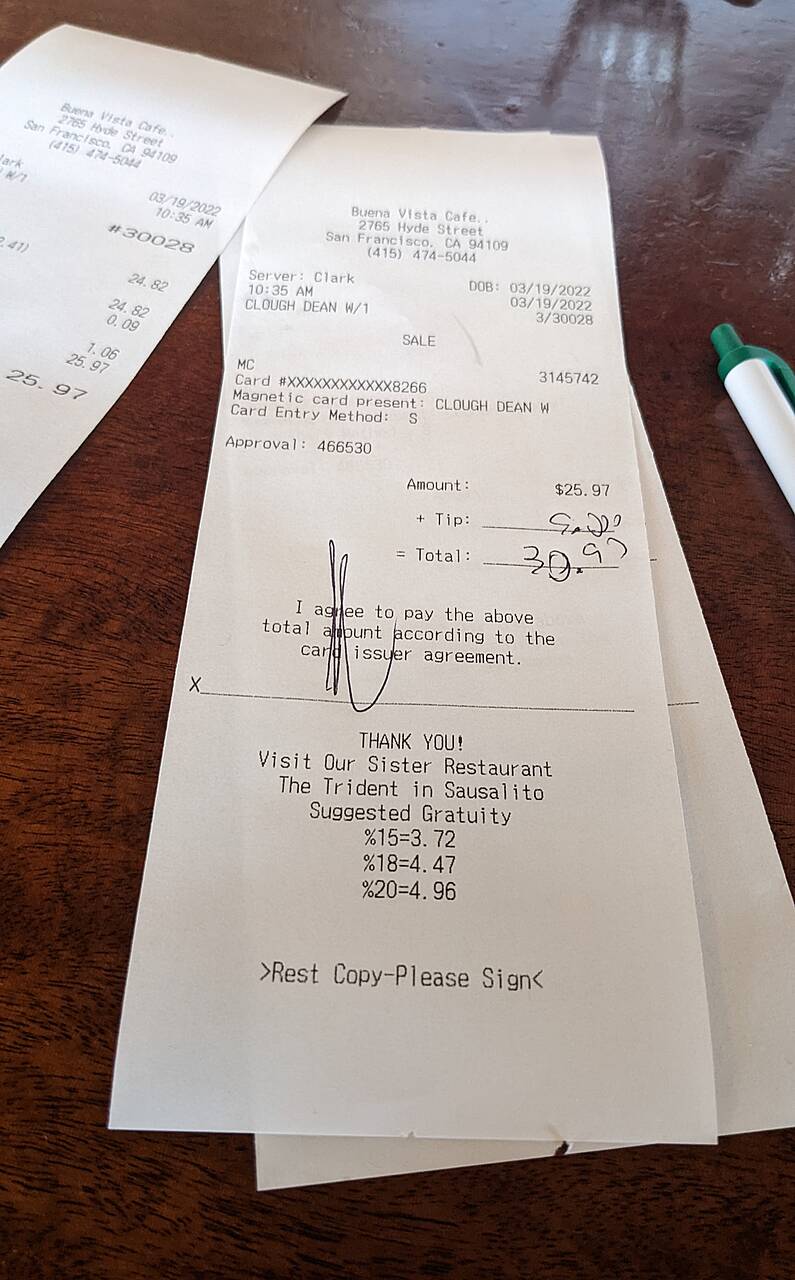 FROM THE UNWASHED MASSES

Big thanks to all of you that expressed concern over my now-concluded bout with the virus, especially the lovely Mrs. Crup and equally wonderful Louise Lederhosen.
My exhaustive (exhausting?)
history of my high school friends
led Steven Simon, to quote his favorite author, Kurt Vonnegut:
'So it goes.'

And the artist Charles Clough, recovering nicely from his bout with yours truly, had this simple but kind assessment of my diatribe:


Cinematic!

It would be hard to imagine anything more horrifying than my life or any part of it making the big screen.

(For the record:  of course it occurred to me some of the friends that have faded away wanted it that way themselves.  Hard to imagine, I know, but it's possible.)
Thank you to any one that is reading this newsletter.


KLUF

I guess it could be "Ramble On" by Led Zeppelin, but instead
,
here are The Allman Brothers and the album "
Brothers and Sisters
".  Sure, "Ramblin' Man" is about travel, but I do that, too.