This part of the world, consisting of Denver, Colorado Springs, Fort Collins, Boulder, some real mountain towns, and then the Rocky Mountains that are due west of it all are referred to as "The Front Range", short for "The Front Range of the Rocky Mountains".   While Denver is a worthy and wonderful city, our focus this time was Rocky Mountain National Park and Boulder, although we did luxuriate our last night at DEN - but the airport, not the city. 
And more on the itinerary.  Being a graduate of The University of Colorado at Boulder, I'm a little biased, but Boulder is a wonderful small town.   So while a first-time visitor to Colorado may find Denver or skiing a better choice, a 2 or 3 night stay in Boulder is an enjoyable thing for any traveler.  Also, this itinerary is tailor-made for a family perhaps taking a campus tour in anticipation of dropping major scratch on your brat going to The University of Colorado and then blowing your hard-earned money skiing and
doing drugs
.  Kidding!
When to visit?  Well, sadly, Boulder's weather is not what it used to be in the summer.  It's hotter and much more humid - even the locals were joining me in toweling off and whining.  And you can see my note on the summer crowds at Rocky Mountain National Park below.  Add in the always-present danger of wildfires really fouling the air, and I'd vote for a mid-spring or mid-fall visit for an ideal Front Range experience.  We happened to go in the summer so we could attend a (fabulous) wedding in  Boulder.
Here's how we had a positively
Diamond Certified
week+ (exceptions noted!) in Colorado, even in the heat of July:
Fly in to DEN and rent a car  (For the record, I don't like DEN, mostly due to its insistence on the use of trains [vs. allowing walking] between the 3 ginormous gate concourses and the terminal, and also its rental car situation, seemingly designed to see how much land could be gobbled up in creating the most  inconvenient way to rent a car as possible)
Drive to Estes Park, the gateway village for Rocky Mountain National Park - it's a very easy 90 minute drive that completely by-passes central Denver and its potentially hellish traffic
We spent four nights at an Airbnb in Estes Park, which allowed for 3 full days in the park; 4 nights/3 days is barely enough for this magical place - you've been warned
Drive to Boulder via the Textbook mountain towns of Allenspark, Ward, and Nederland, and then enjoy the curvy ride down impressive Boulder Canyon into town
We stayed 3 nights in Boulder - you could swap this and our last night at DEN for a total of 4 nights in Denver proper if it's your first trip to Colorado and want a big city and its amenities (Denver) vs. a classic college town and its (many) amenities (Boulder)
We wrapped it the easy way, with the ~ hour drive to the airport and staying our last night literally at DEN
LODGING
Rocky Mountain National Park

If you want the most convenient access to the park, the village of Estes Park is the best choice, practically the only.  Like most places of any size in today's world, your choice boils down to an Airbnb or its ilk, or a hotel.  As we do often now, we chose the former and never looked back. 
This
Airbnb was ideal for many reasons, including its excellent hot tub and furnishings, but what made the difference was its location within Estes Park.  Do NOT get a place, house or hotel, near the Fisherman's Wharf-like downtown of Estes Park, unless your running low on salt water taffy or polyester t-shirts, and like traffic. 
Instead, get a place, as we did, on or near Mary's Lake Road and Highway 36.  We could walk to a great grocery store, liquor store and several restaurants, but the kicker was its incredible proximity to the main entrance (at least on the eastern side) to the National Park, the Beaver Meadows entrance.   Here's the view from the gas station in this neck of woods, and our home had similar vistas.  The day we left, there were elk right here.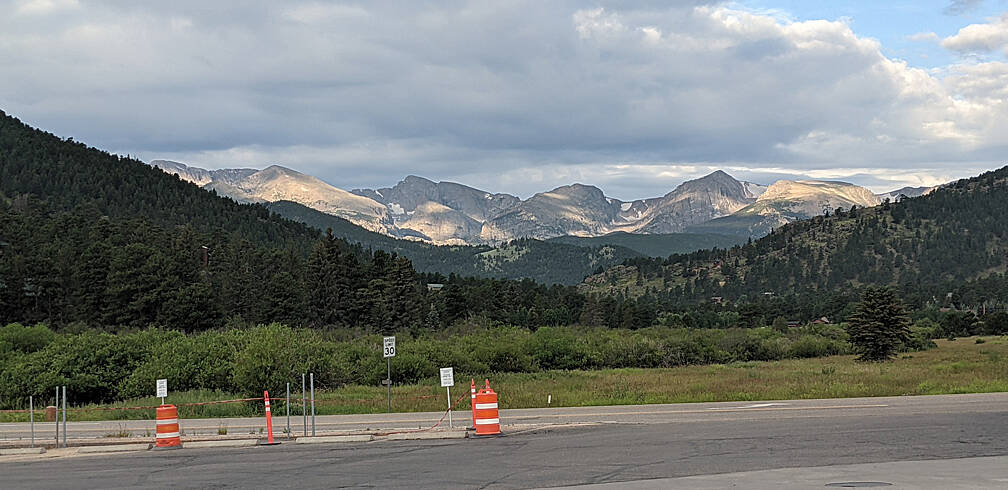 Boulder

Hotel St. Julien
, Serviceable - despite the rarified air of the $600/night rooms on offer.   Frankly, it would be Bogus if I weren't being magnanimous because of the pandemic's impact on service quality.
Why the relative disrespect?  Well, the front desk asked me to schlep our own luggage around, the breakfast in the hotel restaurant was marred by filthy and beat-up tables, and quite a bit of the staff seemed to have never been, let alone worked, in a hotel before.  Yeah, I get it - every place is like that now in terms of staffing.  I am sympathetic to that - very much so - at $400/night.  The room itself was very comfy and well-equipped, but it was the rest of our experience here that came up short.  Your mileage may vary if staffing levels return to normal - the bones of a fine hotel are there, but the execution was lacking.
I'd suggest instead
The Hotel Boulderado
, where we have stayed many times in the past.  Its location is the same and it's doubtful you'd be disappointed - the place has too much Victorian charm.  The St. Julien had the charm of a decent airline club at an airport. 

Denver International Airport

We decided to splurge and break our flight home into 3, instead of 2, parts.  We drove the one hour from Boulder to Denver for part 1, and our flight home was part 3.  The middle part, part 2, was a stay at the DEN-affixed
Westin Denver International Airport
.  Guilty pleasure?  Sure.  But for our 7:10AM boarding, it was
really
nice being a 5 minute walk from our room to the TSA Pre-Check line.  No Uber.  No car return.  No shuttles.   Worth the cost ($350 all in)?  Maybe, and for an airport hotel, certainly Killer.  I loved chilling out all yesterday afternoon, knowing there were no complexities ahead for the flight today on the menu.


THE GREAT OUTDOORS
Rocky Mountain National Park

A comprehensive guide to this f'ing massive Park is not in scope here.  Indeed, there are books you can read by people that have dedicated their lives to exploring every corner of this magical place.   
Instead, here are 3 great days that give you a nice taste of the park, but do know it's only a taste.  But even our small-ish taste brought us in sight of deer, elk, moose, and a handsome coyote.   The moose blocked traffic, and I lost count of how many elk we saw.  And a beautiful doe and her two fawns enjoyed dining in our backyard each morning.
I don't think the order matters, but here's how we did it.
(While I typically avoid the political or even anything close in these Travel Guides, I must say this.  We had amazing service from every single
federal government employee
we encountered - specifically, the wonderful National Park Service rangers that were everywhere.   The facilities and the upkeep of the Park were also impressive.  Please visit a premiere National Park if you believe our national government can't do anything right, ever, no matter what.)
A word of warning.  We went in the height of tourist season and the post-virus environment meant planning was even more important.  Reservations were required to get in to the Park at all, and I bet that won't change soon.  Going in the summer means lines - sometimes stunningly long - at entrance points 8AM-5PM, and crowded trails.  We still loved it and deeming a natural wonderland like this as Diamond Certified seems superfluous.  I mean, obviously.
Day 1:  Bear Lake Road and hike the trail to Emerald Lake; our entrance reservation was for 1PM. 
The drive from the Beaver Meadows entrance station to the end is about 10 miles.  Despite the odds being very much against us, we ignored the warning signs encouraging the use of an auxiliary lot and shuttle bus, and instead went right to the Bear Lake parking lot.  Sure enough, there were several nice park rangers keeping things flowing, and one greeted us with a friendly "There are a few open parking spots, come on in!".  We did and despite knowing it is the single most popular trail in the entire park, we headed out on the 4+ mile roundtrip to Emerald Lake, which also visits Nymph and Dream Lakes.
Wow.  Wow.  Wow.  Textbook.  Diamond Certified.  Chamber of Commerce.  All of it at once.  Even the midtown Manhattan-like crowds on the trails couldn't ruin it.  In the summer, I'd guess a 7AM start would be required to avoid the crowd scene.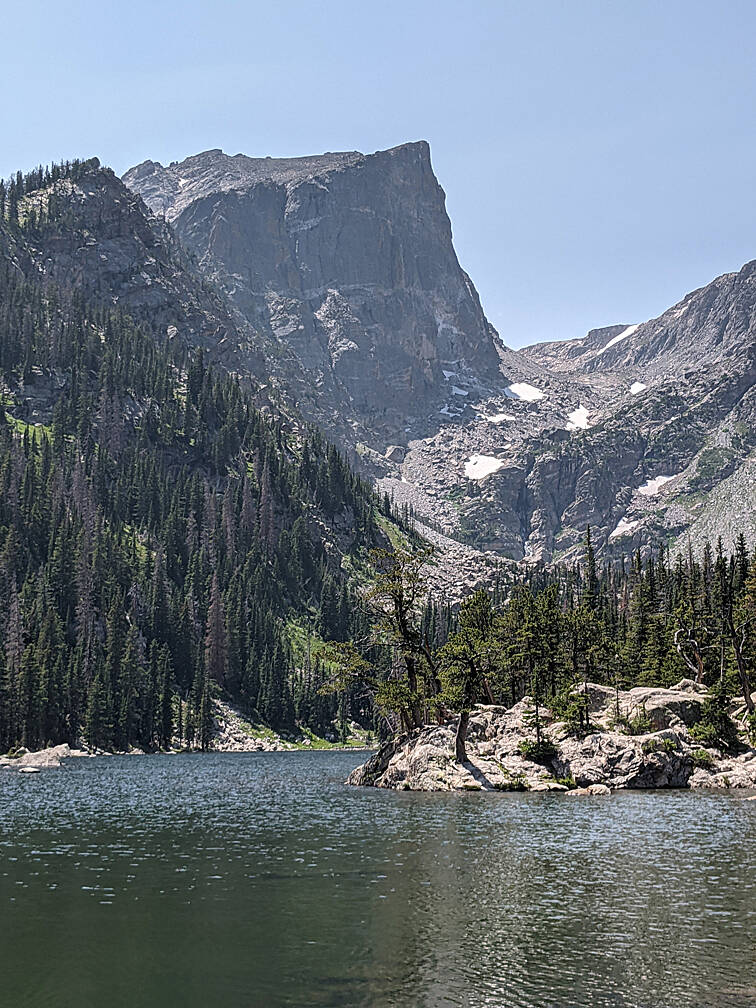 Day 2:  3 hour horseback ride from
the Glacier Creek Stables
; our riding reservation also came with entrance to the Park.  We went in early at 7:30AM and hung around the gorgeous Moraine Park area.  The meadow!  It gave us plenty of time to get to the stables - they wanted us there 30 minutes in advance of our ride.
I'd certainly suggest an early start like we got, as it's a perfect segue from the effort of the trail ride to the sublimity of cold beers and BBQ at Smokin' Dave's (see below) afterwards.
The experience was Killer and also fairly intense.  While there was no galloping or anything like that, a lot of trails were steep (going down something this steep and not level on a giant horse was . . . interesting), narrow, and a stumble by Mr. Ed likely fatal.  But of course, the horses are perfect, built for this, and it was an amazing 3 hours.  The wranglers were top-flight and you knew you were in great hands (and on great hoofs).  And after a tough hike the previous day, it was nice to let the horses do the work.  I wasn't even as sore as I expected.  And the views . . . this was not uncommon.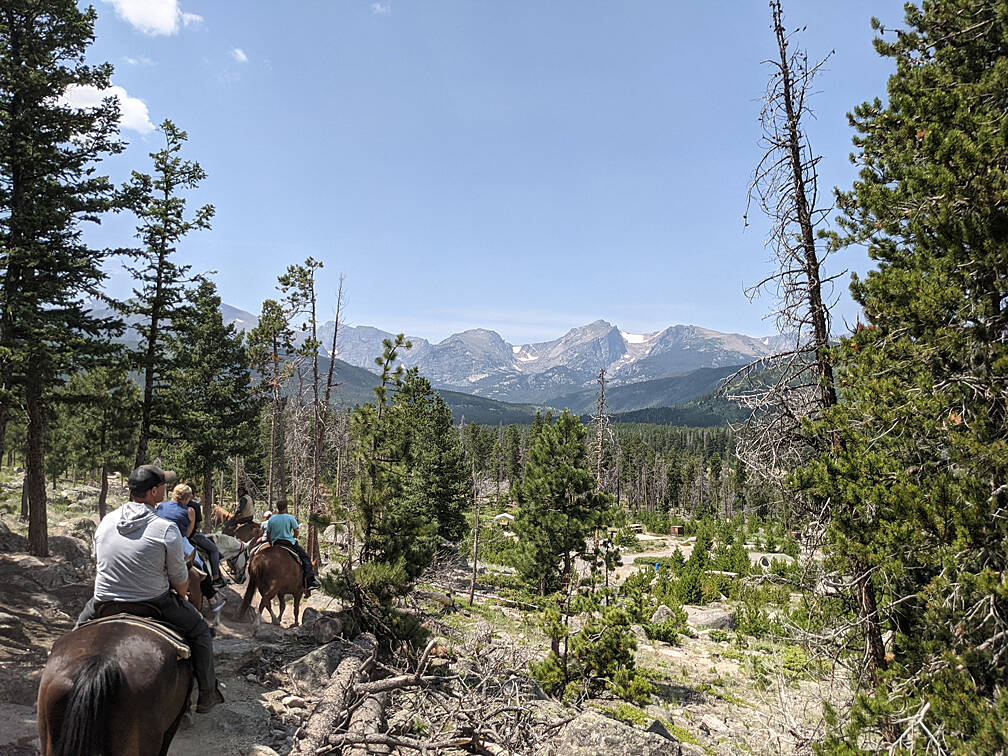 Day 3:  Trail Ridge Road.  We got an early start, entering the park at 7AM, and it was ideal.  We skipped the main Beaver Meadows entrance, instead opting for the empty and recommended Fall River entrance.  It all leads to the same thing:  Highway 34, one of the highest paved roads in the world.  It covers about 45 miles
from Estes Park in the east to Grand Lake in the west
and you literally feel like you're on top of the world.
This drive, easily among the most spectacular I've personally taken, will simply blow you away.   At its highest, the road reaches over 12,000 feet above sea level.   Going above the tree line and reaching the tundra is an other-worldly experience, to put it mildly.  The herds of elk we saw, grazing on the tundra and backed by the jagged reaches of The Continental Divide, become merely the dessert on a 3 Michelin Star meal.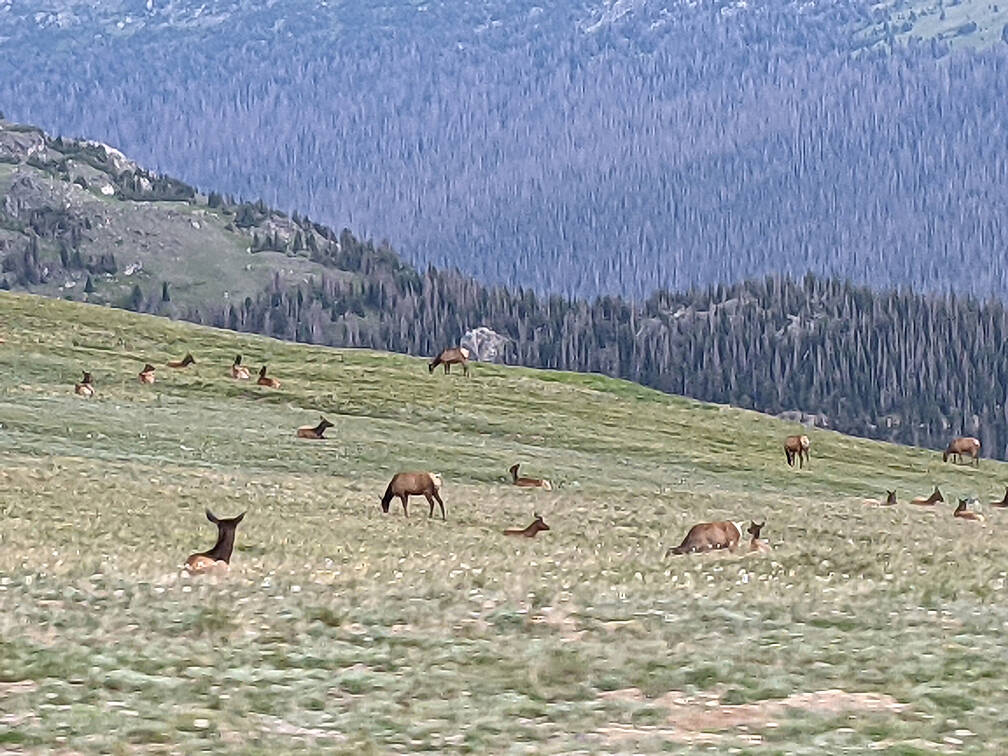 Be sure to go all of the way to the somewhat-touristy but still beautiful Grand Lake.  Maybe even grab a beer at a place on the water, although we didn't (huh?).  Now you drive back to Estes Park.  The views and lighting are of course different, so the return drive is just as fun.  I can suggest a ridiculously perfect picnic spot, accessed via the Coyote Valley trailhead.  You are correct if you guessed tossing back a fine Chard and noshing on good snacks in this setting was pretty OK.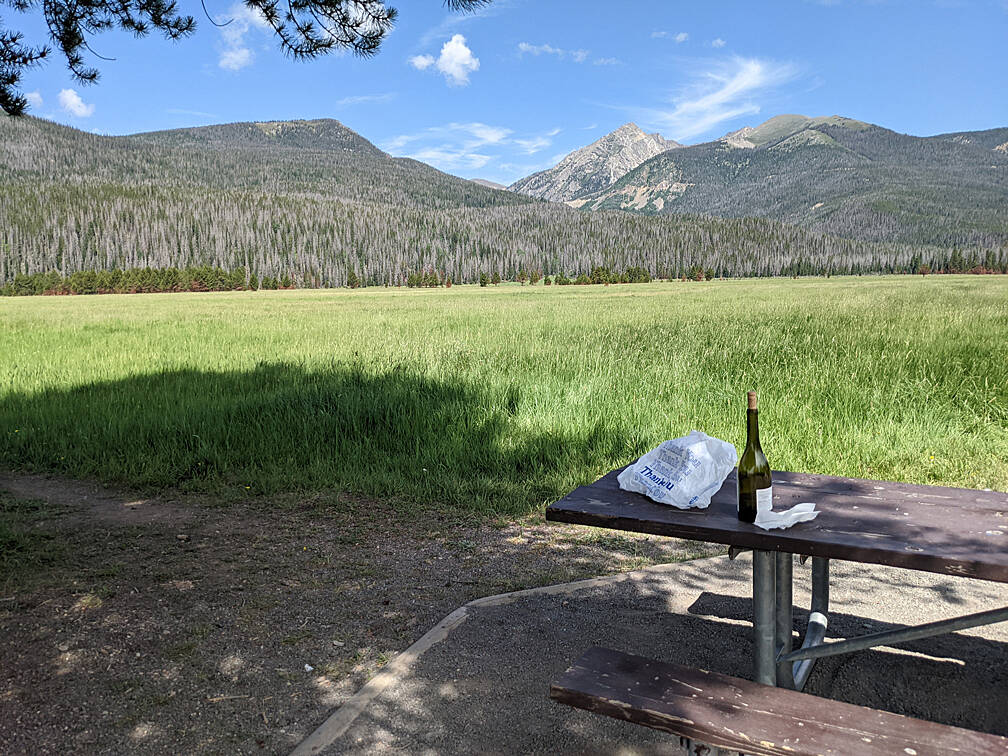 In all, allow a barest of bare minimums of 4 hours for the roundtrip drive.  We got started at 7AM, made plenty of stops to stare at the surroundings, had a wonderful picnic, and it took us about 5 hours total.
Boulder

Hmm.  I lived here in college and have been back many, many times.  But I have routines now that limit my exposure to new things.  My routine hikes are these.
Boulder Canyon Hike:  3 - 5 miles roundtrip, starting at Canyon and Broadway.  Boulder, as you might have guessed, has invested in miles (and I mean miles) of quality hiking and biking trails.  This one goes right up Boulder Canyon, and you can go for miles.  There are walkers, runners, and cyclists.  I limit mine to 3 miles on the day I do my campus walk (below), more if I'm not.  It's a beautiful mix of raging mountain creek (Boulder Creek) and jagged rock walls.
University of Colorado Hike/Tour:  less than 2 miles roundtrip, starting at the parking lot opposite Leeds Business School or on the street right outside The Events Center.  As above, I am biased, but I do challenge anyone to tell me of a university that is more beautiful and walkable than my beloved alma mater.   You can view my route
here
.
But my vast experience in Boulder allows me to suggest a place I don't go to often, but yet guarantees an enjoyable outdoor experience, easy or difficult, and that's
Chautauqua Park
.  There are great and scenic hikes of all types, and there's a great place for food and drink at the end, that being the charming
Chautauqua Dining Hall
. 
EATING/DRINKING
Estes Park/Rocky Mountain National Park

We had some damn good experiences when we went out, either for take-out or to dine in.  Do know I adjust for location - a place that's Killer here in Estes Park might not cut it in Boston or Budapest.
Cafe De Pho Thai
, Thai/Vietnamese, Killer:  here?  In Estes Park?  Yep, damn good Thai food and my beef pho would have been good in SF.
Smokin' Dave's BBQ & Brews
, Duh, Killer:  really, really good barbeque, and a great beer selection.  Perfect for a longer, later lunch after hiking or horseback riding - believe me.
Bird and Jim
, Continental, Serviceable:  I really wanted to like this upscale spot, but it just wasn't up to snuff, even for a remote location.  My lamb T-bone was tough, and the service lacking, although our waitress got bonus points for being from Croatia.
And for picnic stuff and general grocery shopping in Estes Park, we were very pleased with
The Country Market
- it really has just about everything you'll need.  Well, not quite, but there's a great liquor store right next door.
En Route Eating/Drinking

If you follow our itinerary, your drive to Boulder will pass through some funky and fun mountain towns.  We chose Nederland, but Allenspark and Ward also have some worthy dining/imbibing spots.
Covered Wagon Restaurant & Saloon
, Pub Food, Textbook:  really, really Textbook.  Their food was fine, the service from the old white male codgers that seemed exclusively on staff was great, and bonus:  Paulaner Weissbier -
on tap
.  So of course I liked it.
Boulder
Boulder is somewhat unusual for its size, in that it has restaurant options that border on or actually are world-class destinations. 
I'll start with the latter, and although we did not dine here this time,
The Flagstaff House
is rightfully nationally and internationally famous.  If you have a special occasion (or not) and want to blow it out in a major way, that's your best bet.  It has the food, the wine (in fact, it's a Wine Spectator Grand Award winner - their highest accolade), and the views - the restaurant is located atop Flagstaff Mountain above Boulder.
Rosetta Hall
, Food Hall/Bar, Diamond Certified and  also world-class:  we loved this place and it's my new go-to.  In fact it's one of the cooler places I've ever seen.   A huge, gorgeous marble bar is surrounded by individual food stalls/kitchens, with all kinds of different types of cuisine on offer.  The cocktails we had were first cabin, and while we only had a pizza in terms of food, it was superb, and right out of the brick oven.  There are multiple levels and hang-out spots, and the whole thing is topped by a gonzo roof deck with nutty views of
The Flatirons
.  The only problem here is that you better be attractive - it reminded me of LA in the sense it was riddled with really beautiful people.  I personally put a bag over my head and tried to keep a low profile.
And while I can't say the places that follow (we went to each this trip) are "world-class", they are awfully close.
Bohemian Biergarten
, German Gastropub, Killer:  I never don't go here!  It is a real-deal German gastropub right in downtown Boulder, and it is excellent.  The fact that they typically have 1 or 2 different Weissbiers on tap has absolutely nothing to do with it.
SALT
, Continental, Killer:  we had a great brunch here, seated at the bar.  Our bartender, Colby, was a true pro, very friendly, and perfectly complemented the great food.
SHOPPING
This section will be short, because, as usual, shopping wasn't a focus.  But let me begin with a question.  Do you really want to shop in a place like Rocky Mountain National Park?  Ok, good, but just in case, you've got all you can handle on the main drag in town.  You won't have trouble finding it, but I sure did.
Boulder?  That's easy.  You inveterate shoppers out there can burn hour after hour in and around The Pearl Street Mall.  Don't miss all of the streets around this surprisingly non-awful pedestrian mall, too.  Boulder is your typical lefty town in that they try to tamp down (albeit with not total success) the presence of giant chains, so you can find more unique goods here.  Plenty of great places to eat and drink, too, including some listed above.