TODAY'S RAMBLINGS
Do you still watch TV?  I will date myself among the cool kids that read this newsletter when I say:  yes, I do.  But much less and differently than I used to, of course.  On-demand and live streaming changed everything.

Today, I am going to explore alternatives to our current TV subscriptions, all streaming services:


YouTube TV (live TV/DVR/On-Demand) ($65/month)
HBO - (Classic, not HBO Max, and it's integrated into YouTube TV) ($15/month)
Amazon Prime Video (free with Amazon Prime, which I'd have regardless - so free)
That's $80 for TV services, plus the $70 I pay the Darth Vader-like Comcast for broadband.  So for $150 month I've got a lot of live and streaming TV options, and
Serviceable
broadband (200+ megabits per second). 

Those services along with Google Play also give us a fairly comprehensive on demand library, in addition to what we DVR (the DVR is unlimited with YouTube TV). 

We, as many, used YouTube TV (Hulu is similar) as a bridge from our old world of Comcast/DirecTV to streaming.  The experience with YouTube TV is basically the same as having a traditional cable or satellite TV package, but for us, it's about $50/month less.  We cut the cord about 2 years ago and it's been great.  Even Julie admits it's all fine, a big hurdle. 

But now, as I gaze at a YouTube TV programming guide consisting of station after station of advertising-supported channels I literally never watch - ever - I am now re-considering the whole thing.  Not cutting the cord - I'm very happy minimizing my relationship with Comcast, thank you very much.  

No, I'm talking about building a bundle of streaming packages, and dumping YouTube TV.    Must-haves and nice-to-haves:


CBS Mornings (weekdays and Sunday; must be live weekdays) 
"Late Show with Stephen Colbert", with the option of Seth Meyers
HBO
"Housewives of [fill in the blank]"
"The Walking Dead"
"Saturday Night Live"
GPS with Fareed Zakaria
CNN in general
PBS
Giants baseball
Some NFL
So here goes - can a bundle of streaming services (all available on virtually any smart TV or Roku or similar device) get us (maybe you) what we're looking for?  Note in each case, I'm going with the ad-free, premium and/or yearly offering, if one is available.
Paramount + ($8.33/month)
This used to be called "CBS All Access" and it solves a number of problems for us.  Here's what it includes: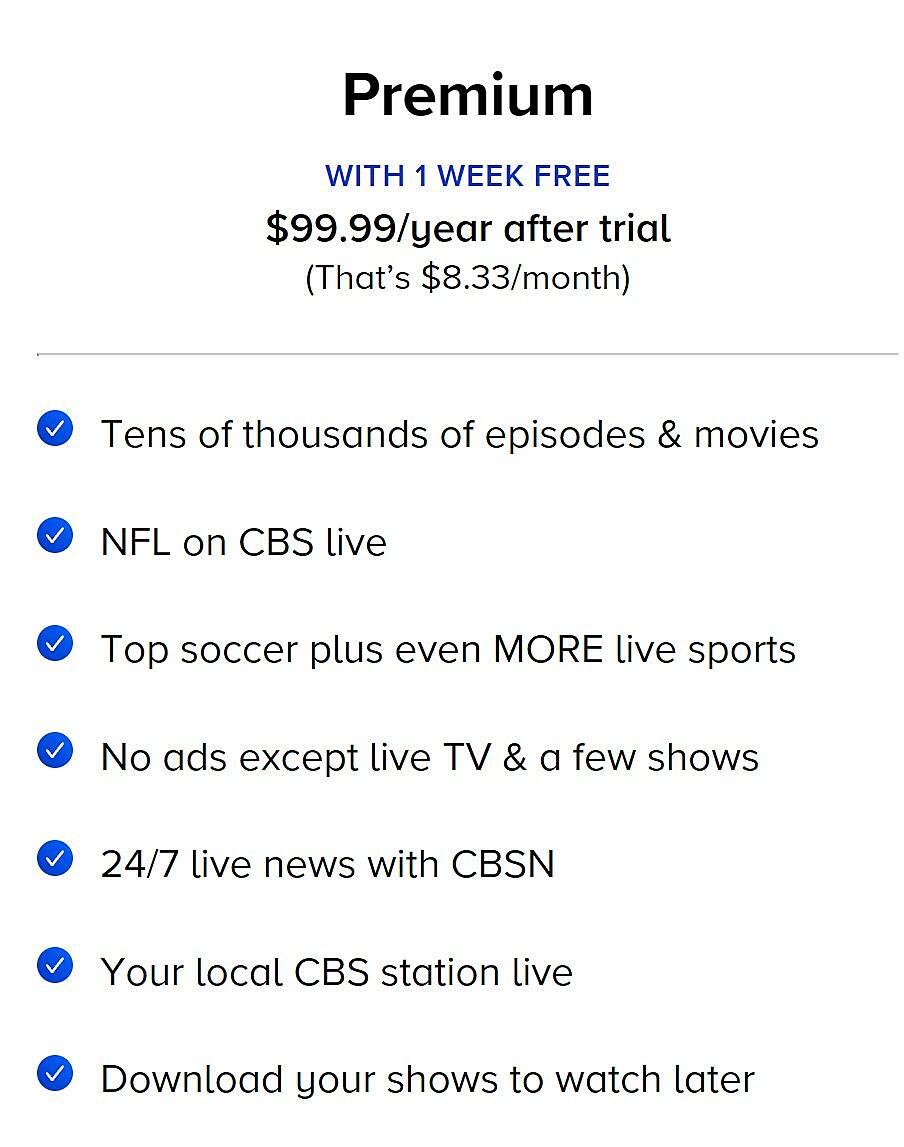 The CBS local station live is key, and some NFL will be nice.  We can stream Colbert and about a million other shows from them whenever we want. 
AMC + ($4.99/month)

Happy wife, happy life.  Julie wants "The Walking Dead", she gets "The Walking Dead".  The end.  It's why we went with YouTube TV (which bundles AMC) over Hulu (which does not).
HBO Max ($12.50/month)

A requirement for both of us, although I'll miss "HBO Classic", with the different channels in different time zones.  I'm not sure if you can watch "Real Time" with Bill Maher live each Friday at 7 with Max, but I can survive streaming it the next day - maybe.  Ad-free and 4K are a no-brainer, at least to me.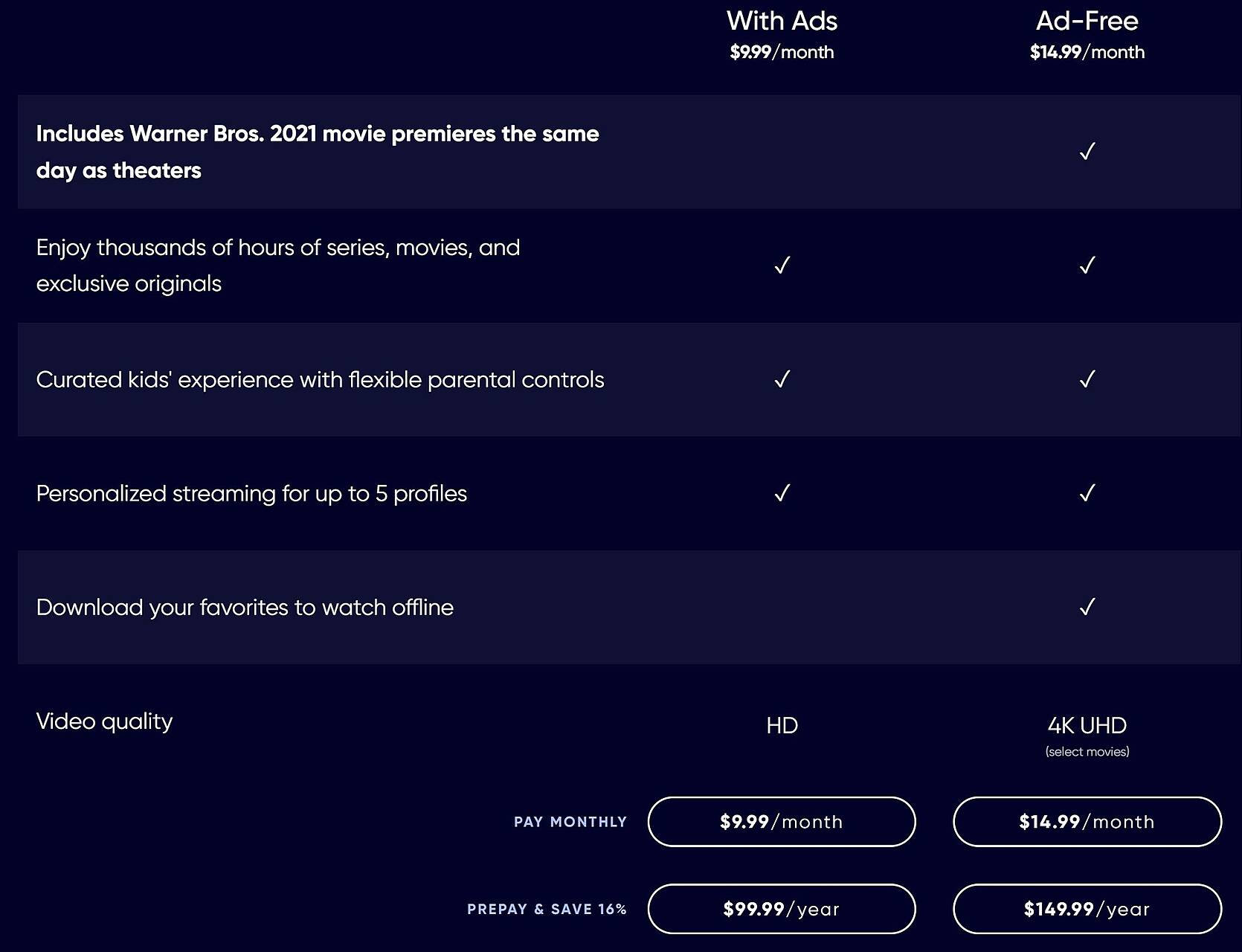 Peacock Plus Premium ($8.33/month)

This gets me Bravo (i.e., "Real Housewives"), "Saturday Night Live", and some live sports.  Also, a ton of reruns I'll likely never watch (unless they have "Emergency" and "Banacek", both of which originally aired on NBC).  But no NBC Sports Bay Area, so no Giants (at least not often).  Plus, we're back in bed with Comcast, which owns NBCUniversal, which owns Peacock.  It was also the most opaque of any of the services I researched for this post, in terms of what's included.  Other than the Premiere League, WWE, and "Current NBC hits", what does one actually get with the alliterative Peacock Premium Plus?

 PBS App ($0.00/month)

That was easy.
The Real CNN (estimate:  $6.00/month)

I say the "real CNN" because they're introducing CNN + in 2022, and I believe they're going to start featuring their real journalistic stars there, vs. on plain CNN.   So on one network:
Fareed Zakaria
Christiane Amanpour
Anderson Cooper
Dana Bash
John King
Jake Tapper
Michael Smerconish
And importantly, Scott Galloway, new to the network

Add their live feed and it's pretty compelling - assuming that stable of talent above is intact and featured.

Adding It All Up
Drumroll, please.  The total for this pretty OK bundle, including the not-yet-available CNN +, is:

$40.15. 

That is 50% of the price of YouTube TV bundled with HBO Classic.  Add in $70 for broadband and we're at $110/month.  Not bad.

And it comes with:
CBS and PBS networks and their local affiliates
All our must-have shows
Massive movie and TV show libraries
Same-day major movie premieres on HBO Max

But:
No or very little Giants baseball, and limited NFL
No NBC, ABC, TCM, or ESPN
No DVR (mostly irrelevant as most everything is on-demand)
A whole bunch of different accounts and a whole bunch of different apps
The Portico Darwin verdict:  leave well enough alone.  The extra $40 we spend is worth it to have
all of our must-haves
integrated by YouTube TV.  One program guide.  One DVR.  One library.  A ton of networks, some I actually watch occasionally, like ESPN.  And I'd really miss Turner Classic Movies (which I hope they leave alone now, after the recent rebrand).
But I do hate how YouTube TV (as did the cable and satellite companies before them) makes me get (and thus pay for) way, way, way too many channels in which I have no interest.  I get it - many networks are bundled by their owners on a take it or leave it basis (if you want Bravo and Golf Channel you must also have, and thus pay for in the end, Telemundo, both from NBCUniversal). 
I think
I called that Predatory Capitalism
?  At least Julie will be happy to hear there are no imminent changes forthcoming . . .
(P.S.  No, we don't have Netflix, Apple TV +, or Disney +, nor feel a pressing need.  And yes,
I know
an antenna or an app can receive local network affiliates.  For $80, YouTube TV with integrated HBO is compelling.)

FROM THE UNWASHED MASSES
Fellow thrill-seeker Dr. Doreen Downs commiserated with me on Lassen Volcanic National Park.  It is where we met the esteemed scholar - Drakesbad Ranch, to be precise.  And we both are glad we got there before it was too late. 

I want to thank those that reached out regarding my special edition on October 2nd.  Thank you especially to Louise Lederhosen and Laura Gonzalez for their lovely messages.  

And to Mrs. Crup, who said equally kind and nice things on the same subject to me personally while we were at The Sea Ranch this past weekend.

But what did Louise's husband, the networking gear peddler Byron Browne IV, have to say?  He took the opportunity to regale in another of his concert triumphs:


"I'm not sure I agree with your take on Talking Head live albums, but perhaps I'm jaded because I actually saw the 'Stop Making Sense' tour, on the floor, a couple (of) rows back, and with two hot George Washington University coeds making out in front of me.  Best show ever!!

Maybe one day you can ask your audience why we don't have protest songs like we did in the 60's and 70's. Certainly there's no lack of content out there."
I love how he pivots from LGBT softcore porn to serious questions about the music scene!  Isn't there a name for that kind of disorder?
Thank you to any one that is reading this newsletter.


KLUF

As a demonstration that dinosaurs still walk the Earth, I am, for the first time in the long, storied history of this newsletter, using a reader's suggestion in this section.
While I have yet to make it through all of the recommendations, the standout so far from what you bratty kids mentioned is Kings of Leon, with their 2021 disc "
When You See Yourself
".  This is a Killer album, but it's new to me, so I'm sharing it via Spotify vs. a high res download. 
Kudos to Raymond Michaels - Kings of Leon does indeed tick my two boxes:  great music and staying power.  They've certainly proved themselves in both regards and I stand at least partially corrected regarding my whine about today's dearth of great music.