TODAY'S RAMBLINGS

Today, I'll traverse various areas of the oft-treacherous cancel culture region of the US.  Are these proverbial offings specious?  I would love to hear your own thoughts on one or all 3 of these situations.

Joe Rogan

The recent dust-up over Joe Rogan, his misinformation regarding vaccines, the fallout from it, and the hit Spotify ($2 billion in market capitalization!) took because of it all, reminds me of one thing:
To those who much is given, much is expected.
You see, Joe Rogan is really just a comedian and a UFC announcer.  That's per his own frequent admissions, including in his recent quasi-mea culpa on Instagram.  He was savvy and interesting enough to grow his podcast to the point where Spotify made him exclusively theirs, for a reported $100 million going to Joe.  Good for him!
But you know, when you have that kind of forum, and that kind of reach, it is your responsibility to not host crackpots spewing anti-vax nonsense, regardless of their credentials.  It is not presenting both sides - there is no other side.  There is science and not science.  The vaccines are not only science, but a miracle of science.  That is a fact, backed by peer-reviewed data.  Fuck "Dr." Robert Malone, and frankly, at this point, every other anti-vaxxer.     
I will thus join my friends Neil Young, Joni Mitchell, Stephen Stills, Graham Nash, and David Crosby by no longer linking to music at Spotify here in this blog.  Do you think they'll be able to stay in business?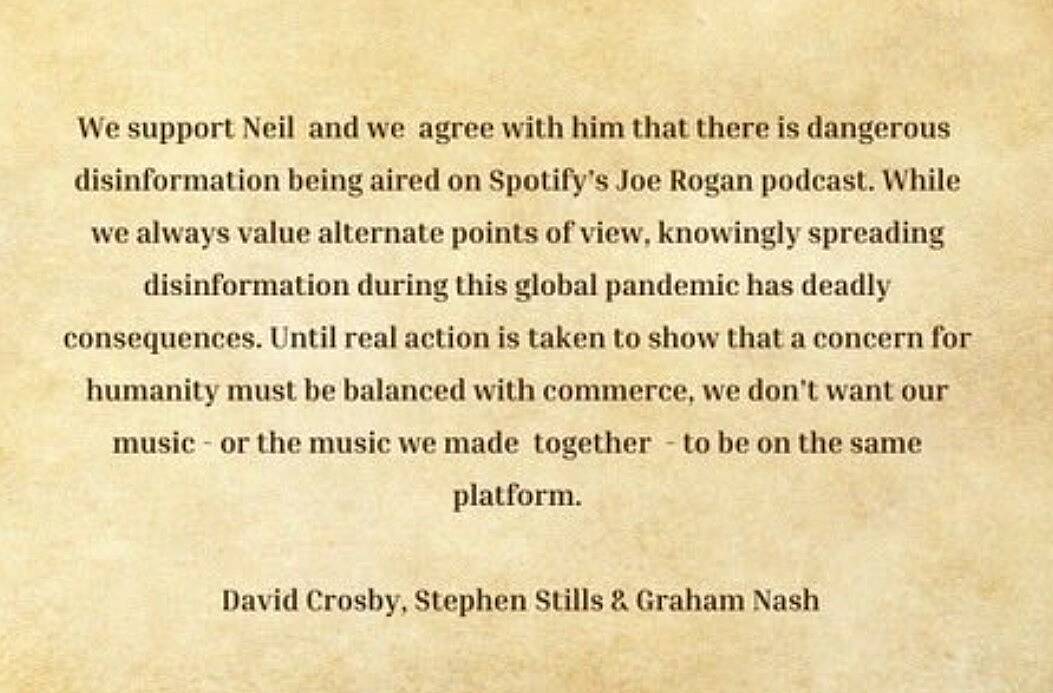 So in this case, yes, I am in favor of Joe Rogan paying a price for not respecting his platform.  Should he be totally gone?  No, but if you listen to him encourage 21 year-olds to not get vaccinated, there should be some price.   Because it is the ability of the virus to spread and mutate among the unvaccinated that will keep us in this mess, and encouraging that behavior is not helpful.
And Spotify?  Guys, when you produce and broadcast a podcast that you pay $100 million for the exclusive rights, you're a media outlet, not a platform.  With that comes the responsibility to do what's called "editing".
Whoopi Goldberg

On Wednesday, Whoopi Goldberg was sent away for two weeks by her employer, ABC, as a result of the comments she made regarding The Holocaust, this week on her show "The View".
OK - I know I am walking into dangerous territory here, and I get her "it wasn't about race" comment was incorrect.  But does anyone seriously think she's anti-Semitic?  Is there any record of that, like there is for say, Mel Gibson?  So now people are sent away when they don't use
the right terms
to express their sincere loathing of the single worst atrocity in humankind? 
I understand the Jewish people have always considered themselves a race.  Her implication they're not is wrong, although wow, it gets anthropologically intense.  But does the whole affair warrant her having to prostrate herself on the altar of progressive forgiveness?
Or is this the same as Joe Rogan:  big platform, big responsibility?  The outrage here seems misguided, but I am not Jewish, so I don't know how much this actually hurts.  But I do agree with this sentiment.

Jeff Zucker

I don't get this - at all.  Two divorced colleagues develop a consensual romantic relationship at work.  The man is Jeff Zucker, the president of CNN.  The woman is Allison Gollust, a CNN executive vice president and the head of marketing for the network.  OK, I get it, her boss, but come on.  Where do we think people meet people?  They meet at work!
There has never been even a whisper from Ms. Gollust of any wrongdoing, any pressure, anything at all wrong with their relationship, or how Mr. Zucker conducted himself.  Zilch.  Nada.  Zero.
Yet, because "I was required to disclose it when it began but I didn't," he's now gone.  Because he didn't tell the board at AT&T (owner of WarnerMedia at the time, which owns CNN) about a consensual relationship between two mature grown-ups, that are nearly peers in the C-suite?  He didn't just get a two week suspension (like Whoopi): 
he had to resign
. 
OK - maybe some more dirt will come out.  In fact, it probably will.  Maybe it's the Chris Cuomo thing and how it was handled by Zucker.  Maybe there's evidence the two of them plotted evil deeds from their penthouse love lair.
But on its face, today as I write this, I don't get it.  Two adults can't have a consensual relationship anymore if they work for the same corporation?  I am glad I am not in the wedding business if that's the case.


FROM THE UNWASHED MASSES

Some new gems from my cousin Charles Clough just arrived, from his very fun "Tips" series. 
(Even though he's an artist, he does wash, so perhaps this is the wrong spot for this?  Regardless, here's a fun preview of our next project together.)
For the next collection of his NFTs, we are going to offer an alternative type of icon for people to buy, one that is art vs. a digital cartoon.  Each NFT will consist of a 2" x 2" original, signed painting (that we will deliver to each buyer in an ideally-designed protective sheath), and its matching JPEG. 
Perhaps we'll offer the NFT collection as
Icons for the Intelligent
?  Whatever the name, we're going to offer the first 50 at $20, likely at opensea.io.  The next 50 will be offered for $40, and so on.  I believe Charlie has created a thousand of these?
We hope to give the cool kids at RISD and and other top art and other universities something different than a Bored Crypto Ape Smoking and Vomiting on a Yacht run aground in Cactus World.   
Instead of French fries, we'd like the hipsters to be asking "Can I get art with that?"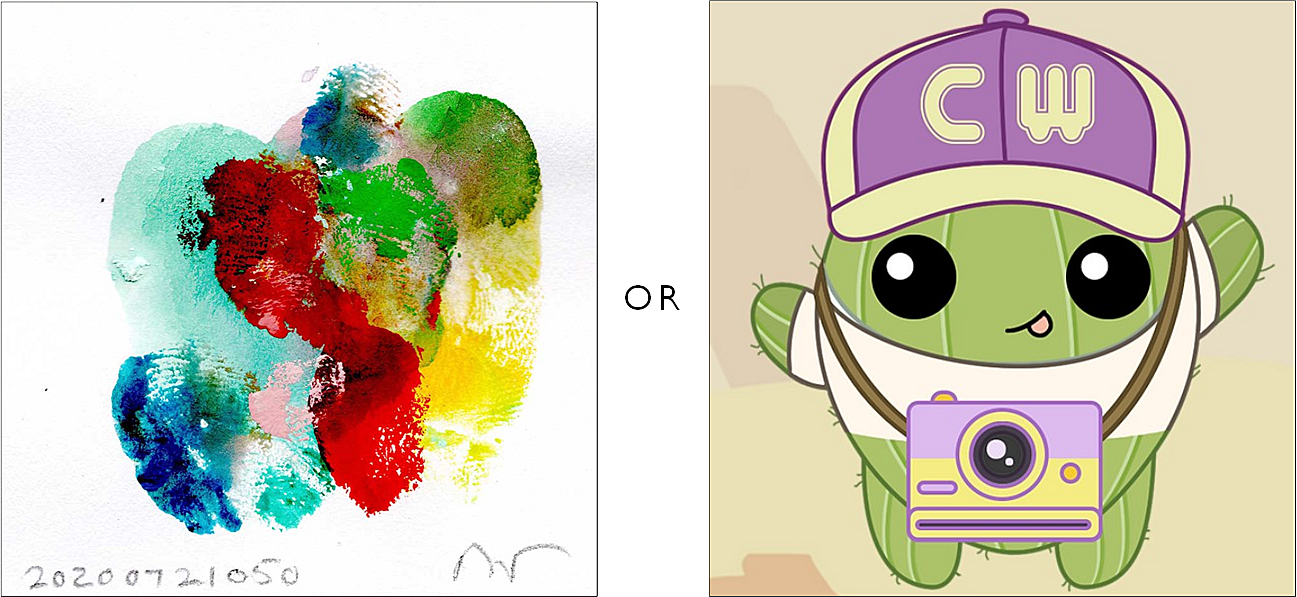 We'll be showing some of this next NFT collection at our March 1 event in The Presidio here in SF - ping me if you'd like more information and would like to attend.
Coming back strong from the still-lingering virus, Hunter Deuce is already eyeing piss-ups at our best-in-America baseball stadium, Oracle Park.  And, boy, according to Hunter, they better be on Saturdays, at the right time.
"Hey, have you seen this 'Thrill Plan' the Giants are offering?  22 pre-selected games, and they're not bad - lotta weekend games. 

What really caught my eye were a lot of the Saturday games were 4:15 starts.  

Lately, if Fi and I wanted to buy a game or two before the season starts, we'd first look at the Saturday 1:05 options - you can't beat a Saturday afternoon out there with a few drinks and a snack - it's heaven.  It really grinded my gears when they basically abandoned the 1:05 starts in favor of 7:15 because they found out people spend more on concessions in the evening. 

So I went through the (2022) season schedule - only THREE Saturday evening start times (and these have been bumped back to 6:05), four 4:15 start times, and SIX 1:05 games!  

It's still not cheap, though - a couple of View Reserve seats on the plan will set you back $1,500.

Yes, I miss baseball."
Me too, and I'm sure, many others.  But clearly not as much as you.  BATTER UP!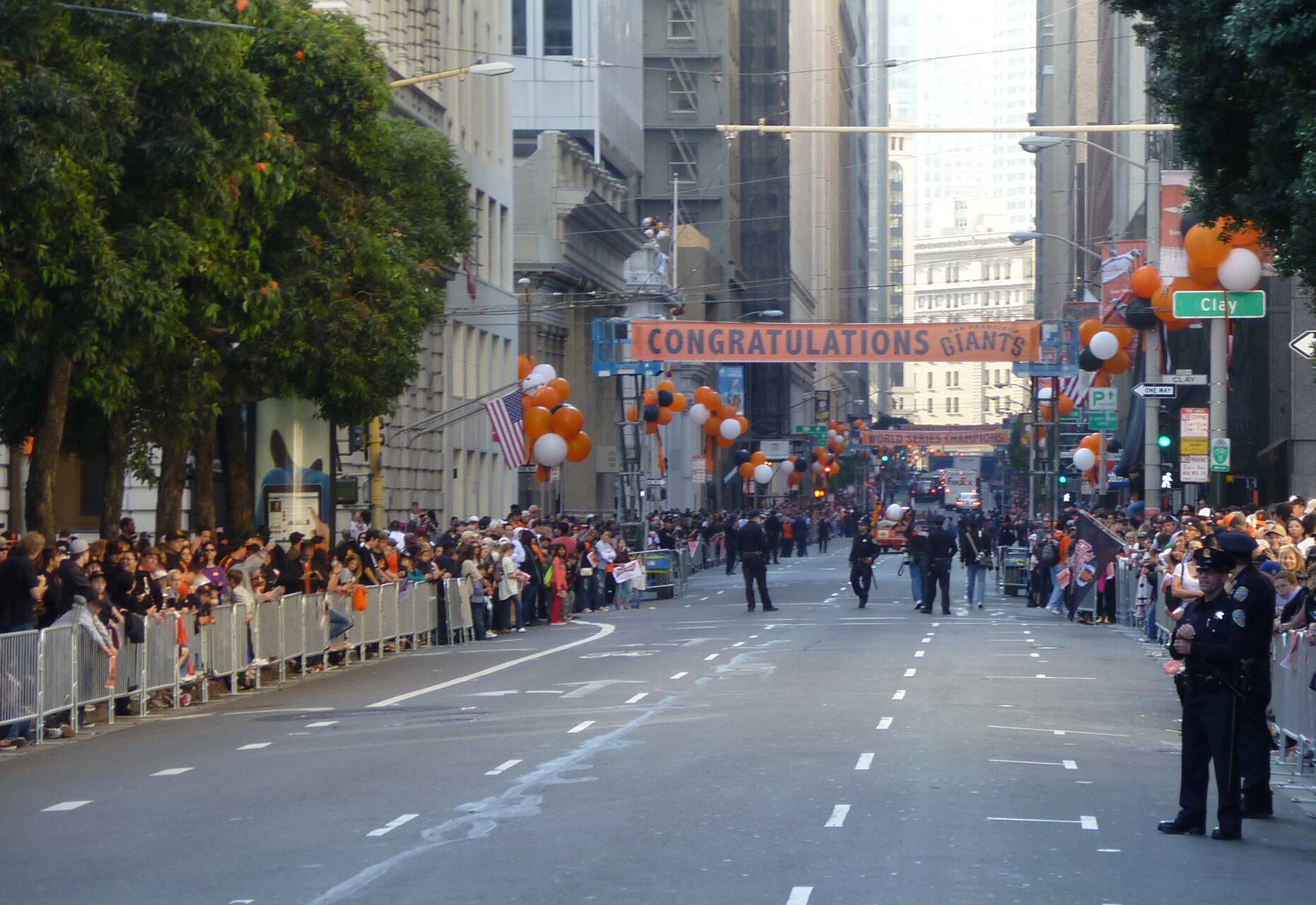 (The photo, BTW, is one Mr. Deuce will fondly remember, as do I.  It is the view the two of us had for the Giants' 2010 World Series victory parade, easily one of the best days in SF, a city with many of them.)
Thank you to any one that is reading this newsletter.


KLUF

I will say this no Spotify thing will limit my uber-KLUFness just a bit, as even I don't have everything, even in lowly MP3.  But I do have this track, from my Guided by Voices hero Robert Pollard; it's off one of his many solo albums,
From A Compound Eye
. 
The track is called "
Kick Me and Cancel
".  So apropos and so
Killer
.
More Bob?  Of course.  From the same album, the prophetic "
Love is Stronger Than Witchcraft
".  Just as Killer.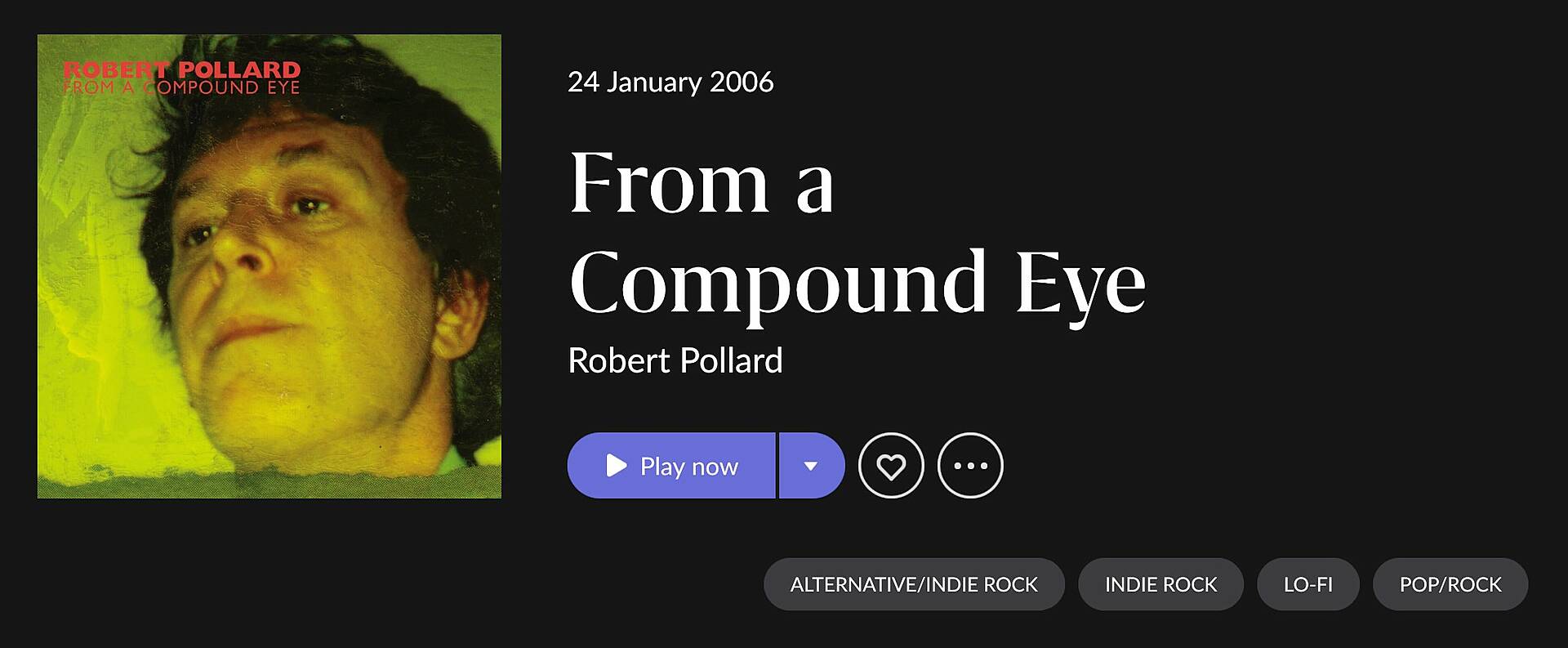 Sorry for MP3s.