(Editor's Note:  I know I promised peace and quiet, but why hold back these treasure troves of valuable information?)
OVERVIEW
For years, I've never heard all that many great things about Milan, Italy.  Sure, it's the fashion and financial capital of Italy, but its reputation is one of gritty urbanity, not of urban splendor.
The reputation is deserved.  Now, mind you, our entire attitude in Milan was largely destroyed by one teensy, weensy problem:  we made our connecting flight from Lisbon to Milan.  But our luggage did not. 
No problem - TAP Air Portugal has 5 flights a day between the cities, so our luggage will be at our hotel in just a few hours, or at worst, the next day.  Right?
Wrong.  I'll spare you the agonizing details (at least most of them), but as I type this - FIVE DAYS into our vacation - we still do not have our luggage. 
I'm not kidding and it could happen to you.  Ask George Valiant Walker and Sherry Pace.  They, too, flew into Milan in September 2017 to join us in The Dolomites, and they, too, did not get their bags for 5 days.  Interesting.  Also:  really, really infuriating.  It's hard to come up with any justification for this woeful breach of the airline <-> passenger pact.  What if this were a honeymoon?  A wedding?  A funeral?  Our first trip to Europe?  The biggest business meeting of my life?  Or if you couldn't spend your way out of it?
So our 3 nights in Milan were overshadowed by the need to get a toothbrush.  And then as time wore on, clothes we'd need for our next destination, Lake Garda.  You've been warned.  But we still had some quality moments.  Here's one.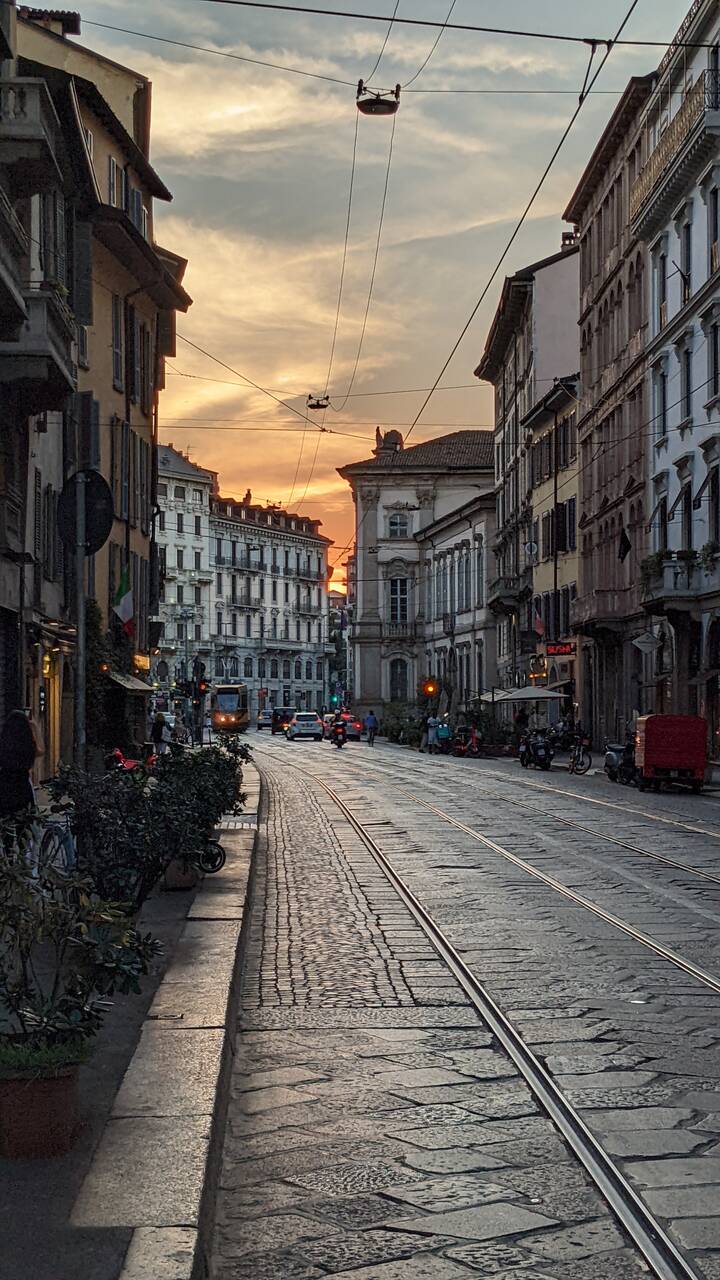 LODGING
We stayed at the
AC Hotel Milano
, one of Marriott's ridiculous kijillion brands.  I remember when a Marriott was a Marriott and also, when staying in one was a big deal.  Let's just say that's changed.  Now, get off my lawn.
Its location was fine, right near Porta Garibaldi, Milan's secondary train station.  The hotel?  I can't assess it as anything more than
Serviceable
, as while there was nothing glaringly awful, there was also nothing glaringly unique or better.  "Meh" comes to mind.  "Generic business hotel" also fits the bill.   
THE GREAT OUTDOORS
Well, it was about 1000 degrees with equal humidity.  In fact, the first day, the weather and my own jet lag meant Julie spent it on her own, while I literally chilled at the hotel.  Not having any appropriate clothing didn't help matters. 

Bottom line:  our explorations of The Great Outdoors were limited greatly by the oppressive heat and our need to go shopping.  At first for a toothbrush, but as it became clear we'd be going to our next stop, Lake Garda, with nothing, shoes and clothes, too.  My apologies.


EATING/DRINKING
We found the high street of Corsa Garibaldi and the surrounding area to our liking.  Not touristy with plenty of bars, restaurants and yes, shops.  Mostly pedestrian, only, too, which Europe seems to be able to do, yet we can't quite get it right in the USA.  Anyhow, the heart of it was about a 15 minute stroll from our hotel.  Boy, did I sweat during those strolls. 
I will say that we picked a great time to go, exchange rate-wise.  Even our big dinner out was $185 for the two of us, and being Italy, mediocre for them is at least good, by our standards.
Here's a fun photo of the scene Sunday night, and then my listings of where we ate and drank.  I've left out a couple of spots where we had a quick Aperol Spritz, Sambuca, or gelato - mostly because that type of thing is everywhere.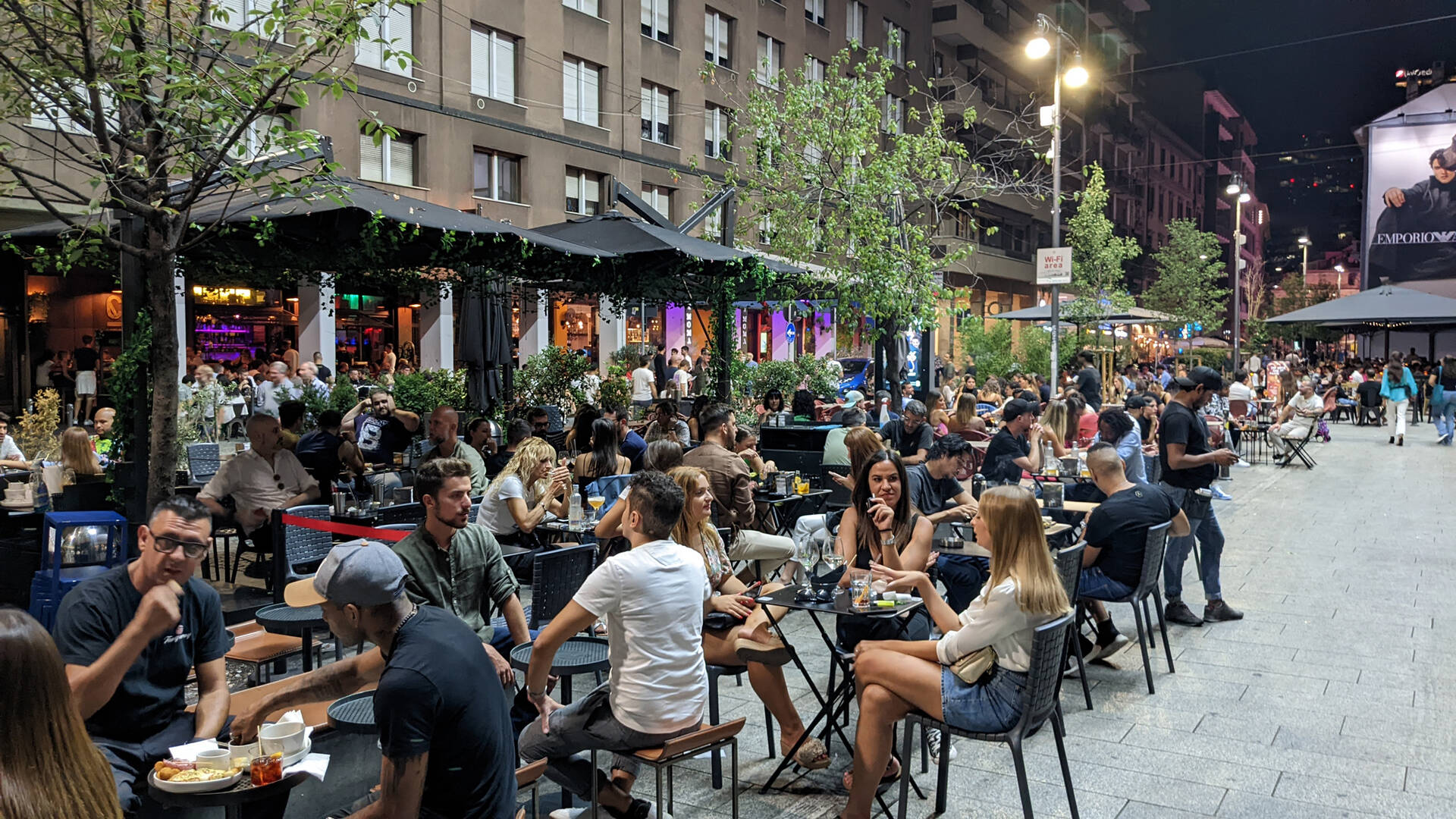 AC Hotel Milano

Serviceable

Huh?   Well, the fact is the breakfast spread was quite impressive, and we had an excellent salumi platter upon our arrival.  And they made a pretty damned good Negroni.  Indeed, the rating would be Killer if the service hadn't been so lackadaisical.  Put another way:  there are worse places you could go if you were in the neighborhood and thirsty and/or hungry.
Testone
Textbook
Yes, this violates my policy of not including things I myself didn't do, but if I can't trust my wife's review, whose can I?  She raved about its authentic nature and the quality of her spaghetti with cream sauce.
The FisherMan's Pasta
Killer

My food was probably just Serviceable, but Julie raved about her dish, the 20 EUR bottle of wine was Killer, and they took great care of us even with no reservation.  We ate right here.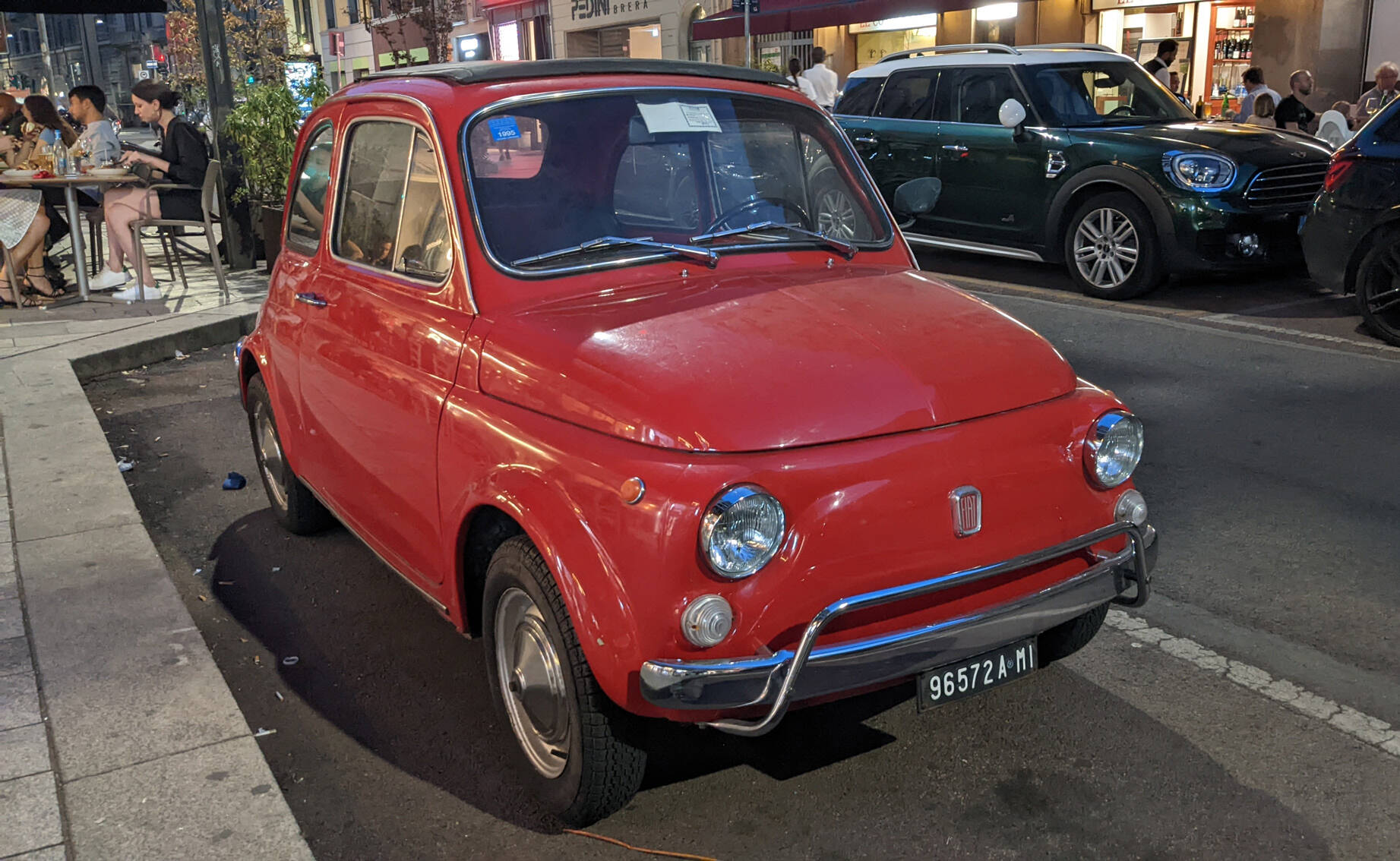 Enoteca Huaxia
Killer

This was right by our hotel, and while I can't say it's worth a special trip, it was of the highest standard in terms of our salumi and the wines we enjoyed.  Local businessmen were there, always a good sign.
Camparino Bar
Killer

Touristy?  Yes.  Expensive?  You betcha.  Heck, it's even in a shopping mall, albeit an extraordinarily high-end version.  But there's a reason this is considered one of the world's best bars, and suggested in
Travel & Leisure
magazine.  This is owned and operated by Campari, and it sits at the base of the Duomo.  So as we sat enjoying our 15EUR Campari and Orange's, our view was filled with one of the world's most spectacular cathedrals. 
Great service and the drinks, as you'd expect, were perfectly prepared.  Fun fact:  the Brits sitting next to us thought I was a celebrity (Sting?), because two people (including Julie) snapped my photo - or so it appeared:  they were just photographing the bar itself!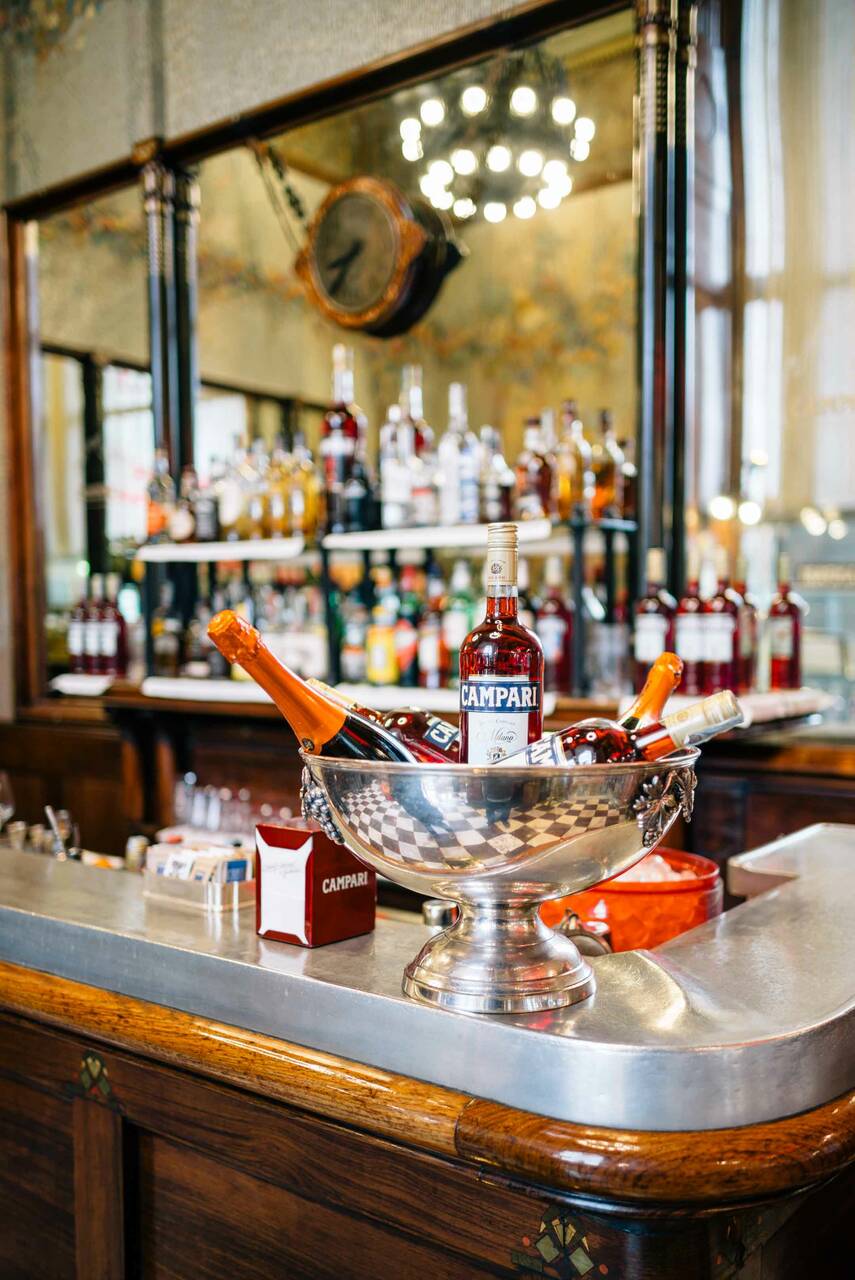 La Filetteria Italiana Garibaldi
Killer
Judging by some other reviews, we may have enjoyed this uber-trick take on a traditional steak house more than others.  No matter - we stuck with the basics, but this is the place for bison, venison, crocodile and all other manners of meat.   We ate here for our last dinner in Milan.

Service and food were both very good (although the former slowed down as they got busier), and we enjoyed the al fresco experience.  And to top it off, a gonzo-gorgeous Armani model sat next to us - but wow, did she not smile and her attitude reeked of someone whose puppy had just been killed.  Ice princess aside, it was a good way to close out our quixotic Milan experience.


MUSEUMS/GALLERIES/PERFORMANCE ART
Again, and with my apologies, our ability and desire to explore different museums, etc. was severely limited by the oppressive heat and by our lack of suitable clothing.  But, despite it all, Julie managed to find something very much to her liking.   
Duomo

No Rating

Much like some at the Grand Canyon, we walked by it, were impressed, and we left.  It was just too hot and there were too many tourists to even consider dealing with it. But it was nice to look at from Camparino!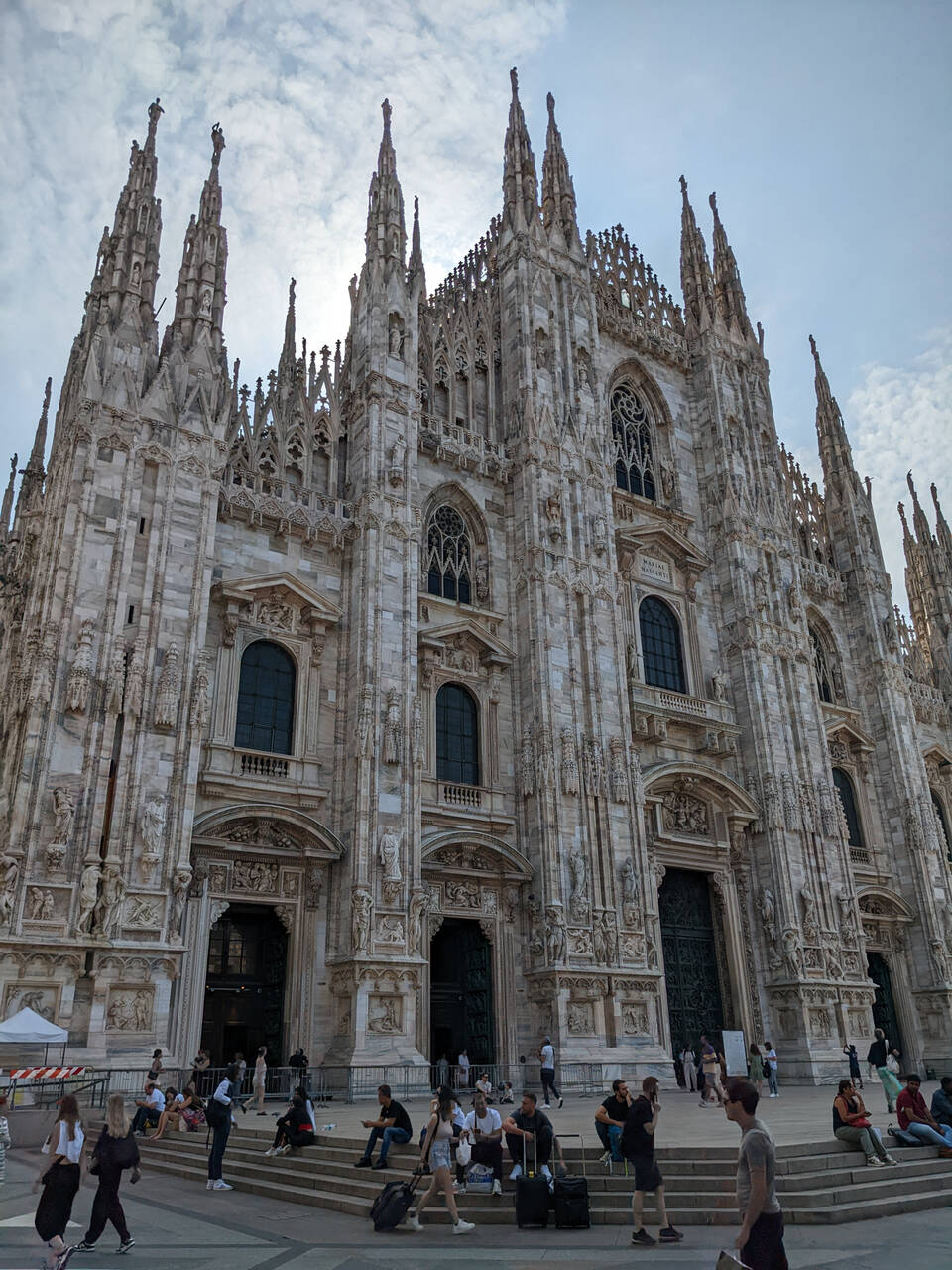 Armani/Silos
Diamond Certified

This is the Giorgio Armani museum.  A must, or close to it.  To those of you that scoff at my black t-shirts, I got the idea from Mr. Armani, who we saw in an interview years ago state that his daily uniform is either a navy or black t-shirt (or, a tuxedo).   Good enough for him, good enough for me - take that, Dr. Shelly Murphy!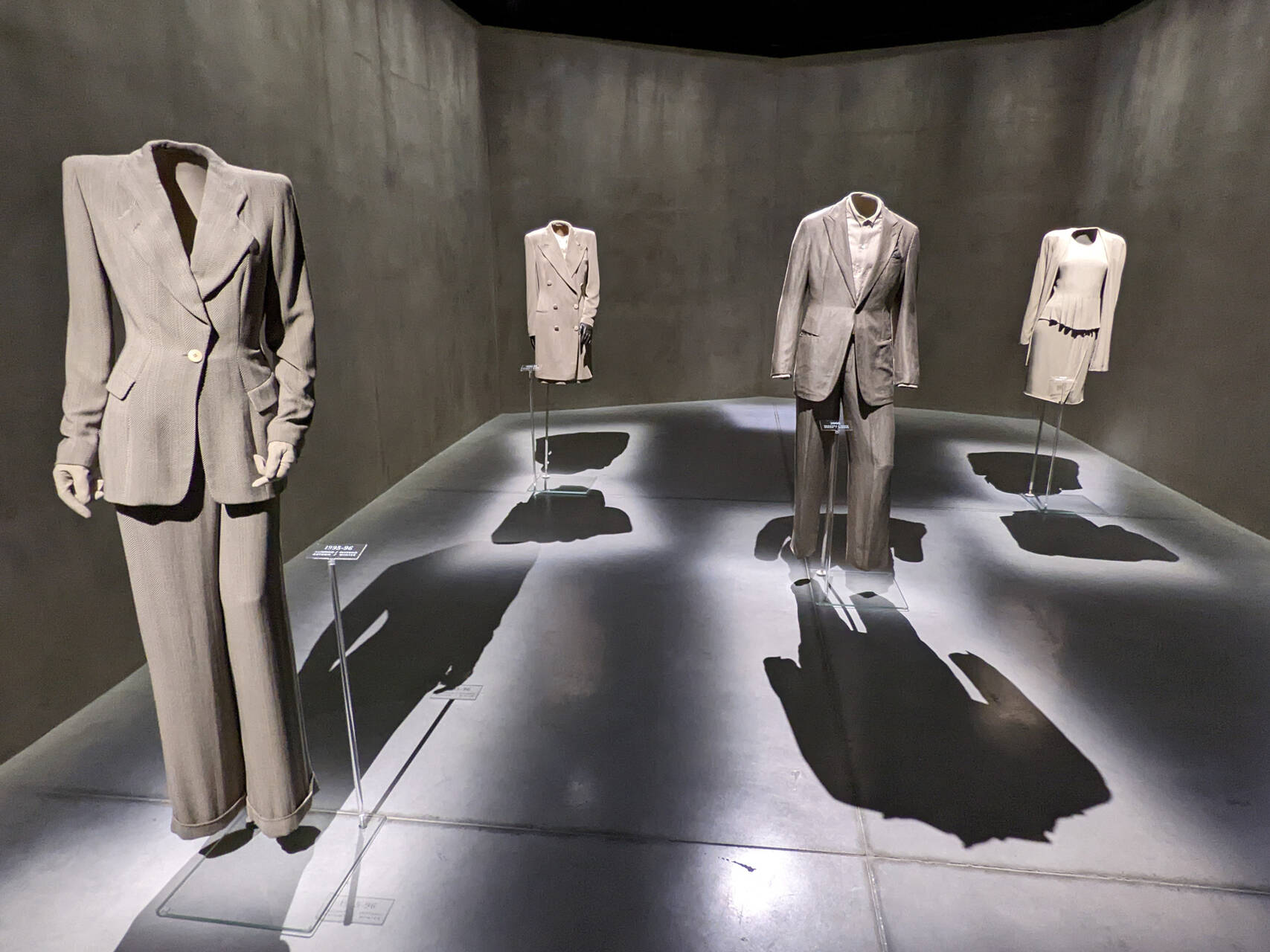 SHOPPING 
As I've emphasized in nearly every Travel Guide, neither of us ever prioritizes shopping on any vacation, including one in a fashion capital like Milan.  This time, however, it was a necessity - but do we buy nice things, with the expectation our bags are gone forever?  Or just enough to get by at Lake Garda?  We chose the latter, - and optimistically started with toothbrushes and deodorant from a local
supermercato
.  That was Sunday. 
But by Monday, we still did not have our belongings, so we agreed we'd need to get some critical pieces (like bathing suits!) for Lake Garda.  We took care of all of it at the Uniqlo flagship store.  Their men's sweats are of course my go-to, but the rest of their line is equally impressive for the quality and value, for both men and women.  I can't imagine why anyone would burn time here on vacation under normal circumstances, but not having our clothes in Europe was anything but normal.
(But for you folks that actually want to shop:  the Galleria near the Duomo had as fancy a collection of stores as I've personally seen.  Prada.  Dior.  Ferragamo.  Louis Vuitton.  Etc.  Whatever.)
Arrivederci, Milano - it was . . . interesting.