OVERVIEW

With this, I am starting a new Travel Guide flavor, the Micro Travel Guide.  These will cover shorter, less dramatic trips - yet ones that are still worthy of a serious mention, and also a place you might just want to check out.  Like Oceanside, CA. 
Our visit was personal in nature - that being, meeting the new son of some close friends of ours, Andy and Libby Jones, who chickened out from SF last year. 
Here
are some photos from our trip.
Oceanside is about as far away as you can be and still kind of say you're in San Diego.  Working one's way north from San Diego, the beach enclaves pass by:  La Jolla, Del Mar, Encinitas, Carlsbad, and then Oceanside.  The next stop north is the ginormous Camp Pendleton (where they make US Marines), and then comes Orange County, and the beginnings of LA.  The region is called a megalopolis with good reason. 
Pro tip if your destination is Oceanside:  John Wayne Airport (A.K.A. Santa Ana or SNA) is the same distance as is San Diego International (SAN).   But you can't fly nonstop to Munich from SNA, which you can from SAN, on Lufthansa.   Hey, it could matter.
Oceanside itself?  It's the least developed of them all, with quick access to the country,
Killer
beaches, Old Town Oceanside, and wine country.  Huh?  Read on, but remember:  it's also suburbia USA, and you'll be stranded without a car - unless you stay in Oceanside proper, A.K.A. Old Town Oceanside.
LODGING

We stayed private, but we can heartily recommend the
Mission Pacific Hotel
, located in Old Town Oceanside.  We had drinks at their Diamond Certified rooftop bar, and a great lunch on the swank, beachfront deck.  Everything - including the service - was first cabin.   More importantly, our hosts Andy and Libby recently toured the property extensively, including the rooms, looking for a site for a corporate event they were hosting.  So based on their input, and what I saw personally, we can't wait to stay ourselves and can certainly recommend it.  Note that the property next door,
The Seabird
, is a sister hotel.  Andy and Libby said it's just as nice, but they didn't like the Nantucket style as much.  Agreed, but it did, indeed, look just as nice.


THE GREAT OUTDOORS

In the spirit of this being a Micro Travel Guide, you're mostly on your own here.  But you'll be OK, because the options for parks and other opportunities for hiking, etc. are essentially unlimited.  My host Andy is a big cyclist and was raving about the road biking, regaling me with stories of trails that run from the depths of the suburbs of his, directly into the foothills or to the beach. 
In other words:  Google it. 
I can say we had a lovely walk around the
Arrowood Golf Course
, on which their home is located.  The course itself looks excellent, although I have not played.  The course's restaurant, The Fairways Kitchen and Bar, are superb, with great views and seating options.  And, despite the warnings of our hosts, the food was also very good.  Definitely recommended if you're in the area.  P.S.  the practice area and driving range really look nice.


EATING/DRINKING

On this trip, our eating and drinking involved two distinctly different destinations:  the Temecula wine region, and Old Town Oceanside.
Wine region?  Yep.  An easy 45 minutes from Oceanside lies Temecula, which has a quaint old town and also a whole bunch of wineries.  Warning:  on the Saturday we went, some of the bigger places had crowds more akin to an NFL football game, so be careful. 
We avoided the riffraff by popping in to a smaller spot,
Vitagliano
.  We were wowed by the setting, although it's clear hosting weddings is almost as important as the winemaking.  No matter - we grabbed a Serviceable bottle of Chardonnay and headed out to a very private table with this view - although we were under the pergola visible on the other side.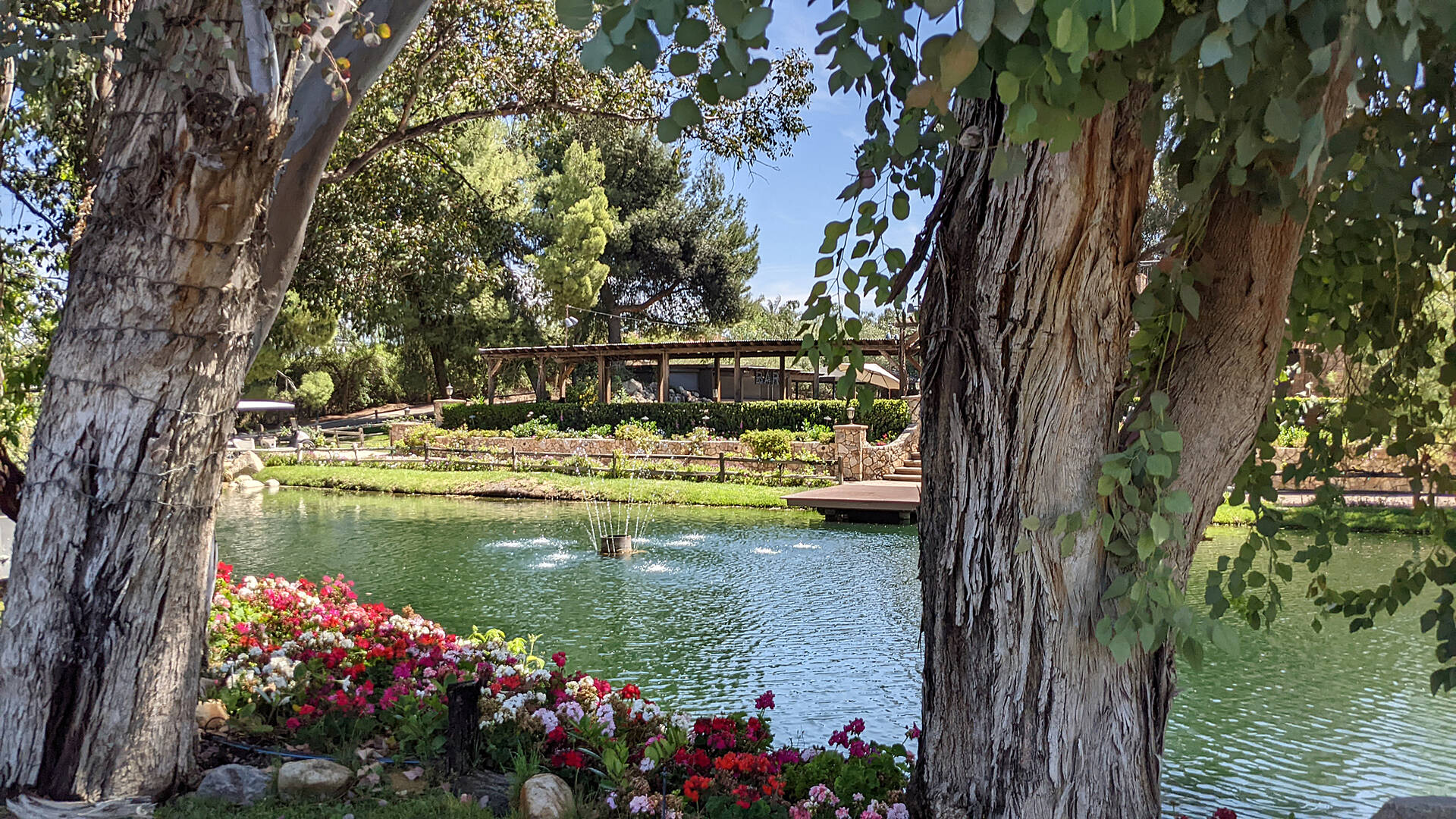 For lunch, we moved on to a much bigger winery, and a much bigger scene, at
Monte De Oro
.  The wines, save for a nice Merlot, were mostly Bogus.  But the lunch?  And the vibe?  Wow!  Killer, and to say there was a diverse SoCal crowd there doesn't begin to capture the mix.  Advice:  skip the tasting and just order a bottle of their Merlot, a bargain at $35.
On Sunday, it was beach day, with Old Town Oceanside as the backdrop.  I don't spend time in many, but I'd say it's about as close to a real surf town that one can find nowadays, at least in California.  Plenty of shabby chic, but also plenty of just shabby and plenty of just chic. 
A case in point is the rooftop bar at Mission Pacific Resort.  Just perfect - service, quality of the cocktails and the views are all a pleasure.  From there, we headed down to the High/Low, a trick cafe/bar that's beachfront.  I felt oh-so-very-SoCal as I settled in to the plush couch and enjoyed a 2+ hour Sunday lunch.  Think of it being like Miami Beach with better weather and without having to be in Florida.
We capped it off with a stroll on the excellent beach and beach promenade.  More so than the more polished La Jolla, Del Mar, or Carlsbad, Oceanside still retains a tiny bit of a beach funk to go with the Southern Cal splendor. 


MUSEUMS/GALLERIES/PERFORMANCE ART

I have no specifics to share, but Temecula looked to have a fair number of galleries, and, from a brief visit last time, I can certainly suggest Carlsbad for those so inclined.  Or if you're hardcore, you're really not far from Laguna, which is full of that kind of stuff.

SHOPPING

Huh?  It's rarely a focus when traveling, and it wasn't this time.  But you could jump in a car and drive to
South Coast Plaza
, in Orange County, one of the most exclusive shopping experiences in the US.  Or you could be less consumer-driven and get a life.  It's really your call.

THE BOTTOM LINE

We're enticed by the idea of flying to SAN, hopping the commuter train to Old Town Oceanside, and checking in at the Mission Pacific Hotel.  I could easily see a nice 3 night getaway, with no car, but plenty of beach and beach town goodness.  In fact, I deem Oceanside Textbook as a beach town - try it and tell me I'm wrong.