OVERVIEW
You may be asking yourself, "Why?"  Or, "Really?" 
You're wondering if my ego is so large that I'm actually going to trumpet a week in a Mafia stronghold just north of Daytona Beach in Florida?
Yes, and while I have no idea about Ormond By The Sea (or Ormond Beach, or Daytona Beach, or Daytona Beach Shores, or New Smyrna Beach) being Mafia strongholds, having just spent 6 nights there, I'll say it wouldn't surprise me.
You see, there's a certain seediness that permeates pretty much everything in Central Florida, outside of a couple of things, like Disney World and the Daytona International Speedway.  That seediness has charm.  Up to a point.  That, coupled with really shitty weather, means a grouchy Travel Guide about a region nobody really cares about in the first place.  Hey - isn't that the attitude that got Trump elected? 
I digress, and some may find my arrogant and privileged demeanor that follows somewhat offensive.  There's something new.
LODGING

OMG this region makes El Paso look like Paris.  Kidding - barely, but apart than an OK-looking Hilton on Daytona Beach, and a Marriott (their upscale Autograph brand) out by the Speedway (in a shopping mall, though), there isn't much to speak of.  You know the pickings are slim when a bartender is bragging about the opening of a Hard Rock Hotel here a couple of years ago.
 Get an Airbnb, preferably on the beach, and elevated.  I did.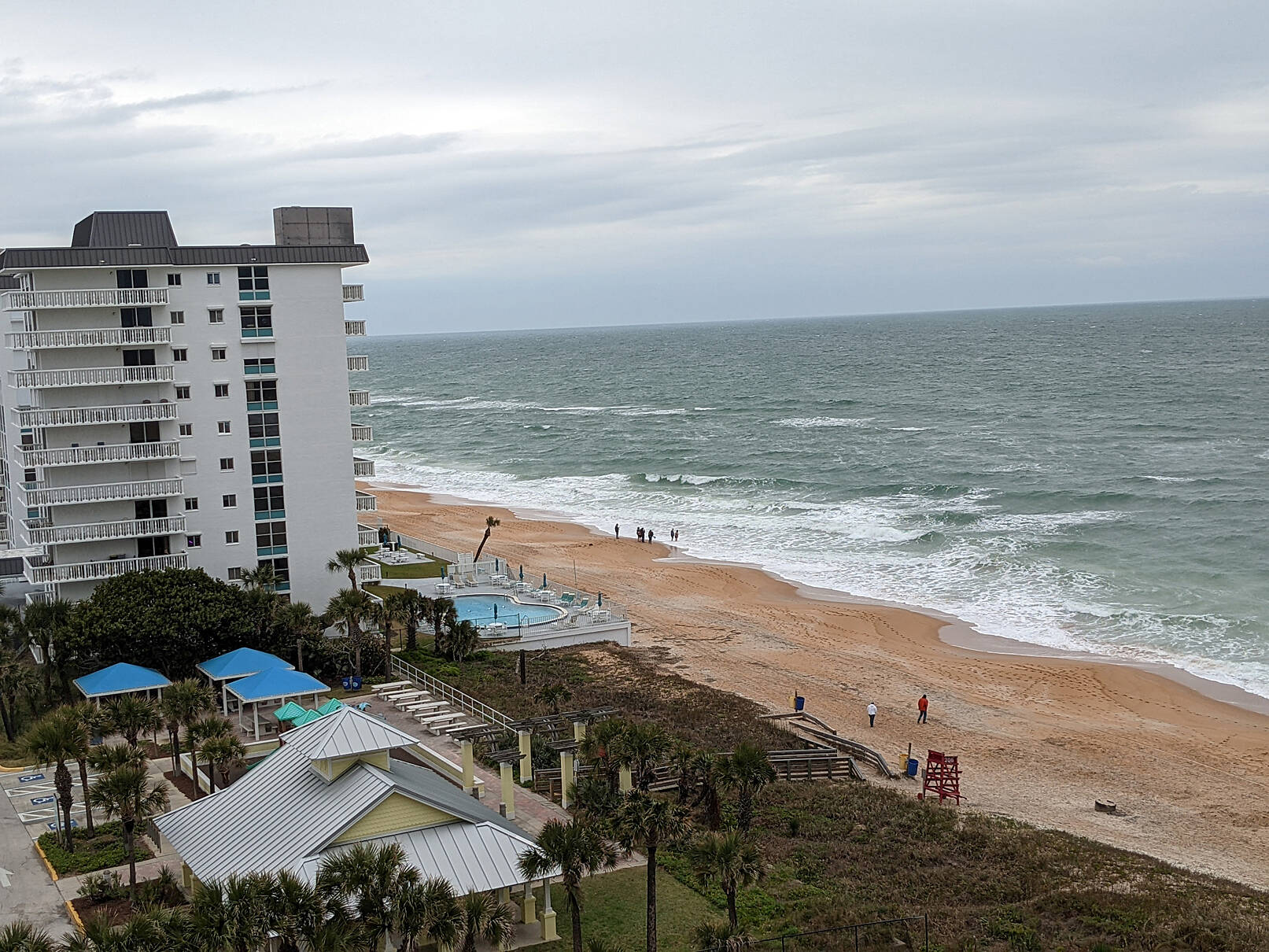 THE GREAT OUTDOORS

The beach here is superlative, especially in Ormond where they don't allow people to drive on the playa.  It's not quite the quality of Cape Cod, but it's very nice.  That is typically enough for most, and it was for me (just about).  I would walk from my condo at The Ormondy (not making that name up) 40 minutes south towards Daytona Beach, and then back.  Despite my pithy dismissal of the region in general, I'll say this:  there were some f'ing nice homes, directly on a gorgeous beach, that I saw on my walks.  On the days I could take them when the weather wasn't awful.
I did do some other outdoor explorations, and this is a cool walk in the opposite direction.  I headed out on the beach, north to Michael Crotty Bicentennial Park.  See the doggie?  This may be the nicest dog-focused park I've ever seen, and it's huge - it connects the Atlantic Ocean's beach on its east side, to the Halifax River's Intercoastal Waterway on its west.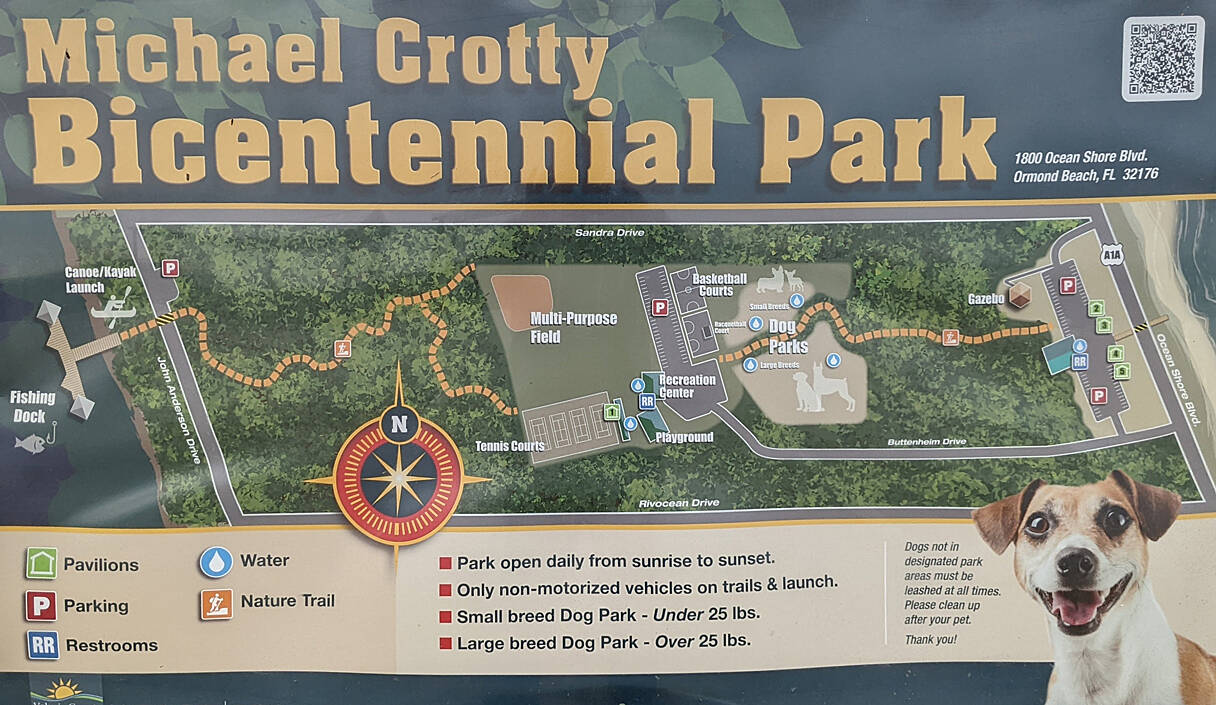 EATING/DRINKING

I will say this:  the dearth of any kind of yupscale scene here makes for cheap living.  Often, when I received my tab, I thought they had forgotten to charge me for large parts of what I had just consumed.  Summary:  "food town" are not words that come to mind as I look back on the experience.
And it was also all too easy to leave the townies at the gin mills and head back to the "Clubroom" - this was on the top (11th) floor of my condo's building.  There was never anyone inside, and its panoramic view would be quality anywhere, and oh, those mirrors.
But of course I did venture out occasionally.  Here's where I ate and drank.  Some don't have websites and there's a shocker. 
Seadrift Sports Bar & Grill
Textbook
This was my local for the duration, as it was essentially across the street from my condo.  A good thing, because it was seemingly the only place nearby that didn't allow smoking inside, and it was a fine boozer bar on top of it.  Quality food, too, although the wings I had the second time were too spicy.  But the Internet-connected jukebox (I even snuck in Lou Reed's live version of "Sweet Jane", the best song ever) and consistently great service cooled my sweaty brow.
The Oyster Pub
Killer

Oh, if these walls could talk!  If they could, they'd tell the story of an insecure and awkward 17 year old from Albany, NY getting far too drunk and eating too many 10 cent oysters, in the fall of 1981, in his first semester at Embry-Riddle Aeronautical University. 
Let's get back to the reality of a Travel Guide and I'll say while I did not recognize a single thing, the place was and still is Killer.  I was amazed to see the bartender shuck my order of a dozen raw
right at the f'ing bar
.  And the oysters themselves?  No longer 10 cents (about a $1.50 each now) I would liken them to raw and giant bivalve filet mignons.  In other words, amongst the best I've had, but you better like your oysters meaty.  I went 3 times.
The Ocean Deck
Textbook

Oh, if these walls could talk, volume II!  If they could, they'd tell the story of the same brat from Albany, now smoking pot, and jamming to the omnipresent reggae bands that played here 1981-1983 (A.K.A., the years I lived in Daytona Beach).
40 years later, I dropped in for a couple of pops and had a weird tuna poke app that was pretty OK.  Everything else about this place is just as good as always, although as with The Oyster Pub, not a thing looked familiar.  But a no-brainer on any decent day, as it's directly on the beach.
Caribbean Jack's
Killer

 Nice spot, although I was there in the daytime on a cloudy day, which curtailed the tiki bar vibe.  But it's directly on the Intercoastal Waterway, with a cool variety of indoor and outdoor seating.  Good food, too.
Billy's Tap Room & Grill
Serviceable

This was my big night out during my 6 night stay - I even Uber'd the 3 miles so I could have at it.  I did, but kept it under control - after all, it was 5:30PM, and if I had hooted and hollered too loudly, I may have woken a patron.
It wasn't only my fellow diners who were dozing off.  The whole place seemed somnambulant, including the kitchen.  My shrimp cocktail was completely Bogus (JFC it's the coast!), and that was followed by a tired steak au poivre and equally sleepy steamed veggies.  The décor?  Here's a screen shot of their website.

So why a Serviceable rating?  I can't help myself on places like this.  It's a "Tap Room & Grill", for cryin' out loud.
Sushi 99
Killer

But just barely, as the atmosphere fit its location in a fine example of a 1980's strip mall.  But who can complain when the sashimi platter - 12 pieces of very nice fresh fish - costs $11?  No matter that the sake list was comical, and they were out of what there was on the list anyhow.  I made do with a half bottle of an average Junmai Ginjo, had 3 more orders of nigiri sushi, and giggled as I paid my tab of $40.
Ed Wardens Bar

Textbook

This is not really a bar, but a shack, in which they have beer on tap, complemented by a line of ashtrays on the flimsy bar for the convenience of the one-lunged patrons.  This place has to be seen to be believed, and the only reason I did is because it was next door to the apartment building in which I lived in 1982 and 1983.  I figured why not?  It finishes a close second to that horrific boozer roadhouse we went to in Orogrande, NM last summer, in terms of pure gnarly-ness.  For the record, I was treated very nicely and my draft Yuengling Lager - served in a plastic cup, no less - was fresh, cold and delightful.
Beyond funky and a perfect final bar stop on your way out of Central Florida.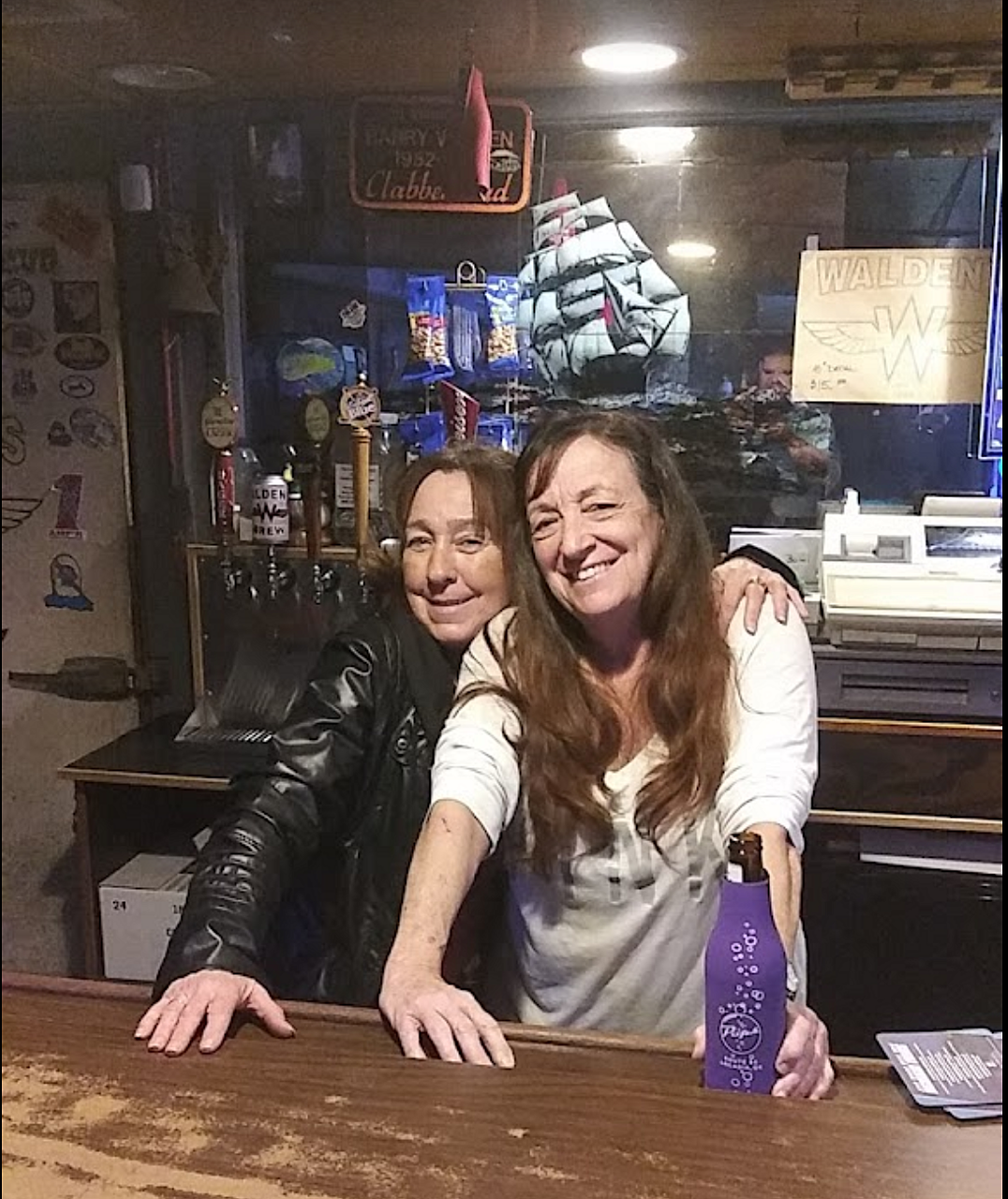 MUSEUMS/GALLERIES/PERFORMANCE ART

I am sorry, did you say something?  If you came here looking for fine arts museums and a thriving live music scene, you've come to not just the wrong place, but you should probably not be traveling in your condition.
But I did have two wonderful outings at the justly world famous and easily Diamond Certified Daytona International Speedway.  For the first, I attended a pre-race event for the 24 Hours of Daytona, which occurred on the Sunday after I left, January 30.  This is one of the biggest sports car races of the year, and draws all of the big teams.  The event allowed me to have ridiculous levels of access to the pit area.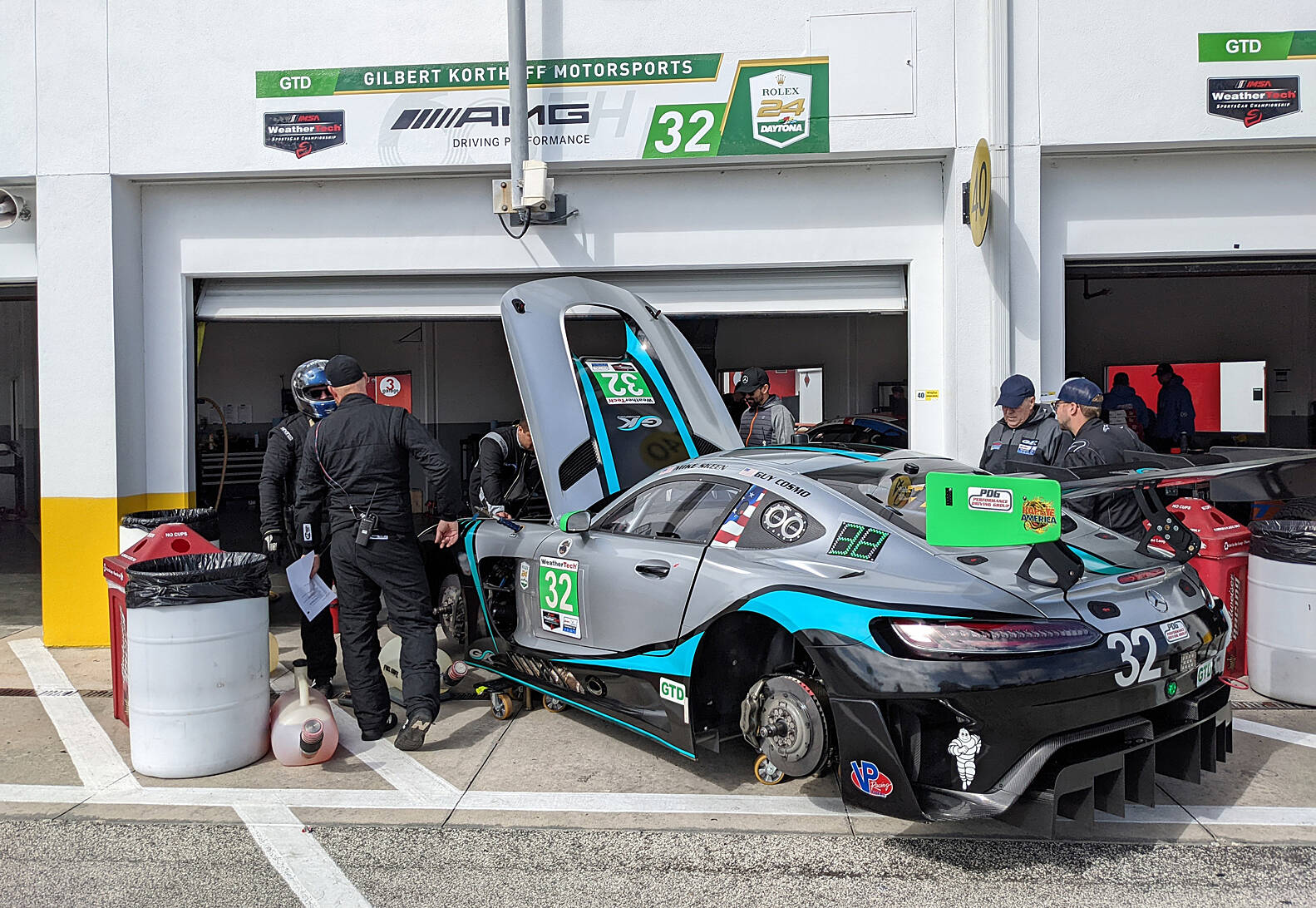 The second was a VIP tour that is available on any non-race day.  For $55, you get an excellent and comprehensive 3 hour look at the entire place, and I mean everything.  The steepness of the 31 degree  banking has to be seen to be believed.   It is too steep to allow us out of the tour van to climb, but not so with the start-finish line.  The home stretch is decidedly not flat, no matter what it looks like on TV.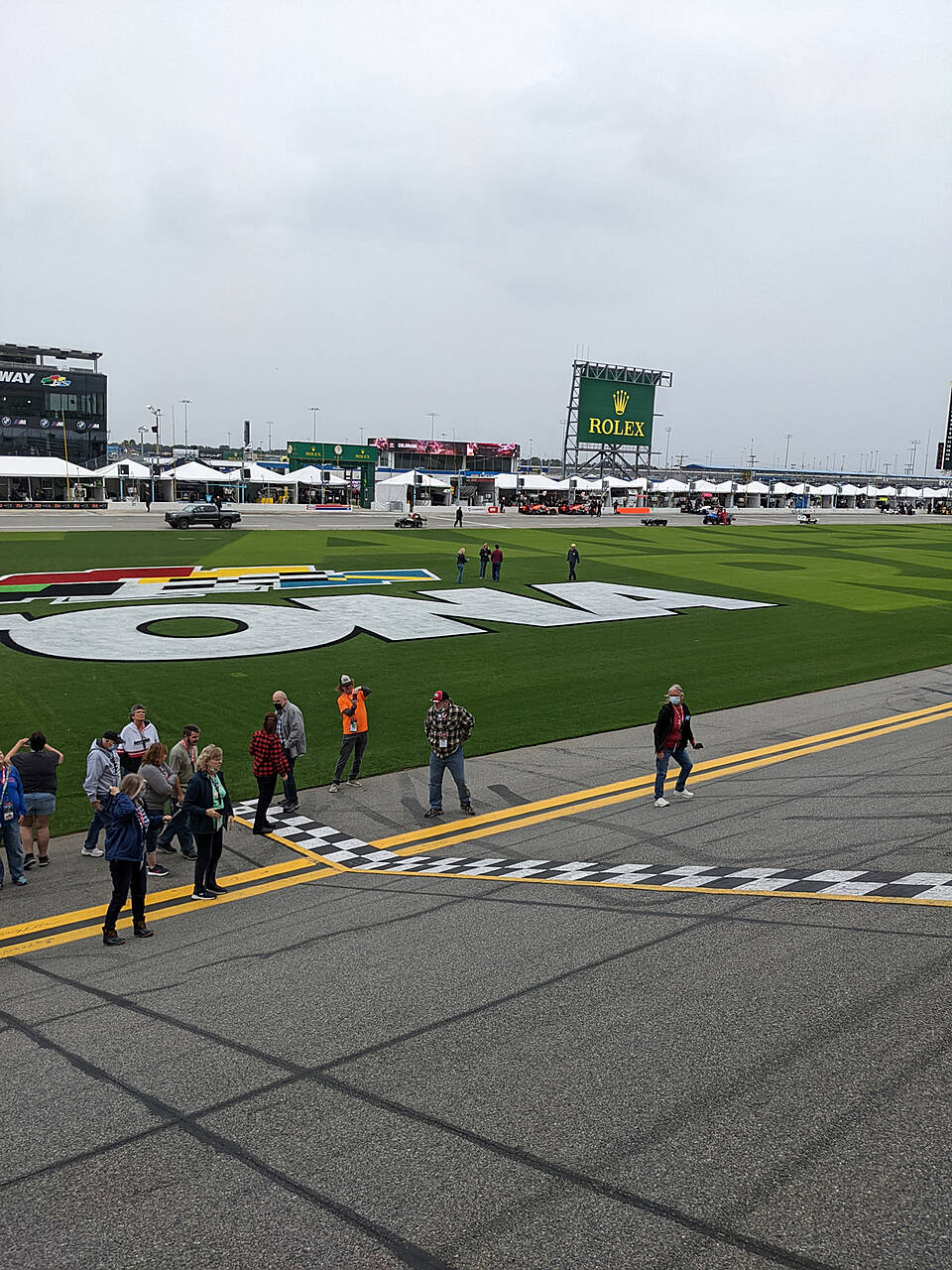 I left the track and saw this beautiful chandelier, which hangs over a bar in one of the facility's many club areas.  The shapes represent all of the race tracks on the NASCAR circuit - pretty cool, even to this SF snob.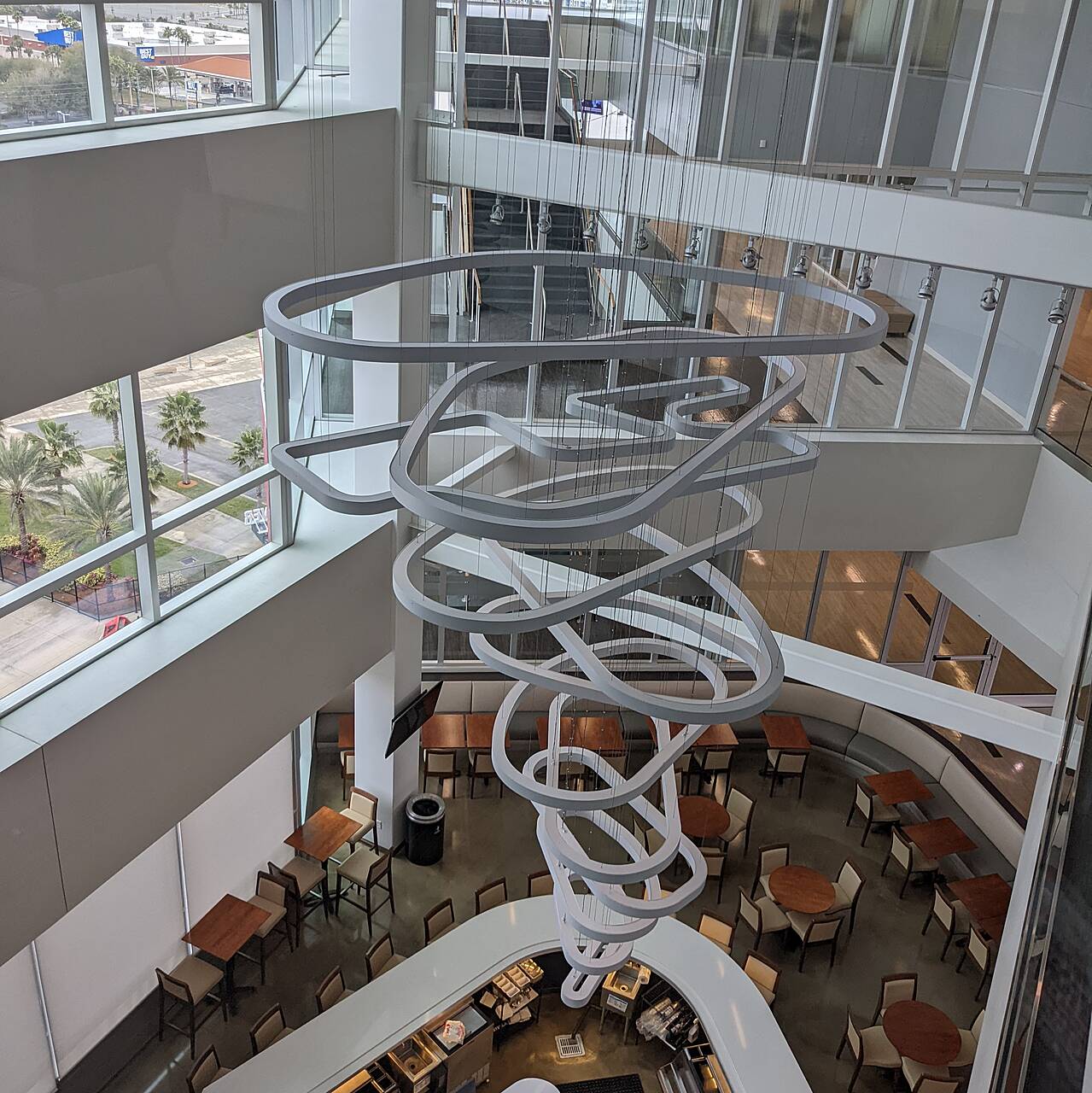 SHOPPING
I somehow resisted the temptation to score ugly 50% cotton/50% polyester t-shirts ("5 for the price of 2!") at one of the many "surf shops" that have decimated the region.  Shirts that say "I Went to Florida and All I Got Was This Lousy T-Shirt" are a real thing.   
At least the Publix supermarket near my condo was nice, and even more so when I learned they carried Paulaner Weissbier in six packs.  I needed them in my Clubroom to escape the madness.
VARIOUS AND SUNDRY

I'm adding a new Travel Guide section, a catch-all for stuff that doesn't fit elsewhere.   
This inaugural edition will cover my triumphant return to where it all started for me, Embry-Riddle Aeronautical University.  I began my university schooling there in the fall of 1981, before departing for the University of Colorado at Boulder in the spring of 1983.   After my first year, I applied to Florida State University, and was rejected.  My entire - and I mean ENTIRE - life would have been different if I had been accepted at FSU.  I wasn't, so I spent two years in Daytona.
I visited the campus on my penultimate day, and it was unrecognizable.  What in my day was a nasty nowhere of parking lots and nondescript buildings, is now a beautiful and integrated campus, full of life.   The photo is the student union - trust me, there was nothing remotely like this when I was there.  It felt good to see the university thriving and that's a nice way to wrap this Travel Guide.