TODAY'S RAMBLINGS

And you thought it was over?  Our most insane of any travel year (actually, it started in July of 2020)?  No, it's decidedly not over, and in fact, it's spilling (sloshing?) wildly into 2022. 
Warning:  this is no humble brag post.  This is a full-on, beg-from-the-rooftop "Look at me!" explosion of attention-seeking braggadocious blather.  My apologies in advance, especially to my superhero wife, Julie, who really doesn't like these types of posts.
(And it won't get any better any time soon:  you can count on
Travel Guides
for most or even all of these excursions.)
But in fact, we can actually blame Julie herself for this.  Her law firm recently pushed back her return to the office until November at the earliest.  When we heard she could work remotely for a bit longer, we decided that life is too short to not take advantage of a situation we've never had before and likely won't have again.  At least that's our story.
September
With the horrific fires in and around Lassen Volcanic National Park, we had to cancel our getaway to the
Killer
Highlands Ranch Resort there.  In its place?  Glad you asked.  We decamp for ethereal Sea Ranch for 3 nights of coastal splendor later this month.  Our traveling companions will be Arthur and Mrs. Crup, so there will be plenty of fun and laughs (maybe even an Arthur guffaw or two if we're lucky) and Textbook Thai food, and our VRBO-booked house looks great.
October - November

This is the big one, and will match our escapades in Palm Springs last year and in Cape Cod/Vermont/Tupper Lake this year in terms of length and overall Diamond Certification madness.
We have rented a swank condo via Airbnb in Santa Fe for 3 weeks, October 17 - November 6.  It's walking distance to everything and we couldn't be more excited.  Julie and I met in Albuquerque in 1989, and Santa Fe in the late fall will be tough to beat.
Sadly, it only has one bedroom, but we hope you'll come visit us regardless -
here's
a great place to stay.
December

Just when you thought we couldn't raise the bar on ostentation and travel consumption further, we decided on Christmas in Beverly Hills this year.  No, I'm not making that up.
We leave on Christmas Eve Friday, and we'll be there for 3 nights.  It will be a triumphant return for us to one of our all-time hotel favorites,
The Four Seasons Los Angeles at Beverly Hills
.  No, I'm not making that up, either, and we're hopeful it'll be a beautifully mellow time to be there, with just enough open to make it fun, but without the typical traffic, etc.  The deciding factor:  it's actually a great value at that time:  stay 2 nights and get the 3rd night for free really brings the numbers down to Earth. 
January
I couldn't resist glomming on to this one.  Julie was already scheduled to go to Disney World in late January for her birthday with her sister and niece.  But when I went to book her flights, SFO - MCO roundtrips were very inexpensive, even up front.
So that's how I ended up with a solo beach vacation in Ormond Beach, Florida in late January.  While Julie fights the crowds with Mickey et. al., I'll be perusing the Atlantic ocean from my trick perch 8 stories up from the beach.  It even sounds like there are some special guest stars who may be popping in while I'm there. 
Let's not forget my roots there - here I am in 1982 in Daytona Beach with my college roommate Dirk Gordon, enjoying our morning juice together.  Before moving to the University of Colorado in 1983, I had delusions of aviation glory, and thus began my college days in Daytona Beach at
Embry-Riddle Aeronautical University
in 1981.  Dirk, in fact, became a real, live airline pilot, whilst I became whatever it is I am.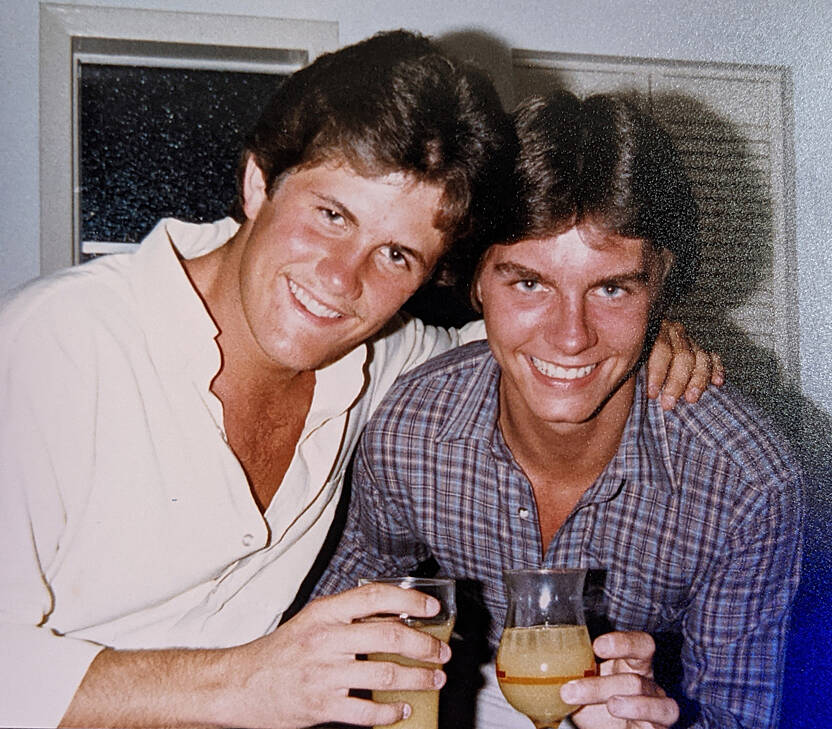 Thank you for putting up with this post today.

FROM THE UNWASHED MASSES

Monday's picnic on the main parade ground in The Presidio met and exceeded expectations.  The skies were a blissful blue, the grass an emerald green, and my face a crimson red. 
An extra thrill for me were some guests commenting on my writing in person, especially the beer pro Gunther Strobel.  He begged and begged, so I gave him an autograph and shooed him away to Dublin.  Apart from us all missing the out-of-commission Louise Lederhosen, her traveling hubby By, and the pious Professor Blum, it was a winner of a holiday picnic. 
And in a shocker:  Hunter Deuce went to
The Final Final
afterwards. 
But it's not all about barflies and the dive bars they inhabit.  Here is the radiant Julie about to head home from the bash on my Dad's old bike.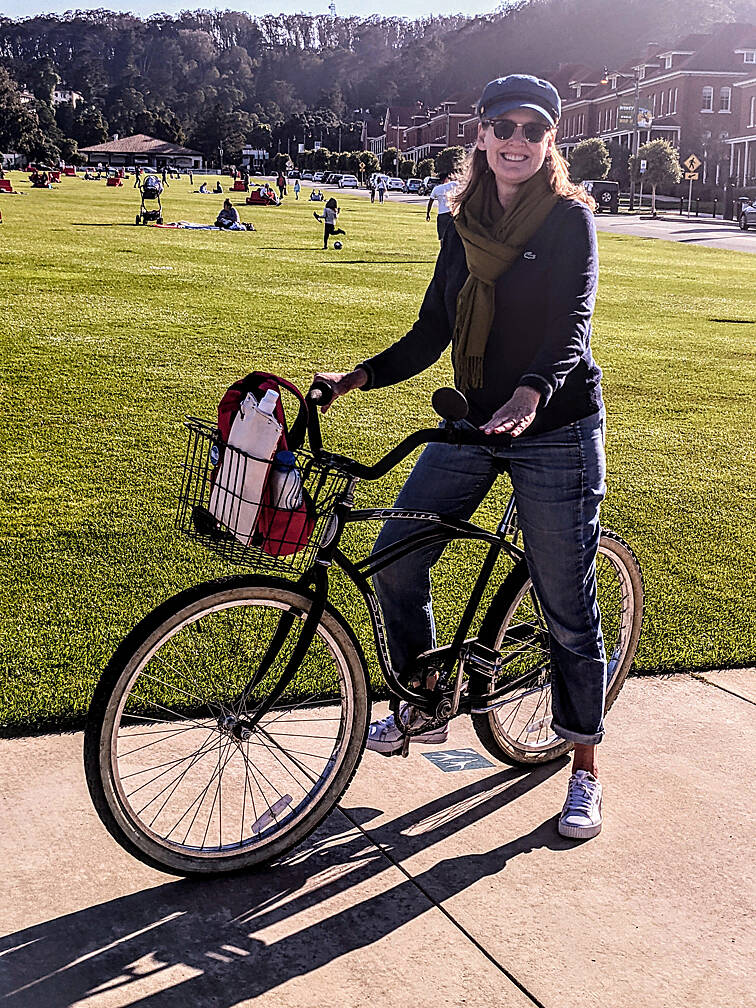 A big thank you to resident Bon Scott scholar Bob Scarf.  He had several kind things to say and made a request I am all too happy to oblige:
"Happy Labor Day to you and your lovely bride!

Anastasia and I thought of you last night.  We watched a new Hulu series 'Only Murders In The Building'. Martin Short and Sting had a classic elevator scene. 'I Hate Dogs' could be a new Sting lyric!

I agree with so many of these topics and more. My one suggestion… could you try to entice more solutions from your followers?  The more the merrier I would say.  Post them and maybe God willing some day we vote on some."

100%!  I completely agree with Mr. Scarf:  please reply at any time to anything I write here.  It can be your ideas, your disagreement with a stance I've taken, or dare I say, even criticism of my musical taste, although that's pushing it.  

10 seconds of seriousness:  it means the world to me when people reply thoughtfully to my writing, and it is my honor and privilege to publish whatever you send.

Like with this example from a reader who took issue with my complaints about Hyper-Wokeness.


"OK, I'll push back a bit on the 'hyper-wokeness' - I think 'woke' is a phrase that covers a wide array of issues and perspectives and yes, I think it must be exhausting to examine every action every day taken by oneself with the question 'Am I being woke enough?' 
I think it's important to remember that while yes, it's' never been a better time to be black, gay, trans, or anything in America' these marginalized communities still face very real discrimination, particularly the trans community, and I'm not sure I'm comfortable telling someone from one of these groups to 'get over themselves' when confronted by discrimination, bigotry, and abuse, be it physical or verbal. 
It takes ZERO extra effort on my part to respect who someone is, as well as to listen and empathize with their perspective.  I find that invariably the loudest of the 'anti-woke' crowd tend to be older white men, uncomfortable with a world that is changing and seeing their place in it change as well. 
What's really galling is they will never, ever experience what marginalized communities deal with on a daily basis, yet they're often the loudest and most opinionated when the idea that the next James Bond, God forbid, might actually be black."

Very well said. 

But I feel the more we put people into categorical silos the less diversity we get.  We're all Americans and we all deserve the same rights and respect, whatever we are as individuals.  But that shouldn't require identity politics and wokeness litmus tests to achieve.


I will close with a major thank you to Ol' Purple Label - she just wrapped 5 nights visiting us via stays at both The Inn at The Presidio, and The Lodge at The Presidio.  Both places, run by the same company, are gorgeous, unique and Diamond Certified, but it is Ol' Purple Label with her generosity and joie de vivre that made for a great holiday weekend.  It's going to be super having her (and someday, hubby K. Helmsley Garfinkel) in SF.
Thank you to any one that is reading this
blog
newsletter.


KLUF

In a travel philosophy for the ages, here is Yes, at or near peak Yes-ness, with "
Going For The One
".  It's an overlooked album and also a fine example of progressive rock, a genre mostly lost to time. 
I've always found the title track extremely motivational and it is easily one of my favorite songs.  The lyrics that end
the song
feel very appropriate for today's post, as the moments that travel create are singular.
Moments decide
Moments delight
Moments invite
Talk about sending love.