TODAY'S RAMBLINGS

The party season here started slowly, but moved to light speed on Sunday.  Try to keep up or at least don't doze off. 
The Martha Stewart fetish-holder Dr. Shelly Murphy outdid herself with a stylish rager that drew 20+ to The Manor on Sunday, including some well-to-do neighbors (more on these folks below) from a few mansions down the lake.   Many of the usual suspects were in attendance:  the big man himself,
family patriarch Rex Murphy
; the Tupper Lake power broker Bulleit Bob and his lovely wife Betty; and
dump truck owner
and the eldest of Rex's children, Turner Murphy.
(Fun fact:  Turner and his brother Seamus used to threaten - but just threaten - to beat the heck out of me when the 3 of us were all kids and I'd come visit Tupper Lake.  We're talking two shit-kicking mountain almost-men up against a Lacoste-clad [likely in pastel colors] spoiled city brat.  But as we recalled on Sunday over hugs and many drinks, they never took it too far and to this day it's a highlight for me whenever I can hang with these awesome gentlemen - and their better halves and myriad offspring.)
A highlight for yours truly was to be assigned bartending duties; look at the view!  That's the freakishly capable Murphy brother Seamus, who ably assisted me for hours behind the antique bar in the 1901 Lodge Lounge here at The Manor.  Queue the Sly Stone because it's a Murphy family affair, as from left to right, that's Seamus' lovely daughter, the rising CAD star Margaret, the towering yet dwarf-ish Dr. Murphy, the bigtime IP facilitator and my wife, Julie, and finally, the bride of Seamus and mother of Margaret, the kick-a** Laine Murphy.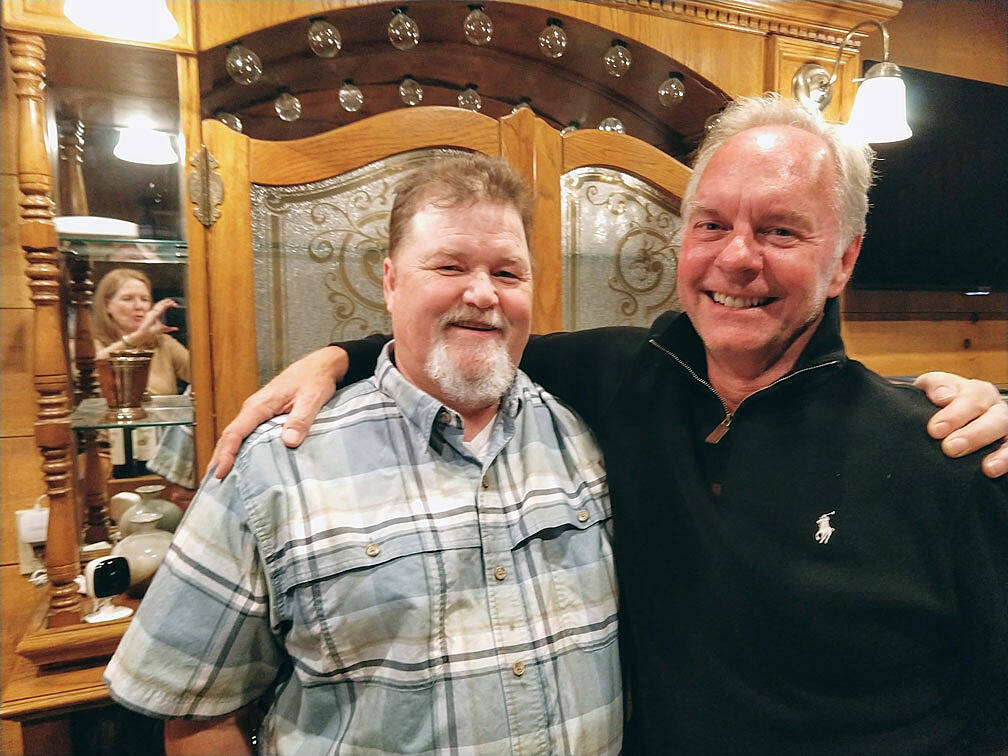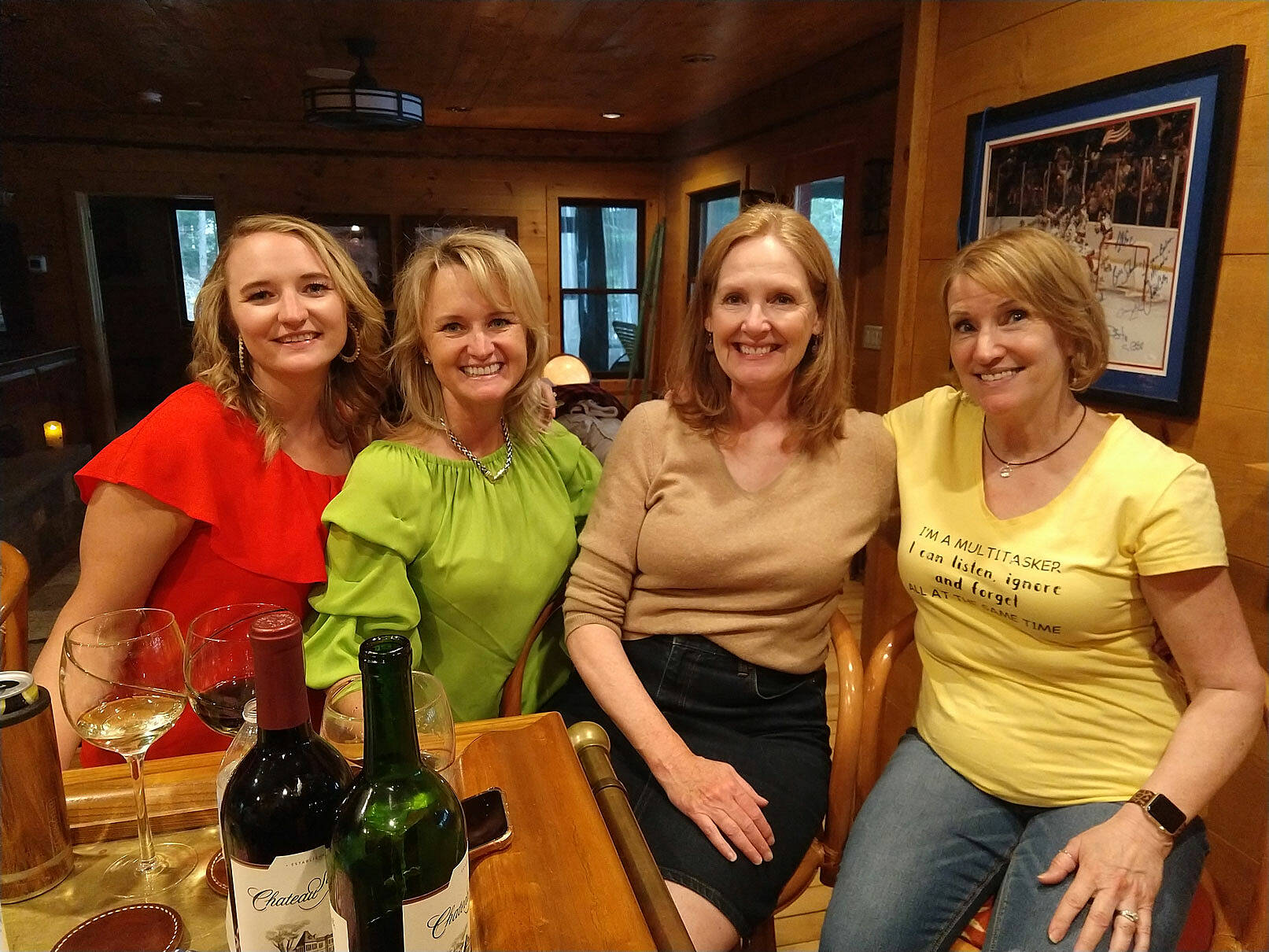 The party started at 2PM Sunday and went to all hours.  Shelly pulled an
Operation Grand Slam
and absolutely crushed the prime rib.  We're talking two racks and enough beef to feed the 20 mountain men and women and also the sprinkling of wealthy fat cats present.  I'm talking
House of Prime Rib
-level.  And I'm leaving out the BBQ chicken and ribs that the acclaimed pit master Turner Murphy brought.  It was amazing.  Although not quite as amazing as the dance steps I witnessed later, including some of my own.
But we managed to shake it off Monday morning - barely - for a different kind of whirlwind.  OK, let's just call it what it was:  an emotional whirlwind, at least for yours truly.
It was Shelly's idea to sprinkle my mother's ashes at her grandparent's graves, and it was absolutely perfect.  As if in a movie, the skies parted to a warm sun, when, with the assistance of my family, my mother reached her final resting place.  The picture below hopefully says it all.
We toasted to Jeanne and told good and bad stories about her over a lovely lunch outdoors on
the terrace at the country club
.  Both kinds of stories brought howls of laughter, and that really encapsulates the dynamic of being around my mother:  cry over a lot of it then, laugh about a lot of it now.
Thank you to my family and yes, we sprinkled her ashes in the shape of wine glass - if you knew Jeanne, you know she would have gotten a kick out of that.  RIP, Mom.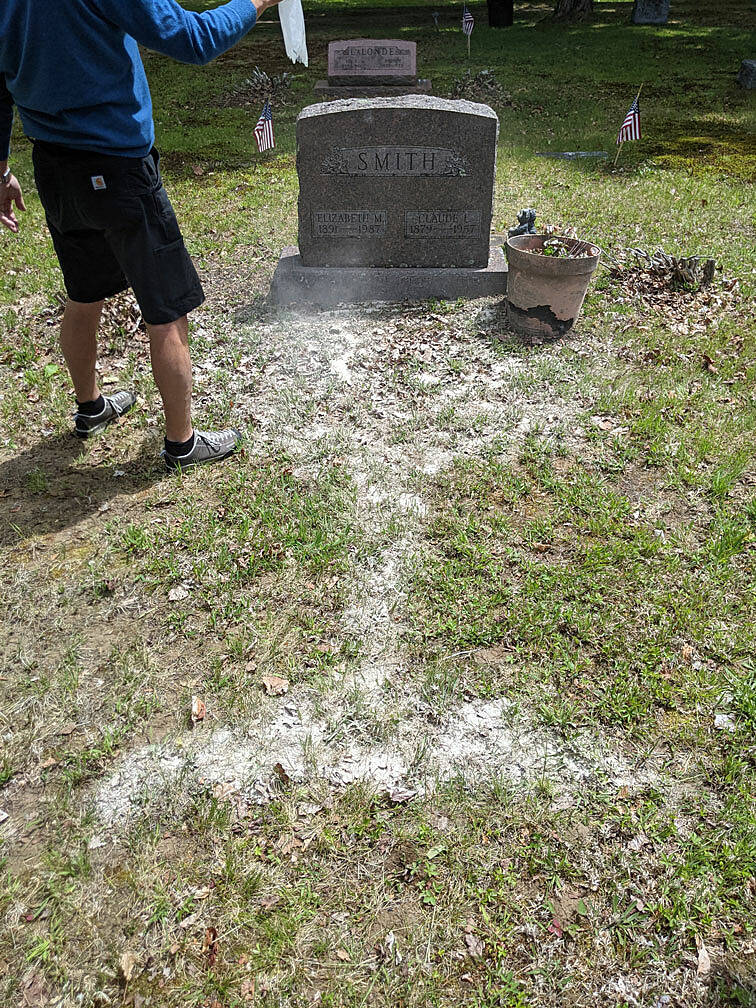 After not very much down time, it's off to the camp of Blake and Frances, some major players from Rhode Island that summer near Murphy Manor.  (For the record, people here use the term "camp" when referring to anything other than a house in town.  That includes ginormous
Double RL Ranch
-lookalikes like Shelly's, as well as multi-building historical compounds like Blake's.)
So let's put it this way:  if The Manor is sick (and it is), their camp is on life support.  We tour the sumptuous grounds and buildings, and marvel at the general awesomeness of the place.   It's a completely original Adirondack great camp ("great" is another commonly used term here, meaning "huge" not "excellent", but typically they are both), built and maintained to the highest specification.  So it's the definition of
Textbook
luxury.  And that includes the gorgeous two story boathouse, with a billiard room and lounge on the second floor, and this on the water, rightfully protected from the elements.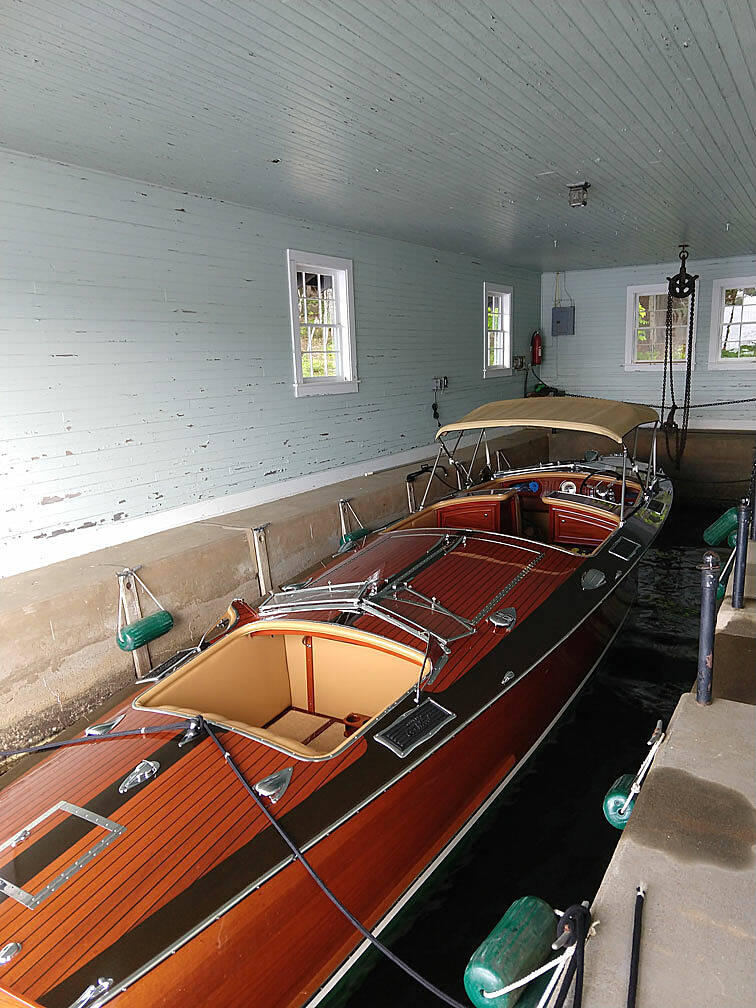 From there, it is on to cocktails at the extraordinarily woodsy and Killer
Whiteface Lodge
in Lake Placid, and then to a literally howling multi-hour dinner at the equally Killer and
long-time Portico Darwin favorite
Mirror Lake Inn
. 
One is transported to a different place in Lake Placid (vs. Tupper Lake):  the sommelier didn't bat an eye when I asked for Sauternes to accompany my foie gras starter.  Although we didn't stay this time,
the fine dining restaurant
is Diamond Certified, and I have no doubt the lodging is as good as ever.   What a great hotel and restaurant - Julie and I are already envisioning a triumphant return and a stay at Mirror Lake Inn.
On to Tuesday. 
Julie and I scale one of the three peaks in the
Tupper Lake Triad
(more on that later in the much-hyped Adirondack Travel Guide),
Coney Mountain
.  While I've been coming here for >55 years, I don't think I've actually ever witnessed my beloved High Peaks region of The ADK from this perspective.  Pictures do not do it justice, and yes, Murphy Manor (or at the least the main road outside it) is in the picture.  The body of water is the aptly named Big Tupper Lake.  It is a world-class, 360 degree view from up here, with verdant forests, lakes, and mountains in every direction.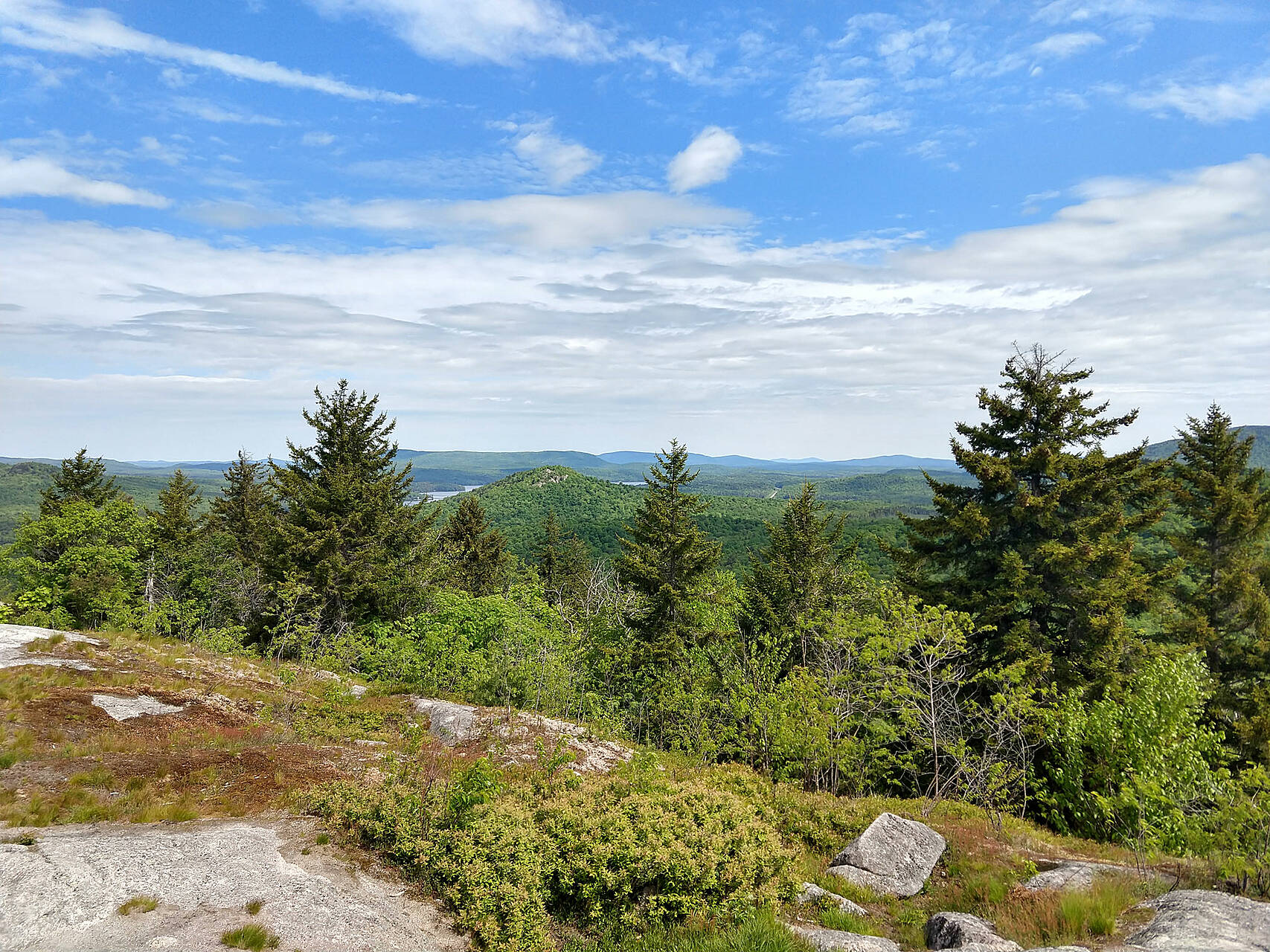 And then ho hum - off to to the
riverside home
of the aforementioned family patriarch, Rex Murphy and his wife, the legendary agrarian and chef,
Zoe Lobo Murphy
.  With Zoe, it's not if you're going to be wowed by her food and its presentation, it's how drastic the wowing will be.  This time, the wowing was pretty damned drastic, as she nailed the time-compressed 3PM "Linner" we enjoyed outside on their riverfront terrace.  Great dining and convos over a too-short couple of hours.  It's now time for the Good Doctor Murphy to hightail it the 3 hours to Albany and depart early morning today. 
Julie and I are dropped off at The Manor at around 6PM, and it is ours alone until late Friday when we depart.  This was last night before sunset.  Stay tuned.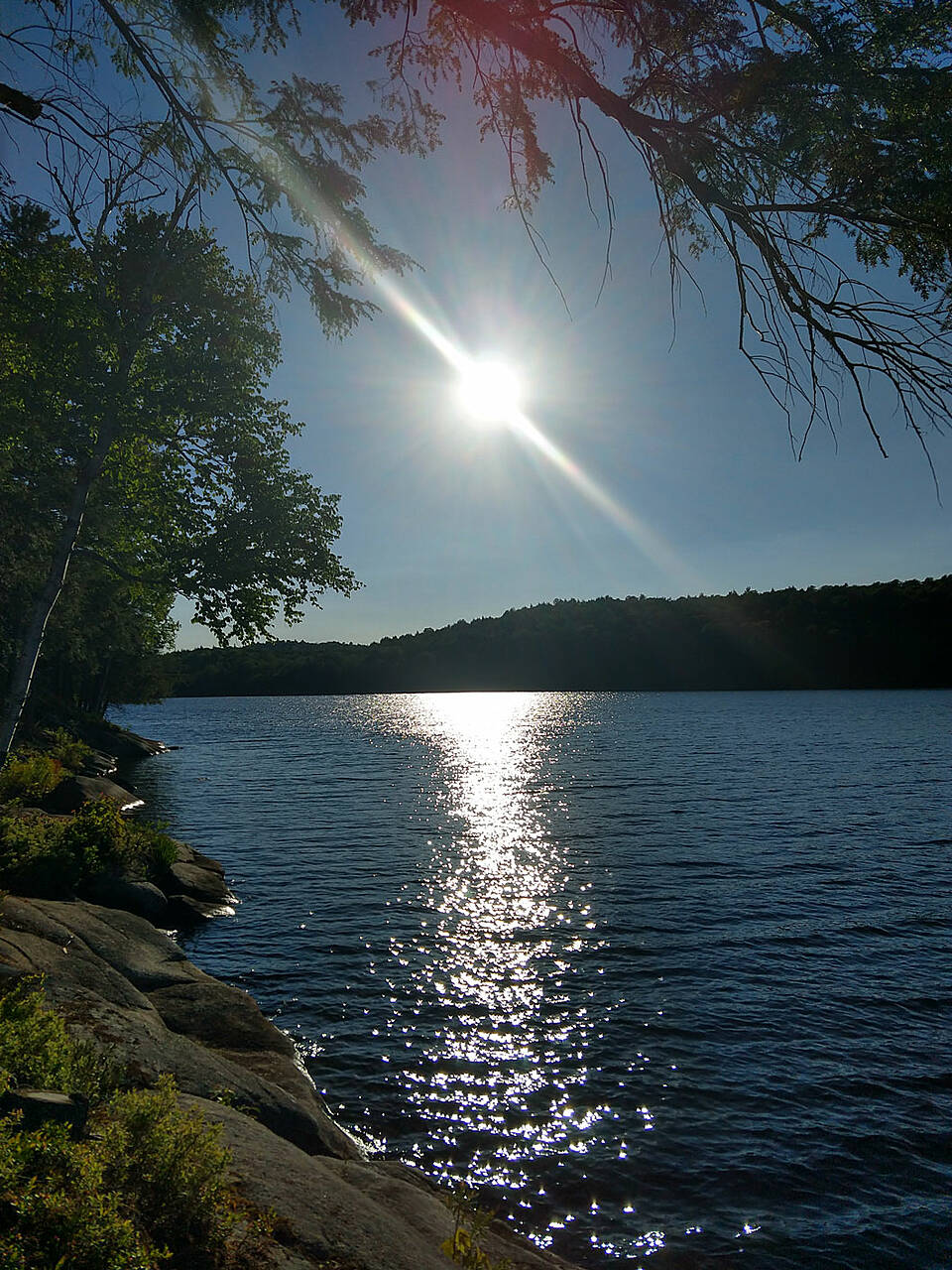 FROM THE UNWASHED MASSES

I want to thank those of you that reached out with your kind wishes and thoughts regarding my mother, including Byron Browne IV and Hunter Deuce.  But it was the words of first cousin and spiritual advisor Lally Darwin Heinz Esq. that really knocked me out.  
"Yes, Happy Birthday to our Aunt Jeanne - yesterday and always. We thank her for bringing you into the world!

May her highest hopes and dreams live on in you. May you accept the past with understanding, forgiveness and generosity. May you carry forth into the future the intelligence, humor and warm heart of your mother's best self."

Once I dry my tears, I'll properly respond.  But thank you, Lally.

And thank you to anyone that is reading this blog.


KLUF

Social whirlwind?  Parties?  Dinners?  Wealth?  Sympathy for the (A) Devil?  (Did I just write that?  And it would be empathy, not sympathy.  Sorry for the regression, Lally!)
As they say, ladies and gentlemen, the greatest rock and roll band in the world, The Rolling Stones.  I know "Exile on Main Street" is considered their finest, but I give you my personal favorite, "
Let it Bleed
".