This was unexpected and it turned out to be a very fun, and also educational, trip. 
Armed with the musically challenged Hunter Deuce and little else, yours truly decamped for downtown Sonoma in Mr. Deuce's
swish new ride
.  This was an impromptu visit, and about the krijillionith time visiting for both of us.  We've shredded it up here together with our wives and separately over three decades. 
But frankly, both of us (and many other Bay Area long-haulers) are fairly jaded about Wine Country nowadays.  Highway 29 in Napa Valley is a no-go-zone (the Silverado Trail being the favored alternative, but to paraphrase Yogi, it, too, can get so crowded nobody goes there any more).   Many tasting rooms in both Napa and Sonoma are sadly now more akin to posh resorts than educational windows into working farms and factories. 
So if you're looking for info on Mondavi tours, hot air ballooning, or rose petal spa days with the girls, stop now and look elsewhere. 
But if you'd like a mix of high-cred wine tasting, boozer bars, and authentic Mexican food, with an eye-popping bargain of a hotel tossed in for good measure (that was the educational part), you are dialed in. 
And you're also dialed in if it's your first or so visit.  Because despite the fires, prices, and crowds, my gosh does Sonoma remain
Diamond Certified
.
LODGING

I really hesitate to share this place.  Ideally located near two of my picks, kinda sorta not in the tourist area, but yet an easy mile's walk to
The Plaza
, and with features like a Killer pool setup and immaculate rooms,
El Pueblo Inn
is a find and Killer on the whole.  We paid $170 for a king room during an early weekend in June, stunningly low, even for a Sunday.
You didn't read it here and in fact, please disregard this part of the blog.  In fact, I hated the place and should never have brought it up.   


EATING/DRINKING
As a thanks to Hunter for chauffeuring (however slowly), I teed us up at
Cuvaison
in Carneros as our starter at 1PM.   We've been wine club members there only during the pandemic, so we can't speak to their parties (in Clinton-era speak:  "it's the parties, stupid"), but we love their wines and their winery is the real deal.  Virtually all of what they sell is estate grown, including from a vineyard in one my personal fave AVA's, Mount Veeder.  They are doing a major upgrade of their tasting room, so we were relegated to tasting inside.  I am none to pleased, as you can see.  Mostly because it was like a resort.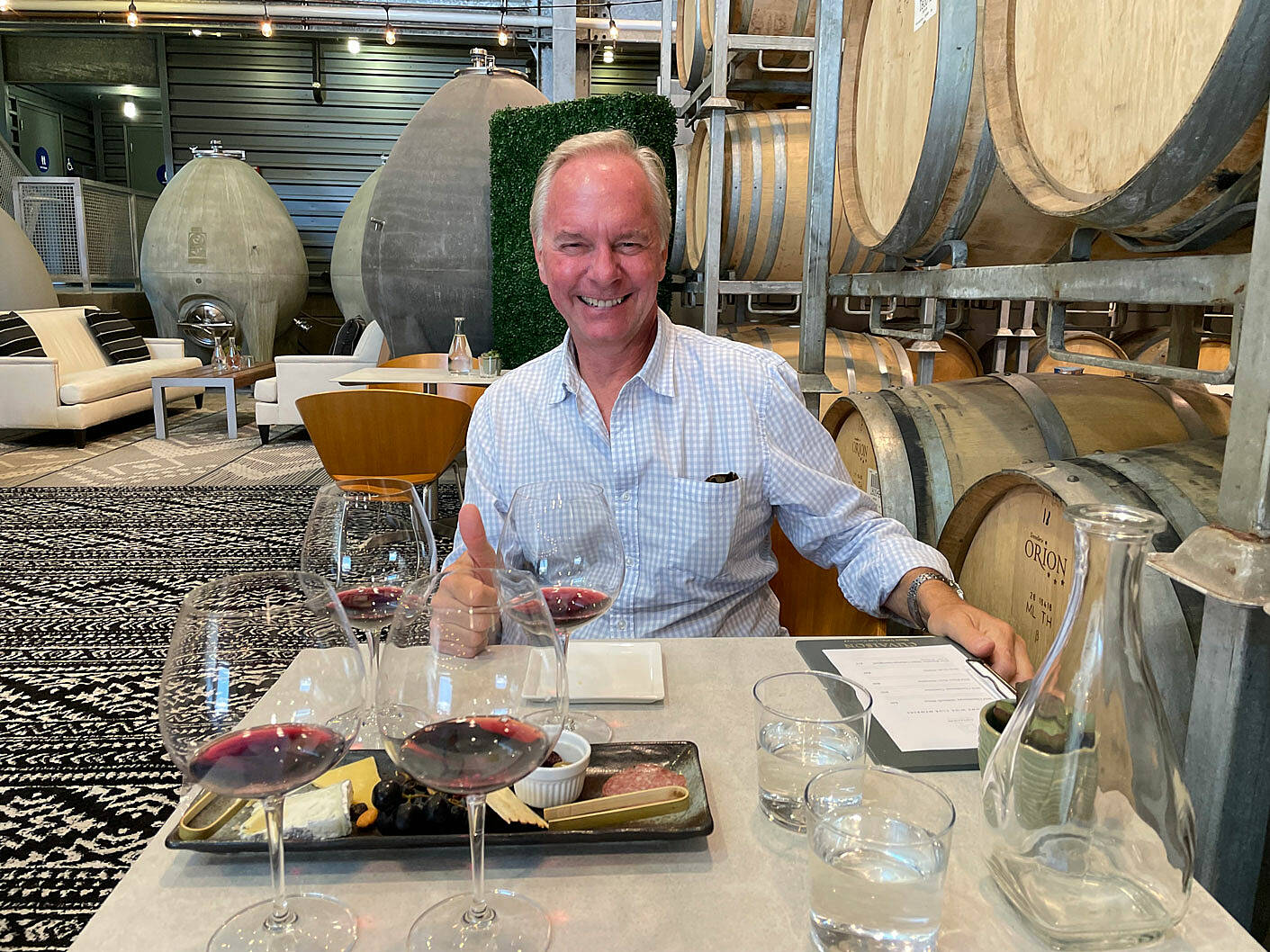 Seriously though, Cuvaison nailed it.  We loved every drop of wine we tasted.  Most also complemented the top-drawer charcuterie and cheeses we had ordered.   A shout-out to Shane Von Trapp:  they even asked the magical question "Is there anything you'd like to re-visit?"
I could not resist especially the $60 UV Russian River Pinot Noir (a rare non-estate grown offering) and the $50 Brandlin Mount Veeder Old Vine Zinfandel, so I bought a bottle of each.  Cuvaison, is Killer, as a tasting experience and for their world-class wines.
The rest?  I'll let you guess what happened after the .1 percenter wine tasting experience.  I'll simply list in order our destinations after we dropped the car at El Pueblo Inn.
Steiner's
, Sonoma Plaza, Textbook:  Mark, our bartender kept the beers, etc. flowing whilst I kept trying to keep Hunter at bay at the jukebox.  Real-deal tavern right in the heart of Wine Country.  We did not eat, but I'd wager the food is more than just OK.
Starling Bar
, near our hotel, Killer:  this is where things started to deteriorate, but in a decidedly benevolent way.  Their take on my favored cocktail, a rye Old Fashioned, was so good we had two each.  Shocker, I know.  This is a non-tourist upscale bar (Hunter went as far to call it a "lounge") that is easy to recommend, if not remember.
Tortilleria Jalisco
, near our hotel, Textbook:  oh my, what a great outdoor place and what a great way to wrap our day/night in Wine Country.  This is a full-on Mexican food stand and patio right across the street from the hotel.  They nailed my standard on these occasions, a chicken quesadilla, and Hunter nodded between grunts that he was enjoying his burrito, too.  Good night, indeed.
Black Bear Diner
, Sonoma, Killer:  OK, I rarely give chains much better than a snide nod of Serviceable.  Not here.  It could even be healthy if you tried.  We didn't, but their fresh corned beef hash makes you forgive yourself on the way to your upcoming coronary bypass.  Think I'm kidding?  Their chicken fried steak and eggs came in at 2,500 calories, according to their very own menu.   
The trip was a somewhat sad surprise, but in the end, Hunter and I really triumphed over unwanted adversity.  Viva La Lemonade from Lemons! 
KLUF

Somewhat rare for a Travel Guide, there's music, too.
In honor of my driver and friend Hunter Deuce, I added some more of my KLUF playlists to Spotify, this time, artist-specific.  You can access them via
the KLUF section of my website
, and if you visit, you can play my personally curated picks of the best of The Beach Boys, Stevie Wonder, and yes, the Walter Becker/Donald Fagen studio vehicle, Steely Dan.