Tupper Lake is in
The Adirondack State Park
of New York State, specifically in its famed
High Peaks
region.  It is a superlative amalgam of mountains, forest, lakes, rivers and wildlife, that surround the nice-but-struggling village of Tupper Lake proper. 
Let me summarize it this way:  Julie and I have been fortunate enough to travel to a fair number of very special places, here in the US and overseas.  Tupper Lake and the surrounding Adirondack region are world-class, and without doubt,
Diamond Certified
.  I absolutely love it there, and it joins my roster of my personal happy places:  Dolomites, Hawai'i Island, Lassen Volcanic National Park, and the Anderson Valley.  Hold your laughter until you've actually experienced it in the way I describe below.
But this is a somewhat unusual Travel Guide, as it's not possible for me to report as an actual tourist visiting the area.  That's because I was born and raised in Albany, which is about 2.5 hours away.  And as my mother was from Tupper Lake, I spent nearly every summer here as a kid, and I have a lot of family still in the region.  So my guidance is filtered through a kind of hazy local lens - but maybe that's a good thing?
LODGING

If you wish to stay in Tupper Lake and have the real experience, rent an Airbnb, VRBO,
ADKbyOwner
, or even maybe try
Thirdhome
(if your own vacation home is up to snuff); regardless, get a place on the water.  And be sure it comes with a boat.
The ultimate, or at least close to it?  Dr. Shelly Murphy
rents
her Manor for $14,000/week - not bad when you consider it can sleep 20 or more, and consider its sumptuous nature.  Even after the third visit, I still find myself feeling like I'm in some kind of
Ralph Lauren-inspired dream
.
Hotels?  Sadly, at present, there are no hotels worth mentioning in Tupper Lake.   Sure, there are motels, but I haven't been in one in years, and at best, I'd expect Serviceable quality, but no more.   
That may be changing
, but for now, if you want to be in Tupper Lake itself (a great base of operations, and as good as it gets anywhere in the region - at least scenically), rent a house on Big Tupper Lake, Lake Simond, Raquette Pond, Raquette River, or Piercefield Flow.  All of those bodies of water are connected and it creates one giant freshwater fantasy world - believe me.
Not into renting a home?  No matter.  I can heartily recommend any of these, located nearby in Saranac Lake and Lake Placid.  These are all first-class, Killer/Textbook (at a minimum) operations; I've either stayed or dined or both at each - or at least Shelly has, in the case of Saranac Waterfront Lodge.
Hotel Saranac
Saranac Waterfront Lodge
Whiteface Lodge
Mirror Lake Inn
(our personal favorite)
And while I've never even been on the grounds,
this is the finest hotel
in the region, and likely one of the finest in the USA.  But bring your wallet - I believe rooms start at $2,000/night.  See?  I said the region is world class, if even in this worst of modern ways.
THE GREAT OUTDOORS

Get on the water.  It's that simple.  Cozy up with someone who owns one, or rent if you must, but you won't really understand why Tupper Lake is special until you spend multiple days out on the many named lakes, rivers, and ponds.  What makes the waterways around here unique is that - due to the way the waterfront has been developed, or more accurately, not developed - it is rare to ever pass another boat, even on busy summer weekends.  Some of our favorite boat rides:
Otherwise?  There's tons of stuff to do. 
Golfing
.  Fishing.  Biking (I'm not an enthusiast, buy wow, do the roads around the whole area look ideal for road biking).  Obviously, there's fine freshwater swimming in July and August.   And if you're hardcore, grab a canoe and check
this
out.
And hiking.   There are a lot of
great hiking trails
throughout the region.  A great starting point if you're new to the area is to earn your
Tupper Lake Hiking Triad
patch.  That's accomplished by summiting Mt. Arab, Coney Mountain, and Goodman Mountain.  Each is about a mile's reasonable hike to the top, and each has the payoff you're seeking.   Here's an example from the top of Mr. Arab - but each has a view similar (but different) to this.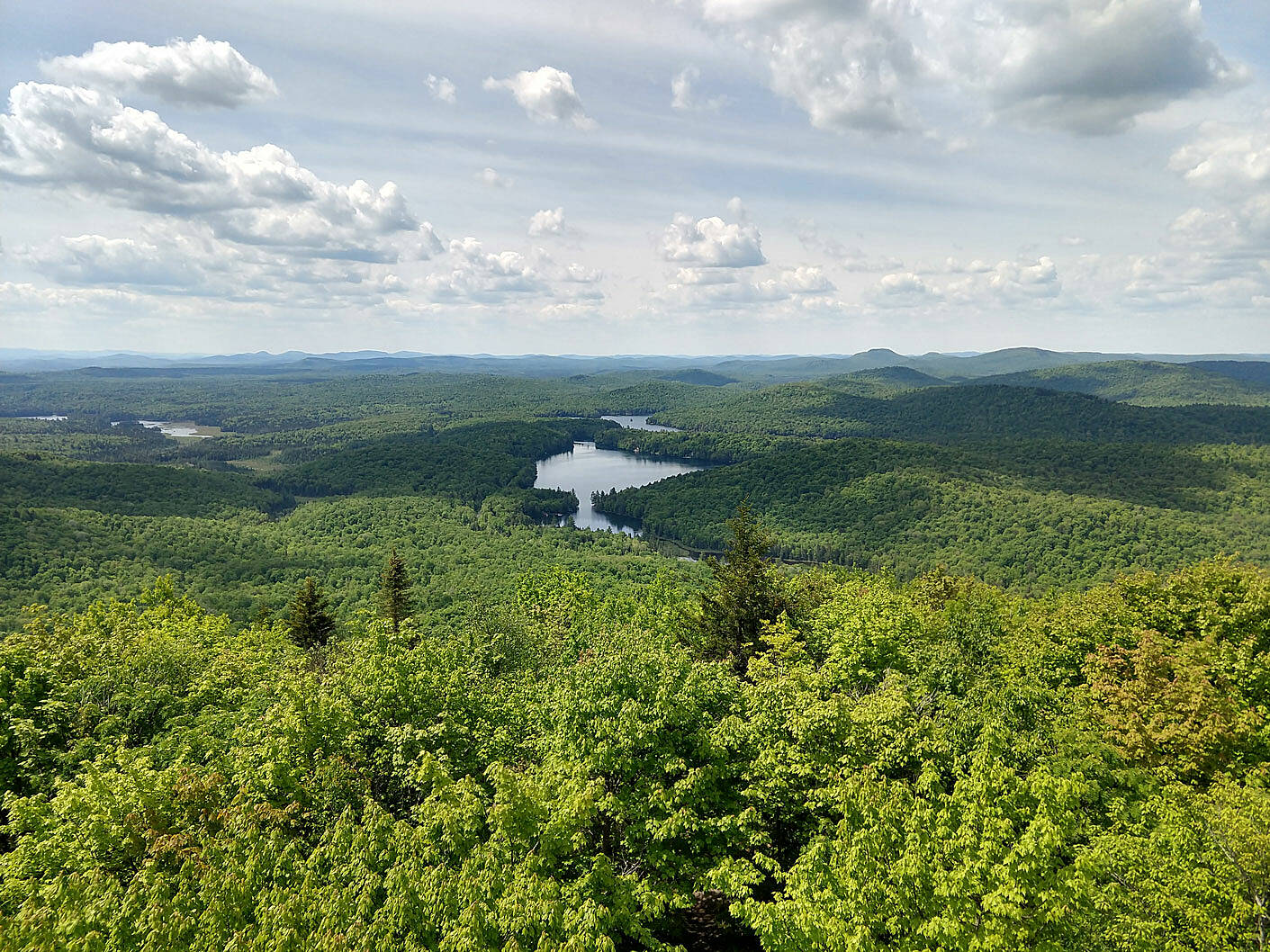 If it's May or early June, you might want to pack some bug spray - it is the wilderness, after all, so mosquitoes, and flies of the black and deer variety are a fact of life here.  But jeez, don't let that dissuade you from a visit.
Lastly on the outdoor subject:  I drove over here in March, and thought the area was beautiful, but I know very little about Cranberry Lake otherwise.   But
this
looks super interesting, if not a long walk?
EATING/DRINKING/SHOPPING

The village of Tupper Lake has some of all it, but please don't visit thinking that's the focus.  There's one supermarket, no real fine dining, and limited shopping (but if you read this blog, you know that's never a priority for me or even my wife).
But what's here (and around here) is real.  At times coarse, but still real.  Bonus:  authentic hospitality with no attitude - the essential workers here are mostly happy to have a job.  Here's a rundown.
Trail's End, Tupper Lake, Textbook:   OMFG, this is a real boozer/dive bar, that happens to be on the water; in fact, one of the best I've seen.  Not quite Sinbad's, but close.  One of my bartenders was an edgy but very wise Harley rider with a beard down to his chest.  Yeah, the bartender's nickname is "Beard".  And Sue Sue, the other bartender I met?  Her voice reveals a smoking habit, but talk about the real deal.  Thank you Beard and Sue Sue - even before I introduced myself as a Smith/Murphy relative and with legit ties to the region, they were gruff, but nice.  After all, Sue Sue bid me adieu with a gravely "Send my love to Shelly".  No class warfare here (I think)!
The Lookout, Tupper Lake, Killer:  almost just Serviceable, but wow are they trying.  This is the restaurant and bar at the golf course.  A nice young husband and wife optimistically took over the 19th hole at TLCC at, um, a challenging time, early 2020.  I hung out there on 4 different occasions, dining twice.  The setting is fabulous, the drinks good, and they're on the right track, food-wise.  Try the Michigan Hot Dogs (which I've never seen before).  These folks may get involved with a Murphy-owned, but shuttered, restaurant in town - here's hoping.
P2's, Tupper Lake, Textbook:  another authentic boozer bar .  Thrilled to see this back open after the pandemic, and I went there solo once on this trip.  But we've RAGED there previously, pre-virus, and it's a great bar.  A highlight this time was meeting owner Michelle.  Although P2's is a sidelight for her, she was quite bullish and informative on Tupper Lake.  
Well Dressed Foods, Killer.  It's a restaurant, wine bar, and gourmet food store.  A great place for a glass of wine and a snack.  Yes, in Tupper Lake.   They need more of this.
Little Italy, Tupper Lake, Serviceable:  yeah, I think I rated this place higher in March, but no matter.  We had a ball here on our last night with Bulleit Bob, Betty, and the heretofore unmentioned Murphy matriarch and close friend of both myself and Julie, Alexandra Murphy Daniels.  Cheers, Alexandra!
Raquette River Brewing Company, Tupper Lake, Killer:  In some ways like Well Dressed Foods, RRBC is of a different place.  These guys brew great beer, and have great food trucks (God knows from where, though?).  The setting, with great indoor and outdoor seating, has got a great vibe.  A must when in the region.
The Lumberjack and Swiss Kitchen, Tupper Lake, Serviceable:  breakfast.  Nothing more to say, although they are great places to be assured of Dinty Moore corned beef hash.
China Wok, Tupper Lake, Serviceable:  I remember laughing (in that completely pretentious way only I can) when Shelly said "Let's get takeout from the Chinese restaurant in town".  Living in San Francisco, we're justifiably a bit touchy about Chinese food.  But it was fine, even Killer at times.
Lakeview Lanes, Killer (Pizza/Wings only), Serviceable (Bar):  this is a tough one because, like Trail's End, its setting may be the finest of any bowling alley in the nation (well, OK, along with our beloved Sea Bowl in Pacifica).  No kidding - it's literally on Tupper Lake, and when we got there, it was sunset and it would have been stunning on Maui.  Yet the barmaid, also the owner, could not have been more gruff as she uttered the dreaded "Living the dream" in response to an ill-advised inquiry into her well-being.  But God, is their pizza top-notch, and the wings?  Dare I say Diamond Certified?  Yes.
One of my favorite parts about Tupper Lake is its proximity to Lake Placid, where there are restaurants the equal of those in San Francisco.  Two examples (although we did not dine at KANU - only cocktails - but I know from reputable sources that the dining is up to snuff):
KANU
at Whiteface Lodge
The View
at Mirror Lake Inn
Here's a shot Shelly snapped as we headed out of the bar at KANU.  Yep.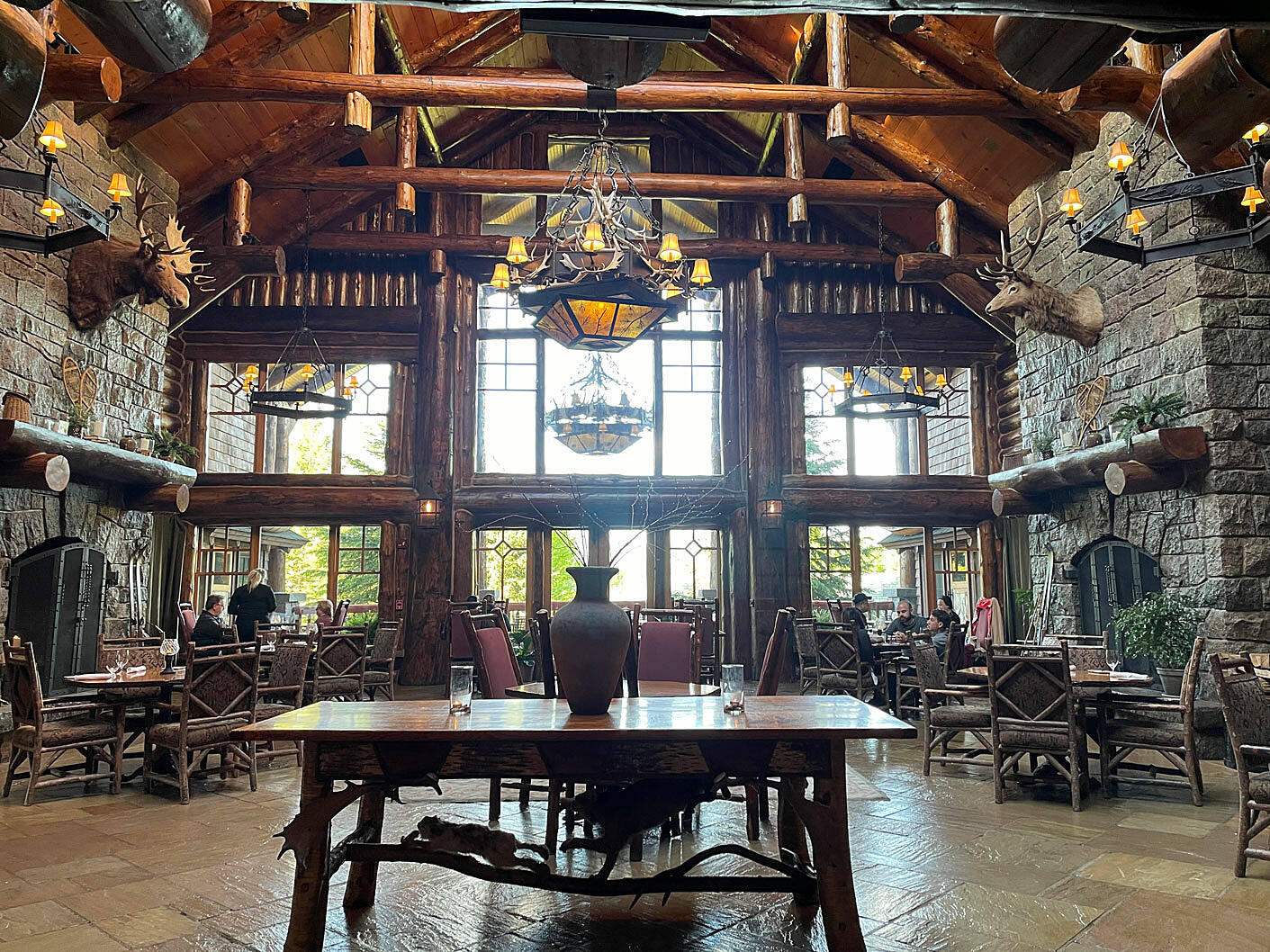 Services?  There is an impressively stocked wine and liquor store in town, and a place run by someone
we're partial to
.  Go to Larkin's for real-deal artisanal foods, made whenever possible from stuff from
Zoe's farm
.  True story.  The folks at Larkin's can also arrange things like in-home massages, yoga, chefs, etc.  Again, true story.
Boulevard Wine & Spirits
Larkin's Junction Depot
More?  I don't typically suggest hardware stores, but wow does
this place
have big-boy work clothes.  Carhartt, of course, but way more, too - so much, it's worth stopping, at least if you need any kind of outdoor wear.
And I certainly don't typically recommend tourist shopping sorts of places, but what the heck.   T
he Adirondack Store
has quality stuff, and it's likely the nicest retail store in Tupper Lake.
Rare for a Travel Guide, I'm doing a KLUF thing here.  Here is my
Southern Rock playlist on Spotify
.  Sorry, it's not in high res, but like Tupper Lake, some things aren't absolutely perfect.