TODAY'S RAMBLINGS

It's Monday, and I am recovering nicely from a wonderful holiday party at the home of Emery and Nib Riddle.  Thanks, guys - great job - it was very festive and oh, those gin fizzes.   
Today will be a touch on the serious side, but not in a dark way.  If you're reading this, it's probably obvious by now that I enjoy writing.  A lot.  In fact, it is among my only endeavors where I understand the term "flow", as in:  I get in a real flow when I sit down and write.  Whether what I produce is any good or not is highly debatable.  But I will say time flies in a beautiful way when I sit down, put on music, and type up the thoughts pinging around my (inflated) head.
You've already seen that I've expanded beyond these newsletters, with my occasional
Travel Guides
.  In fact, there will be a new one soon about our Christmas trip to LA.  But this is different. 
At the encouragement of absolutely no one (oh, OK, Andy Jones did say once that I should keep going), I decided to write up my observations on 40 years of entrepreneurship.  The result is "
On Entrepreneurship
", a monograph containing stories, advice, tools, and techniques for surviving and ideally thriving as an entrepreneur.  Yeah, I know - what a really super fresh idea!
It is comprised mostly of essays I recently published serially at LinkedIn, so perhaps you've seen them already if you're connected with me there.  But I've now compiled it all in one place, almost like a real book.  Almost.  And as a special bonus, there's a giant Epilogue - that I didn't post at LinkedIn - with the sordid and other details from the 8 startups of which I've been a part.
I hope you'll glance at its content, and perhaps read some.  Mostly, though, I hope anyone reading this will share the monograph with someone you know that's starting a business. 
Because 10 seconds of seriousness:  it would be great to learn that my advice helped someone, even just a little bit. 
The On Entrepreneurship Monograph
But even if no one uses it (or even reads it), I had a lot of fun writing this up and putting it together.  Thank you. 
FROM THE UNWASHED MASSES

I was beaming when I read this from the witty midwestern forager Raymond Michaels.  Plus, he added some color:  
"A+ post today.  Further evidence for your thesis.  Hope you and Julie have a great holiday."








And from the "It's Good To Be An Executive At A Big Company" department, there was this via the modern day telegraph from Ol' Purple Label, at sunrise last Friday here in SF. 
Diamond Certified
?  You betcha, and the view isn't bad either . . .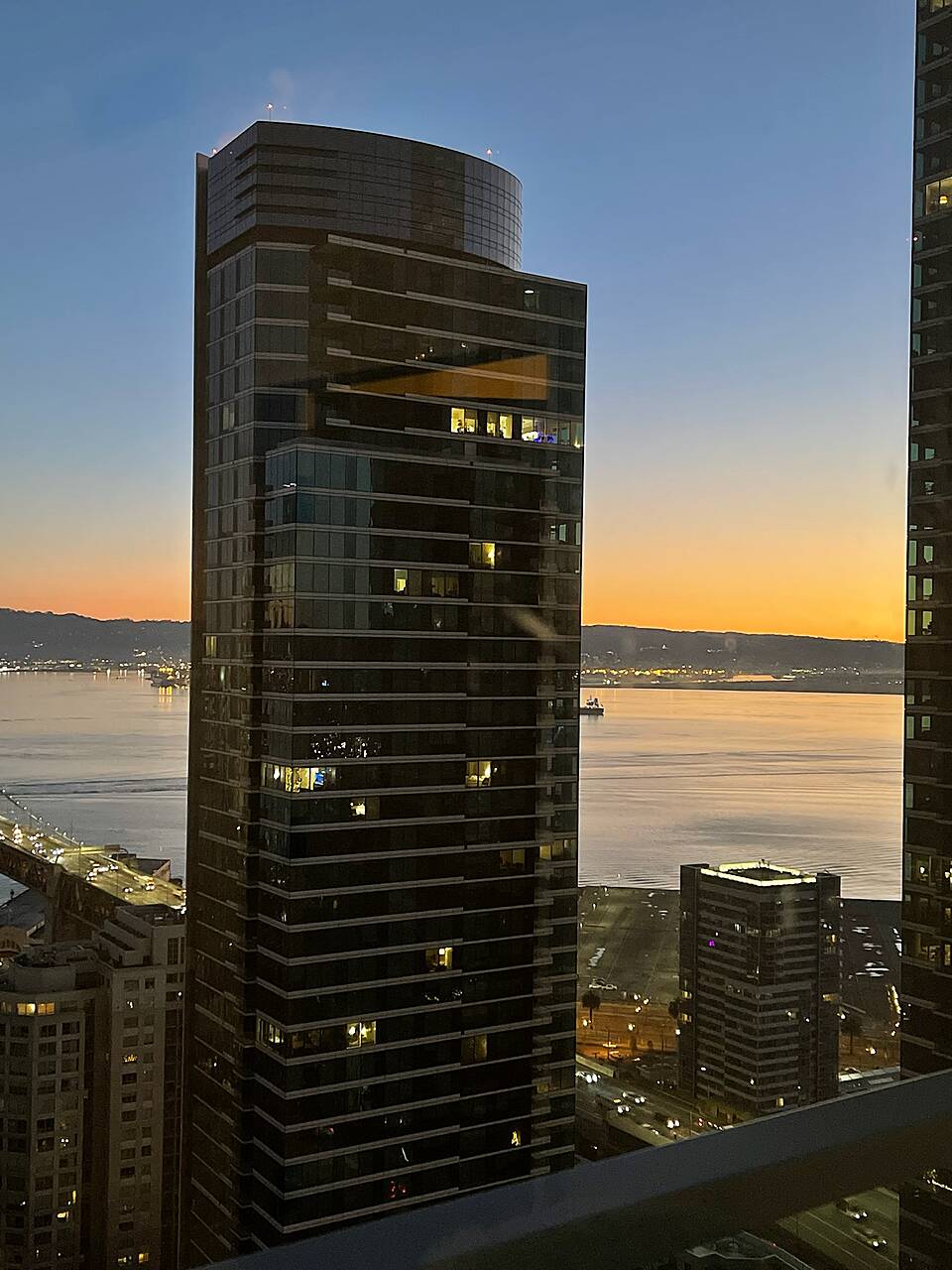 Thank you to any one that is reading this newsletter.


KLUF

This is perfect!  Given the self-absorbed nature of
Today's Ramblings,
here is an example of it actually being warranted!  Here is one of my musical heroes, Dave Grohl, with his completely solo "
Play
".  Who has heard this before?   
Give it a go - it's a very unusual suggestion in that it's a single, instrumental track, 23 minutes in duration, with Diamond Certified Dave doing it all.  Gosh.