TODAY'S RAMBLINGS





Ukraine:  I'm glad we're sending more weapons and money.  We can't give up on them now.  Like Trump's, Putin's actions must never happen again.


I've created a large number of worthless lists for use here in this newsletter.  But this?  This could be my all-time least-useful.  I don't care, because I find it interesting.  Plus, it's a nod to my champion Warriors!
The subject is:  which US cities have a team in each of the 4 major sports:
NFL (American Football)
NBA (Basketball)
MLB (Baseball)
NHL (Hockey)

OK - I get one could argue that the NHL doesn't belong, and that baseball is on the wane.  True and true.   But, until further notice, these 4 are still considered the big 4 major sports in this country. 

Here are the cities that have all four.  In major metro areas like NYC and LA, I went with the originals.  The list might surprise you, especially when compared to the list of US cities by population, which is at the end; I've also ordered the first list by population.  For the record, hockey makes about as much sense in Phoenix and Dallas as it would in Houston.  I'm just sayin'. 

And please - save the geographic quibbles - the Cowboys no more play in Dallas than the 49ers (or Sharks) play in San Francisco.

New York
New York Giants
New York Knicks
New York Yankees
New York Rangers

Los Angeles
Los Angeles Rams
Los Angeles Lakers
Los Angeles Dodgers
Los Angeles Kings

Chicago
Chicago Bears
Chicago Bulls
Chicago Cubs
Chicago Blackhawks

Dallas
Dallas Cowboys
Dallas Mavericks
Texas Rangers
Dallas Stars

Washington
Washington Commanders
Washington Wizards
Washington Nationals
Washington Capitals

Philadelphia
Philadelphia Eagles
Philadelphia 76ers
Philadelphia Phillies
Philadelphia Flyers

Miami
Miami Dolphins
Miami Heat
Miami Marlins
Florida Panthers

Phoenix
Arizona Cardinals
Phoenix Suns
Arizona Diamondbacks
Arizona Coyotes
Boston
New England Patriots
Boston Celtics
Boston Red Sox
Boston Bruins
San  Francisco
San Francisco 49ers
Golden State Warriors
San Francisco Giants
San Jose Sharks

Detroit
Detroit Lions
Detroit Pistons
Detroit Tigers
Detroit Red Wings

Minneapolis
Minnesota Vikings
Minnesota Timberwolves
Minnesota Twins
Minnesota Wild

Denver
Denver Broncos
Denver Nuggets
Colorado Rockies
Colorado Avalanche
US Population, by Metropolitan Statistical Area (MSA)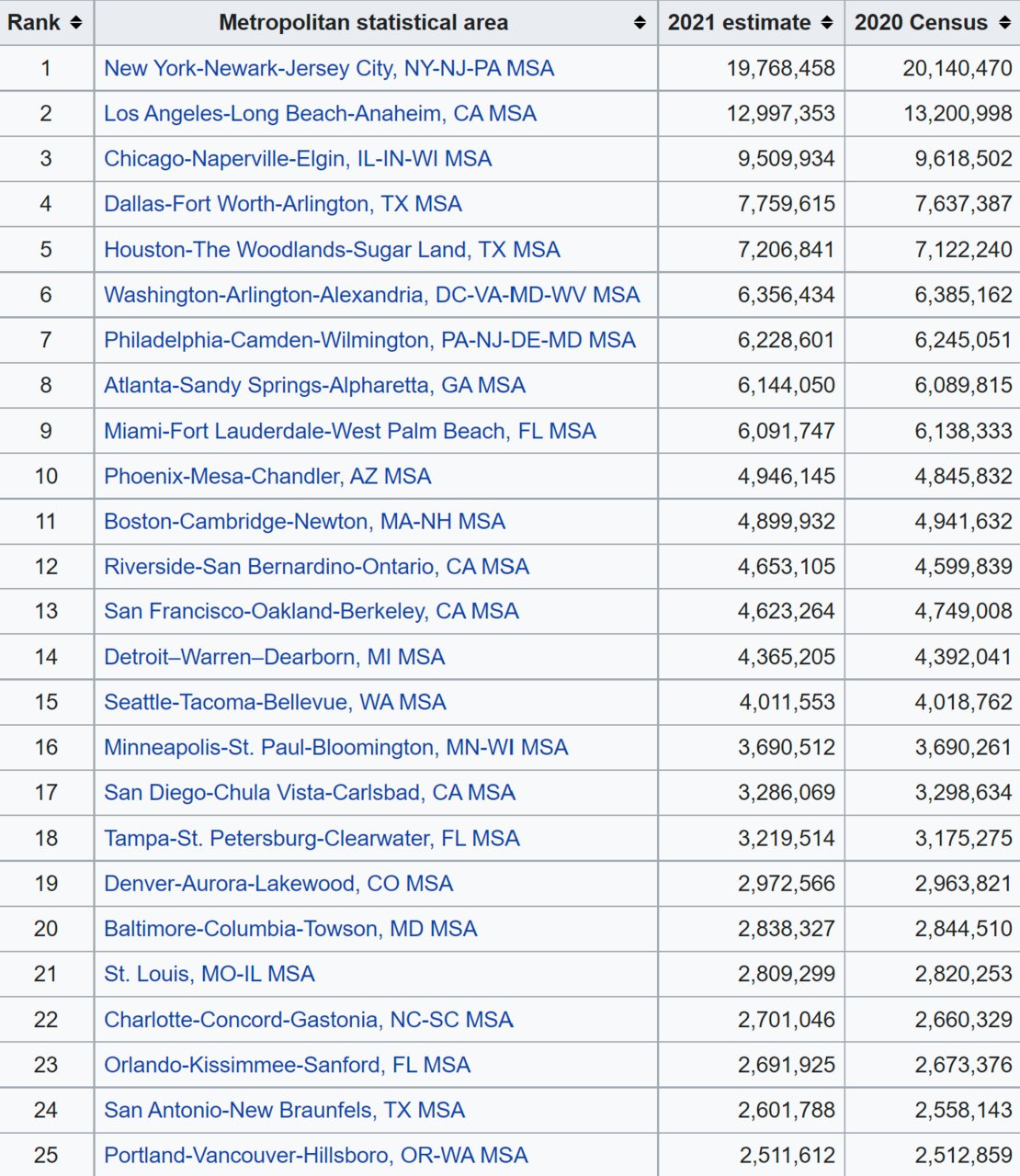 If I've missed any, please let me know.  Have a great weekend.

FROM THE UNWASHED MASSES

No fun name, because this is just flat-out cool.  This is the daughter of one of my first cousins, and I'm happy to say Julie and I attended her wedding (a rager) in Buffalo quite a few years ago.  Shedd f'ing Aquarium!
https://vimeo.com/719904382/6d1c6b039b
Some wonderful words from two of America's finest women:  Dr. Doreen Downs (jet setting as usual, this time in France) and from the frustrated Wordle player, Elizabeth "Polly" Michaels.
First, Dr. Downs, on me not making the cut at AWS:
If the AWS interview process is a meat grinder, think what working there would probably be like.  I say count your blessings and focus on Diamond Certified travel plans or whatever brings you contentment.

I can always count on the good doctor to nudge me onto her own path of travel decadence.

And then, after acknowledging my stupendous performance at Wordle, "Polly" kindly added:


And we enjoyed your Fantasy Island story (on Wednesday). 
Thank you to any one that is reading this newsletter.


KLUF

It was a wicked game.  Here is Stockton's very own Chris Isaak, and his seminal "
Heart Shaped World
".