Dear Friends and Music Lovers,

I have two performances coming up in Melbourne in April.

The first is FREE and no booking required.

----------


The St John Passion by J.S. Bach
Good Friday (15 April) at 7:30pm

Scots' Church Choir directed by Douglas Lawrence and the Melbourne Baroque Ensemble.

Venue: THE SCOTS' CHURCH – Cnr Collins and Russell Streets, Melbourne

Cost: FREE

Time: 7:30pm

This is one of the great liturgical works for Easter. St John's account of the Passion is very moving. Bach is at his peak representing the drama of the Passion story. The St John Passion has some excellent choruses — and two wonderful arias with flute obbligato.

I have been involved in performances on Good Friday at the Scots' Church for many years. We missed the last two Good Fridays because of Covid, so it will be wonderful to get together again with everyone. 

----------


Greg Dikmans & David Macfarlane – Flute and Harpsichord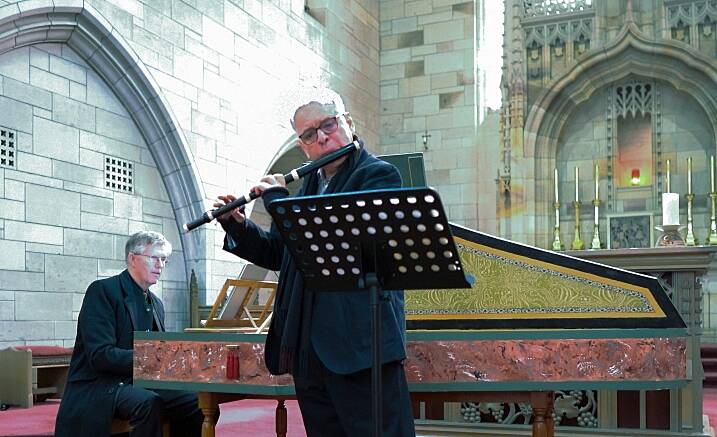 Friday 22 April at 6:00pmPrimrose Potter Salon – Melbourne Recital Centre
David Macfarlane and I have presented concerts of the great works for flute and harpsichord in the wonderful acoustic of the Chapel of Newman College at Melbourne University (see photo).
This year we will be playing in another lovely acoustic — ideal for chamber music —  the Salon at the Melbourne Recital Centre. I have recorded two CDs in the Salon and it's such a pleasure to play there.
Works by three of the most important and influential composers in the 18th century: François Couperin, Georg Philipp Telemann and Johann Sebastian Bach.
The program explores the pure French style of Couperin's 8th Concert in the Theatrical Style, the galant style of Telemann's Fantasias for solo flute and the rich contrapuntal German style of Bach.
More information and bookings
https://www.melbournerecital.com.au/events/2022/flute-and-harpsichord/
----------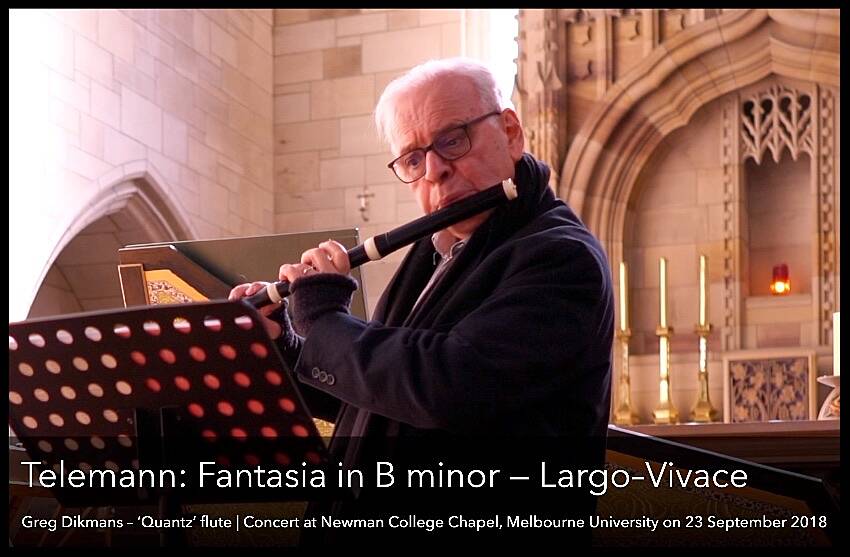 You can watch and listen to a video of my performance of a Telemann Fantasia in Newman Chapel on the Elysium Ensemble's YouTube channel.
https://www.youtube.com/watch?v=vWi5MiOHZ-4
----------
If you have any questions, thoughts or suggestions, you can contact me directly at
dikmans@hey.com
Best wishes,
Greg Dikmans
(Elysium Ensemble)
---
Email:
dikmans@hey.com
Blog:
https://world.hey.com/dikmans
Elysium Ensemble website:
http://elysiumensemble.com