In the 1980s, my father and I watched
Bob Ross
on TV.  Then my father painted in the basement.  I would sneakily press kid fingerprints into his paintings. 
In 2019, I started painting myself.  I took a painting class at my local recreation center, while searching for a safer hobby than motorcycles.  I immediately got hooked.  I bought painting supplies.  I set up a studio in a spare room.  And painted a bunch!  History repeated.  I found cat paw prints on my own paintings.
My bengal cat, Benny Roo, is my self-appointed art director.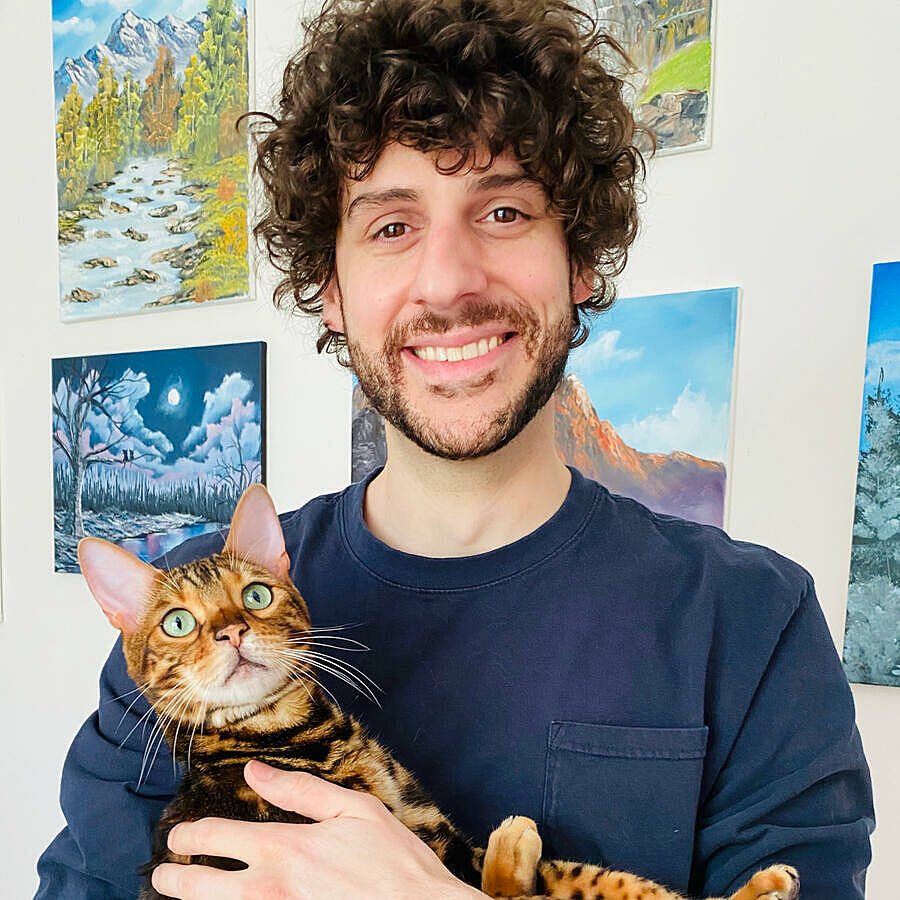 I watched YouTube videos to learn and get inspiration.  I started a
website
and
instagram
to show my work.  I even sold a few paintings!
My subjects and style are still formative and evolving.  Nonetheless, I prefer landscapes, still life, big, bold brush strokes, tonalism, and impressionism. 
My influences are my
father Steve Guerra
,
Bob Ross
,
Bill Alexander
,
Diane Andre
,
Robert Burridge
,
Patti Mollica
,
Carla Bosch
,
Turner Vinson
,
Stuart Davies
, and
Hester Berry
.
Now in 2021, painting is a refuge from my high technology digital
day job
.  My paintings display in the background of video calls.  They are good conversation starters. 
After work, the computer gets put away.  My work-from-home office becomes my analog paint studio.  Painting brings me balance, inspiration, creativity, visualization, fantasy, relaxation, and enjoyment.
Ever thought of painting yourself?  Or art?  
Give it a try.  You can do it.