A few months ago, I started reading a book —
Tools and Weapons
. I don't remember how I started reading this book. Brad Smith, Chief Legal Officer at Microsoft, wrote this book. Curious about our legal works in the tech industry, I started reading this book. I still haven't completed it.
But this book has shaped a perspective that helped me apprehend some of the essential learnings in the following stories.
In this article, I will share two stories.
Story of how I demanded Walnut delete data of mine for privacy reasons.
Level of how Zolo Stays has built a culture of customer experience proposing customers to exercise legal choices.
Both of these have good learnings, which I would want to journal in this space.
Data Erasure appeal to Walnut
For a month straight, I got automated calls to take loans. While this was common among the banks, I noticed the automated call quoting a company called "Incred." I displayed silence for a few days; then, I researched this company on the Internet.
I found out
.
I did not sign up for this company. So I sent the following email.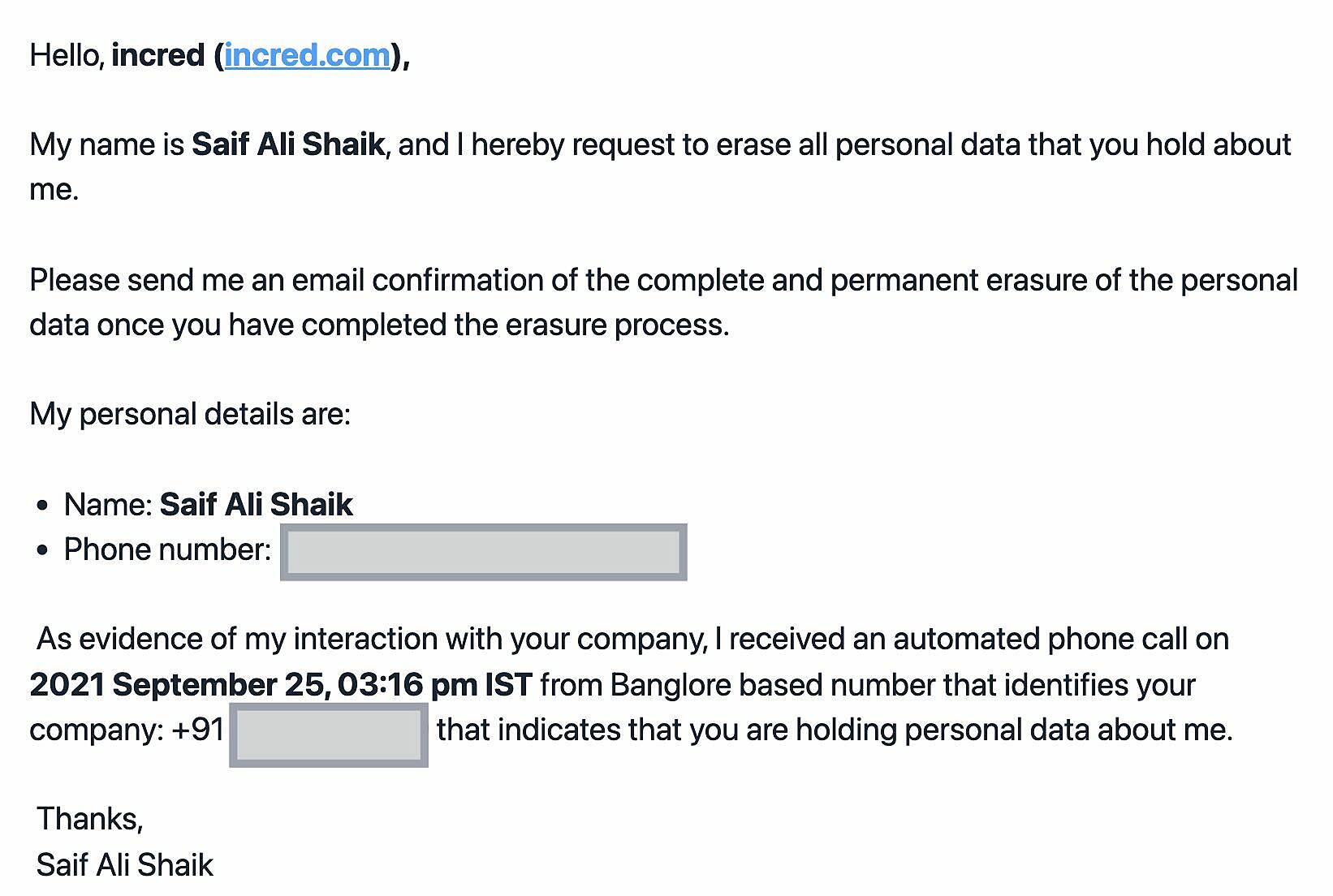 After 2 days customer support executive responded,
We want to inform you that, As per RBI norms, we are not able to remove the details from our database as we have received your application from Partner Walnut and the same has been closed.

For any further assistance, you can write us back or call us at 1800-xxx-2xx2. We will be more than happy to assist you.
I could probably ignore this response. But somehow, I felt curious to get a little bit deeper. The reply mentioned the partner's name — Walnut. I remember I used the Walnut mobile app a few years ago for expense management. I read Privacy Policy! The policy promised that Walnut would not share personally identifiable information with its partners.
So I looped in Walnut support,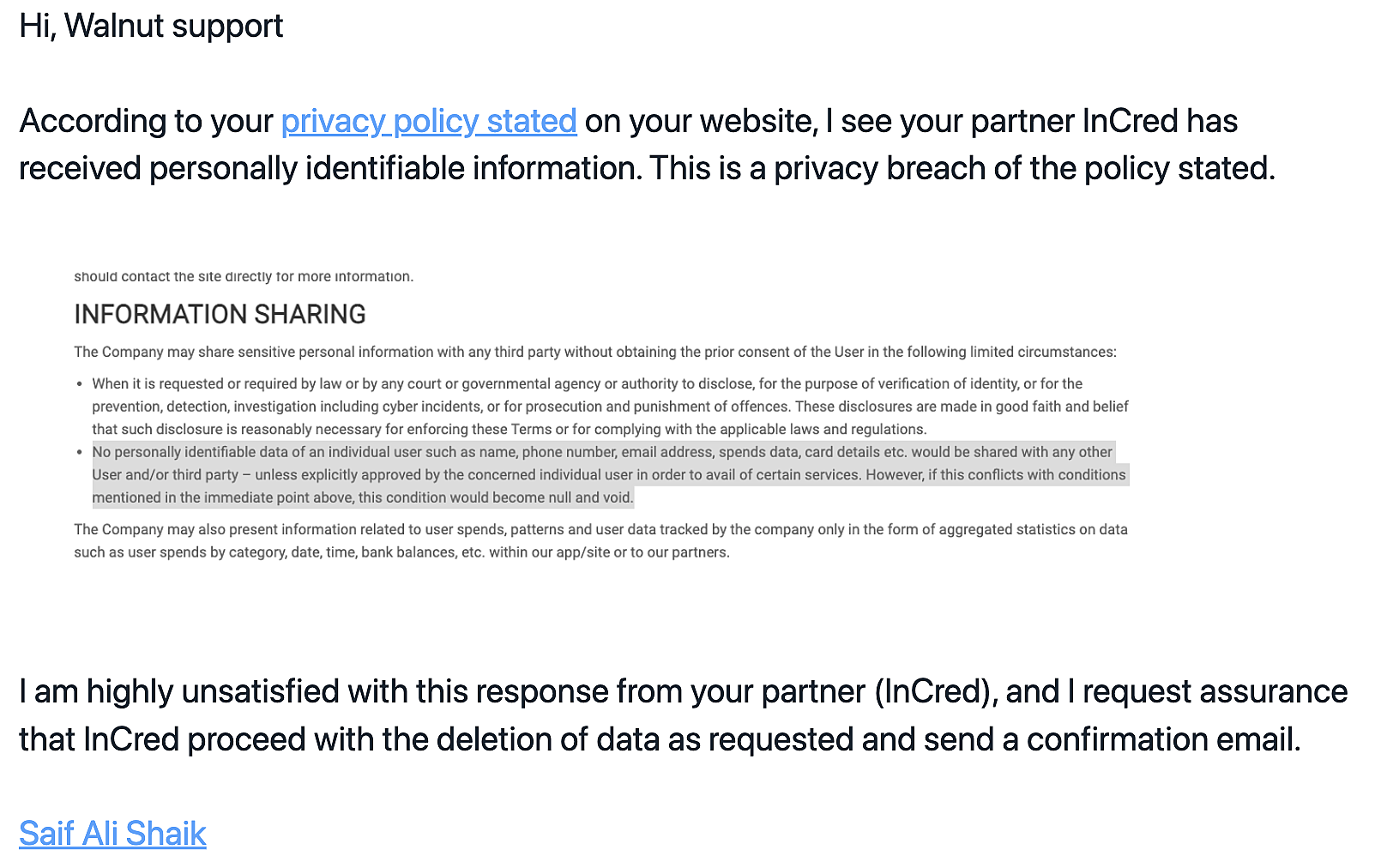 When they did not leave a response in 3 days, I replied to the email that I would engage my legal team, although I did not have one. Obviously!
After a week, I got a response that promised I would no longer get calls from Incred and its loans. Good! It's not a victory for me, but I regard them more because they did comply.
Lesson: It's OK to take one step ahead to go to an extent as much as it doesn't cost you a ton of effort and mental pressure. What is the maximum? — I probably go back to my day-to-day life. 


Zolo Stays — Toxic Customer Experience Culture
For those of you who don't know, Zolo Stays is a company that manages PGs or Hostels by leasing properties for customers. It's more like any public hostel or PG, but it just has double standards towards acting like a corporate company — Tickets, Support, etc.
They charge rent, current bills, food, and everything. These charges probably translate to at least 30% of the extra expense of whatever you choose to pay to stay with Zolo. Try staying with them.
All the properties look good in images; some probably appear to be good stay properties because other players don't compete well.
I stayed at Zolo Stays —
Zolo Spencer
. During COVID, this property got into legal issues with Landowners — Anand Estates. When I returned to this property to collect my leftovers like a cycle, the security did not allow me inside. Here's where you will find evidence of a Breakage Culture with customer experience. Breakage means the company goes into defensive mode, puts legal at the forefront, and means, "We don't need you anymore" at every interaction.
When security denied entry, I got in touch with a Zolo executive called Bala only to hear - "We exited our relationship with the property" — Whatever you have, don't deal with us!
"All the belongings you have are not Zolo's responsibility." — F*** you. I don't care what you've lost.
"Go deal with Anand Estates." — You were my customer in the past. You are not my customer now.
"I can't confirm over email you stayed at Zolo" over a phone call — I don't want to provide you anything; the legal team gives me a script. I will only give you that.
"Go file an FIR with the police." — If you want your property back from Zolo Spencer, I know as an ordinary citizen you won't go that length. So I will take advantage of it.
I don't want to give a customer review of the stay. That is not the point of this post. My property there is barely 3500 rupees. So I don't worry much. 
Learning: Marketing is not limited to the Marketing team.
I struggled with a lot of stay providers in Chennai. Zolo seemed a way that be organizing this unorganized sector. But when it got big enough, it lost sight of its customers.
Marketing is not just the Marketing team's responsibility. It is something your company, employees, and customers do 24 / 7 / 365 


Every time I raise a ticket and get a reply from Zolo support, it's marketing. It made me feel I am speaking to many people who don't care about residents but just business.
Every time I talked to on-ground staff, they made me feel I was talking to many puppets.
Every time I got on to a phone call with Zolo Staff, they made me feel inferior. They remind me that I can't go to the police or legal steps at the end of the day.
Every time they say contact support, I already feel the burden to reexplain many things from the beginning.
Every time they ask to raise a ticket, I feel I need to write everything I explained to you already, which they don't understand anyway.

All of these interactions are Marketing. Zolo is in free fall because all of this toxicity has captured their culture of customer experience making them be below average forever. The foundations have already loosed, and this empire will slowly become stagnant. It just takes a good competitor to emerge.
Here's what's more transformational. I am a customer of Zolo. I hold no relationship with Anand Estates. When Zolo did all it could to be a defensive and robotic voice, I called up Anand Estates. In just 5 minutes, they requested me to call them tomorrow and think of the following steps on how I can collect my property back. I am not Anand Estates' customer!
These two stories taught me a lot of things. 
Walnut Story:  Take steps to the extent I can afford. 
Zolo Stays: Marketing is not limited to Marketing team.