TODAY'S RAMBLINGS

My streak of glorious weather on visits to the posh-ish Bellaire district of Houston and Fave cousin Dr. Shelly Murphy's
Villa
grinds to a halt. 
Yesterday, Thursday, it was windy and quite cool outside upon my arrival (sidebar:  I was impressed by United's Polaris Class seating on the narrow-body 757 which I took here from SFO). 
Today, cloudy, warm, and muggy and it's going to storm.  No matter.  Life is very mellow here, save for a wonderfully friendly cat named Gucci and their two occasionally over-friendly dogs, Louis and Stella.   And yes, the Villa is as big as Texas, so there's plenty of room to spread out - like in the beautiful and cavernous Family Room in which I write this.
On this trip, I am reading
a superb book called "Think Again"
by the genius-like Wharton prof Adam Grant.  I have not finished it, but his message of questioning that of which you're certain is powerful.  It is very much in line with my quest for increased
Emotional Intelligence
. 
I can hear the snickers and giggles already, but I'm finding the section I'm reading now, on taming arrogance in favor of something more productive, to really resonate.
In my life, I've been lucky and have had a fair bit of success in a range of endeavors.  Nothing Earth-shattering, but I've had a nice run, with even
an accolade
or two.
But at times - OK maybe more than at times - the success and the hard work it required made me confident to the point of arrogance.  I've always been aware of it, but some times I get rolling and no doubt it's a turn-off to many.   In fact, many of my least great moments have come when I've been at my most confident.  Ask Kevin Monza and Miguel Shannon . . .
But Grant's book points me and perhaps others to another route:  Confident Humility.  Its basic tenet is to have enough faith in yourself to trust in the outcome, but also be ready to accept that your initial preconceptions/methods/tools may not be right this time.  In other words, freely admit being wrong, and in fact, revel in it, because you improve yourself and others by doing so.
Here's a graphic from the book that nails it.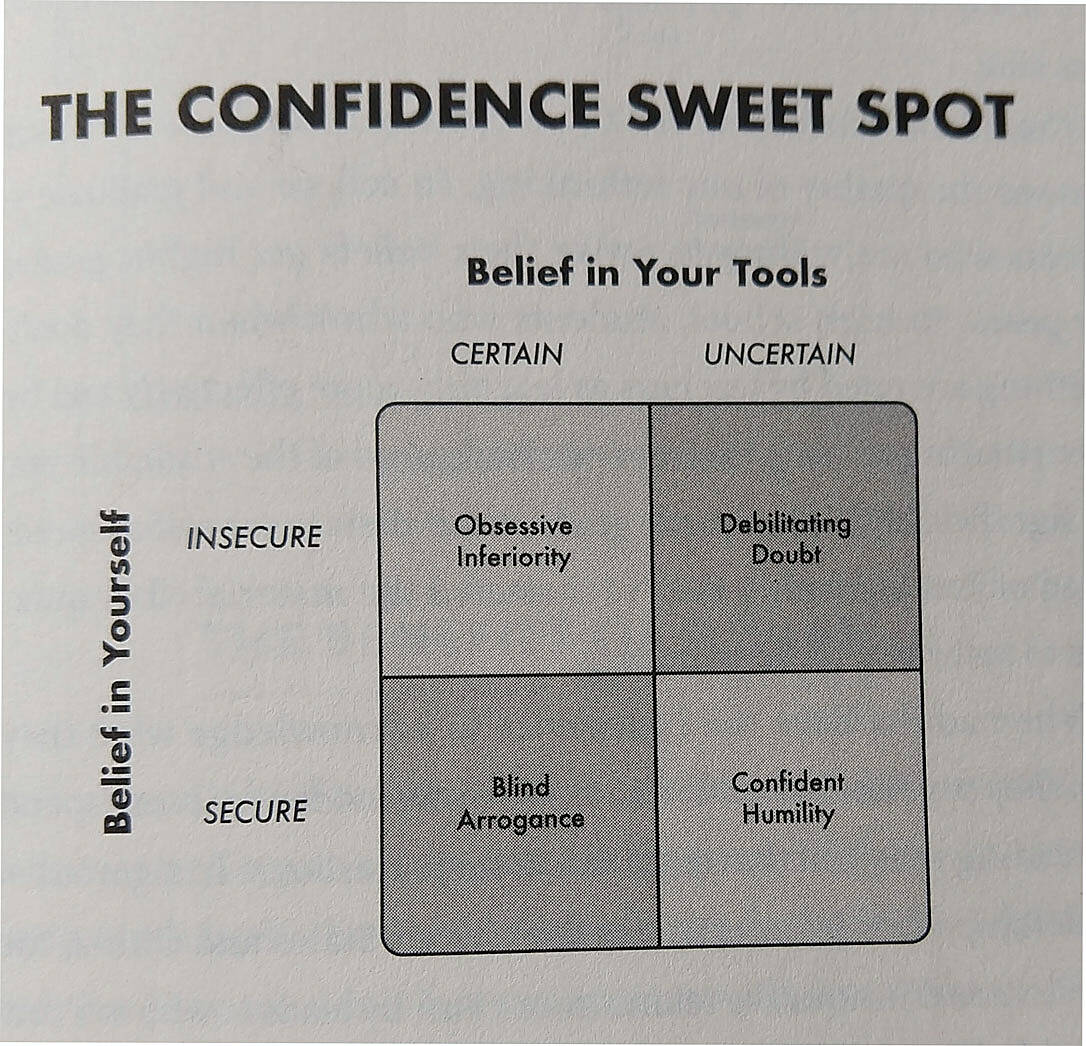 And here are two passages from the book, both of which I find rather profound.
"Admitting you're wrong doesn't make you look less competent; rather, it is a display of honesty and a willingness to learn"

Think about how one could apply that toward developing trust in both personal and professional settings going forward.

And this, which is more of a life lesson:
"Arrogance leaves us blind to our weaknesses.  Humility is a reflective lens:  it helps us to see them clearly.  Confident Humility is a corrective lens:  it enables us to overcome those weaknesses."
FROM THE UNWASHED MASSES

There was a nice round of feedback to my recent posts - thank you very much. 
The great Deadwood City movie historian and landscape architect Arthur was motivated by our desert escapades and suggested the Joan Crawford 1950's noire "The Damned Don't Cry".  This movie was
Textbook
and also simply kicks ass.  Highly recommended.
In-the-know Dr. Doreen Downs editorialized on my 4 World Capital question:
"My only comment is that there is no one right answer."
I will say that Dr. Downs - who has likely visited all of the candidates in her decades of 5 star world travel - is as qualified as any to make that call!
And now, Hunter Deuce.  It should be noted that he and blushing bride of 20 years Fi are heading to the fantasia of Hawaii Island for two long weeks.  These kids are on a front-of-airplane celebration of their nuptials (itself an epic event many readers attended, and where
Keith Richards himself got married just a few years earlier
) and boy, are they living it up, including 4 nights at the glorious
Four Seasons Hualalai
.  Congrats, guys!
So Hunter has a tad of cred with his provocative travel dictum in reply to the 4 World Capital topic:
Just to be contrarian and start some shit, I think Rome or Sydney could challenge for a spot. Also, we just saw a film called Kedi, which is a documentary about the street cats of Istanbul, and it's beautifully filmed - I think a dynamite vacation would be a three city tour of Istanbul, Budapest, and Munich.
Having visited both
Budapest
and
Munich
, and absolutely loving both, I have to tip my hat to the
Jack LaLanne
-like Hunter!  Attaboy - but now go get Fi a drink.
And finally, I am humbled (see above) by the busy Louise's extremely nice reply to my Montecito/Santa Barbara Travel Guide:
"Hey Buddy-  love the blog . . . you are a gifted writer!!"
What a perfect wrap on a blog that involves humility.  Thank you, Louise and anyone that is reading this.
KLUF

Perhaps today's topic has made you contemplative.  Good.  Here's Keith Jarrett's meditative "
Koln Concert
" for something in the background.