TODAY'S RAMBLINGS

If you've ever wanted to get out of the real life racket and step into a
Norman Rockwell
painting, I have your destination.  "Arcadian" is one word that comes to mind in trying to describe Woodstock, here in central Vermont. "Gorgeous" and "bucolic" are others. 
Woodstock is set in a mountainous (for here) region, and it really ticks every box.  Historic village filled with useful and interesting shops, including
this
Killer
place?  Check.  A 700 acre National Park, with miles of perfectly groomed hiking trails (and no bikes allowed!), at your doorstep?  Check.  A working farm and museum, allowing one to get up close and personal with their favorite beast of burden?  Cluck.  I meant "check".
And a healthy dose of Rockefeller class and wealth thrown in for good measure.  Check and huh?
You see,
Laurance Rockefeller
, grandson of of
John D. Rockefeller
, and brother to
David
(headed Chase Manhattan Bank for years) and
Nelson
(governor of New York), married Mary Billings in 1934, herself also loaded and from a very prominent Manhattan family.  And her family had an immense mansion and farm in - wait for it - Woodstock, Vermont.   Laurance and Mary would come to spend many summers there. 
Laurance - who was an environmentalist before the term existed, and instrumental in the creation of a number of National Parks, developed a deep affinity for the region.  So it came to pass that in 1992, he and Mary donated the mansion and its enormous grounds, and the working farm, to the National Park Service.
Those properties now comprise the
Marsh-Billings-Rockefeller National Historical Park
and the
Billings Farm & Museum
.
But wait, there's more.  We're staying at a hotel that Laurance Rockefeller himself developed and opened, as part of his storied
RockResorts
mini chain of environmentally-sensitive (but still very much Diamond Certified) hotels.  He built and opened The Mauna Kea on Hawaii Island, Caneel Bay in the US Virgin Islands, and The Dorado Beach Resort on Puerto Rico.  And yes, in 1969, he opened
The Woodstock Inn & Resort
.  50+ years later and now owned by the Rockefeller Foundation, it is absolutely still Diamond Certified.  There will be more in a Woodstock Travel Guide, but suffice to say, it's nice.  Super nice.  Here's a look at the front - and yes, you are correct it's fun to have cocktails out there before dinner.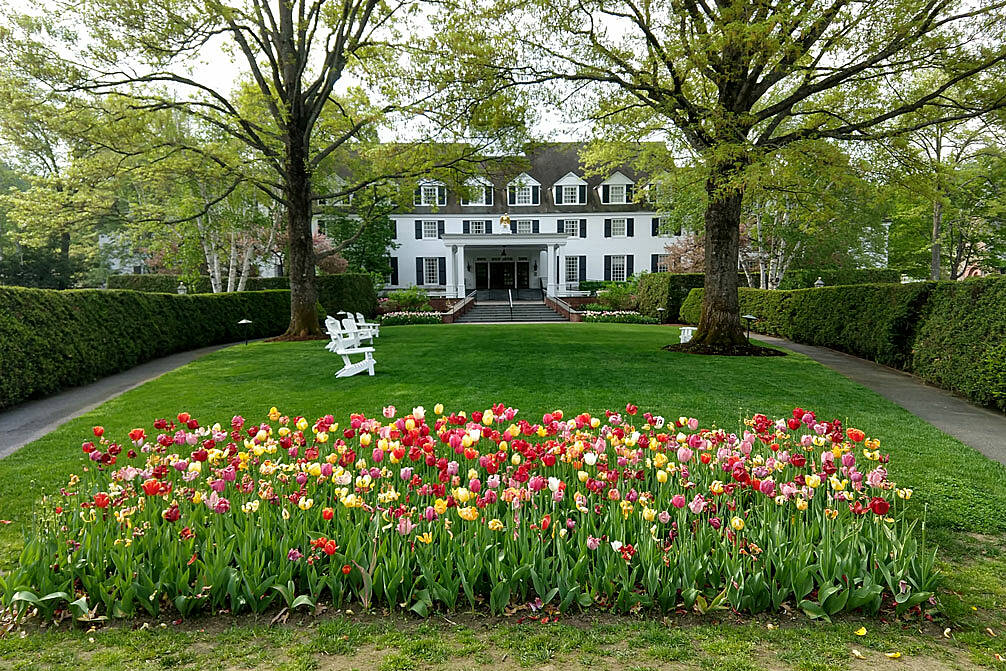 (In case that's not enough Laurance Rockefeller,
here's the book
I'm reading!  That'll be one each on Laurance and
Nelson
!)
And that brings me to the rule change.  A few posts back, I started a National Park challenge:  whoever visits the most National Parks during the calendar year 2021 gets a $50 gift card from REI.  But in introducing the contest, I also included very strict rules as to what constitutes a "National Park".  Originally, I wanted only the "big deal" places to count, i.e., only places that are called "National Parks".
I am now unilaterally changing that.  Sure - it directly benefits me, as I just visited two that now qualify.  That's the advantage to having your own blog!  But going forward, really anything that's run by the National Park Service, and is a meaningful distance from your primary residence, now qualifies.  I can hear the howls of protest!
But 10 seconds of seriousness:  I challenge anyone to visit either Cape Cod National Seashore or the Marsh-Billings-Rockefeller National Historic Park and not agree they are worthy.  Very, very worthy.
So
here
is the current Leaderboard; if you'd like to be added, please let me know the details and you may just win $50.  THE THRILL OF IT ALL!  You can see that we're rapidly approaching fellow NPS fans Elizabeth "Polly" Michaels and the quasi-hunk Primo Harvey, PhD - and something tells me their lead is going to deteriorate further very soon (like in late June when Julie and I are going
here
,
here
, and
here
!).


FROM THE UNWASHED MASSES

Anonymous II was kind enough to share information on a recent, but very hush-hush, trip.  I am not at liberty to provide any further details.  Nor can I identify a mysterious and supposed "expert" on Cape Cod who, after reading my
Cape Cod Travel Guide
, said:
"A very informative email. We've been to most of those places. We have to plan a trip. Of course we are going at the height of the season."
Look at Anonymous II with the edgy friends!  Specifically
seeking out
the crowds and chaos most others seek to avoid!  Counter-intuitiveness taken to an extreme - I LIKE IT!
Love across the miles to my Darwin cousins, who, per Lally in some nice recent correspondence, is at the storied Pittsburgh estate of Dr. Dimitri and Mrs. Carrie Darwin Sightwell, themselves celebrating their daughter's recent nuptials.  Congrats and hugs!
Thank you to anyone that is reading this blog.


KLUF

Today, I'm doing an experiment and I can use your help. 
In honor of Vermont, as big a simmering cauldron of Grateful Dead madness as any other locale in the USA, I give you
a TIDAL playlist of MQA Master quality live Dead shows
.  Only shows considered the "absolute best" of each era are included.  I believe there are 9 complete concerts - you're welcome.  Seriously - I bet even some non-believers will be won over with some of the insanely incredible jams contained within.  And of course, they're only Jerry shows.  John Mayer?  I DON'T THINK SO, SON! 
The experiment?  I am certain those that aren't full subscribers to TIDAL will not be able to listen to the
MQA
stream of the playlist.  But can you non-subscribers to TIDAL (I'd guess that's all of you) listen to it at all and if so, can you tell at what quality it's streaming?