TODAY'S RAMBLINGS

To welcome you to Monday, I will shock you with now two consecutive non-political, non-old man whining posts.  Last Friday, it was
USB charging nirvana
, and today, I will share with you my first experience Saturday at SF's spectacular Chase Center. 
I was the guest of the very kind Andre Aurich at the Golden State Warriors - Milwaukee Bucks game.  Andre is a very long-time friend and an occasional reader of this newsletter.  For those that don't pay attention to this kind of thing, the Bucks are the reigning NBA champs, and the Warriors are still . . .
the Warriors
.  I'm certainly a fan, and have the twisted ankles to prove it:  I've hurt myself a number of times jumping on the bandwagon during their numerous championship runs.
The Chase Center is one of the newest facilities of its kind in America, and the first in SF.  Nope - SF has never had a proper fancy-arena type of thing.  Although The Cow Palace may have had its charms, there's really no comparison.
Andre picked me up a few minutes after 4PM.  We wisely parked near the 16th & Mission BART station, from which SF's transit system runs free and frequent shuttles to The Chase Center.  Not bad, but I thought, my God where are the police?  Ever wonder where the items shoplifted from Walgreens go?  Well, they're right there, alternating with the open-air drug dealers on the sidewalk.  Of course they are.
No matter - it is city living, after all.  We hopped off the 10 minute bus ride right out front of The Chase Center.  And I was extremely impressed.  Definitely a party atmosphere, it's right on the water, and the building itself is integrated into the area about as well as it can be.  I like what they did with a neighboring building, whose exterior contours match the round Chase Center - so the impact of this massive disc is minimized, at least to a degree.  It's still a ginormous building, but for an area that has been a complete wasteland for the entire 30 years we've lived here (and many years prior), it is a decided upgrade.  Plus, the billionaire owners of The Warriors paid for it themselves, so there's that.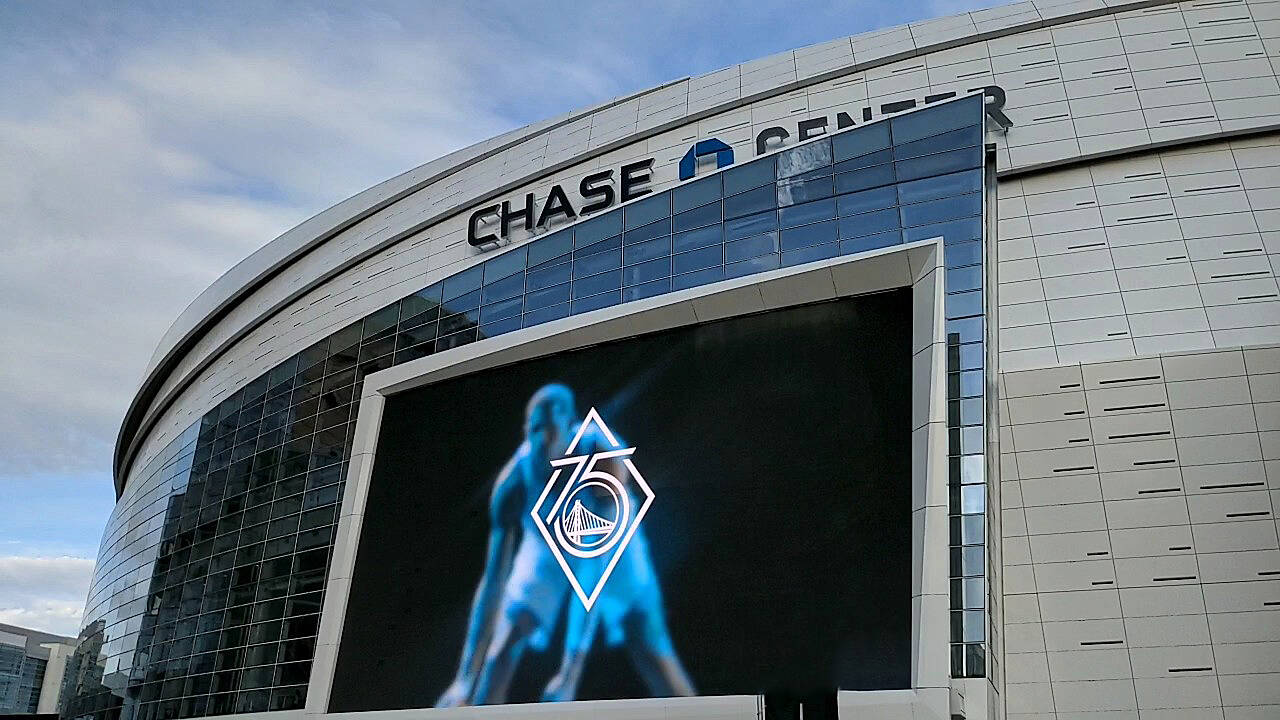 Outside and inside, it is hard not to be wowed by the fidelity of the A/V.  As a professional emeritus in the field, I ogled at both the size and clarity of the screens, and there was sound everywhere.  More on that later.  Here's a great picture from our seats. There's a lot in this photo:  note how far up the seats go; the two levels of suites; and, to the far right, in the tan-ish area, is a two story bar with a view of the basketball court.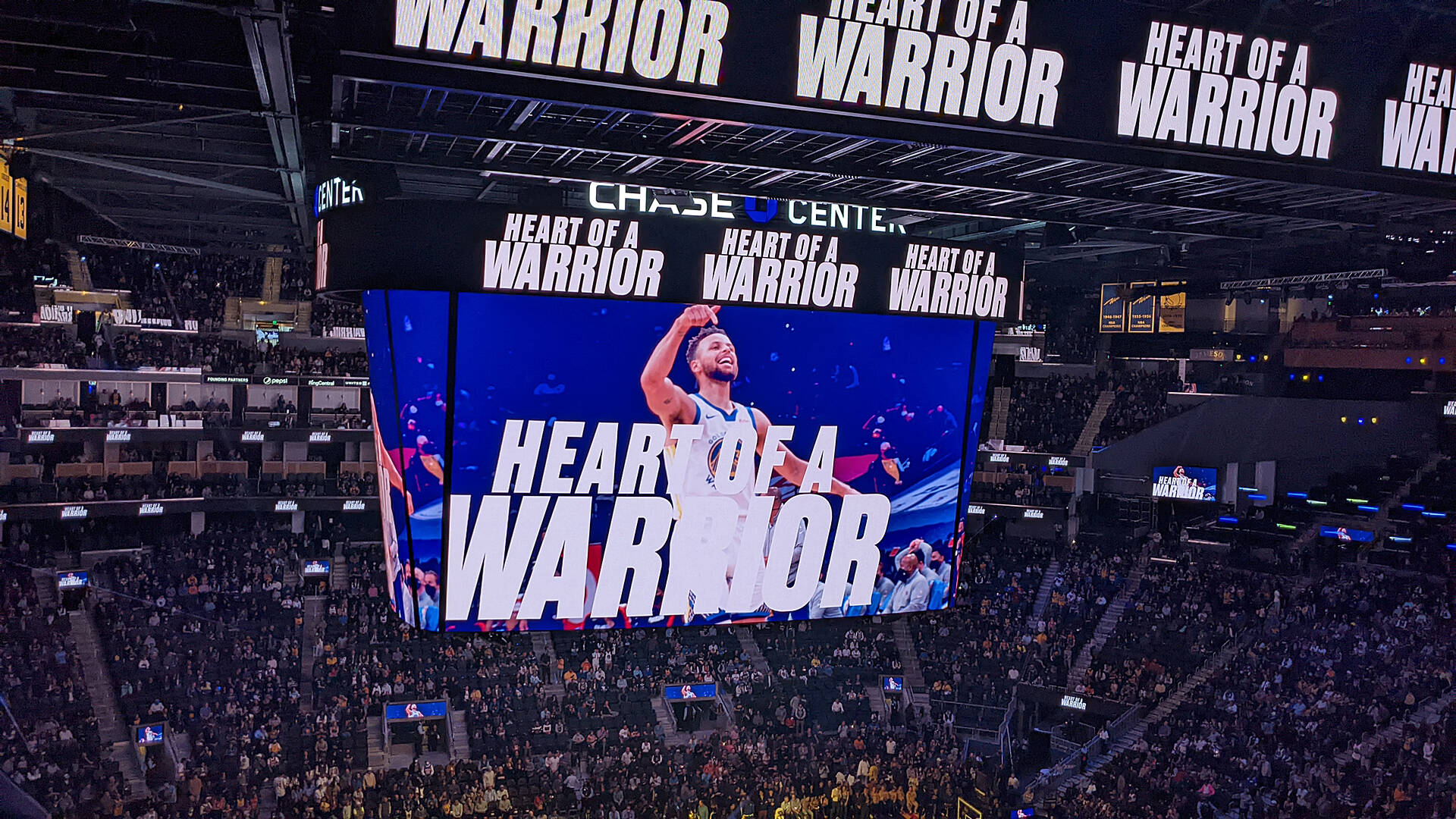 My take on Chase Center? 
Killer
, even in coach, and no doubt Diamond Certified if you're with the corporate fat cats in first class. 
Back in the real world, Andre's seats were in the upper bowl, section 207.  It's a super fun view, as you can take in the entire court, and there are just 3 rows in his section, which was cool.  Here are my notes.
Upper Bowl Amenities

Excellent, with a lot of choices.  But it does not approach inexpensive (shocker) and there were some lines for the bathrooms, although what I witnessed was at halftime.   Overall, I was impressed - heck, there are even dedicated tequila and Jameson bars!
Steep

Bring the equilibrium tablets.  In order to enhance the sightlines (and also to decrease the building's footprint), the vertical aisles are quite steep in the upper reaches of Chase Center.  Be careful.


Big Bar?

Likely for the best, Andre and I did not visit the Modelo Cantina (the two story bar I note above) and thus did not guzzle tequila shots.   But it looks like something I may have to try in the future.

Suites

I will sit patiently by the phone awaiting a call from the microchip titan Devin Singh, PhD, whose company lets him entertain clients and the occasional hanger-on friend in their suite.  Until then, we can all look at
these photos
of the yupscale spots and dream.

Screens

The photo above tells the story, for better or worse, and Andre warned me.  Note the size of the big screen in relationship to the actual backboard on the court, which is just visible at the bottom.  So what's the problem?  Well, as Andre said might happen, I found myself watching the massive, high res screen right in front of me, instead of the live action on the court below.  But only sometimes, and it was dynamite for watching replays.  

Sight Lines

Superb, at least from what I observed.  But the seats above us must be awfully far from the court - there are some seats way, way up there.  And we were quite high already.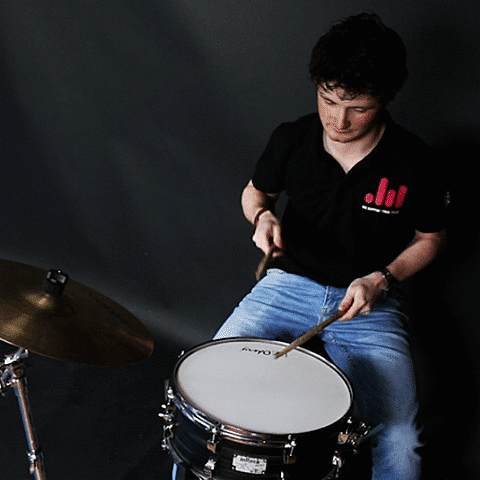 Aisles/Seating

Really my only beef, and I would hope it's an anomaly overall, but:  our aisle was a dead-end street.  There's only one way in to your seats, and one way out.  Suffice to say, that severely limited one's ability to go explore, as did the quite narrow design of the aisles themselves.  I'd call it
comfy
.
But Still:  Get Off My Lawn!
They play music
during
NBA games now?  The sound is excellent inside, but nope, I don't like it when the game is in play.  Not one bit.  And jeez, don't give baseball any ideas!
Before closing, another major shoutout to my host, Mr. Andre Aurich.  Thank you, my friend - great night.

FROM THE UNWASHED MASSES

While any actual music lover loathes the man, Hunter Deuce has always had an embarrassing Michael McDonald fetish.  With this, he proved it.  Although it is f'ing hilarious - thanks, buddy!
Row, Row, Row Your Boat
And at least it wasn't "
What a Fool Believes
"; my God, that song makes me gag.  I simply can't understand why it's Hunter's favorite song?
And this rocked my Saturday morning.  The midwestern intellectual Steven Simon sent this along. 
This has never been discussed
!  We are the lost generation! 
GENERATION JONES
!  I'd love to hear from those of this generation that read it - tell me you don't agree:
"Related to your recent newsletter on this topic...

https://medium.com/atta-girl/why-people-born-1955-1964-arent-baby-boomers-6afdebc5c3ba"
Thank you to any one that is reading this newsletter.


KLUF

Let's go arena rock.  Big-ass, no-holds-barred arena rock.  If this band still mattered, they'd be having massive shows at Chase Center, and I bet they'd be fun as heck, at least in their heyday.  Here is arguably the hairiest of hair metal bands, Def Leppard, and one of the biggest selling albums in rock history,
Pyromania
. 
Rock on Garth, indeed. I remember this album being at nor near the top of the charts for what seemed like two or three years.  But it doesn't have
all
of their best songs.  Hmm . . . what the heck. 
Fixed
!