(Editor's Note:  again, this one has a lot of photos - it had to.  So if it's slow to load on your device or if it seems like some pictures are missing, you may wish to read this post
here
.)
OVERVIEW
If you read this blog, you know I have several happy places.  Places where even an obsessive like me can let go, and not grind and grind and grind on the most trivial of things.  Those places include:


Hawaii Island
Anderson Valley
Tupper Lake
But there is nowhere I'd rather be than my favorite place in the world,
The Dolomites
in northern Italy.  We've now been here 4 times (2010, 2015, 2017, and now, 2022), and every time my reaction is exactly the same:  I just can't fucking believe how absolutely incredible it is.  Suffice to say there's a reason why it is a UNESCO World Heritage site.
It's not all that hard to get to.  Reasonable gateways are Venice, Milan, Innsbruck, or Munich.  Get yourself to Bolzano on a train, and go from there. 
But there's only one place to stay in The Dolomites.

LODGING
OMFG I go on about a lot of things.  Trump.  SF.  The state of America.  High speed rail or the lack thereof.  And yes, even the insane version of "
Xanadu
" from that 3/25/1981 Rush show at Maple Leaf Gardens.
But those of you that know me - at all - know there's nothing I go on about more than
Adler Hotels
.  You see, to me, their properties (we've visited 4 of their 6, some multiple times) represent the epitome of luxury.  Not opulence, mind you, but luxury, as defined by my better half:  not wanting for anything.  Ever.
Ask anyone we've beat into submission.  Hunter and Fi Deuce.  George Valiant Walker and Sherry Pace.  Champ Hustler and Chloe Storm.  And yes, even the late-comers Elizabeth "Polly" Michaels and Primo Harvey PhD.  Each and every one of them have basked in the splendor that is Adler, and I'll bet each one would confirm my unbridled enthusiasm.  Their hotels are the definition of
Diamond Certified
.  Oh, and the Sanoner family has owned and operated their hotels FOR SEVEN GENERATIONS.  My God, does it show - they simply know how to do it.
And among their properties - not a loser in the bunch - there's one that literally towers above them all, and that is the singular and incomparable
Adler Mountain Lodge
(or Adler Lodge Alpe, if you want to be cool about it).
The Adler Mountain Lodge is located at Alpe de Suisi, part of the ginormous Dolomiti Superski complex.  Ginormous?  Hunter Deuce and I have skied here, and we calculated that the skiable terrain is the equivalent of 14 Vails.  Go look it up if you think I'm crazy.  You've just never seen an area this vast.  Or stupefyingly gorgeous.  The hotel is located on the largest alpine meadow in all of Europe.
More precisely, the hotel is not in a town.  It's right on the f'ing mountain.  And there's no better time than every month of the year.  This time, for us, it was mid September. 
Yeah, it was OK - this is a picture from our room upon our arrival.  Every.  Single.  Room. Has. This. View.  You never - and I mean never - get sick of looking at the vistas.  I've never been anywhere like it.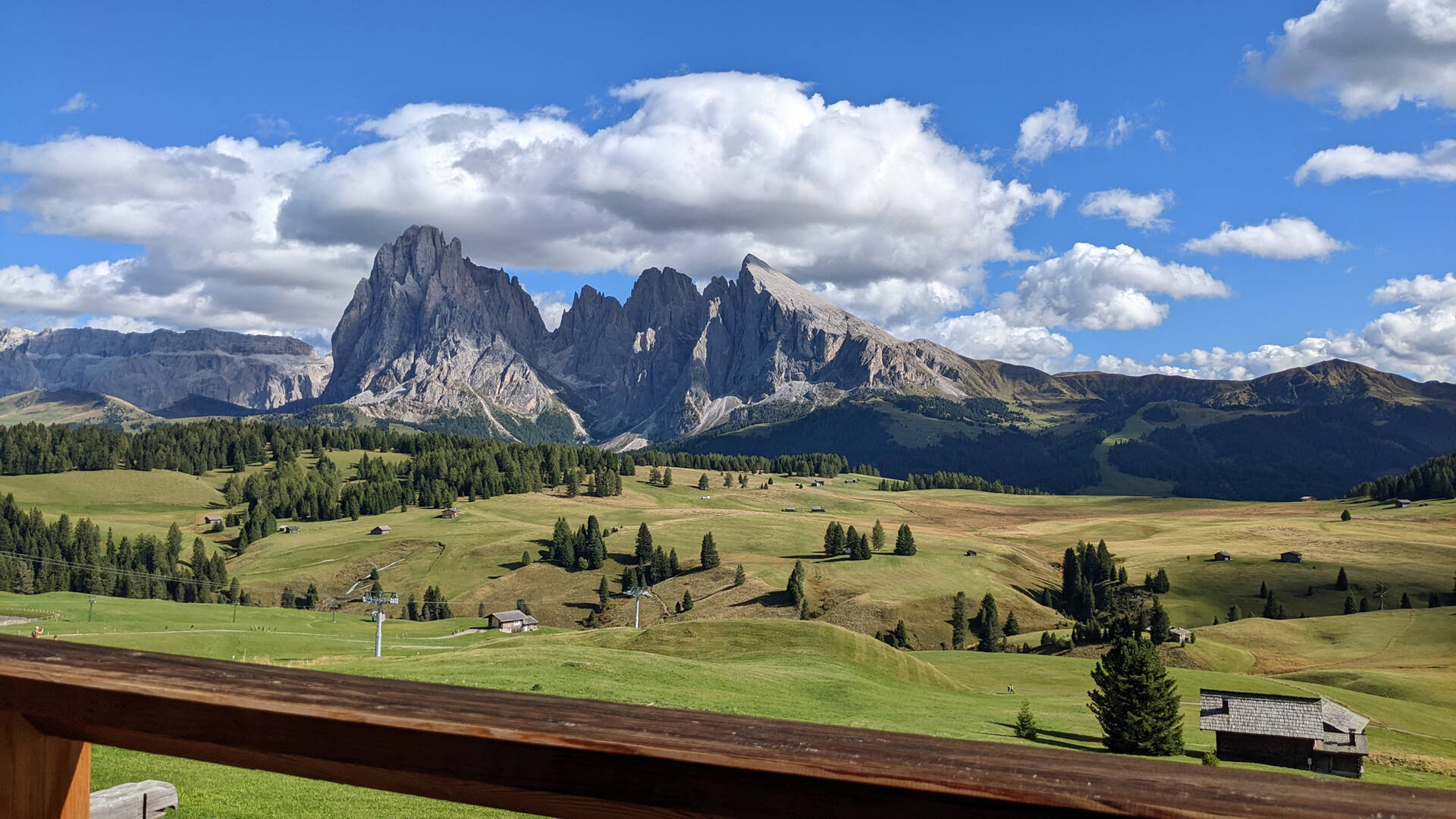 Specifics?  The place is isolated, so
everything
is included.  And I do mean everything.  Every meal.  Every cappuccino.  Every beer.  Every wine.  Every cocktail.  Every activity.  Every everything.  In a place with a build quality that would impress even
Jeff Moroso
.  And with personalized service that leaves has-beens like The Four Seasons in the dust. 
Example:  after one single night, when I would appear thereafter at the bar for cocktail hour, whomever was there asked me "A Negroni this evening, sir?"  No, I am not kidding.
I should also note that, like Hotel Val di Sogno in Lake Garda, Adler Mountain Lodge does not allow children, nor outside visitors.  So yeah, it's mighty chill.
Pools?  Spa?  Well, let's just say the Adler hotels are known for their gonzo pool and spa facilities and I'll make the bold prediction you won't be disappointed.  The indoor/outdoor infinity pool has to be experienced to be believed.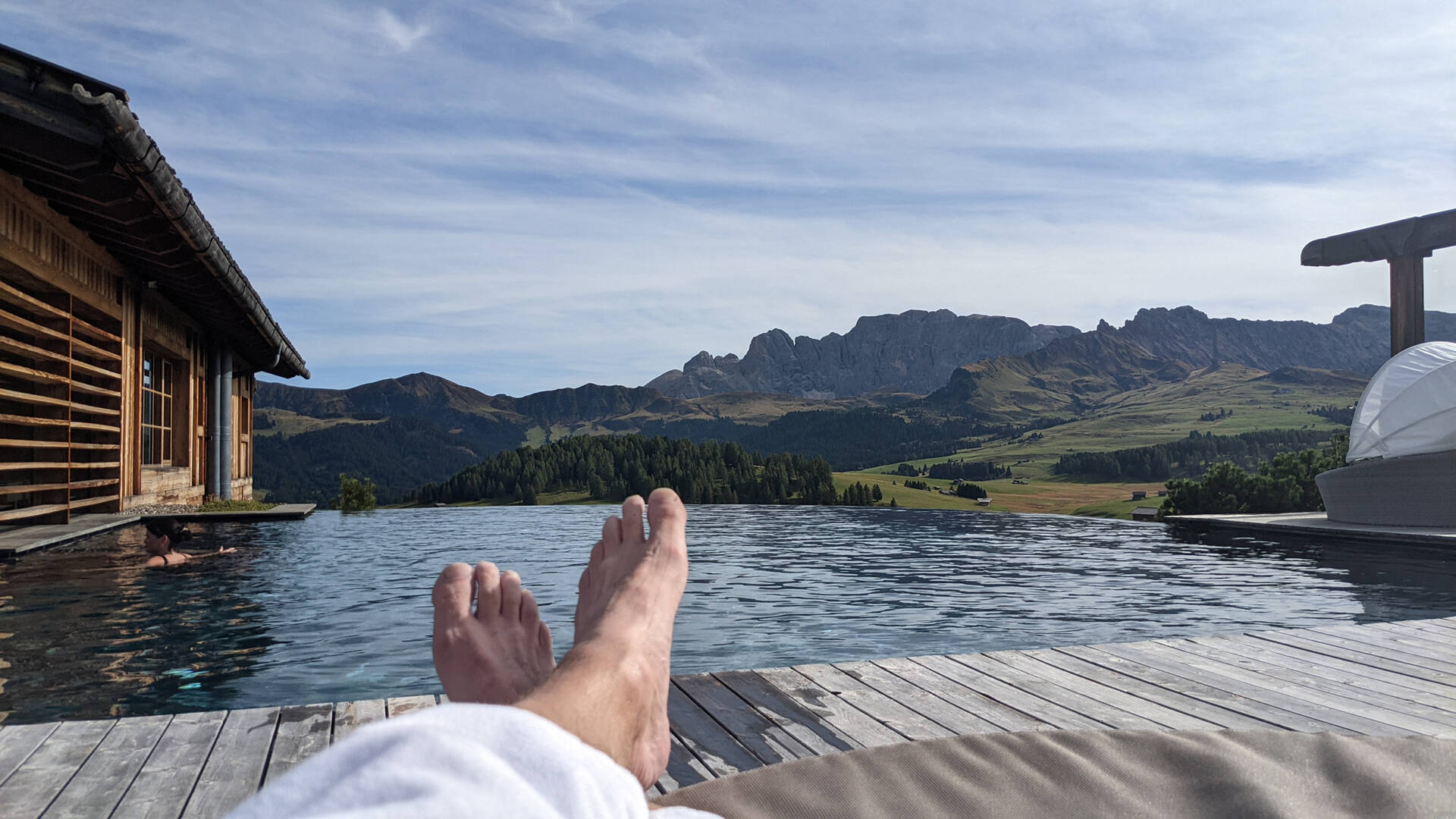 And here's what it looks like in the relaxation room at the spa.  Um, yeah.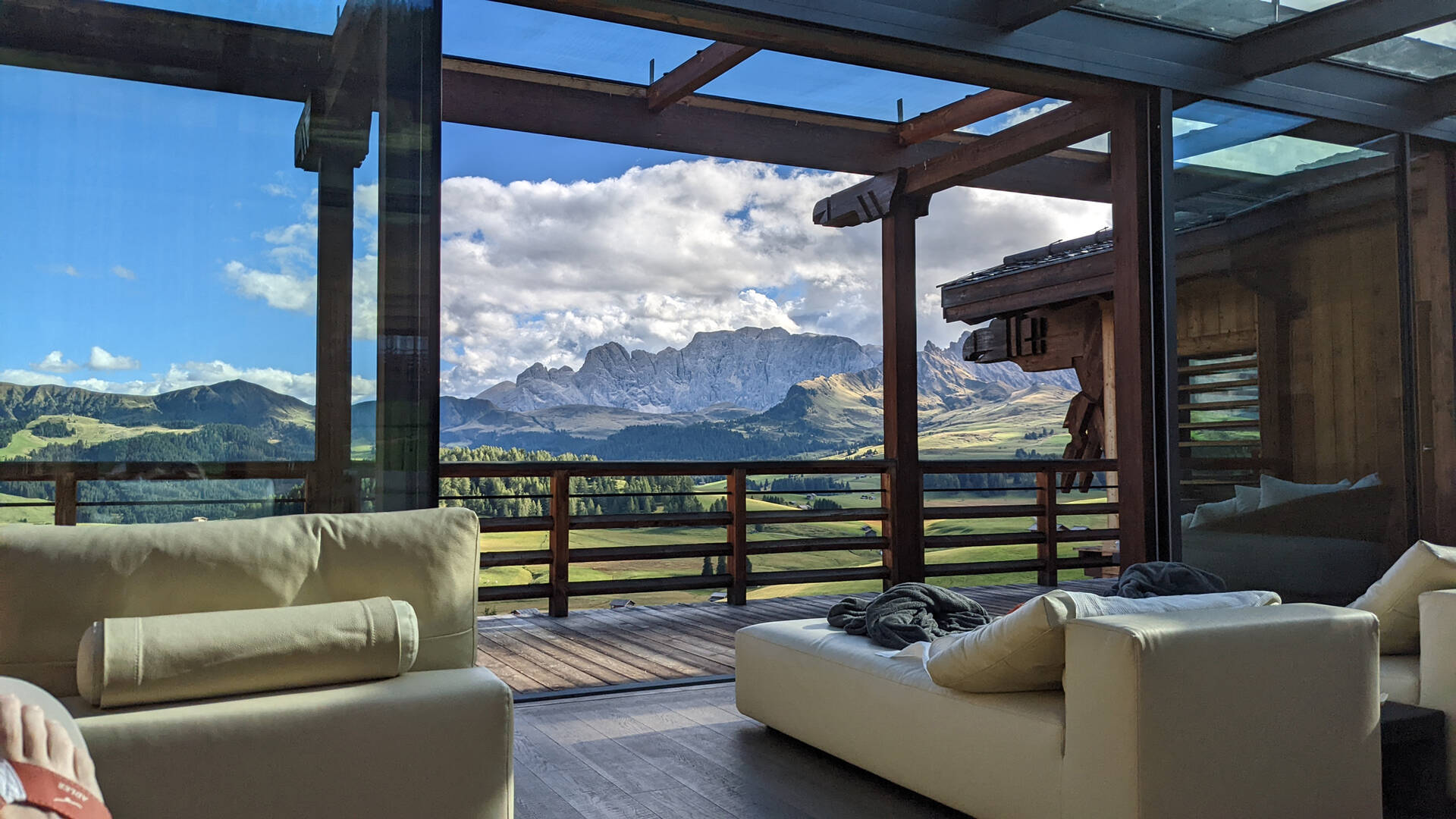 OK, I lied:  one thing that isn't included are spa treatments like massages, facials and manicures.  And that's my big Pro Tip:  after you check in, go immediately to the spa desk and set yourself up with treatments for your stay, such that you can book massages, etc. at times that fit your desired daily routine.

And what is that routine?  I am so glad you asked!


Awake with the sunrise
Breakfast around 8 or 9
5 mile hike or longer e-bike ride
Maybe hit a hutte (see below) for a weissbier
Massage at 11 or 11:30
Drinks/lunch from 1PM onwards
Go for a swim and a spa circuit (steam bath, sauna, plunge, rinse, repeat)
Nap it all off
Espresso in the room
Another short late afternoon walk
Cocktails in the bar from 6:30 onwards (but there are fine beers and wines on offer at all hours)
Sumptuous dinner
After dinner drinks outside by the fire
You won't believe it until you do it.
My other Pro Tip?  Don't stay for less then 7 nights.  You'll see.
OK, OK, I bet you're asking yourself:  what exactly does this insanity cost?  7 nights cost a total of $5,900, or about $850 per day.
Now, that might seem like a whole lot of money until you consider that is for everything, for two people.  The perfect hotel room.  5 spa treatments for each of us.  Food presentations at breakfast, lunch, and dinner you have see to believe and that are Michelin-star quality.  Every drink - and you can order just about anything, and you can also pour it yourself when there's no bartender.  Christ, the grappa selection alone is nuts.  And every bit of it is included in my number above.   
And when one considers that the CHEAPEST room at a place like the
Rosewood Miramar in Montecito
is $1,400 a night - inclusive of absolutely nothing except a room with no view of the beach and gobs of SoCal attitude - it is the definition of value.  At least to me. 
THE GREAT OUTDOORS
This is easy.   Go outside.  Go in any direction on foot or on the free e-bikes the hotel provides.  I assure you, you'll be able to figure the rest out on your own.  In the words of the esteemed barrister Professor Howard Blum Esq.:  there is no downside.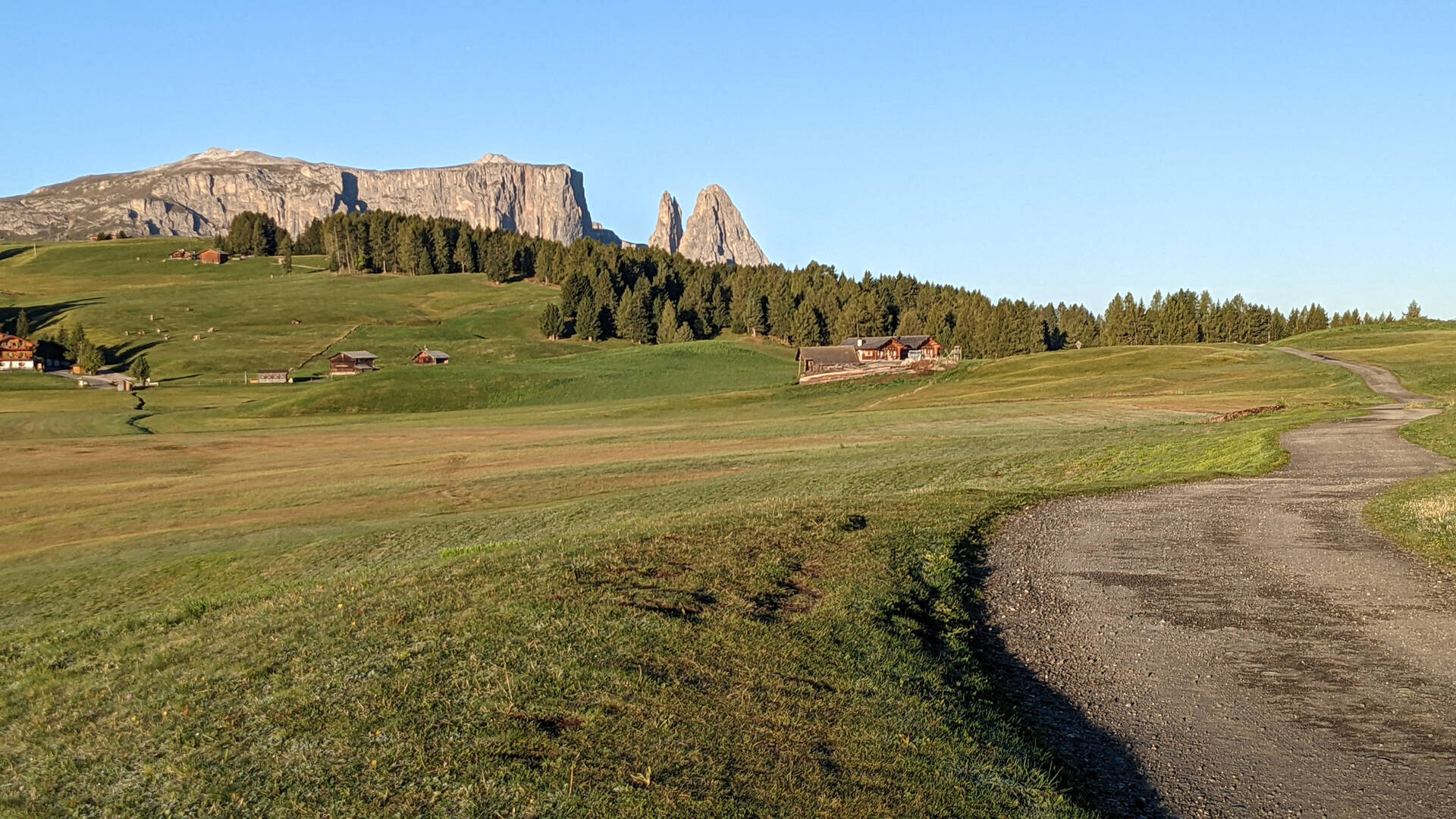 Except don't not go to The Sofie Hutte!

EATING/DRINKING
The vast majority of our eating and drinking - obviously - takes place here at the Adler.  It's not a problem.  No, really.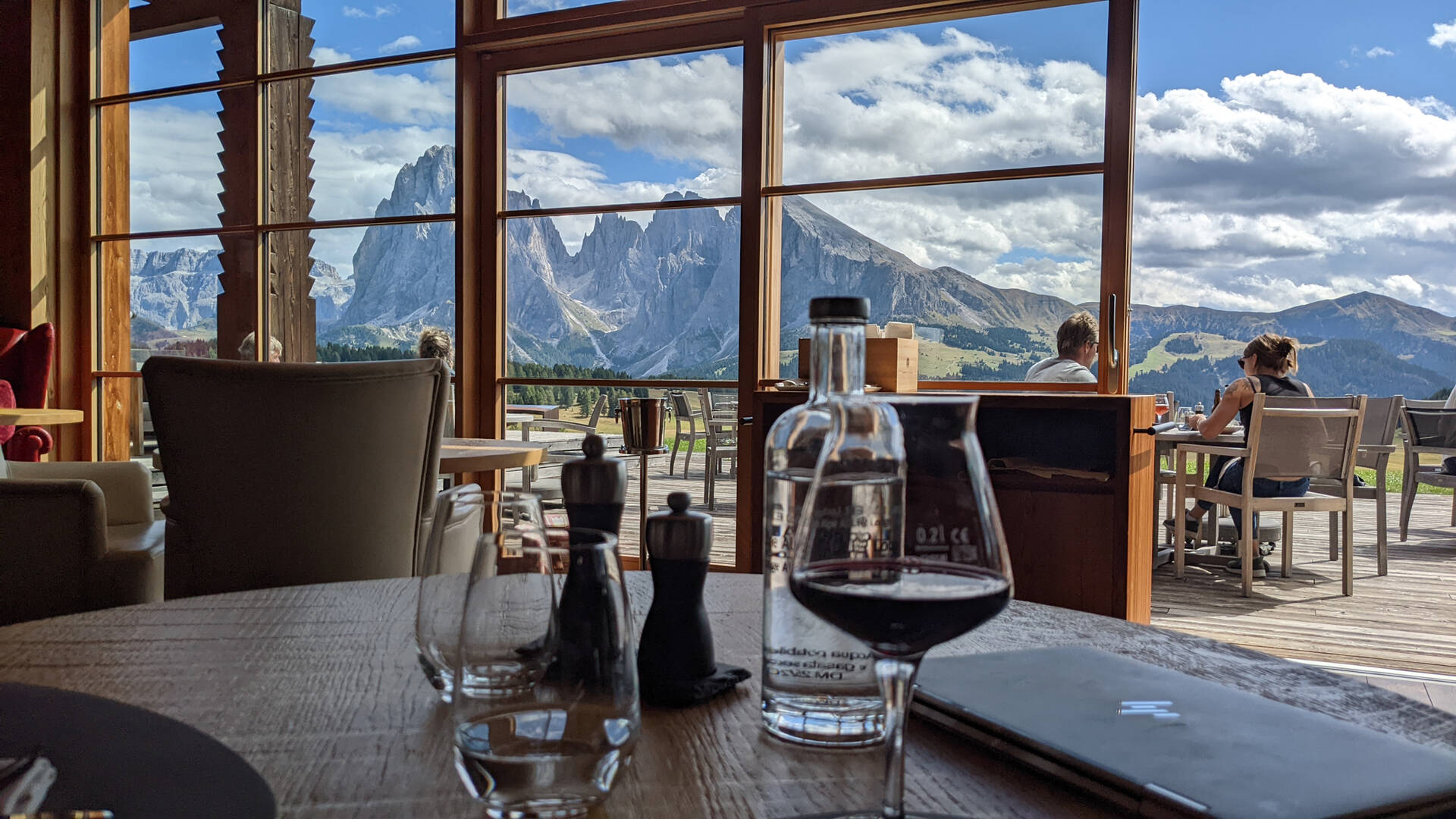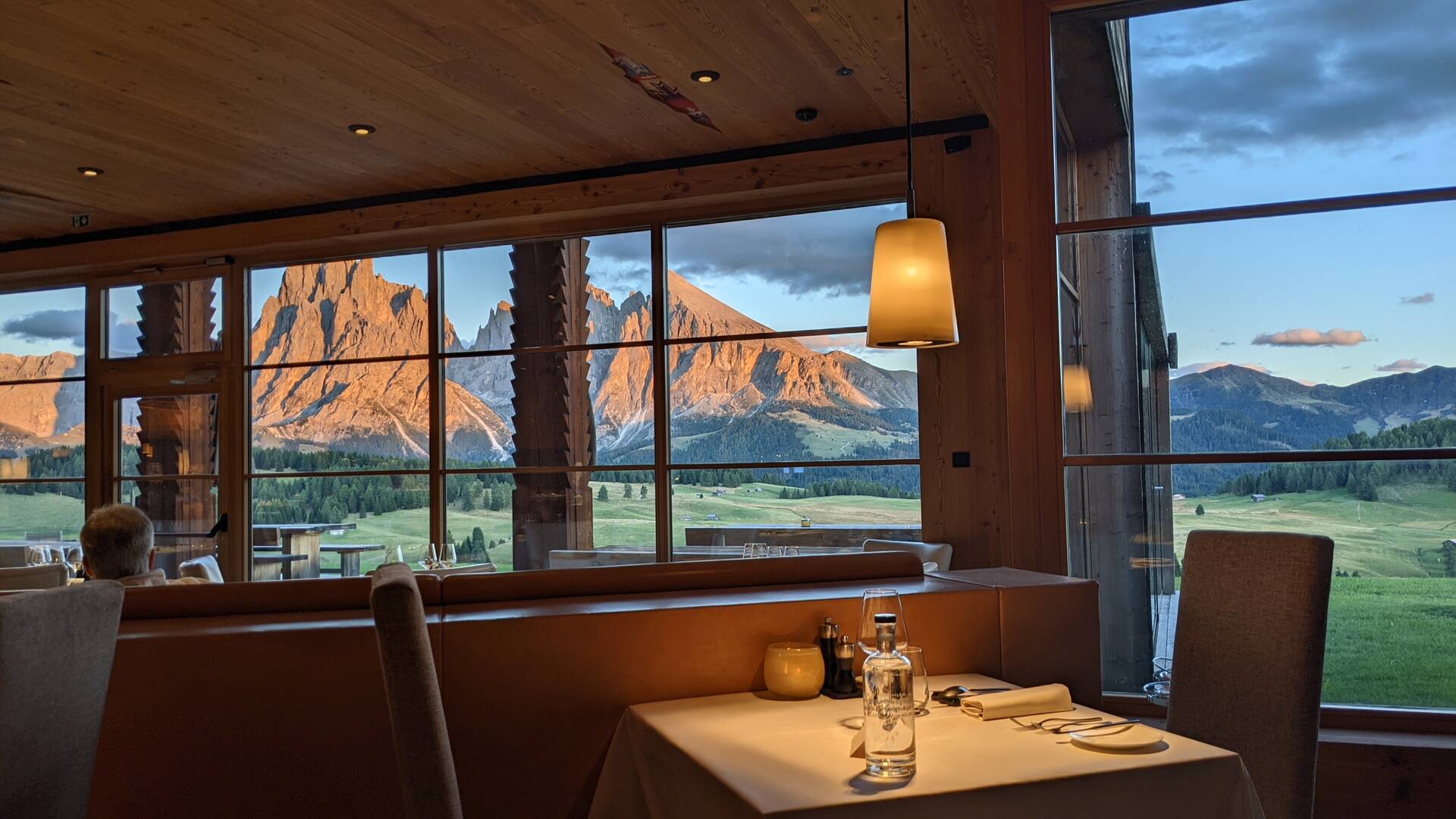 But:  we never - and I mean never - come here without a trip down mountain and then right back up to
Val Gardena
for a visit to
Sofie Hutte
.  Sofie Hutte is my favorite restaurant and bar, of any in the world.  And God knows I've been to plenty.  Can you guess why it's my favorite?  It's not the weissbier and here's a hint:  it has something to do with its location.  It's right there, on the left in the photo below.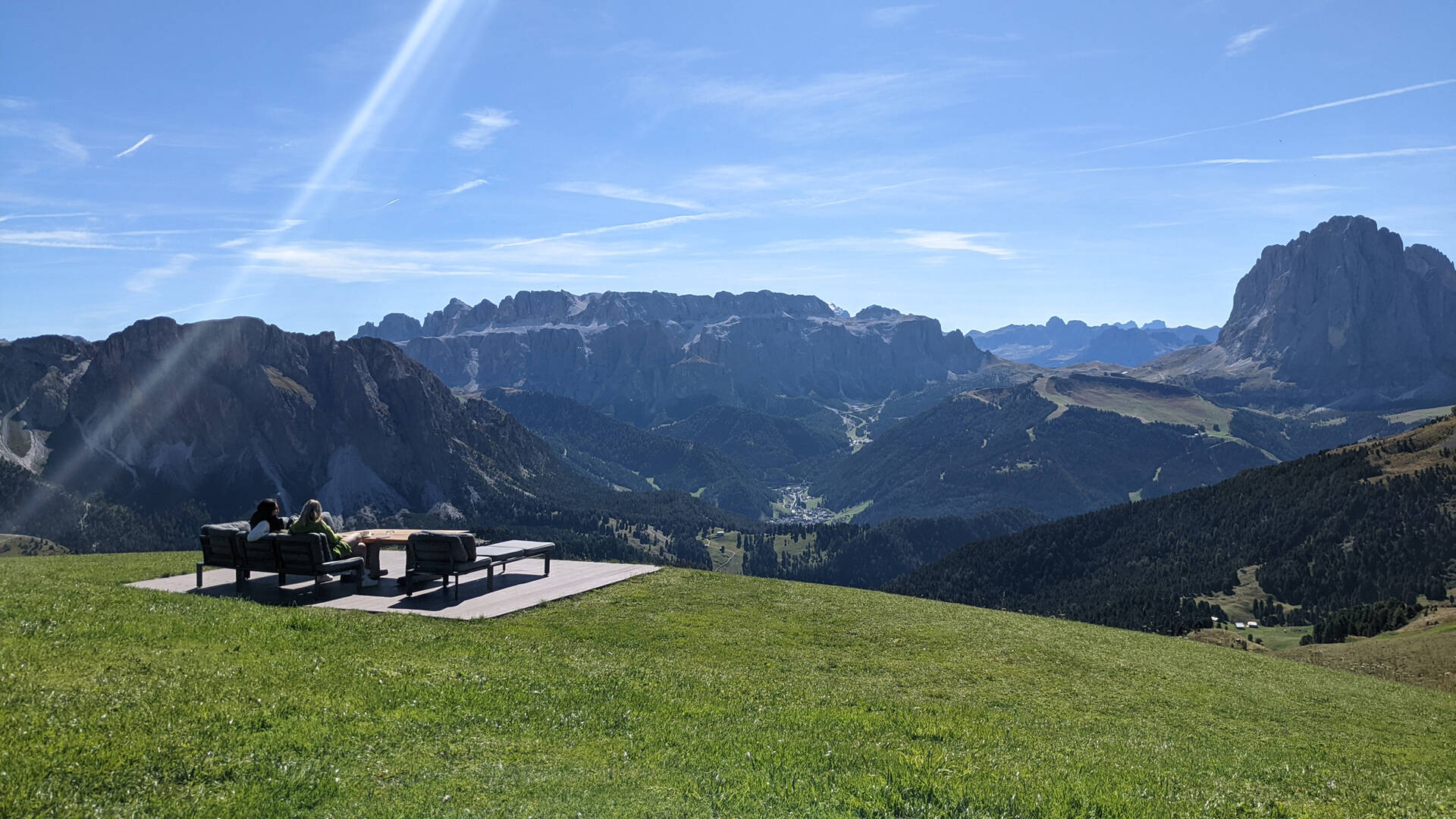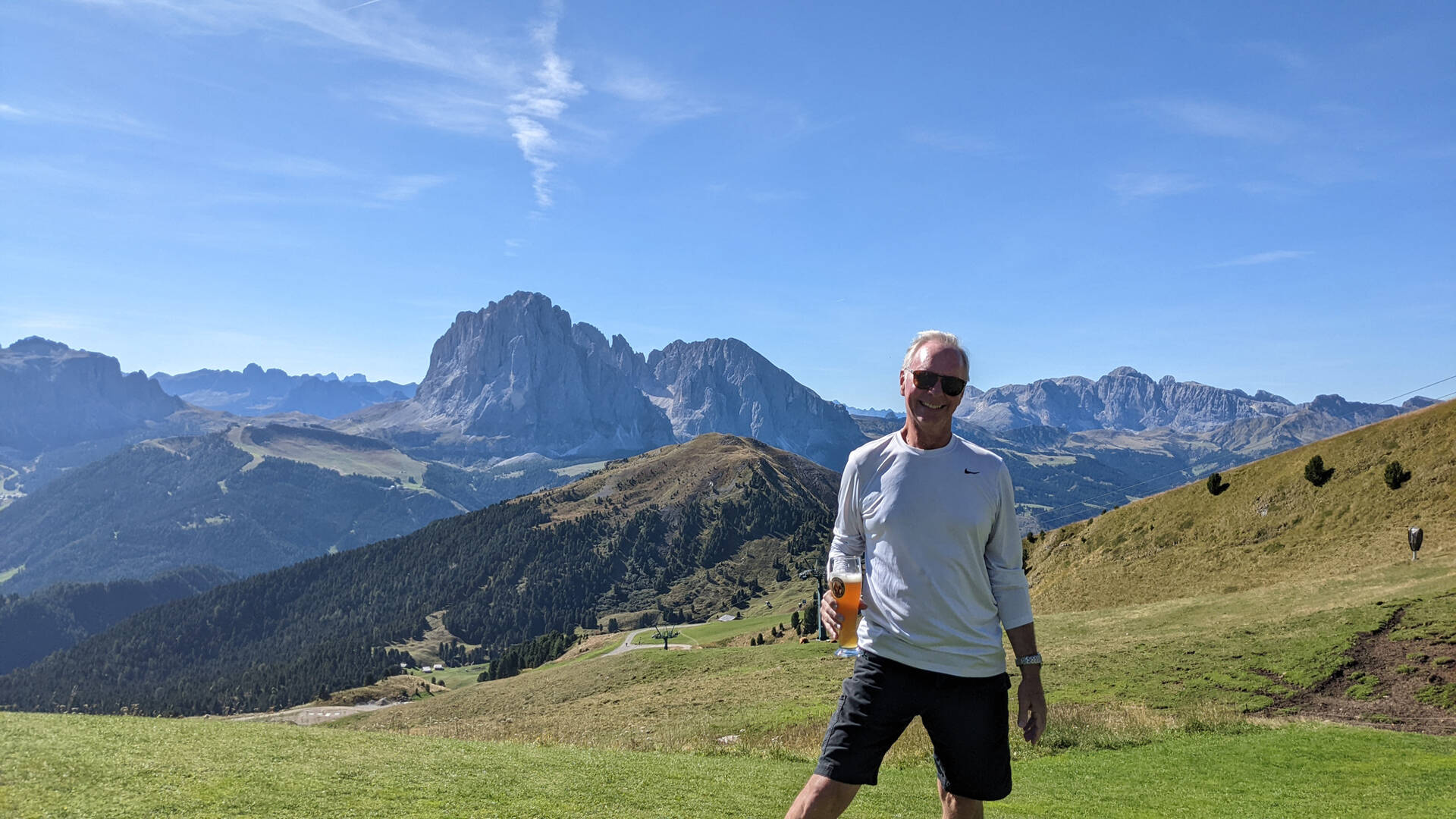 The Sofie Hutte simply ticks every box, in fact the food is almost as good as the setting - but only almost, because the setting is very, very special.  It's a must-do adventure - the tram ride to the top is itself a thrill, and you can see the payoff for yourself.  There's
even a movie
.
And remember:  any time you see the word "Hutte" or "Malga", think amazing and rustic mountain restaurant and bar.  There are three right near the Adler, and all are Textbook (at least!):  

MUSEUMS/GALLERIES/PERFORMANCE ART
What?  Huh?  Did you say something?

SHOPPING  
Oh heck.  I know I normally scoff at this, but if you do ever come, it's worth a trip down the mountain in to the Textbook alpine village of Ortisei.  Yes, it's a tad touristy.  But you'll find stuff in the upscale shops there that you just can't find elsewhere - like my beloved ski jacket.  This is from 2017, but you get the idea.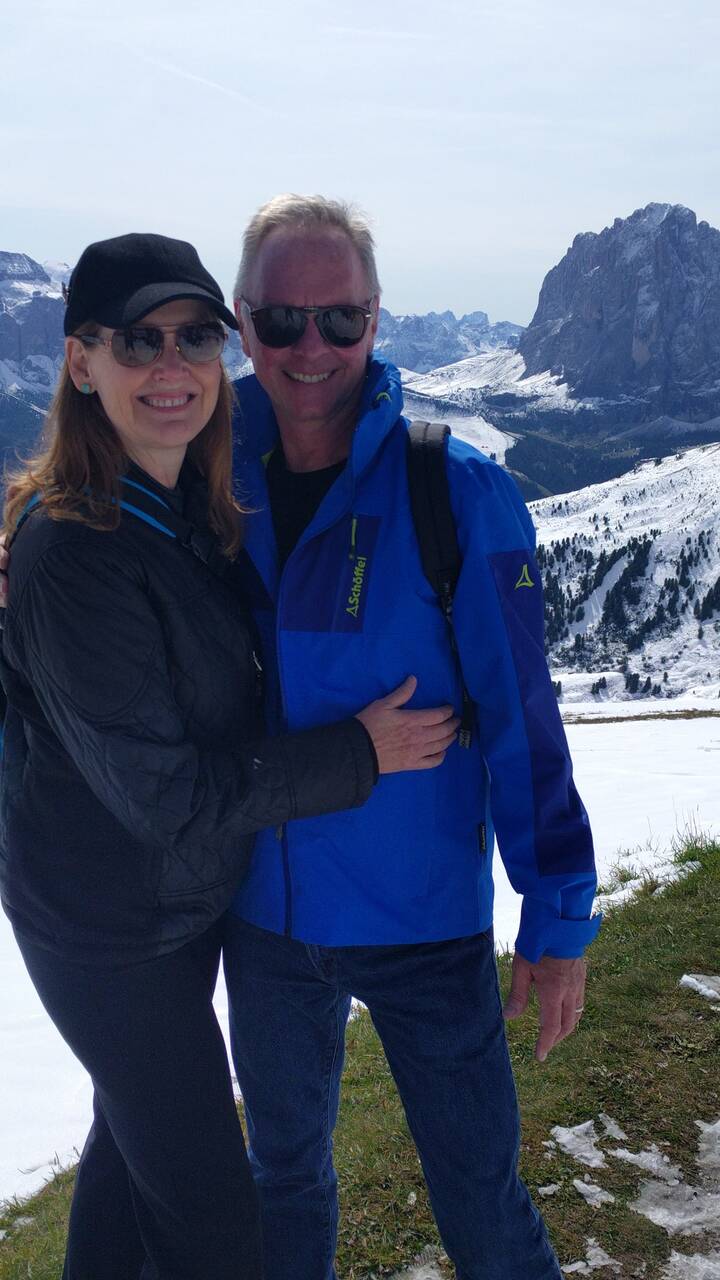 It's been quite a week here, and yet, The Dolomites still had one more surprise for us!  This was the scene on the morning of our last full day, Saturday.  Yes, even the weather is Diamond Certified - for the record, it was sunny and nice later in the day.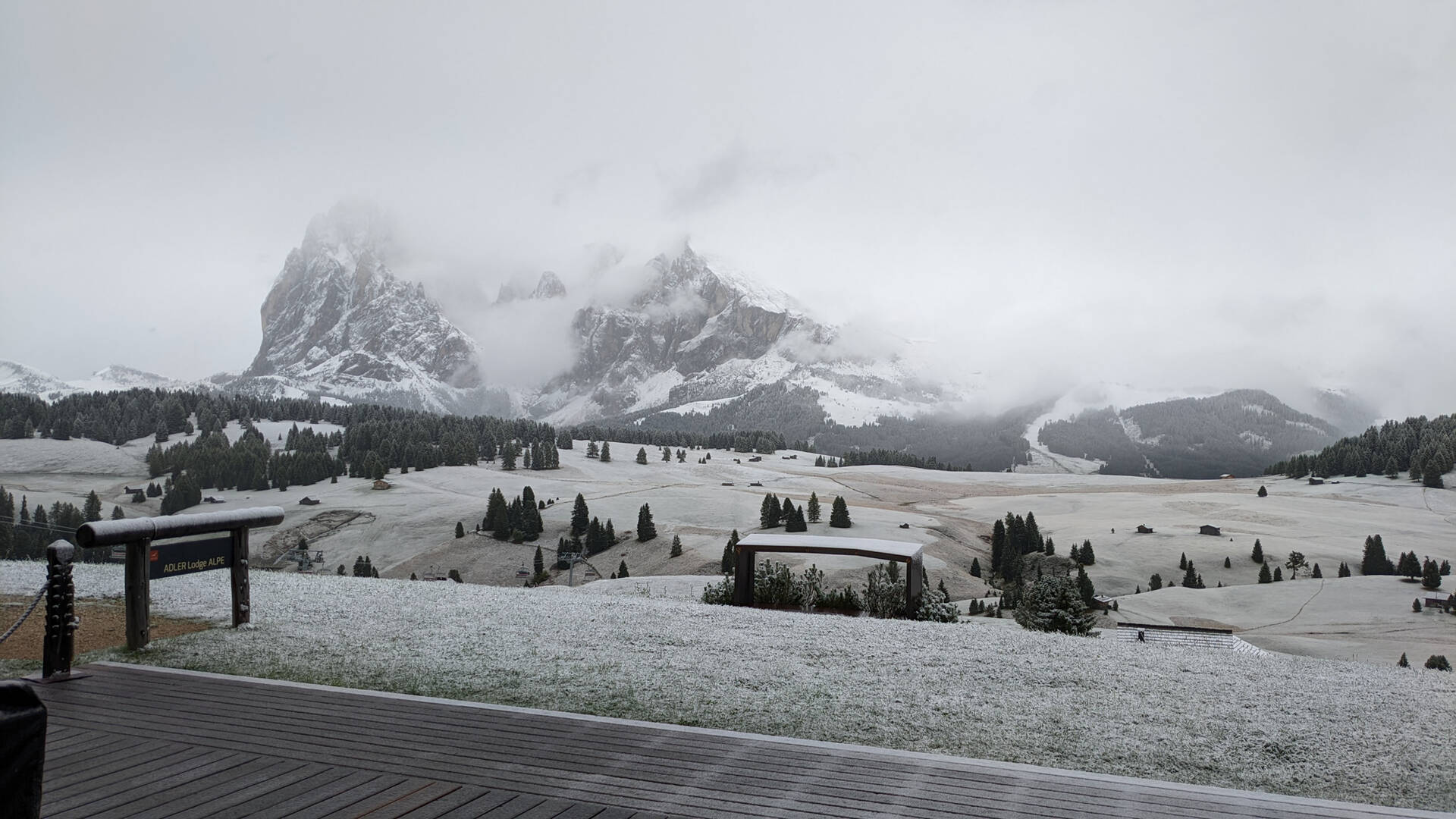 The Dolomites are truly a place apart - I hope you have an opportunity to experience the area yourself, soon.  Off to Innsbruck!