TODAY'S RAMBLINGS
Time to hightail it out of here before I grow too weary of the gratitude I'm receiving from most here at The Villa regarding the work Dr. Murphy and I did.  Since last Friday, we:


Completely replaced the Ubiquiti Unifi WiFi system I had installed in 2013 (!) with 4 Eero Pro 6 access points.  These are great and the WiFi here is the best it's ever been - just don't forget to put your first Eero in Bridge Mode if you're connecting it to an ISP gateway (vs. just an ISP modem).   I thought the Eero's were smarter than they are and I failed to do this.  Doh - two routers on a LAN is not pretty.  But once in Bridge Mode, Eero WiFi gets a Killer rating.
Completely replaced The Villa's Sonos audio system; the good Dr. had an S1 system and it was time to move to S2.   Killer, although finding each Amp's serial number in order to bring them online is not wonderful.
Finally fixed the Outdoor Kitchen, in terms of connectivity.  I used these Ethernet over coax media adapters and we're now talking gigabit WiFi speeds whilst getting plastered poolside.  Killer.
Put in new sound systems for the Family Room and Playroom TV's.  These previously had traditional AV receiver-driven surround sound systems, controlled by custom remotes.  Now, it's a Sonos Beam (front speakers), Amp (surround speakers), and Sub in each room, and the TV's native remote does it all.  The sound is Killer, too.  In total, the good Dr. now has a total of 9 Sonos zones, three of which are seamlessly integrated with TV's.  Totally Killer.
And the most fun upgrade:  we dumped her 92" projection screen and high-zoot (but woefully obsolete) Runco projector in The Villa's Media Room for a new 85" Sony 4K LED flat panel TV.   Dr. Murphy is astounded and very pleased that this heretofore little-used space is now functional.  In fact, extremely functional - dare I say Diamond Certified?
This extensive work brought a yawn and little else from some here at The Villa, but Shelly's very jacked, so I'm happy.
We toasted to our success with a Killer piss-up at lunch Wednesday at the new Houston outpost of the New Orleans' legend
Acme Oyster House
.  We met the owners at the Astros' game Tuesday night, and Jake and his crew took great care of us.  Best oysters I've had in a very long time.  Good luck to these very nice people.
But all (mostly) good things come to an end, and a driver is arriving in a bit to whisk me away in style to the barely Serviceable IAH.  Great visit to Houston, though - thanks, Fave!
So it is now a flight back, a second Moderna jab on Friday morning, and then Julie and I drive up to Mendocino for what should be a 3 great nights.   Here's to not getting too sick with the second shot . . . we don't want anything interfering with our
Anderson Valley wine tasting
!
For your weekend reading pleasure, I'd like to introduce you to the writings of a colleague of Julie's at her law firm,
Paul Haughey
.  His whitepaper, "
Divided and Conquered
", spells out both the mess we're in as a country, and also some exceptionally reasonable proscriptions for addressing the mess.   Hard to believe this guy is also a top intellectual property attorney in addition to being a brilliant observer of what ails us - where does he find the time?  Anyhow, I hope you'll spend some time reading
Divided and Conquered
, as well as checking out Paul's other writings - he clearly articulates what many (most?) American's feel.
FROM THE UNWASHED MASSES

The replies were fast and furious to my
Fake News in Real Time
post. 
The always-considerate Byron Browne thought I cut it a bit close, in terms of calling out people in whose luxurious homes I'm staying and hanging with.  I appreciate that and indeed, I've voiced a concern to Julie recently that this blog could harm relationships about which I care deeply. 
10 seconds of seriousness:  I sincerely would never want that - so please reach out to me at any time if you are mentioned in this blog and would rather not be again.  Your name, fake or otherwise, will not appear in the future if that's your preference.
So thank you, Byron, and I will heed your advice.  Actually, I already have - Bryon should notice I left out many of the sordid details from our week this month in Palm Springs together :)   
And while I try to tamp down incendiary replies from The Masses, this meme sent by the Internet maven Hunter Deuce while tanning on Hawai'i Island is too good to suppress.  Thanks, Hunter!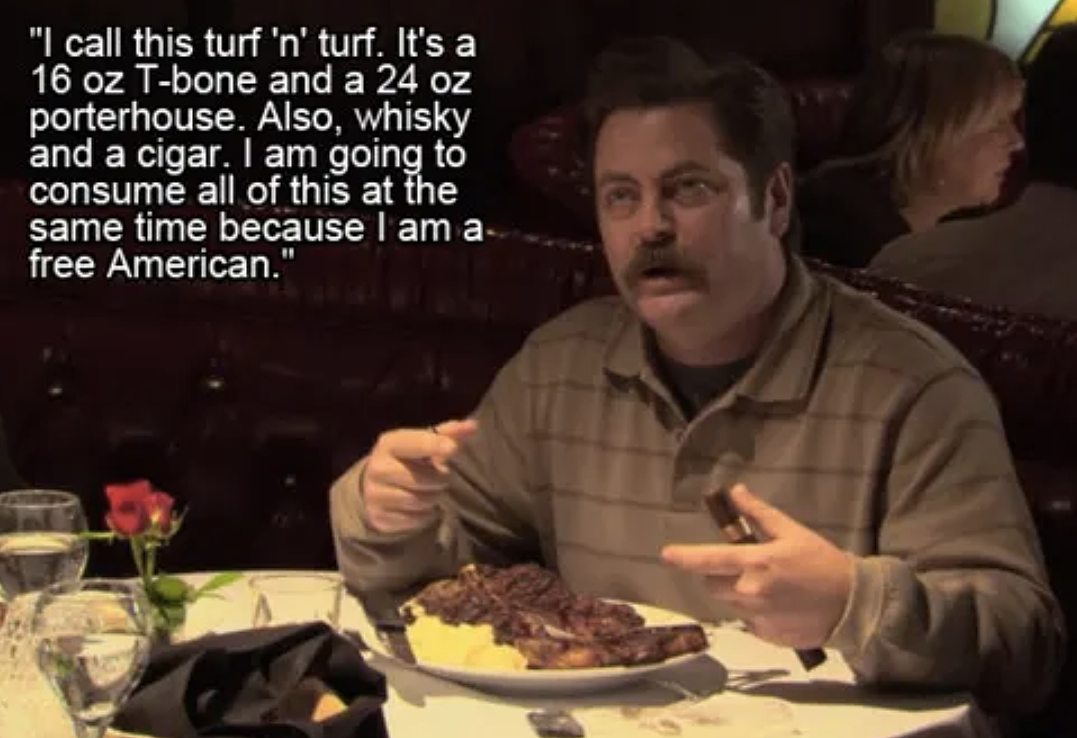 A friendly reminder that the Biden administration never - never - suggested any limits on meat consumption. 
That story is a complete fabrication
.  So again, rather than
coming together to solve our most existential problem
- Climate Change - some simply make stuff up to further divide us.  Read
Paul's paper
!
As always, I sincerely appreciate you reading and (especially) replying to this blog - thank you.  Next stop: 
Mendo
!
KLUF

Televisions?  Great sound?  From way back in 1977, here is Television's seminal and brilliant "
Marquee Moon
".  Tell me you can't hear their influence on Talking Heads and many others!