TODAY'S RAMBLINGS

Today we depart Cape Cod, for Woodstock, Vermont; the eagerly anticipated Cape Cod Travel Guide will be published soon. 
Overall, this sojourn to the Cape joins our pantheon of
Diamond Certified
vacations.  We are a lucky and fortunate couple, and not lazy:  our last day was spent on Nantucket.  You can see our photo highlights from there and the whole trip
here
.   I'm leaving Cape Cod with these words of wisdom, learned yesterday, on Nantucket.  They, like the charming island itself, indelible in my mind forever:
"To err is human, to arr is pirate."
But before Nantucket yesterday, on Wednesday, while on our way to the incomparable
Race Point Beach
within the also-incomparable Cape Cod National Seashore, we stopped and hiked the easy
Beech Forest Trail
, a 1 mile loop.  You know, the kind of trail every National Park, Monument, Recreation Area, and Seashore all have, such that even the most infirm can get in on the action.  And you know, the kind where you're not expecting to hear the sounds of "
HELP!  HELP!  HELP ME!
". 
Every beach, trail, bar, and restaurant has been so empty, including the Beech Forest Trail, we initially thought it couldn't be.  But what at first seemed like mumbled sounds of an unknown origin became the very well-known screams of pain of someone for whom a day out has gone horribly wrong.  In this case, a mountain bicyclist got to say to strangers (us) "Oh my God, help me.  I went off my bike and I've got a hole in my knee!"  That was in between some pretty bad cries, whimpers, and general misery.  This guy was not in good shape. 
We thought initially he meant a compound fracture, but instead, he "only" punctured his knee via a tree when he went flying off the bike coming over a ridge a little too hot.  We shortly learned he had managed to tie off his leg with a ripped t-shirt to slow the bleeding.  This was about 11:00AM. 
We tried to calm him and ourselves and thankfully, there was cell service and we got 911 immediately.  The response time to a backwoods trail was impressive, with perhaps 10-15 minutes passing before a National Park Service Ranger appeared, and he was only the first wave.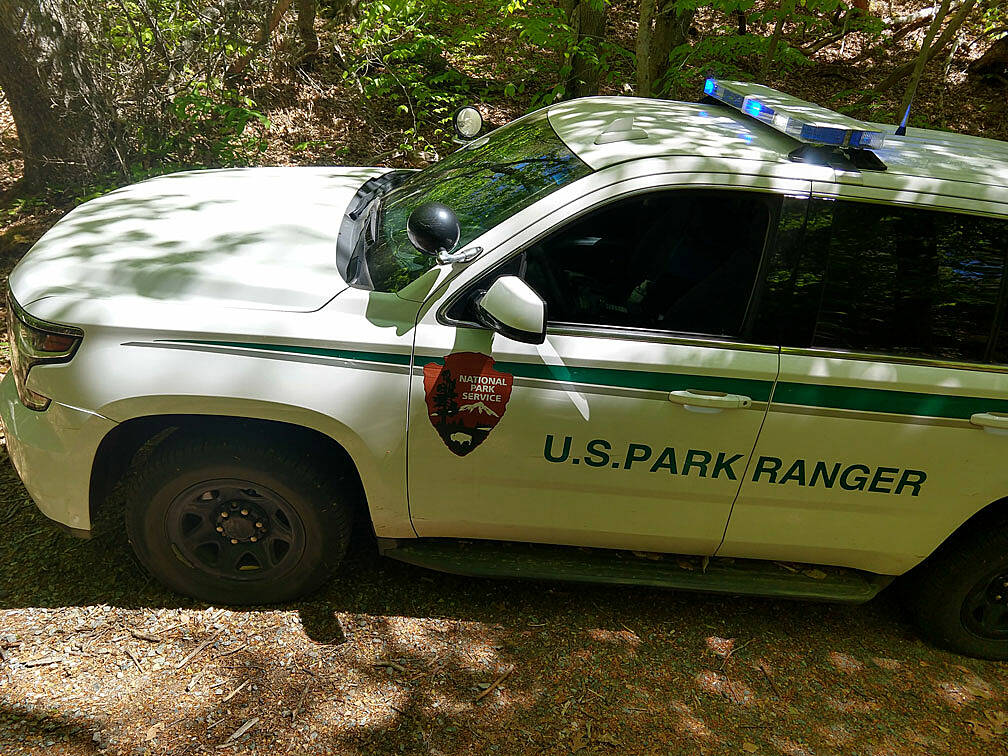 Back at the trailhead, there were two ambulances, and assorted Park Service police.  Sure, a slow day probably, but still nice to see.  We wish our mountain biking friend a speedy recovery.   
And kudos to the stalwart pair of ladies who came up the trail shortly after we had called 911.  Displaying far more actual bravery and humanity than either myself or Julie, they went right to the injured cyclist, checked his wound, and comforted him directly until help came.  So although we found him and called 911, Clara Barton and Florence Nightingale we're not.
---
So, jeez stay safe.  Especially if you visit another national treasure, the United States Capitol. 
I'm going to pull a quote from a recent
Heather Cox Richardson
post. 
I made this very point
a few weeks ago and I know many, many flaming liberals to my left sincerely crave intelligent, reasoned debate with conservatives on what faces us.  
But if we can't agree the realized desecration and attempted destruction of our democracy that occurred at The Capitol on 1/6/21 warrants a complete, objective, and transparent investigation, where do we start?  The furor over Benghazi from many of the same people that now think "we should just move on"!  My God, friends - it's just not right.    
As always, any thoughtful response from anyone on this subject will be posted without comment or malarkey.
Representative Tim Ryan (D-OH) spoke for those of us who are gobsmacked that anyone could say we do not need to investigate the most profound attack on our democracy in our history. He thanked the Republicans supporting the creation of the independent commission and then turned on the rest. "Benghazi. You guys chased the former secretary of state all over the country, spent millions of dollars. We have people scaling the Capitol, hitting the Capitol police with lead pipes across the head, and we can't get bipartisanship. What else has to happen in this country? Cops: this is a slap in the face to every rank-and-file cop in the United States. If we're going to take on China, if we're going to rebuild the country, if we're going to reverse climate change, we need two political parties in this country that are both living in reality—and you ain't one of them."

FROM THE UNWASHED MASSES
It must be the microchips in the vaccines, but I got some lovely and gracious feedback regarding this blog from a number of different heroes in my life.

Lally Darwin Heinz Esq., herself surrounded with her too-good-to-be-true family at no doubt a fine home on the Outer Banks of North Carolina.  This Darwin family knows how to live, coast to coast to coast, and also write, at least in Lally's highly experienced estimation.  


"Meanwhile please know I enjoy the blog and admire your efforts to dent the brains of those too many folks not getting it or not seeing what we all consider to be the light. The whole scene is bleakly divided and deeply confounding. Thanks for respectfully taking on the misguided.

You are a good writer and observer and i am sure you find that the act of writing sharpens your thinking and in itself adds to your perspective. Bravo!"

Let me put it this way:  if you knew Lally like I know Lally, you'd have a big smile on your face like I do.  Thank you, cuz.

From many generations after Lally comes the effusive praise of the life sciences wunderkind (and youngest son of the justifiably beaming Elizabeth "Polly" Michaels) Raymond Michaels:


 "Great post. You couldn't be more right about how delightful the offseason can be for travel. 100% would rather put on an extra layer, get up early, hoof it a few extra miles if that can create a more intimate experience bereft of crowds. The restaurant experiences can be elevated in the downtime as well. Opportunity to meet restaurant owners, let them tell their stories when they're not running around with hair on fire, etc.  Mrs. Michaels and I had a nice weekend in late September last year at touristy Okoboji, IA and it was a lovely mix of quiet and good food. Glad you and Julie are enjoying a sweet spot with no crowds."

Thanks, buddy.  Raymond is truly one of the brightest and thoughtful and fun people I know, and that's a quick 10 seconds of seriousness.

(There's going to be much more from Raymond, "Polly", and many others of the Michaels' ilk at the upcoming Marina/Michaels nuptials in Boulder.  Stay tuned.)

Some, including a Doctor Who Shall Now Go Nameless, are returning from their own vacations.  But they're on the hush-hush, apart from the National Park tally I'm keeping.  (BTW - there are major rules changes forthcoming on that contest.)

"Madras" Ryder didn't waste time with niceties about the blog - rather he went in for some timely vax humor.  We giggled over this one for quite a while.


"This happened yesterday and is important information for our age group.

I had my 2nd dose of the vaccine at the vaccination center, after which I began to have blurred vision on the way home.

When I got home, I called the vaccination center for advice and to ask if I should go see a doctor, or be hospitalized.

I was asked to go back to the vaccination center immediately, as I had left my glasses behind.

Just another reason not to get vaccinated…"
LOL Max!
Thank you to anyone that is reading this blog.
KLUF

I've tried to really dial down my consumption of news, and not just because of this perpetual vacation I seem to be on.  Rather, it all becomes too much and too depressing.  A New Frontier seems in order.  Here is Donald Fagen with "
The Nightfly
".