TODAY'S RAMBLINGS

Well, it was one for the ages.  Friday's kick-off party was wonderful, at
a venue
as cool as it was unique.  The wedding itself?  It deserves its own blog post, which may or may not happen.  I will say my affection for this entire mob of Michaels has never been stronger.
Love was certainly in the air, but rather than emoting that kind of stuff about Katie and Alden (I've had enough of that after two nights LOL) here now, I want to thank my own bride.  It was over 30 years ago we stood on this exact same spot at
The Hotel Boulderado
and took our own wedding vows.  You are truly the best.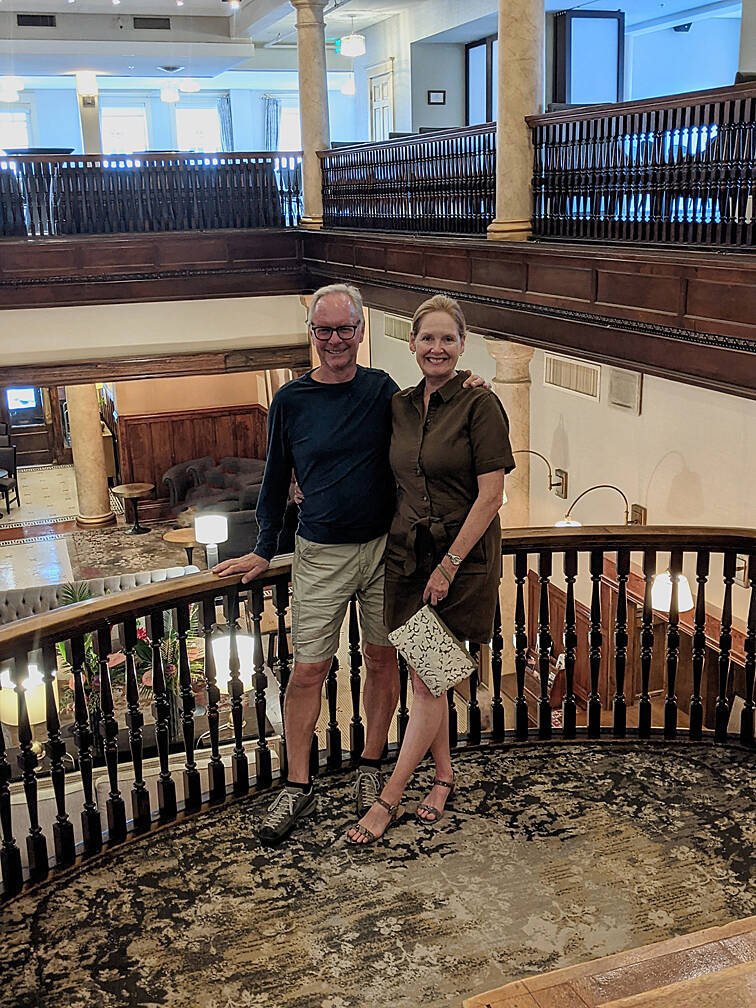 Today we fly to SFO and have a couple of weeks home in SF before our next adventure, our "inspection visit" to a formerly treasured hotel (we went a number of consecutive summers with The Deuce's),
The Arizona Biltmore
.  A 2018 stay revealed a formerly magical vibe ruined by ham-fisted and/or unthinking decorators and/or bean-counters.  But we hear it's undergone a massive reno - we will see if this former treasure has been returned to it's previous
Diamond Certification
.  BTW:  if you think it'll be too hot, you've not lived in SF for a summer.
But for now, you can look forward to my imminent Front Range travel guide, and you can also enjoy
my photo album of another wonderful trip
.  Yes, there are wedding photos.  And yes, we are beyond fortunate.
It is in that spirit of gratitude that I share something we all learn as Buffaloes at The University of Colorado.  It is the Colorado Creed, and jeez, we could all use a bit of
Ralphie
in our bloodstreams right about now.   
"The Colorado Creed is a social responsibility code started by students, is run by students and is for all of the CU and Boulder community. It is a way of life and a reminder to act with honor, integrity and respect. The Creed is CU when we are at our best.
You can read the original at the University's
web page on the subject
, but here is my very slightly modified version for America:
The American Creed
As a citizen of The United States of America, I agree to:

Act with honor, integrity and accountability in all of my personal and professional interactions
Respect the rights of others and accept our differences
Contribute to the greater good of our nation
I will strive to uphold these principles in all aspects of my life as an American and beyond.

Maybe we could send a telegram with The American Creed to Sean Hannity, Jim Jordan, Rudy Giuliani, Mitch McConnell, Tucker Carlson, Kevin McCarthy, John Bolton, Josh Hawley, and Ted Cruz?  

Because they and people like them have lost the script on what loving America means and how one should behave when given power and a platform.

FROM THE UNWASHED MASSES

A very special shout-out to my friend and mother of the groom "Polly".
I was very touched when Elizabeth "Polly" Michaels took the time from her otherwise packed wedding weekend schedule to thank me for the sentiments I expressed in
my last blog post
.  "Polly", I meant every word of it and we value our friendship with you and Primo so very much.  Congrats, "Polly" - on everything:  the marriage of Alden, selling your business, the fab backyard remodel at your home, and your relationship with Primo.  I don't know anyone that deserves it all more.
And no, they don't get much more occasionally unwashed than the father of the groom, Mr. Neumann Michaels.  But wow, it is always a great jolt for me to be around him.  This man, my original mentor, seems to be living large, and he and his wife, the svelte actuary Barbie Hatfield, seem very happy.  Thank you, Neumann - your influence was central to my own success and good fortune.
I'll close with some international flair.  
Our Killer Oz friends Damon Hemmingway and hubby Barry Bricks
keep us posted on the goings on in Brisbane, Australia (a future vacation spot for Julie and me - if they only knew!).  In their latest communique, they were kind to express concern over our wildfires and other general US insanity.  The big news is it sounds like the quasi-retired Damon caved and took a part-time professional gig.  Ouch.  But frankly, that doesn't sound
all
that bad? 
(No, to hell with that:  work kills.)
Thank you to any one that is reading this blog.


KLUF

Here's an album few saw coming.  And it's perfect today because the crowd I ran with way back in my Colorado days saw fit to attend an honest-to-God album listening party in July '87 at
The Dark Horse
, for this very record.  While the studio is not their preferred domain, here with arguably the biggest "comeback" album of them all, are The Grateful Dead, with "
In the Dark
" in high resolution.  
(Well, OK, maybe Aerosmith's "Permanent Vacation" was a bigger comeback, since The Grateful Dead didn't need to make a "comeback"?  Many consider the '80's and '90's as some of The Dead's best years, concert-wise.)