TODAY'S RAMBLINGS

We departed Woodstock, Vermont yesterday.  I took a final morning hike in the leafy and serene Marsh-Billings-Rockefeller National Historic Park before we hit the road for The Adirondacks.  A brief Travel Guide will be forthcoming, but
here's a link
to some selected photos from our visit there.  A beautiful and certainly off-the-beaten-path destination, with plenty of conservation and environmental history to go with it.  Not sure if we'll ever make it back, although I will say it's an excellent combination (and contrast) with Cape Cod.
Our drive was easy, and we really enjoyed the lunch and a couple of beers we had at the
Killer
Big Slide Brewery & Public House
in Lake Placid.  Our effervescent tot of a waitress claimed the food was special and nearly everything farm-to-table, and she wasn't kidding.  It's unusual being for-real wowed at a brew pub over the food, but we were.  The beer - at least the very refreshing Cream Ale we enjoyed - was also excellent.
In to Tupper Lake we go, and ho hum, another 11 nights here at Murphy Manor.  I note as we drive up that Dr. Murphy has upgraded the auto forecourt since my last visit in March - it's been leveled, enlarged, resurfaced, and there's an impressive and new rock retaining wall.  The work never ends at a place like this - or so I'm told.
We unload the bags and Julie embarks on her first tour of the property.  Properly astounded, she joins me and we head down to The Point for some proper lakeside imbibing.  That's followed by a lovely late afternoon cruise on the lake itself,  with the wildly emboldened Shelly at the wheel.  Here's a few quick shots from yesterday's arrival.  As a kid, I used to ride down those rocks - that's Bog River Falls under the bridge.  Fun fact:  it's also very close to the location where a much younger Steven Simon long ago put his parents' station wagon in the ditch, on a snowy Adirondack adventure we took in high school.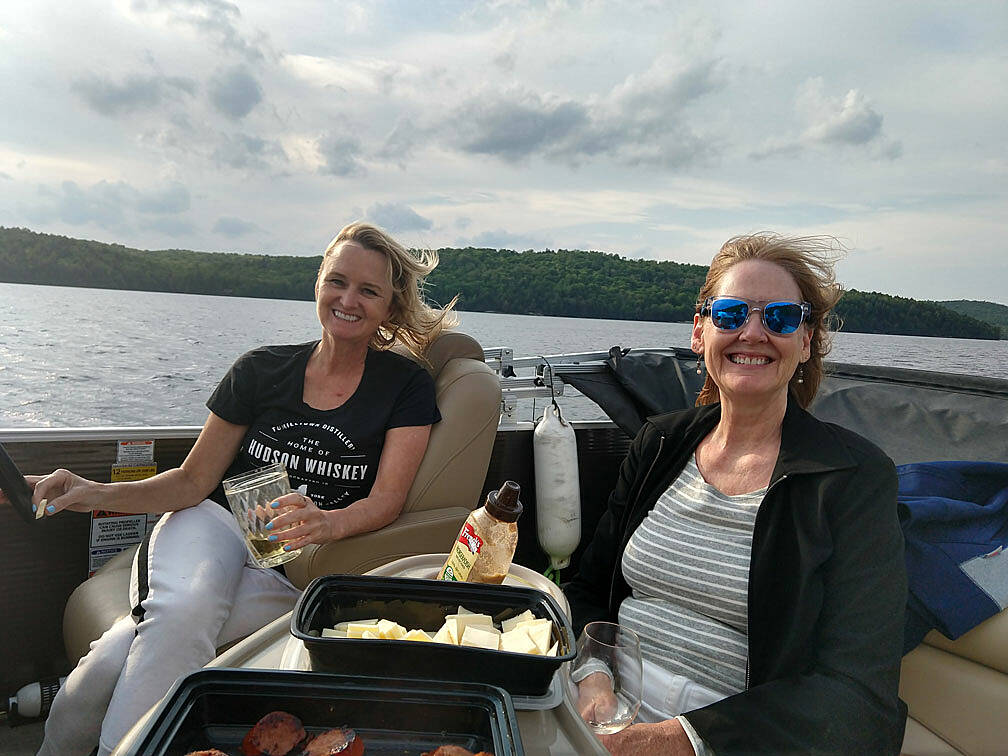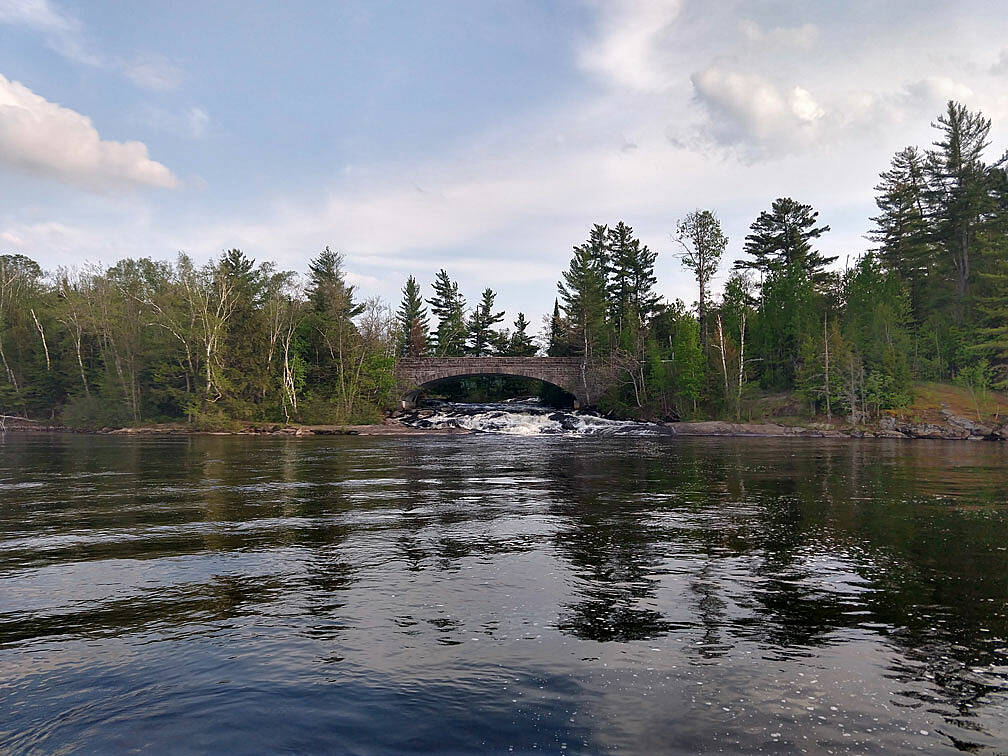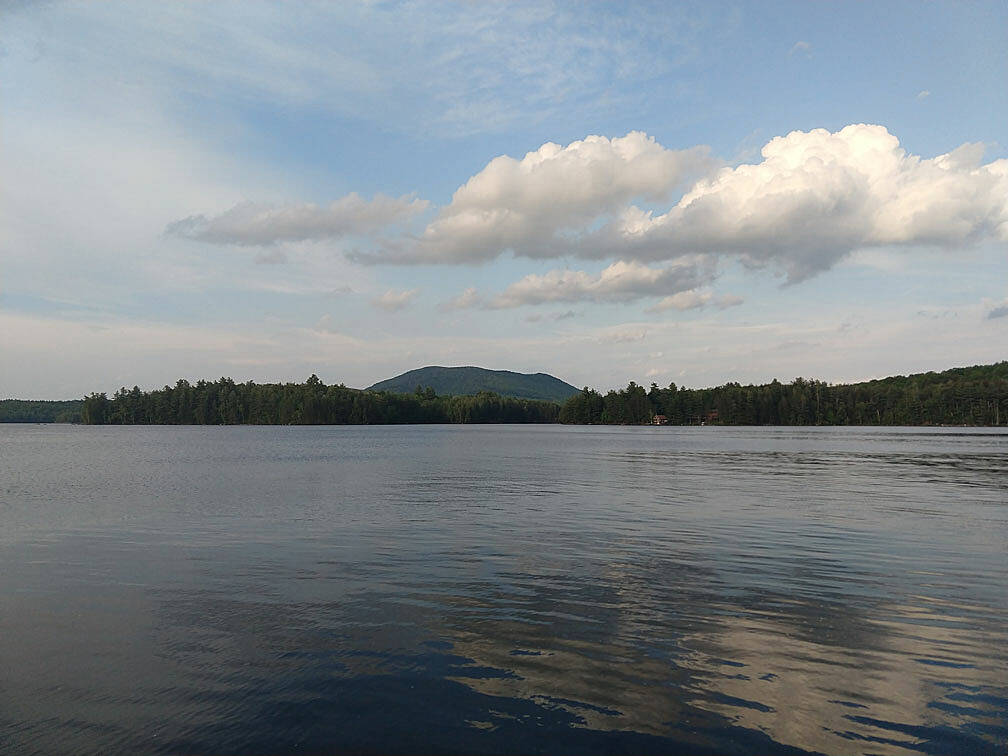 Yes, we agree it was fun that there was not one single other boat on the water, despite it being a beautiful late spring day with temps in the 70's.  More
Shoulder Season evidence
for those keeping score at home.
FROM THE UNWASHED MASSES

Poor Hunter Deuce.  He wanted to throw
his hat
into the ring and join
The National Park 2021 Showdown
, but he had sadly failed to read the contest's (
ever-evolving
) rules.  So while his list of National Parks visited was impressive, and even bordering on exhaustive, he had forgotten one tiny detail:  it's parks visited in 2021, not over the course of a lifetime!  Doh! 
And while it had absolutely nothing to do with this blog, the young executive Kevin Monza reached out while we were in transit yesterday with a question.  I'm sharing it here on the off-chance the info might be useful to others.
Kevin has a friend that's considering getting
the Project Management Professional
(PMP) accreditation, and Kevin recalled I had used a test prep company and wanted its name.  The company's name is
Cheetah Learning
.
Here's the dealio.  Much like Tom Selleck, this wasn't my first rodeo.  I felt I had the experience and chops to whip through the exam, get the cert, and move on.  People, if you or anyone you know believes they can pass the PMP certification exam with no outside training or prep - well, I won't say they're flat wrong, but I will say they're flat brilliant.  That's because it was the hardest exam I've personally taken since my Relational Database class final exam as a senior in college almost 40 years ago.
Like any real test, each and every question has at least two reasonable answers.  It's Cheetah that taught me how to take, and most importantly, pass, the test.  It was a true boot camp - a week of nothing but test prep.  I vividly remember arguing with my instructor early in the course, that, based on my
decades
of experience, answer C HAD TO BE CORRECT!   I LIVED IN LONDON ONCE AND RAN A BIG PROGRAM, FOR CRYING OUT LOUD!  The instructor chuckled a bit and with real empathy said:  "Dean, do you want to be right or do you want to pass the PMP exam?"  That was all it took - he muzzled me in the best possible way and I got it.  And I passed the exam on the first go.    Good luck to anyone that takes it on - if and when you pass, you'll feel a real sense of accomplishment. 
Thank you to anyone that is reading this blog.
KLUF

Someone who will remain nameless here (but her first name begins with an "S", she's an ER doctor in Texas, and she owns a ginormous house on a gorgeous lake in The Adirondacks) had the unmitigated gall to claim the music I typically play "makes me want to kill myself".   
Perhaps it is something like this to which she refers?  Here is the melancholy and tragic Chet Baker with his tribute to the equally melancholy and tragic Billie Holiday, "
Baker's Holiday
".  What a beautiful album and I certainly didn't feel suicidal when I gave it a recent listen.  So hey, Doc:  stick to your knitting!